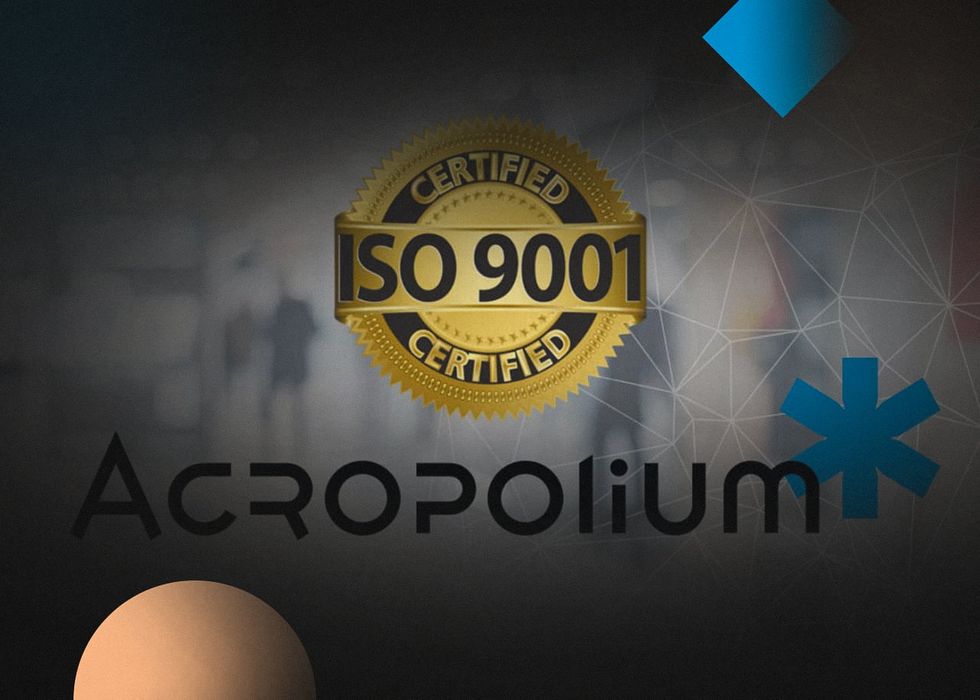 We're happy to announce that Acropolium has earned the ISO 9001:2015 certification! We see this as a global-scale acknowledgment of the consistent quality of our software development services.
"Getting ISO 9001 is a milestone and a source of pride for us." — says Oleksii Glib, Founder at Acropolium. "The certification recognizes the efforts we have made over the years. It shows that we have effective management, a strong customer focus, and dedication to upholding international standards of quality. As for our clients, ISO 9001 demonstrates a commitment to excellence in all facets of work".
What is ISO 9001:2015?
ISO 9001:2015 is an international standard for quality management systems based on fundamental principles like customer-centricity, effective leadership, and risk-based thinking. The ISO 9001 standard provides tools and guidelines to help companies meet customer and regulatory requirements and consistently improve the quality of their processes.
What does ISO 9001 mean for software companies?
The ISO 9001 standard ensures that the organization's procedures, processes, and policies follow consistent quality standards. For software development companies, this means:
Optimized workflow and resource management to save clients' time and money
Effective leadership with clearly defined roles and responsibilities
Clearly described inner processes to enhance management
Professionals empowered by the right tools and methodologies
Compliance with regulatory requirements
Thorough planning and control during the software development life cycle
Regular performance evaluations and internal audits
Quality assurance and continuous improvement
Consistent quality of provided services and products
This last point is actually the most important. Imagine that after you were satisfied with the work a tech vendor did, you hired the vendor for the next project. But this time, the vendor's team dropped the ball. Why such a staggering difference in quality?
The reason is simple: the company was probably dependent on a few strong members. And after they had left, the development and management turned into chaos.
But qualifying for the ISO 9001:2015 standard means the vendor can organize this chaos into a structured system. Think of its team as a single, well-set mechanism with modular, replaceable parts.
Not every company has the discipline and willingness to go all the way. But because Acropolium's processes have been finely tuned over our years of experience on the market, it only took the company a year to perfect them. In 12 months, we ensured that the management, planning, and product realization processes meet the ISO 9001:2015 standards.
And after everything we went through, we're very proud of this achievement. It shows that Acropolum has what it takes to deliver the best services to our clients.
What's next for Acropolium?
Acropolium is a software development company with over two decades of experience in custom web and mobile development, cloud computing solutions, as well as outstaffing services. Over the years, we've created high-quality software for companies in fintech, logistics, healthcare, automotive, and HoReCa. Receiving the ISO 9001:2015 certification has become another proof of Acropolium's commitment to quality.
"It was a real challenge to get the ISO 9001 certification, but we won't stop there!" adds Oleksii. "We'll continue applying best practices and harnessing technology trends to make our clients love working with us even more."