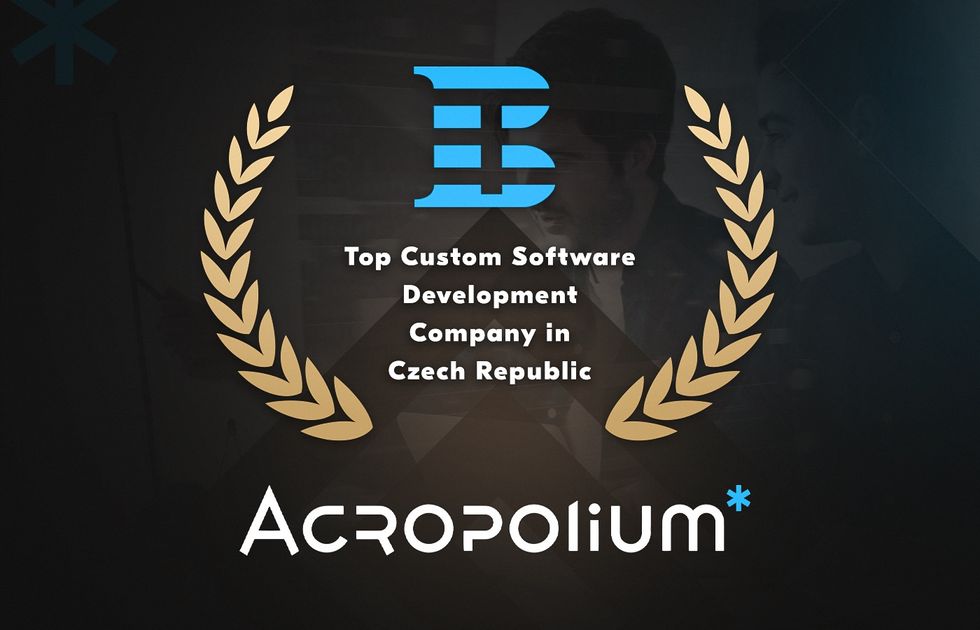 We are proud to be included in the TechBehemoths' list of top custom software development companies in the Czech Republic! For our agency, it's an honor to accompany 37 capable and verified software solutions providers on the European market.
TechBehemoths, a reputable IT service reviewing platform, has selected the most reliable bespoke software companies based on the following criteria:
Range of web development services
Years on the market
Client references
Service focus
Hourly rate
Team size
Portfolio
Our company has delivered unique solutions to 148+ growing businesses from various industries throughout 20+ years of exceptional customer-centric service. Owing to our extensive expertise, Acropolium was included in the top 32% among 43,000+ IT providers on the platform.
This, however, is not the first honorable mention. Previously, TechBehemoths highlighted our company as a top IT company in the Czech Republic.
Partnering with businesses operating in different sectors, we have been repeatedly recognized by reviewing sites. Read on to learn more about our previous rewards and explore how we grow businesses worldwide!
Our Latest Achievements
Being named a top custom software development company in the Czech Republic, Acropolium caters to diverse industries. From logistics to hospitality and construction, we tailor solutions that help businesses reach their objectives and thrive cost-efficiently.
Logistics
Serving the transportation industry for 9+ years with 23+ solutions delivered, we gained trust from 5+ large logistics clients. In 2023, Clutch acknowledged us as a top custom logistics software company for our commitment to the highest ISO standards.
Hospitality
With 45+ solutions delivered and 12+ years of hospitality software development, we partnered with industry top-3 clients. Thus, Acropolium was awarded by Clutch as the top IT service company for the hospitality sector.
Construction
Acropolium has filled the building and construction sectors with 8+ comprehensive software solutions and 28+ consulting projects. Our 9-year expertise helped us achieve a place in the TrustFirms' selection of the top construction software companies in 2022.
B2B and IT Development Rewards
Besides industry-specific acknowledgments, our company was included in the Clutch 2022 review of top B2B companies in the Czech Republic. A year earlier, the platform gave us the title of a leading B2B service company for our result-oriented, client-first vision.
In 2022, we were also named a top software development company by TechReviewer. Since we craft products for businesses of any size, the company placed us among the top software development companies for startups.
At the same time, TechBehemots named our company the best enterprise app modernization company.
About TechBehemots
TechBehemoths, a renowned IT business reviewing platform, offers comprehensive assessments of tech companies. Founded in 2012, the verified IT industry resource is known for impartial evaluations. Regularly publishing ratings across tech sectors, it covers software, web, app development, and more.
The company links tangible projects with a network of 46,415 IT companies spanning 143 countries and 7,054 cities. Relevant ratings published on the website empower businesses with informed decisions, investment evaluations, benchmarking, and valuable market insights.
About Acropolium
Acropolium is a seasoned IT solutions vendor with 20 years of multi-industry expertise. Growing as a provider of diverse solutions, we have been focusing closely on IT consulting and custom development services.
With 50+ custom projects delivered to 15+ enterprises and 3 unicorn businesses, we craft solutions to our clients' specific needs. These distinct requirements can stem from various sources, such as project type, product lifecycle stage, industry regulations, or business challenges.
Our dedicated teams deliver service that is not only cost-efficient but also budget-friendly. From IT consulting to full-cycle product development, we offer subscription-based services that elevate your business.
Get in touch with us to see how we can elevate your business today!