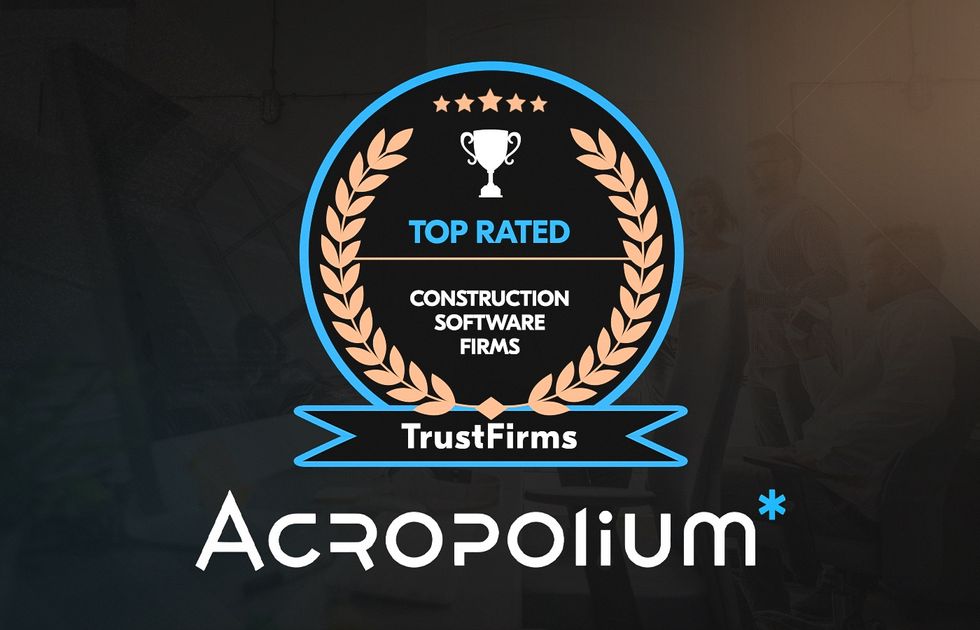 Acropolium is honored to announce that our expertise in construction software development has been recognized by TrustFirms. The review platform featured Acropolium as one of the top construction software companies in the world in its latest ranking.
TrustFirms' list features the ten best construction software companies of 2022. We are honored to be among the best of the best in the industry.
TrustFirms highlighted Acropolium's ability to build reliable construction software solutions from scratch as a top construction software company. The ranking also mentioned our core specialization in the field:
Project management
Automation tools
CRM and ERP systems
Equipment management
Acropolium's Latest Achievements
The past several years have been fruitful for us at Acropolium. Our software development expertise has been recognized by multiple awards. For example, Clutch.co, a world-renowned B2B service provider search and review platform, featured Acropolium in its annual rankings five years in a row:
But Clutch.co isn't the only platform that recognized our expertise with awards:
As one of the top construction software development companies, we are committed to maintaining service quality on par with our certifications. In 2021, Acropolium earned the ISO 9001:2015 certificate. It's a guarantee that Acropolium has all the quality assurance mechanisms in place to ensure we deliver only impeccable software solutions to our clients.
Finally, our clients' feedback continues to reflect the outstanding quality of our services as a top construction software development company. We are thankful for their public vote of confidence that earned Acropolium a 4.9/5 rating on Clutch.co and a 5.0/5 rating on GoodFirms.
About TrustFirms
TrustFirms is a ranking and review platform that regularly publishes the rankings of the top software development companies.
TrustFirms processes information on over 6,000 agencies across the globe to find the best of the best, including the best construction software development companies. In its research, TrustFirms relies on Google rankings, market research, and client reviews.
About Acropolium
Founded in 2003, Acropolium is an award-winning software development company driven by its heritage, tech philosophy, and team legacy. Thanks to its rich expertise in 10+ industries and 15+ technologies, Acropolium has been recognized as a leading B2B service provider by Clutch.co and, most recently, the best construction software company by TrustFirms.
At Acropolium, we strive to be more than the best construction software development company. We aim to be a reliable software development partner for our clients, lending them our experience and expertise. We have 170+ successful small and middle projects and 50+ custom and high-load solutions in the portfolio.
As a developer and IT solution vendor, Acropolium offers the following services for any enterprise:
Dedicated team
Software engineering
Software consulting
Subscription-based software development services