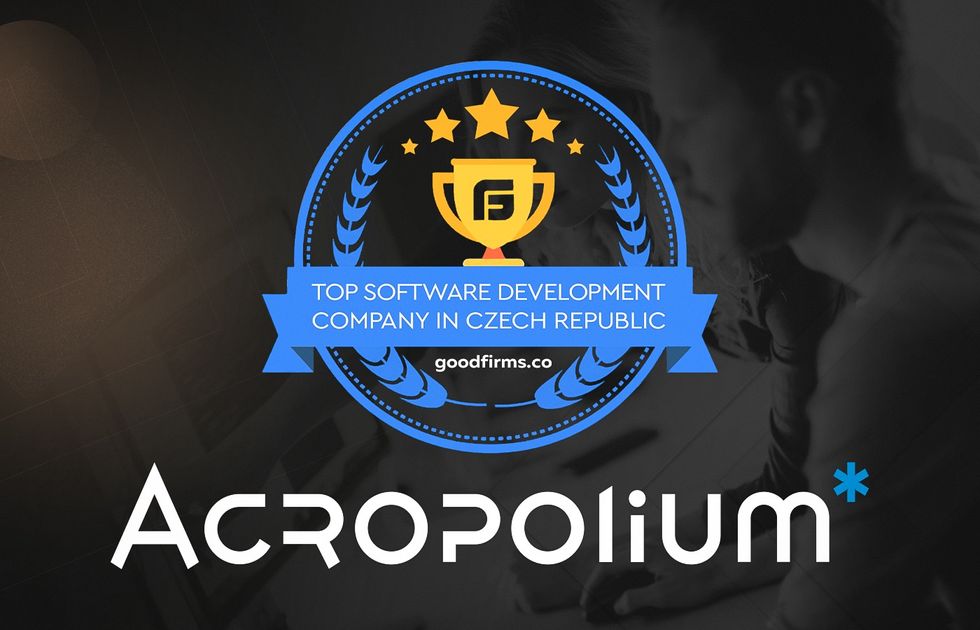 Acropolium is transforming businesses with competitive software solutions aligned with clients' business needs. Equipped with knowledge and expertise in technological terms, the firm primarily leverages soft skills such as active and honest communication with clients to ensure successful delivery of Agile Offshore Software Development of projects. As a trusted tech development partner, Acropolium has served various industries and companies.
Acropolium Introduction
As a professional, prominent, and high-quality solution provider to various industry niches, Acropolium is a technology-driven company whose focus is to work and ensure a higher return on investment.
Founded in 2003, Acropolium is a professional software development & consulting firm with offices in the Czech Republic and Ukraine. The firm consists of expert professionals with more than 19 years of experience in this field and a record of top-notch clients' software services.
The developers use the latest tools and techniques to provide their users with the best experience, and they never fail to deliver quality services. They push their boundaries by following a design-thinking approach to solving complex problems for users and creating better user experiences via research and validation.
Whether from scratch to the digital transformation of the business, Acropolium puts together passionate minds to transform clients' ideas into reality and provide them with an exceptional scalable solution. Deep expertise within each team level, solid technological background, and 19-year experience are integrated into all projects.
The products delivered by Acropolium boost efficiency and foster growth for clients from software engineering, development, scalable web, and mobile solutions.
The eye-catchy features of Acropolium:
Unicorns among clients
450+ delivered applications
Contracts with 10+ years of quality service and loyalty
50+ custom and high load solutions
GoodFirms Research Process
GoodFirms is known for its core B2B research and reviews that help clients find an appropriate company that offers the best web and software development services. There are numerous categories in which companies are ranked on the website, and the businesses need to enlist at GoodFirms.
GoodFirms evaluates each enrolled business on three principles –
Quality
Reliability
Ability
The Goodfirms team's approach is driven by innovations that boost businesses and maximize their R.O.I. The teams' determination to deliver and stay linked with the customers to achieve their goals has made GoodFirms' researchers rank Acropolium as a preferred choice for customers in Czech Republic.
Likewise, Goodfirms analyzed Acropolium and found the company grabs GoodFirms' user's attention by offering vital services based on these metrics.
Custom Software Development Services
Acropolium is an experienced software development company that offers full-service support in software development services aligned with clients' business goals and missions. Software developers push boundaries to provide the best software solutions with professional knowledge in every niche.
Acropolium holds supremacy in delivering excellent software solutions, representing them as a trusted partner to various industries. They have expertise in developing custom software that functions across many platforms, which helps their clients with the latest techniques.
The in-house software developers at Acropolium design develop and implement customized software based on the client's specifications.
Since its inception, Acropolium has created and delivered best-grade software solutions and is thus labeled as a reputed software development company globally.
The dedicated professionals prepare profitable strategies with extensive research to match the client's needs in the given time frame and cost-effectively. Thus, Acropolium shines at GoodFirms among the top software development companies in the Czech Republic for being a result-oriented firm.
Software Development as a Subscription Service
The subscription economy is booming, almost with a rise in e-commerce demand. With the advancements in tech and marketing tools, Acropolium has created a more competitive landscape almost globally - Subscription-based Software Development Service. These improvements by the company have lowered the barriers to market entry for new clients.
Building and running a successful business is challenging. You have a solid strategy, a fantastic offering, and a strong team to help you hit the market hard. Acropolium helps you focus on strategy, while they do the technical work. No hiring, picking technologies, or micro-management. They get you covered at a predictable monthly fee.
Subscription models have become popular because they allow businesses to establish long-term relationships with clients. With Acropolium you get a partner, who finds the best technical solution, implements it, and makes all the necessary updates post-release. This approach also allows smart budget planning that is beneficial for both startups and enterprise-level customers.
IT Consulting Services
Acropolium is a leading IT provider of high-end business solutions to clients globally. The experts at Acropolium bring together high-level performance, international standards, innovations, and passion in each step of their work. With profound knowledge in different spheres, the team enables the clients to achieve their goals faster than before.
The professionals at Acropolium provide reliable and scalable IT services to clients as well as IT consulting. The in-house team consists not only of software engineers, but also of business analysts, key account managers, and PMs, who focus on clients' business goals and always think one step ahead.
The IT experts at Acropolium offer advice on IT strategy, execute software audits and suggest comprehensive solutions on data security, in addition to customized software for the clients.
About the Author
Anna Stark is presently working as a Content Writer with GoodFirms – Washington D.C. based B2B Research Company, which bridges the gap between service seekers and service providers. Anna's current role lingers to shape every company's performance and key attributes into words. She firmly believes in the magic of words and equips new strategies that work, always with ideas, something new to carve, and something original to decorate the firm's identity.