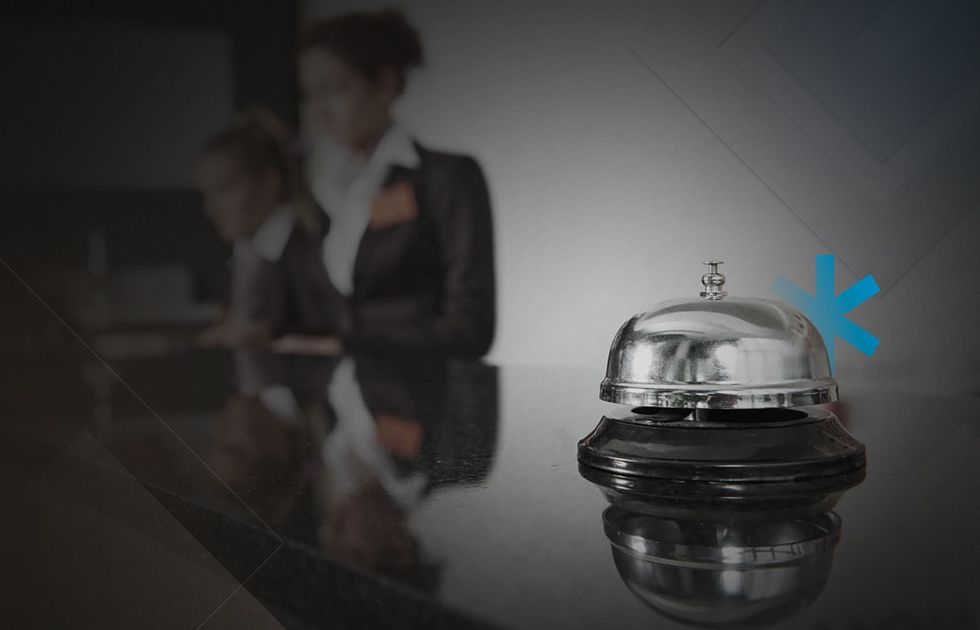 The hotel business isn't a walk in the park, and COVID-19 messed things up even more. Hoteliers were grasping at straws in 2020-2021—they were struggling with hygiene measures, reducing their staff, offering a limited list of services, and many more to minimize expenses and stay afloat. Now that people are starting to travel again, cost-efficiency is the only way to recover quickly while still upholding the brand's good name. In these circumstances, hotel property management system development (PMS development) seems the best opportunity to optimize processes and keep customer satisfaction high.
**What does property management software development entail? And is it worth the investment? **
With relevant experience in the hospitality field, Acropolium can explain how to develop a custom hotel property management software, the ins and outs of the process, and, more importantly, what your business will gain as a result. In this article, you'll learn about:
The key market trends that influence property management software development for the hospitality industry
The way custom PMS can help lower costs in hotels
Essential features every property management system should possess
The main stages of building a hotel property management system
Some issues you should consider while creating a PMS
As every hotel is unique, an out-of-the-box solution may not fully cover all the needs your business has. This post will help you understand what you need to consider when developing a custom hotel property management system.
Hotel property management software: market trends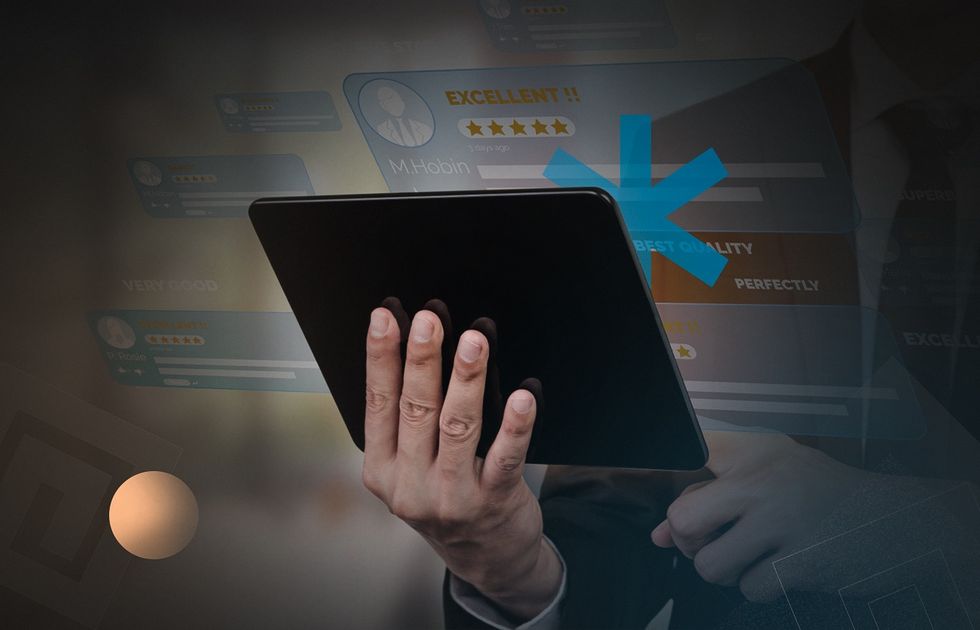 According to ReportLinker, the global hospitality industry may reach the $5297.78 billion mark by the end of 2025 at a CAGR of 6%. This figure is almost $2 billion higher than it was in 2020, and it means that everyone is eager to return to pre-pandemic habits. AHLA's report supports this point: 56% of consumers hope to travel for leisure despite the pandemic.
This doesn't mean travelers will accept anything less than perfect service; it only means hoteliers will have to try harder to provide an exceptional customer experience while watching cost-efficiency. The hottest hotel property management system development trends reflect both the concerns and possible solutions for the industry.
Building in the cloud
Developing for the cloud means reduced costs, easy accessibility, enhanced operational efficiency, and fast multi-property operations. How can all this be possible?
First of all, cloud-based solutions don't require lengthy and costly installations, allowing for more seamless scaling. No less important is the ease of integration with your hotel's systems (accounting, scheduling, etc.) and fast software updates. Also, any authorized person—from the CEO to housekeeping staff—can access the hotel PMS system from any device and location quickly and easily. For all these reasons, the cloud is the natural choice for building a hotel property management system.
Read also: What is the best cloup computing provider in 2022.
A truly personalized guest service
Personalization is necessary to win and keep today's customer. Guests are more tech-savvy than they were in 2019 because of the lockdown and the digital routines we had to adopt. They want to see that the hotel cares about them, knows them, and customizes its services to fit their specific needs.
This trend for hyper-personalization drives the demand for advanced data analysis. PMS is the solution here. A robust customer database is one of the cornerstones of custom hotel management software. It provides insights into guests' preferences, personal bonuses, previous stays, and many other aspects. After building a hotel property management system, you'll have all the data and information you need right at your fingertips.
Data analysis and business intelligence
Having customer data in your custom hotel management system is not enough; you need to translate it into readable analytics to enable efficient decision-making. Advanced PMS systems use AI for this purpose. By applying ML algorithms to the collected information, they can monitor spending trends, forecast allocations and bookings, help you establish pricing and help reach the highest level of personalization.
AI-based systems in HoReCa start the data analytics process with data fusion: gathering, clearing, and processing information about customers and back-office processes. With efficient data fusion, you can bring information from social media, booking channels, reservation management systems, and even governmental websites (e.g., about new regulations) to one place, and prepare it for analytics.
But to make business intelligence work for your business, you need to turn to automation.
Automation
The only way to provide a highly personalized customer experience and keep cost-efficiency at a decent level is to automate as many hotel processes as possible. Forbes claims that automation may result in cost savings of 40-75%. And McKinsey states that executives are aware of this: they agree that technology is critical for their strategic goals.
The pandemic pushed many businesses to ramp up their technology very quickly , and hospitality is no exception. A key on a guest's phone, smart thermostats, voice-activated digital assistants, electrostatic sprayers, smart lighting—these tech workarounds aren't a novelty anymore.
Optimizing customer-facing and back-office operations at the same time, automation means a smoother experience both for guests and hotel staff. So, don't hesitate to start leveraging the latest tech out there: AI-based systems, IoT devices, or maybe even robots.
Smart hotels for tech-savvy guests
Next-gen technologies enhance the guest experience, meeting the market demand for a safe and clean environment. A contactless hotel seems like a great idea in the current situation since it implies much less touching and crowding.
Acropolium's idea for a custom hotel property management system is to develop a single app that facilitates the guest's entire journey from booking, check-in, room access, customization of room settings, food delivery, and more. If a guest needs help, online support and a chatbot or virtual assistant are available 24/7. This solution unites several hospitality trends and makes use of innovative technologies like the cloud, AI, IoT, and data science.
Now that we've learned what trends are shaping the industry these days, let us pinpoint the key benefits hotels may get with custom hotel PMS.
How a custom hotel property management system may help you optimize expenses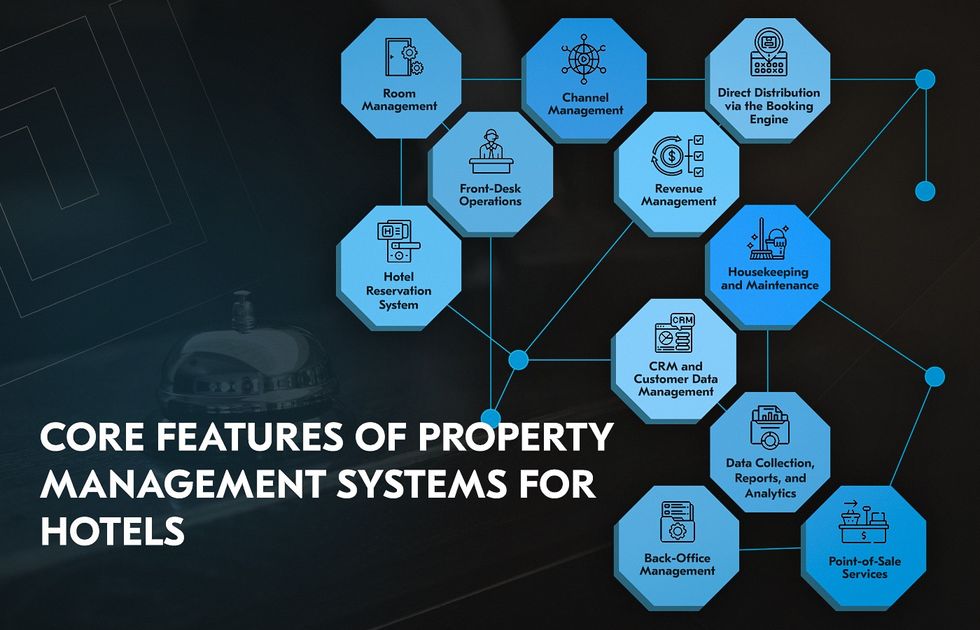 A property management system (PMS) helps hotels and chains deal with their main internal and external processes. Since every hotel is unique, custom hotel property management systems will differ across companies. But there are areas every robust PMS should cover: front-desk operations, reservation management, room inventory, channel management, housekeeping, and payment processing, for example. A system that addresses all these areas will bring significant benefits to the hotel business.
Front-desk operations optimization
Often, the first impression a guest receives about your hotel happens at the front desk,whether online or offline.You want it to be as positive as possible by ensuring a friction-free experience. Fortunately, the hotel property management system features cover routine front-desk tasks like reservations management, check-in/check-out, room inventory, pricing management, and more. Paperless digital operations will make both your customers and your personnel happy, and your processes will be smooth and mistake-free.
Reservation management
Channel management is a daunting and complicated task, but it is vital for your marketing and sales KPIs. A custom hotel property management system is essential here. It allows you to manage all booking channels, synchronize information about room availability, seasonal pricing, discounts, rate changes, etc., in one place, through a single user-friendly dashboard.
Housekeeping schedules
Paper schedules are not only old-fashioned, they're also inefficient. After you make a hotel property management system, personnel will be able to see room statuses and employee assignments, react to repair alerts, track their progress, etc. And the manager can control everything and optimize HR based on reports and historical data.
Hygiene measures control
The functioning of hospitality businesses these days depends on following hygiene requirements. But when we're talking about huge properties or hotel chains, controlling all safety measures isn't easy. How can PMS help here? PMS provides better visibility into housekeeping routines, more contactless operations, and the ability to stay up-to-date on governmental regulations.
Payment processing efficiency
Instant digital payments are a necessity these days, and you can't function without a payment processing system in place. Solutions like these are usually created on top of Stripe API. If you choose to build a hotel property management software instead of buying a ready-made one, you can include extended functionality into your payments solution: multiple payment methods, localizations, third-party integrations, analytics, etc.
By using PMSyou create an uninterrupted user experience for your guests. They are able to pay for everything, including third-party services like taxis or food deliveries, in one place. And you will gain valuable insights into customer preferences, receive financial statistics, and deal with invoices via a single PMS module.
Travelers are eager to return to their pre-pandemic ways, and a property management system for hotels is a great opportunity for business owners to help them do this. What key features should a PMS have to win the hearts of both guests and employees and bring profit to hoteliers?
Read also: Chatbot use cases for hotels & travel industry.
Key features of a custom hotel property management system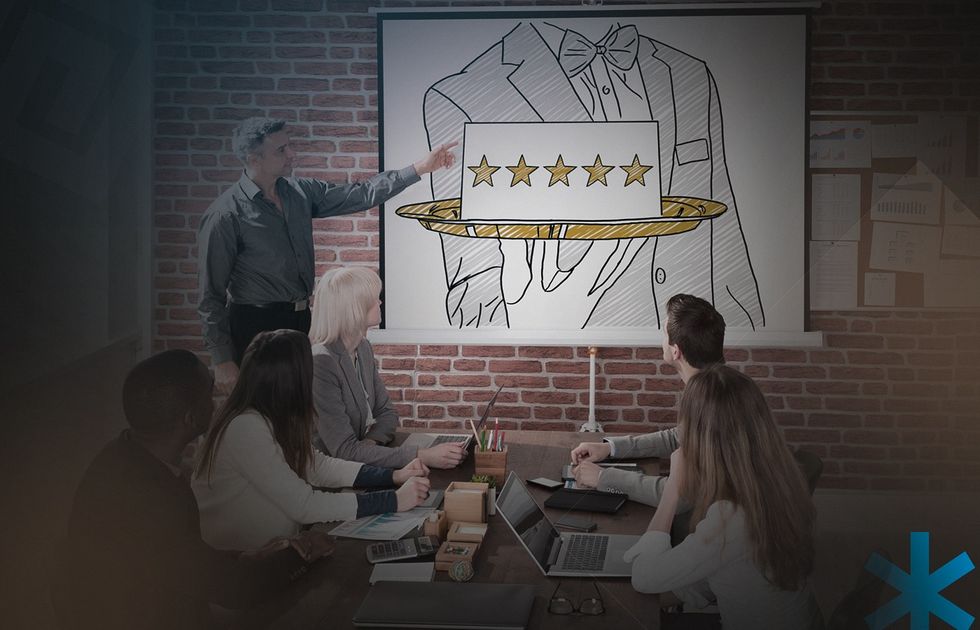 In addition to the most common functions which we mentioned in the previous chapter, like front-desk and channel management, scheduling housekeeping, and payment processing, there are other tasks a custom hotel property management system should handle.
Revenue management and strategy
A revenue management system offers payment tracking, management, and analysis… PMS not only accepts online payments and validates credit/debit card data instantly, but also helps track and manage outstanding charges in case of non-payment, creates reports, and helps with revenue planning.
Customer data and customer relationships management
A database of customer information helps hoteliers streamline sales and marketing strategies, membership, and loyalty programs for better personalized guest experiences.
Reports and analytics
A custom hotel property management system can provide ongoing reporting on night audits, shift audits, room statuses, check-ins/outs, housekeeping, and much more.
Point-of-sale services
Point-of-sale services help manage all payments (for food and beverages, banquet and conference halls, gyms, in-room services, guest Wi-Fi), automate transactions, and keep data in one place.
Back-office management
This hotel PMS module can include internal communication, arrival details, shift management, built-in accounting, event and catering management, or any custom functionality your hotel needs.
The benefit of a custom-made PMS is the ability to adjust it to your unique business and make it cost-efficient. Here's what building a custom hotel property management system entails, according to Acropolium.
Hotel PMS development step-by-step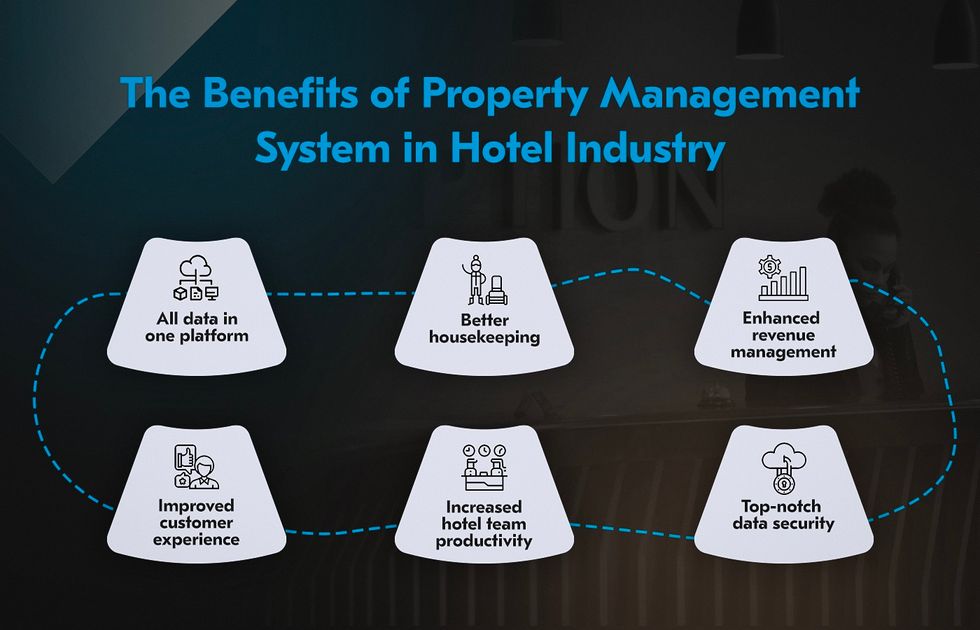 Before you start looking for a ready-made hotel PMS or a vendor to create a custom one for you, browse through these stages of hotel property management system development. They will help you plan your time and your budget:
Assessment of your business needs, defining tech requirements, and establishing a budget. This first step is a framework for your future custom software, as you need to define which hotel tasks the system will cover. Consequently, you need to understand the tech scope and allocate the funds to enable the system to function properly.

Creating a user-friendly interface and intuitive system design (building MVP). A minimal viable product will be the acid test of your future PMS and its adoption by your personnel. A user-friendly interface should be a priority since all your departments and guests will be using the system daily.

The coding stage: its duration will depend on the complexity of the project. The more modules your PMS has and the more tasks it will have to cover, the longer it will take to develop and test every feature.

Testing and gathering feedback. The agile methodology many software companies use these days presupposes continuous testing of the system's new features. This stage will also cover field testing, which includes presenting the PMS to a test group of users and finding out what can be improved.

System release. After fine-tuning the hotel property management system according to the users' feedback, it's ready for public presentation.

Ongoing PMS updates, support, and maintenance. A reputable software vendor will ensure the last stage of PMS development as it is vital for staying competitive. Changing market trends and customer expectations may dictate some specific updates, features, and improvements, and it's the provider's task to make sure your PMS stays relevant.
There are a few other points to consider before jumping into hotel property management system development.
Key considerations of hotel PMS development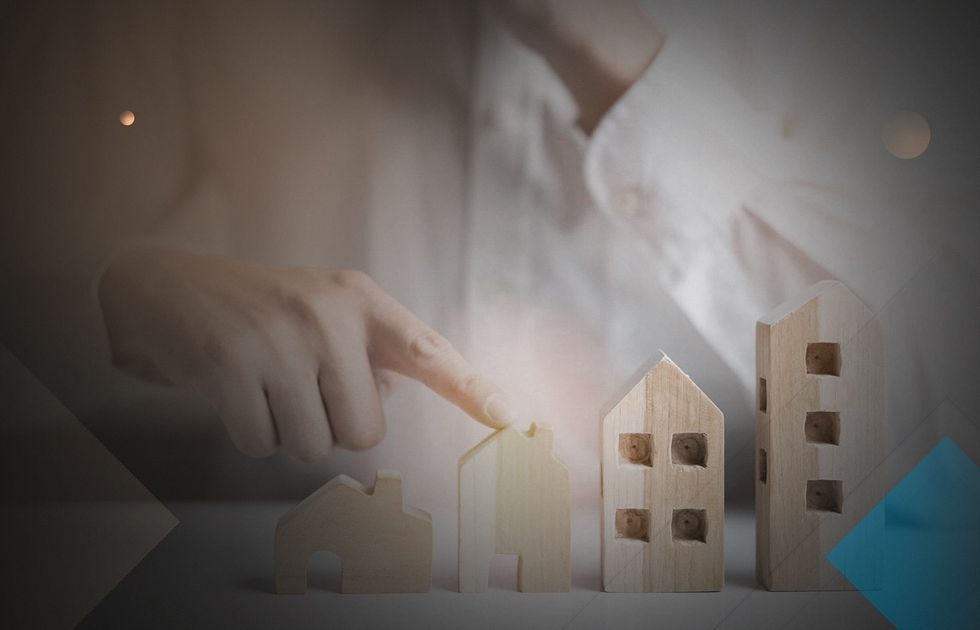 Custom PMS development is unique for every property, so even a vendor with experience in hospitality software creation won't know all the ins and outs of your business. However, there are a few points that both you and the software provider should watch out for.
Integrations
As a hotel chain often requires working with multiple third-party services, make sure your PMS can easily integrate with popular booking platforms, payment processing solutions, BI services, etc. By taking care of this point from the start, you'll ensure stress-free integrations in the later stages.
BI features
A PMS should come equipped with automated match-and-merge features, access to nonstandard data sets, customized dashboard settings, and ad-hoc queries to set new inputs and generate custom reports in a matter of seconds.
PMS ROI
One more point to consider is the ROI of hotel property management software development. With some clear KPIs set beforehand, you'll be able to evaluate the feasibility of PMS creation. It will be easier to define to what extent the system will reduce the time spent on front-desk operations, improve marketing/sales and revenue performance, reduce billing losses, decrease maintenance and integration costs with third-party APIs, etc. With that in mind, you're armed with the information you need to choose the best solution for your business.
Read also: How to build custom enterprise risk management system.
The bottom line
Even though the first hotel property management system was introduced back in 1947, not every modern hotel can boast of having a solid PMS at hand. The painful reality is that plenty of properties still build Excel spreadsheets, keep records with pen and paper, or use legacy systems. Since 2020, the global pandemic has made it clear that digitization is the key to survival. Automation and optimization of processes is the future for the hospitality industry, and PMS is the ultimate solution to this.
Business owners can search the market for the best suitable options or choose to develop a custom property management system for hotels, leveraging the latest tech. An advanced AI-based solution built in the cloud may be exactly what both your customers and your business requires. It will ensure smooth internal processes, a high level of personalization, more contactless operations, and overall cost-efficiency.
If you wonder how much custom property management software development may cost and where exactly to start, Acropolium experts in HoReCa IT consulting are here to answer your questions. Read also about hotel booking app development.