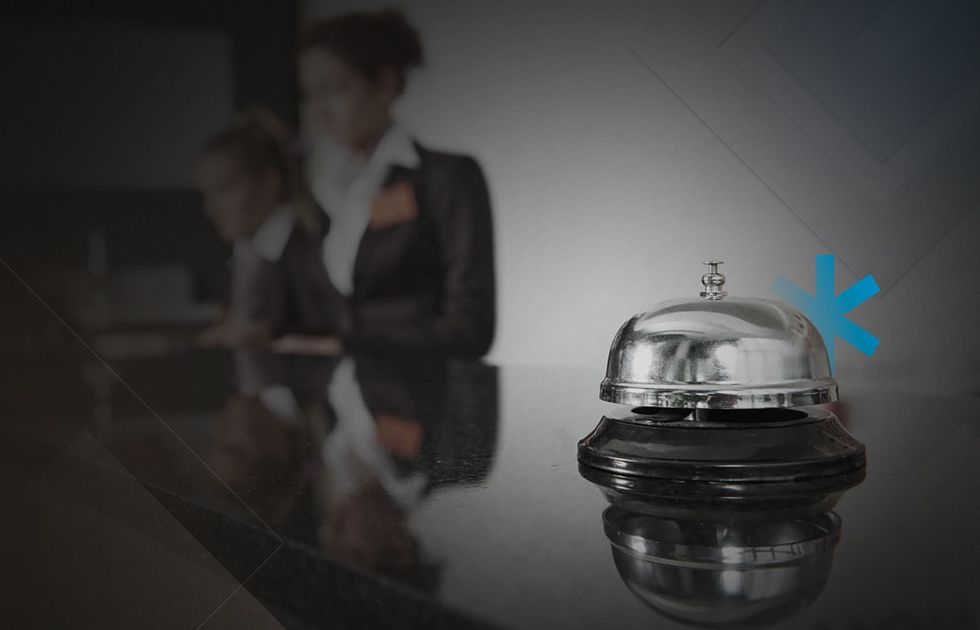 The modern hotel industry cannot thrive without satisfied customers and digitalization. The hotels' profits directly depend on the first, and the second significantly helps in this, as 69% of hoteliers claim.
Another thing that hotel software assists in is the automation and streamlining of all management processes. Now reservation, housekeeping, front-desk operations, revenue management, and more are available in a single hotel PMS system.
The market growth figures show a rising need for hotel property management software. By 2031, it will be close to $6 billion. Adopting hospitality PMS systems is how businesses can reduce expenses and improve customer experience.
In this article, Acropolium will tell you what you need to consider when creating a property management system for hotels, listing the main features of such platforms. Having profound expertise in hospitality software solutions development, we have successfully built a hotel property management system that has achieved remarkable business goals for our clients and we'll share our practical insights on this topic.
What Is a Hotel Property Management System (PMS), and How Does It Work?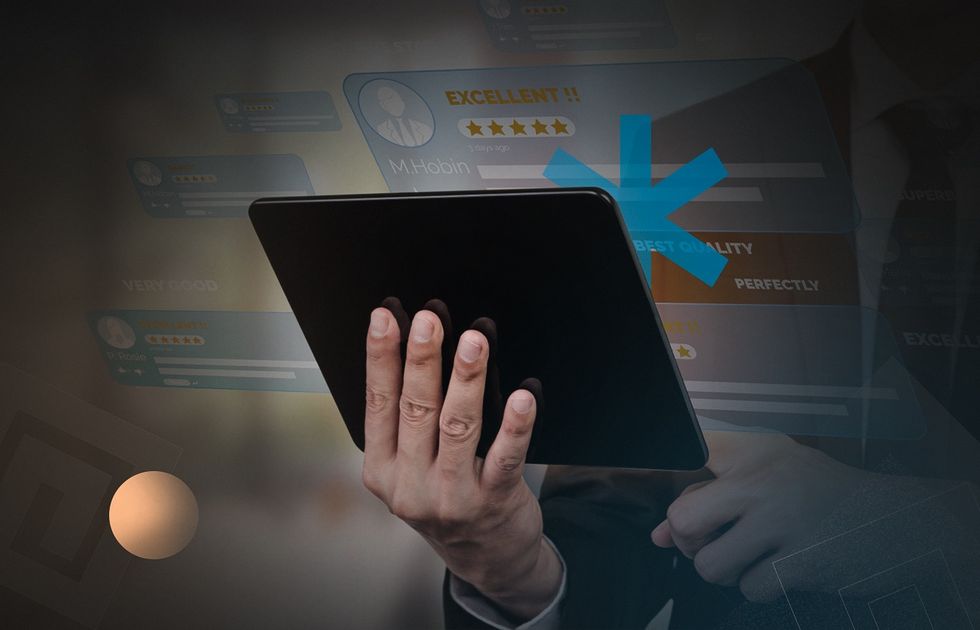 A hotel property management system is software that helps manage all administrative processes in the hospitality business. It streamlines front-desk and back-office operations, reservations, channel, revenue, and customer relationships management. PMS systems for hotels also often provide features for housekeeping and HR management.
Now that you know what is PMS in hotel management, you may wonder how exactly it all works. Hotel property management systems combine several working environments in one platform. These include
Hotel reservation system
Front-desk operations and room management
Channel management
Revenue management and strategy
Housekeeping and maintenance
CRM and customer data management
Data collection, reports, and analytics
Back-office management
Point-of-sale services
All the above modules are integral to hotel PMS in hotel management. Each of them is responsible for separate internal and external administrative processes. Read on to learn more about these hospitality PMS modules.
Core Features of Property Management Systems for Hotels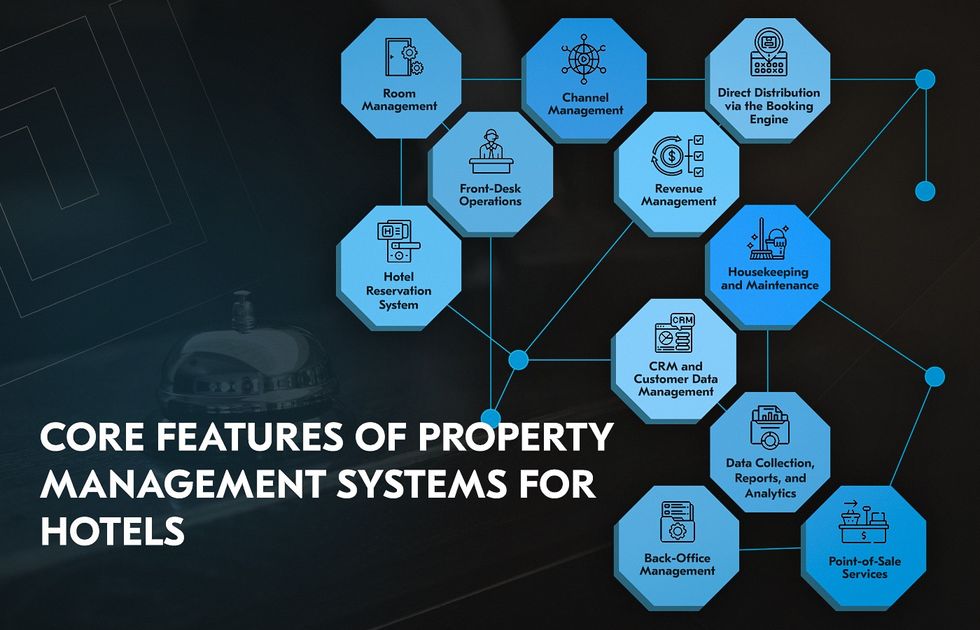 A property management system for hotel industry is a complex platform comprising several modules with various functionalities. So let's go through the core hotel PMS features.
As a rule, the best hotel property management systems must include the following features:
Reservation
Front-desk management
Back-office management
Room management
Channel and revenue management
Data collection and analysis
Point-of-sale
Hotel Reservation System
This module is indispensable for hospitality and travel businesses, as most reservations come online. This functionality allows hotel managers to effectively handle online bookings, manage room availability, and send all this information to the front desk.
The hotel reservation system usually includes the following features:
Room reservations — necessary to check the availability status of rooms throughout the hotel chain or in a separate hotel property.
Payment processing — required to accept online payments.
Automatic reservation emails — essential for informing clients of their reservations.
Front-Desk Operations and Room Management
The front desk is where your guests form their first impression of your business, regardless if their interaction with your company is online or offline. You most likely aim to make that impression positive and ensure a flawless experience.
The good news is that the hospitality property management system includes a front-desk operations module. This PMS functionality comprises reservations management, room inventory, keys management, check-in/check-out, pricing management, and more.
Channel Management
A channel management module streamlines your marketing and sales KPIs. It usually offers the following features: booking channels management, room availability, seasonal pricing, discounts, rate changes, etc. This functionality synchronizes all data in one place via a user-friendly dashboard.
Direct Distribution via the Booking Engine
The hotel website integrated with a booking engine is a critical distribution channel. It is from here, as a rule, that most reservations come.
This feature is necessary when creating hotel reservation software, as it allows customers to book rooms directly. How does it work? You synchronize the booking engine with your website and hotel PMS, turning it into an additional sales channel. This module also features payment processing and upselling.
Revenue Management and Strategy
A revenue management system features payment tracking, management, and analytics. PMS in hotels can accept online payments, validate credit and debit card data, track and manage unpaid bills and bookings, create reports, and plan revenue.
When combined with AI and ML technologies, this module helps boost revenues owing to predicting room occupancy levels and offering dynamic pricing based on data about past reservations, weather, or competitor rates.
Housekeeping and Maintenance
Housekeeping and maintenance is another module of hospitality property management software. It links housekeeping workers with the front desk and helps front-desk managers to assign various housekeeping tasks. This functionality also allows housekeepers to indicate the room availability status.
CRM and Customer Data Management
As already mentioned, satisfied customers are the basis of the hotel business. That is why integrating hotel property management system software with CRM is critical. In this way, hoteliers can establish efficient communication with their guests.
The customer relationship management module must be connected to the reservation system and the front desk office to collect data about past and current clients. Thus, all customer contact information, feedback, etc., will be stored in an accessible database.
This database will help hoteliers optimize sales and marketing processes, membership, and loyalty programs for improved customer experience.
Data Collection, Reports, and Analytics
Data collection, reports, and analytics module is an essential part of any PMS hotel, as it allows for better monitoring of business procedures and evaluation of the company's performance. Custom property management software for hotels allows for reporting on shift audits, room statuses, check-ins/check-outs, and more.
Back-Office Management
This property management system PMS module helps streamline the hotel's team operations. It usually features internal communication tools, shift management, accounting, event and catering management, along with custom company-specific functionality.
Point-of-Sale Services
As a rule, hotel businesses offer more than accommodation. Such facilities often have restaurants, gyms, or spas, not to mention in-room services such as a minibar, TV, or Wi-Fi.
Point-of-sale services enable the processing all additional charges for food and beverages, gyms, in-room services, banquets and conference halls, etc. They help automate transactions and keep payment data in one place.
Other Hospitality-Related Businesses That Need Hospitality Property Management Systems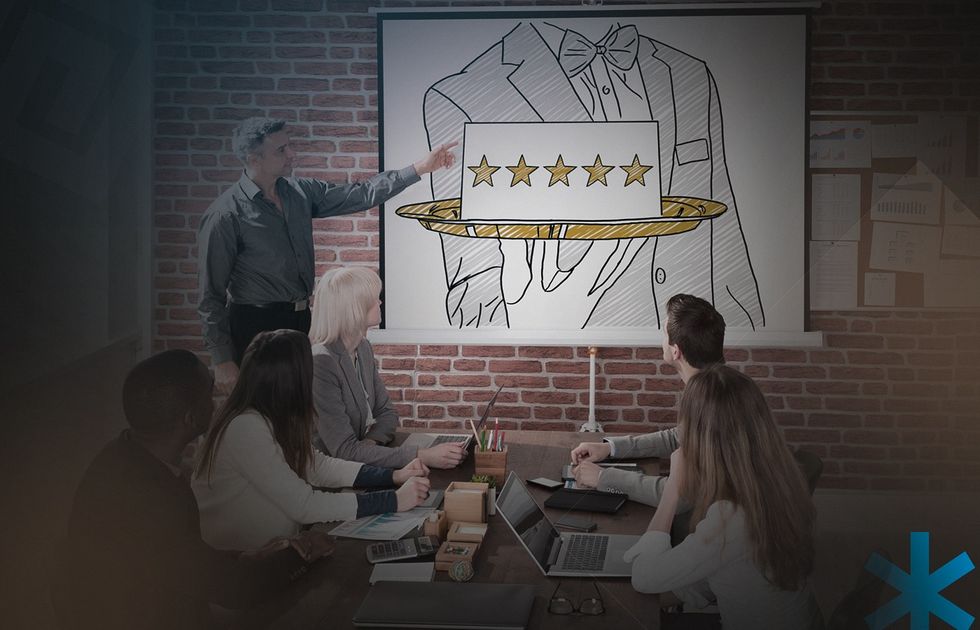 Depending on your hospitality business' type, the functionality of hotel operations software may slightly differ. Let's look at the main types of hospitality-related companies and the features of hotel PMS solutions necessary for them.
PMS Systems for Hotel Chains and Resorts
Large hotel chains and resorts need comprehensive online hotel property management software. PMSs that will meet the needs of such businesses offer a broad selection of modules in addition to reservations, front desk, and CRM.
Property management software for hotel chains should also include advanced functionality. In particular, it's multi-property management, group bookings, more POS services, marketing, and sales. In this case, back office and revenue management are critically necessary modules of hospitality PMS.
Property Management Systems for Vacation Properties, Apartments, and Guest Houses
Among the types of property management system in hotel, this one is similar to those for hotel chains. Nevertheless, it comes with some minor differences.
Vacation property hospitality PMS systems pay more attention to distribution channels and streamlining communication with customers. These platforms also aim for online presence and mobile access via a user-friendly interface.
Hotel PMS Systems for Small Hotels, Hostels, and Inns
The function of property management system in hotel is fundamentally different from the one intended for small hospitality facilities such as hostels or inns. As a rule, such businesses do not require a large number of modules and integrations.
The best hotel PMS systems for small hospitality companies feature reservation tools, front-desk management, and integration with the facility's website. They usually don't include numerous POS services and extensive revenue management capabilities.
The Benefits of Property Management System in Hotel Industry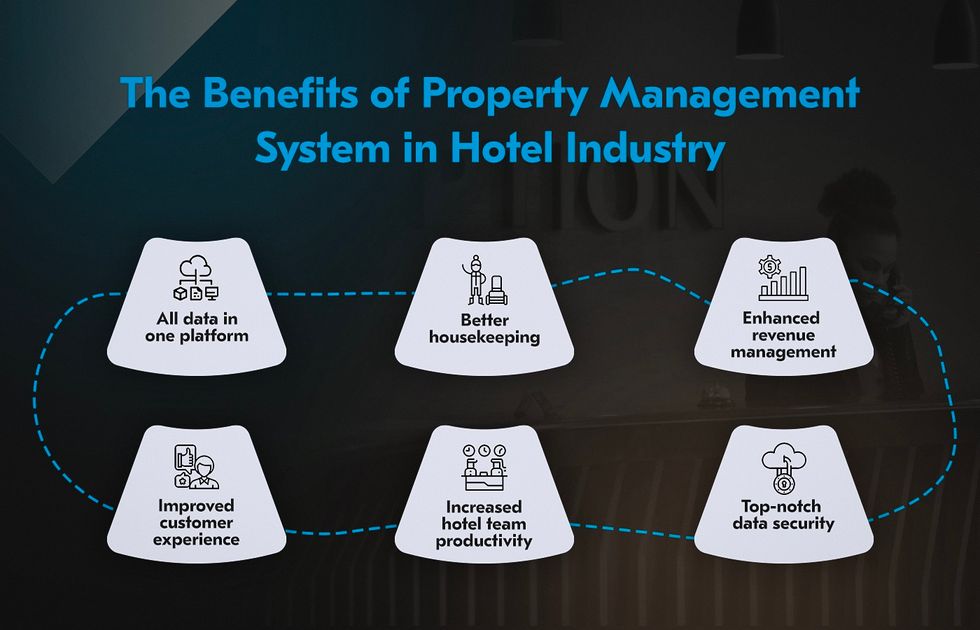 The importance of PMS in hotel industry is hard to overestimate. Such software solutions offer numerous advantages for hospitality businesses, and here are the main ones:
Management Process Automation
The benefits of PMS in hotel include the possibility of full automation of hospitality business management. Using such platforms, you can streamline almost all internal and external operations by combining several working environments. In particular, this applies to the front desk, back office, room service, and, of course, reservation and payment management.
All Data in One Platform
More advantages of PMS in hotel is the ability to keep all information about customers and hospitality properties in a single database. With hotel system software, your employees can effectively track customer flow, room availability, room status, and so on.
Better Housekeeping
Property management software hotels with a housekeeping module can make room service more efficient. Such platforms will notify housekeeping staff to ensure timely cleaning and room maintenance.
Enhanced Revenue Management
Property management system software hotels significantly improve revenue management. These platforms integrate all operations in the hospitality property with financial procedures. They offer payment gateways, POS services, analytics, and reporting for you to make the most of your business.
Improved Customer Experience
Because a property management system in hospitality industry provides opportunities for customer data collection, you can significantly improve your guests' experience. And thanks to the built-in CRM platform, you can constantly communicate with your customers and respond to their requests in a timely and efficient manner.
Increased Hotel Team Productivity
The best hospitality property management software offers a user-friendly interface and many automation tools, thanks to which your employees can easily manage all processes in the hotel. Such platforms allow your team to save a lot of time on routine tasks.
Top-Notch Data Security
The top hotel PMS provides a high level of data security. It's especially relevant for cloud based hotel property management software. You don't have to worry about data leaks or hacks using such a platform for your property administration.
How to Choose the Best Hotel Property Management Software for Your Business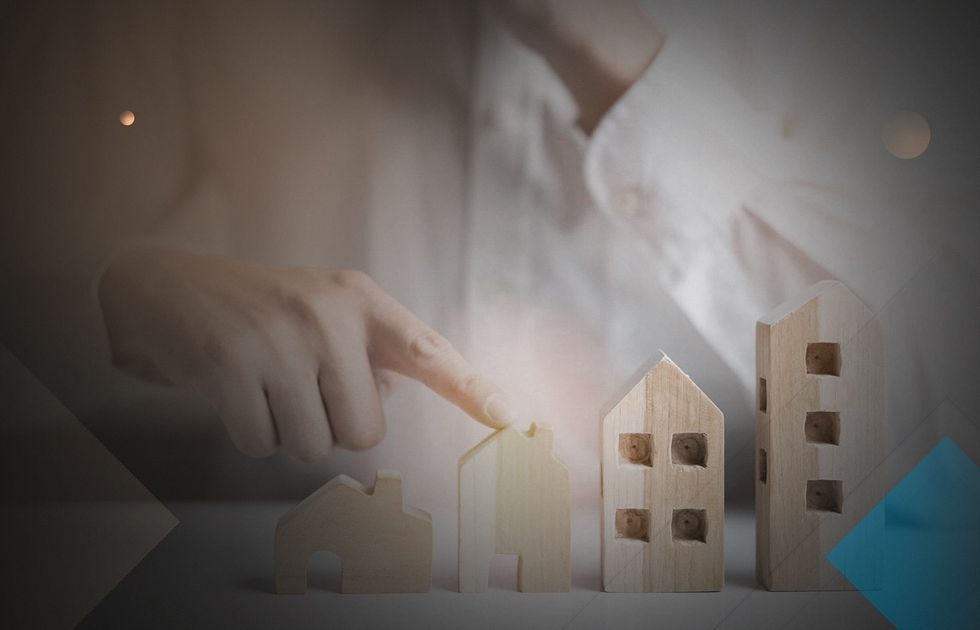 When it comes to implementing property management software hotel industry, you have two options. You can engage in custom hospitality software development or choose from among the best hotel PMS software available on the market.
What should be your considerations when choosing? First, you should weigh your requirements for functionality and the number of modules of your PMS system in hotel.
Other nice-to-have characteristics might include ease of use, technology interoperability, customization, and cloud hosting. So carefully consider your business needs to select the best PMS for hotels.
Another no less significant matter is choosing hospitality software according to your business type. Is it a hotel chain or a small hostel? Make sure that the software you select covers the tasks of your specific company.
Finally, consider your budget for the property management system PMS hotel. Before buying software solutions from a third-party vendor, it would be reasonable to evaluate additional costs for its implementation, etc.
Hotel Property Management Software Companies: How to Choose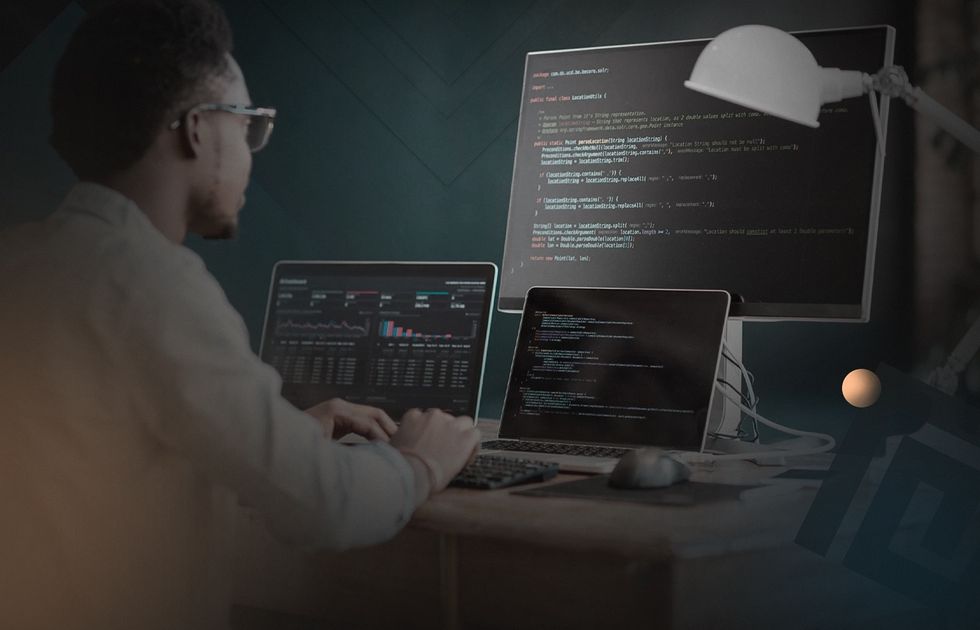 If you reviewed the software solutions available on the market and didn't find the best hotel PMS for your business, that's not a problem. You can always reach out to a hospitality software company for a custom property management system in hotel industry.
But how to find a reliable hotel software company? Pay attention to the following tips:
Thus, a thorough review of your hotel PMS software candidates and a clear formulation of your requirements will help you choose the most suitable vendor for hotel app development.
Why Choose Acropolium to Build the Top Hotel PMS Software for Your Business?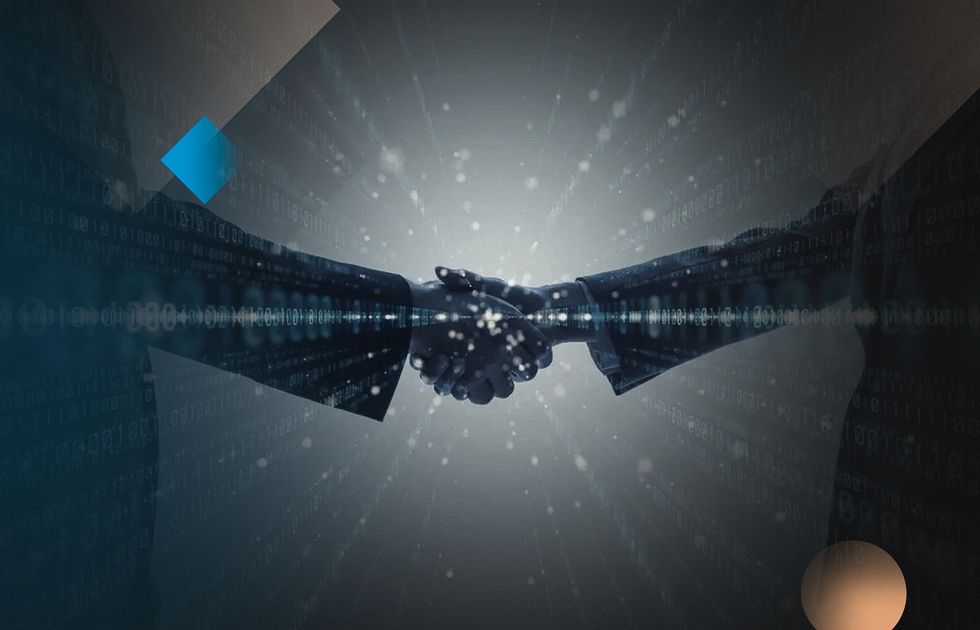 Consider Acropolium your best vendor for hospitality and travel software development. Our agency has verified expertise in these niches and a top-notch reputation, delivering over 45 successful projects.
We guarantee compliance with ISO-certified processes and the development of GDPR-compliant PMS hotel software. Our dedicated team can implement any of your ideas into life:
Hotel property management web development
Hotel property management app development
Cloud based hotel property management systems development
PMS hospitality software modernization
Our company is the top option for IT outsourcing, creating custom software for hospitality of high quality for over 12 years. Still thinking about whether to partner with us? Read on to see our best PMS hotel projects.
Acropolium Case Studies for Hotel Industry
Let's go to our practical cases of PMS in the hospitality industry. Here are our best projects:
Hotel Property Management System Development
The Hotel PMS system we developed includes powerful tools such as a built-in booking engine and reservation management solution. This integration has proven to be instrumental in boosting booking rates by an impressive 30%. By providing seamless online booking capabilities and real-time availability updates, our clients have witnessed a surge in reservations, resulting in increased revenue and improved occupancy rates.
By streamlining many of our client's workflows, our hotel PMS system has significantly improved their operational efficiency by an impressive 37%.
The greater operational efficiency, facilitated by our PMS, has resulted in a substantial reduction of administrative costs by an impressive 40%. By automating manual processes and eliminating redundant tasks, hotel staff can now allocate their time and resources more effectively, leading to cost savings and increased productivity.
Hotel Chain Management Software and App Development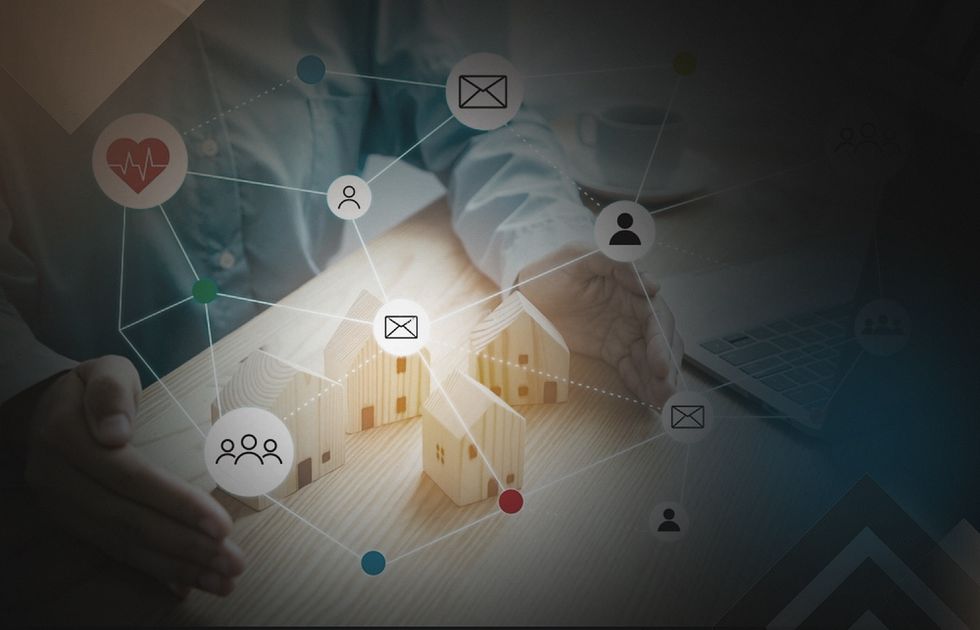 It is a project that our team worked on for the leading Ukrainian hotel chain Premier Hotels and Resorts. Our task was to scale the existing management and hotel room booking software and turn it into a cloud-based solution.
Our team optimized data processing and delivered the best cloud based hotel PMS. We have also significantly increased the scalability of this software. As a result, our experts helped the hotel chain reduce expenses by 40% and increase annual profits by 30%.
Food to Go Order App Development
It is one of our decent projects for the hospitality industry. Our team's task was to develop a multi-platform food ordering app connecting restaurants with customers beforehand.
Our experts have created a bespoke software app that enables pre-ordering of food from restaurants and reduces time spent waiting for the meals. We managed to increase the number of customers by 55% and boost the company's profits by 30%.
Airport Staff Operation Solution Development
This travel industry project was delivered for the German airport. We had to improve the existing airport staff management platform by reducing server overload.
Our team conducted a platform audit and implemented means to enhance the existing solution. We also enabled video surveillance and a real-time location tracking system. Thus, our experts helped to reduce staff management expenses by 40%.
Final Thoughts
The PMS in the hotel industry is a critical solution for small hospitality businesses and enterprises that want to optimize their costs and ensure outstanding customer service. Hotel check in system software goes beyond the reservation and front-desk operations. It allows for the complete automation of all hospitality-related processes.
We hope this article has explained the hotel PMS systems meaning and the must-have features of hotel check in software. While reading our guide, you may have also noticed that custom solutions offer more adjustment to your business needs, and if you require a platform like that, our team can develop it.
Acropolium offers subscription-based services for PMS system hotels development. Our experts don't just know what is hotel PMS, they are well-versed in all the intricacies of such platforms, having many years of experience in this niche. So feel free to contact us to start working on your project.
Sources of Information