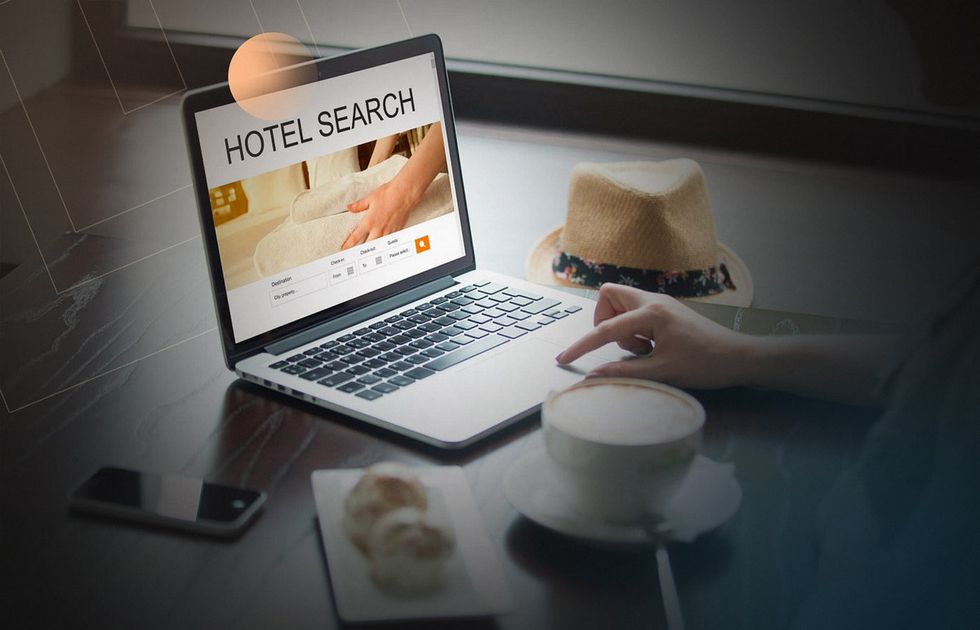 What makes hospitality software so important for hotel chains, resorts, and motels? Well, a convenient app simplifies and automates booking, payment, customer support, and marketing.
According to Statista, half of the travelers worldwide today choose vacation places on the web. Online booking is widespread in the hospitality industry, as shown with 33% of the US responders booking hotels at least once in 2021. Beyond that, 78% of all hotel revenue will come from online sales by 2026.
Of course, creating a hospitality app that keeps your clients happy isn't as easy as it sounds. On the contrary, initiating the development process without a plan resembles running through one under artillery strikes.
That's why we want to help you pick the features, architecture, and technical stack for hotel app development project. So, let's get started!
What type of hospitality app do you need?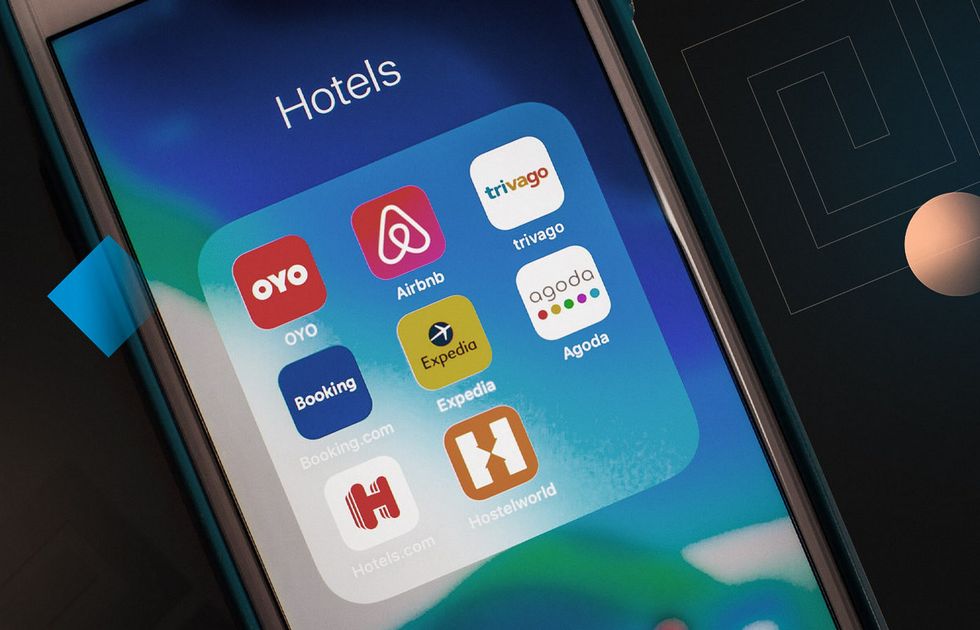 The days when only the biggest hotel chains used booking apps are far behind, with even the smallest businesses today understanding the usefulness of mobile apps. But before you start creating a mobile app for your hotel, let's look at the most common types of these apps:
Booking apps. These apps are used to find and reserve rooms, apartments, and guest houses. Since the booking requests are automated, it helps your managers process them faster and with lesser room for error.
Recommendation platforms. Software with advanced algorithms learns from users' previous activities and real-time data to offer hotels, alternate dates, additional services, and optimal travel options.
Property management software. These tools analyze publicly available information about competitors to predict demand and optimize rates for your rooms.
Customer relationship management software. Advanced CRM solutions can help personalize your services, scan feedback about your hotel, and build loyalty programs with customers.
But here's the deal. If you look at successful hotel apps, you'll notice that most of them go beyond these classifications and combine multiple features. That's why you should focus on the functionality you need in your app.
Features to consider for a hotel app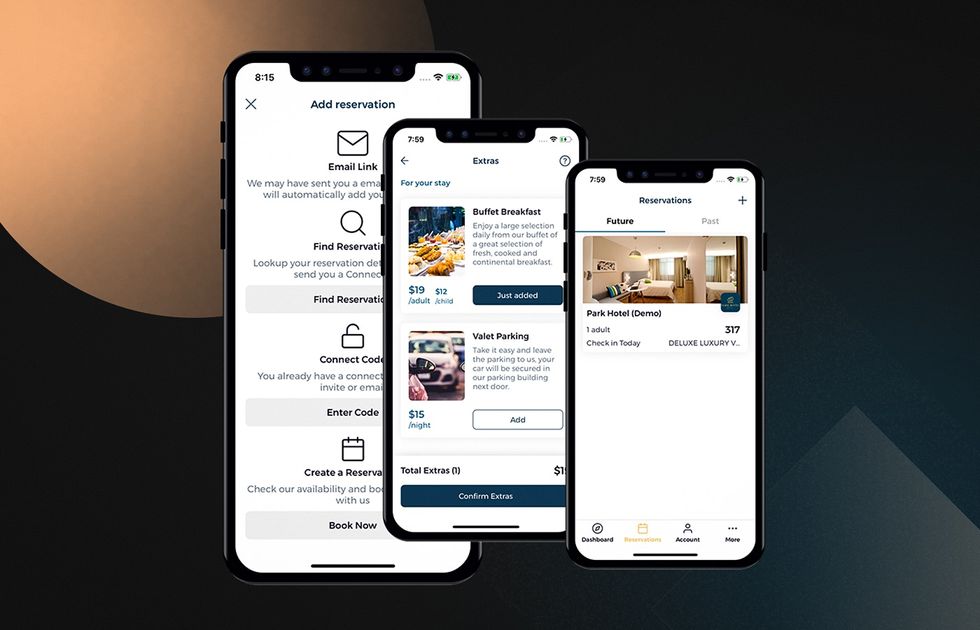 Hospitality software is built around your customer, which is why it's critical to meet their expectations. So, we've prepared a list of key features your guests expect to see in any hotel app.
Search engine
Nearly everyone who downloads a hotel app does it to find accommodation, so this feature is critical for you. Bigger chains will have more advanced functionality, but the bare minimum search categories should include:
Location (country, city, and district)
Date of arrival and departure
Number of guests and their age
Room properties (number of rooms, area, number of beds, and other amenities)
Pricing
It would help to let users narrow down the results with parameter-based filtering. Your guests will love to see which hotels have elevators, free WiFi, restaurants, SPA, or fitness rooms. They'll probably like to sort the results based on ratings, the proximity of the city's center, and the in-room bathroom. You should also remember about special services, like amenities for people with disabilities.
Online reservation (hotel booking)
Direct online booking is the second most important feature you need to create in the mobile app for your hotel. It should help guests look through your accommodations, see their photos and descriptions, and book rooms on selected dates.
Additionally, users would want to select an approximate check-in time, book a parking lot, or leave comments. This would make the reservation process quicker for the user and your administrators who process the request.
Payment processing
In-app online payment brings users one step closer to making a reservation. So, you should integrate a secure payment gateway to allow your mobile and web apps to securely process card payment data.
If you don't want users to abandon the purchase, the checkout process should be as easy as possible. So, limit the amount of information the user must share to a minimum (like name, contact info, and credit card data).
User profiles
Guest profiles help users save their privacy settings and payment information for future bookings. They also help you determine customer segments and target them with personalized offers.
You may also add profiles for managers and room cleaners to monitor their activity and schedule their work. Additionally, you can include profiles for travel agents and third-party booking platforms to manage sales activity, invoices, commissions, and revenue streams.
Marketing and loyalty programs
Your software can analyze your guests based on their location, travel destinations, widely used amenities, and other preferences. This could help you encourage users to pay for extra services, airport transfer, or grocery delivery.
Hotel apps can inform guests about special offers with emails and push-up notifications. You can also develop loyalty programs and reward regular customers with welcome gifts, complimentary amenities, or good old discounts.
Knowledge base
A knowledge base with a FAQ section helps guests find key information about your business, such as the reservation terms, payment options, extra services, and cancellation conditions. You could also include tutorials about your app's features and solutions to common problems.
Live chat
Adding a live chat & chatbot to your hotel app allows you to assist guests with pressing matters, offer incentives, or help those too lazy to use your knowledge base. You might also add AI-powered chatbots for handling low-priority tasks and common questions. According to the 2019 study by Deloitte Digital, chatbots improve customer acquisition and reduce operating costs by 15-70% by relieving support teams from repetitive tasks.
Currency and language selection
Your app needs to support multiple languages and currencies if you want to cater to foreign tourists. So, set up your system to detect the user's preferred language and currency based on their IP address. You should also allow users to manually configure these options at the top of the screen.
In-app map
A detailed location map could be helpful in an app for a resort. Then, your guests wouldn't get lost among all the restaurants, swimming pools, ski tracks, and other facilities. Alternatively, you can integrate a map with places to see and things to do near your hotel.
Price optimization
Revenue management software modules can analyze how much guests are willing to pay for specific amenities. You could find a guest that prefers balconies and push notifications for a premium room with a great view.
You can include a dynamic pricing feature to maximize your revenue. For instance, AI-based analytics can automatically optimize your pricing by tracking local events, trends, weather forecasts, and competing rates.
Review management
Customer feedback is critical for hospitality businesses, especially for local hotels. According to the 2022 Local Consumer Review Survey, 77% of customers always look for reviews before dealing with a company. What's more, 57% of people are suspicious of businesses that don't have reviews.
What does this mean? Two things: your app must include a review system, and you should actively manage feedback. You might go a step further and use reputation management tools to scan and evaluate reviews about your hotel on other platforms to respond to their comments.
That sums up the features guests would want to see in your app. But there's still much work to be done because you need to think about how your app will look, feel, and perform.
Choosing a hotel app design and architecture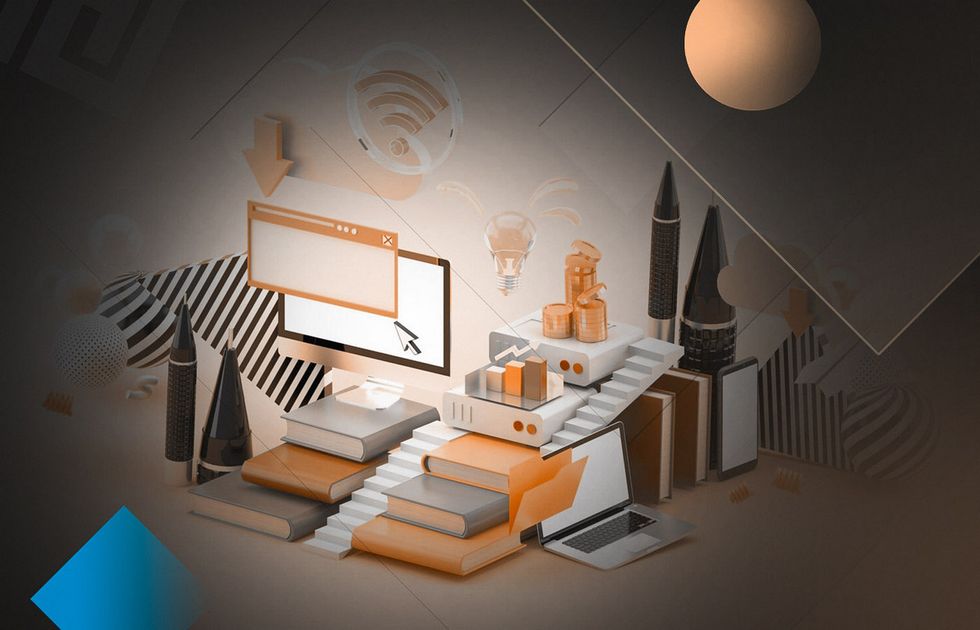 User interface (UI) design and application architecture are the defining parts of hotel app development, so let's look at them in detail.
Design
A good layout brings forth the most important features without making customers feel overwhelmed. Combining functionality with convenience involves a fair bit of research, creativity, and numerous mockups. Fortunately, we have some tips for you:
Focus on the user's needs and the features they struggle with most in other hotel apps
Make the profile creation process straightforward with a single sign-up (SSO) from social networks (Google, Twitter, or Facebook)
Simplify browsing with scrolling windows, carousel sliders, and small screens with primary details about accommodations (the users should see the room type, general condition, rate, and a title photo)
Make the booking button visible and lock it in a place users can reach from any screen
Consider adding layout and interface elements for different user categories (customers, travel agents, managers, and administrators)
Use the API-first approach where development starts with a mockup of an application programming interface (API) (more on that in the next chapter)
Make users a part of the design process and use their feedback to modify your design
The fundamental rule you have to comply with is that the user should feel in control.
Architecture
The architecture defines how the components of your system interact with each other. It could make the app run butter-smooth or be riddled with lags, so here's what you can do to ensure your app works as intended:
You can further enhance your system with dynamic content pre-rendering, load balancers, and content delivery networks. But, most importantly, you should use appropriate technologies.
Technical stack for hotel app development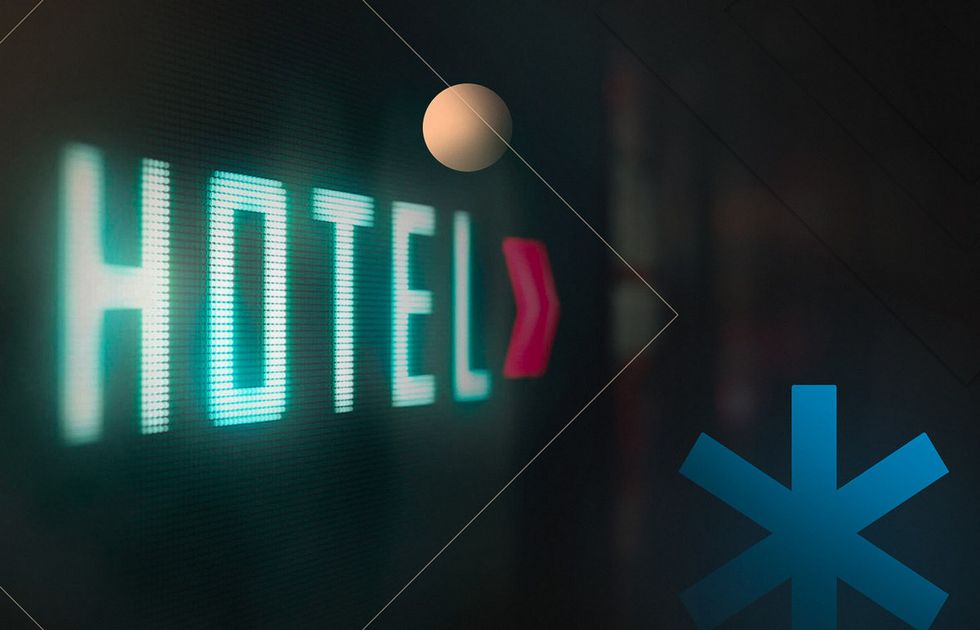 Now, what kind of platforms and tools will help you develop reliable and user-centric software? Let's give you a few ideas.
Programming languages
Use popular programming languages that can simplify development. Here are the tools we at Acropolium often use in our web and mobile projects:
JavaScript is the go-to programming language for creating dynamically updated content
React.js for its pre-built components, downward data flow, and component updates
React Native can help you with cross-platform mobile app development
Node.js for fast frontend rendering during web app development
We also use PHP, Python, and Django for more advanced management systems. That said, most booking apps don't require complex technologies.
Application programming interfaces (API)
APIs allow integrating third-party features into your app to save time and money on room reservation app development. Here are the services you could use:
You can compile your hotel app from dozens of existing APIs if you want. Still, make sure to study their terms and technical documentation to learn about any limitations and ways they use guest data.
Low-code solutions
Low-code platforms help engineers build apps using intuitive graphical interfaces, reusable components, templates, ready-made code, and automation tools. These tools could allow people without coding skills to contribute to the development. Plus, they can help experienced engineers speed up development and reduce the overall time-to-market.
Backend as a Service (BaaS)
BaaS platforms automate backend development and handle underlying server-side processes. For example, BaaS solutions can take care of server setup, API integration, and CDN management, so you can minimize time-consuming tasks and focus on the frontend.
Content management system (CMS)
A CMS is a content management center that allows you to modify your app's design elements, images, logos, and text descriptions. WordPress is the most popular CMS for websites and web apps, but it's not the most favorable one. And for managing content in your mobile apps, you could use a Mobile BaaS like Kinvey or Parse.
These programming languages, frameworks, and software systems can help your engineers quickly build a minimum viable product (MVP). The key is knowing the issues MVPs face most often and how to solve them.
Problems you can face while building an MVP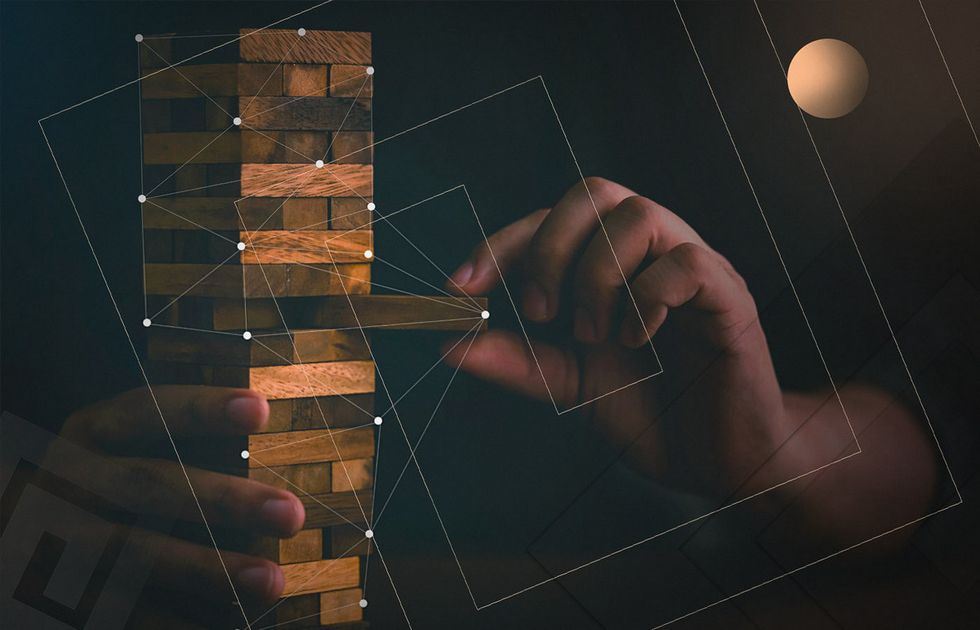 MVP development lets you validate your app while spending the least amount of resources and effort, but things could go awry even here.
Insufficient research
Successful apps reach their target audience by solving their problems. What this means is you need to study your customers before sketching the first design mockup or writing the first line of code.
After creating the customer persona, you'll need to look into your competitors. Dissect their apps' specifications, features, target audiences, and marketing. Try to copy things that work and improve on their shortcomings.
Not prioritizing core features
It's a mistake to overstuff your first MVP with secondary features. After all, this isn't even the prototype of your hotel app. Instead, think of it as a form of validated learning that lets you test your concept and technology.
The first iteration of your MVP should have only the bare minimum of functionality that would address the target audience's needs. So, what are the features you need the most?
For starters, you can build an app for hotel booking with a search engine, personal accounts, and payment gateway. This would let you collect feedback needed to improve the primary functionality. Adding other features will be much faster after you refine the core.
Data management issues
You need to store and process large quantities of data generated from daily interactions. Besides, having too many concurrent users might create performance issues if your architecture isn't built with scaling in mind. Excessive demand could lead to downtime, which could bring your business to a temporary and quite expensive halt.
The best solution might be to use a cloud-based infrastructure like the above-mentioned AWS. You would also cut a chunk of expenses on on-premise hardware and maintenance because the provider takes care of that for you.
Software modules can gather information from multiple sources (like in-app interactions, support requests, reviews portals, social networks), leading to duplicate entries and terabytes of unstructured data. To prevent your storage from cluttering, you need standardization and filtering tools that automatically remove the clutter.
Privacy and security problems
Data breaches can compromise your guest's names, credit card details, passport and social security numbers. As you can imagine, this would hit your reputation hard. On top of that, the government will fine you for inappropriate technical measures to protect users' privacy. A case in point is the Marrion hotel chain that was fined £18.4 million (about $24.4 million) after a data breach in 2014.
You need to adhere to local data privacy laws, industry standards, and ISO/IEC 27001 security policies. From a technical standpoint, this requires implementing multi-factor authentication, automatic log-off, data encryption, and role-based access control. It's equally important to establish policies for secure data management and train your employees in cybersecurity.
Lack of experience
AI-powered analytics and robotic process automation tools can help you personalize the guest experience and improve your productivity by reducing repetitive tasks. However, implementing these technologies requires specific expertise that your in-house team may lack.
Do you want to keep your project on track and remain within your budget? The obvious solution would be to hire an experienced software development company to help you create an MVP.
Our approach to hospitality app development
Over the last 15 years, Acropolium has delivered over 45 HoReCa software solutions ranging from booking systems to complex management platforms. Our specialists can help you ideate, plan, or develop your product. We also can help you digitize your business with a platform tailored to your needs, as we did for Premier Hotels and Resorts.
The company needed to upgrade its legacy platform into a scalable infrastructure capable of processing large quantities of data. We started by moving the legacy hotel app into the cloud to make it scalable, optimizing its subsystems. Next, our team implemented a marketing module and developed companion apps for Android and iOS.
Our multi-platform management software helped the company improve its profits by 30% and cut 40% of operational costs. And the best part? You can achieve the same results with a reliable technical partner like Acropolium.
Build your own hotel booking app to digitalize your business
A convenient hotel app can fill your rooms with satisfied customers eager to return the next holiday season. But it takes time and experience to pack valuable features in a user-friendly design and make it all work quickly.
Do you want to make hotel app development stress-free and cost-effective? Acropolium has first-hand experience and mastery to make it happen. So, whether you need to enhance your software or build an app from scratch, don't hesitate to contact us.