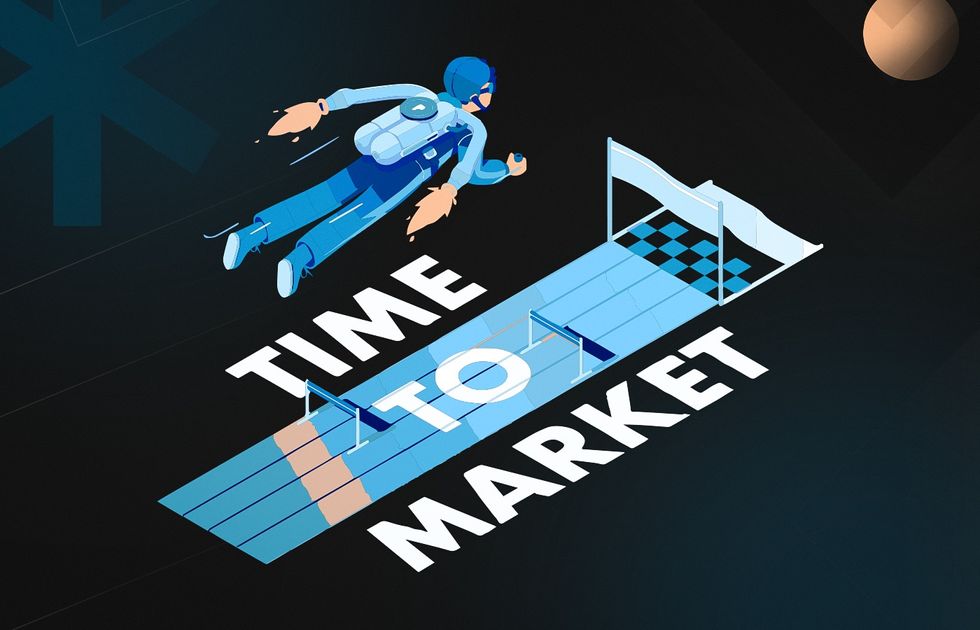 Key takeaways
The reduced time to market helps businesses quickly validate the concept and market fit and gain a competitive advantage.
You can speed up time to market with a good strategy, properly organized process, automation of routine processes, use of BaaS solutions, etc.
Minimum valuable product (MVP) lets companies quickly release a product with essential characteristics, get user feedback, and make the necessary improvements.
If you plan to launch a new product, a faster time to market has a critical impact. But what is time to market? The timeline begins with the emergence of the idea and ends when your product reaches its audience. The good thing is that you can boost this process and leave competitors behind.
We will provide you with nine tips on how to reduce time to market and cross the finish line first in this race. Our research is primarily based on Acropolium's experience in accelerated workflow for the sake of the product's best hit.
We have been developing and optimizing bespoke software for various industries and company sizes for over 20 years. Three of our startups have grown into unicorns, and four of our clients are on the Fortune 500 list. And today, we want to share our insights, as well as the experience of a rapidly developing shipping service platform, a location-based social network app, and an accounting software solution.
What Is Speed to Market, and Why Should You Care?
According to Accenture, the more effectively companies use technology, the more successful they are in reducing time to market. From 2016 to 2021, technology leverage increased by 30-81%. As a result, industrial enterprises have reduced their timeline from 56 to 42 weeks, planning to reach 29 weeks in the next five years. What does it give in perspective?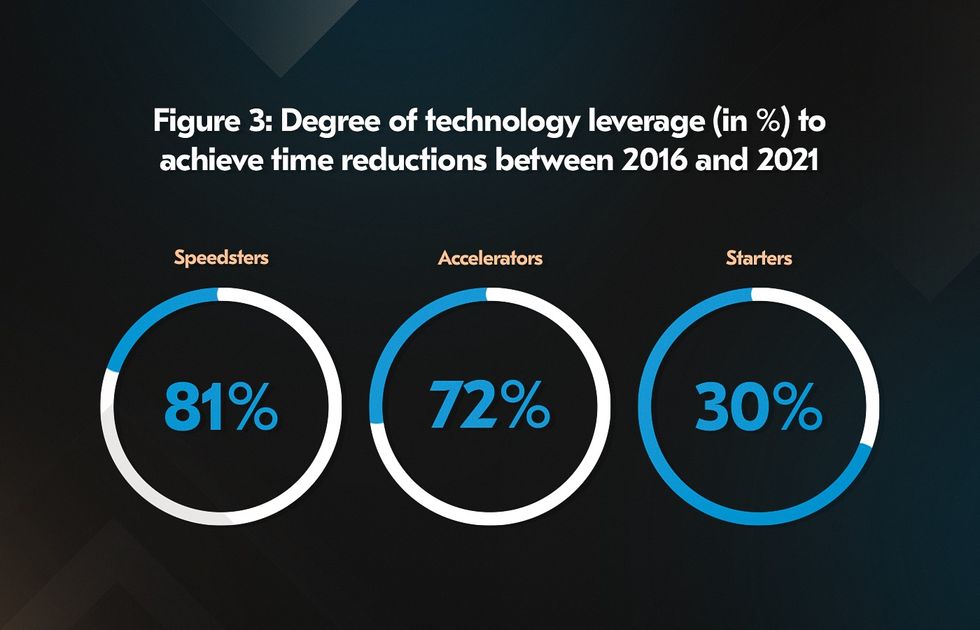 Time to market meaning can't be overrated. Fast product development gives you an advantage over competitors and a better awareness of the manufacturing pace. Effective time management and controlling all stages of development directly lead to improving marketing strategy. Rapid and well-planned TTM can be a determining factor.
In addition, your team will be more aware of what and when they need to do it. They will improve their performance, discard redundancy, and focus on key goals. A fast and well-organized workflow will help increase margin earnings and lower the risk of late release.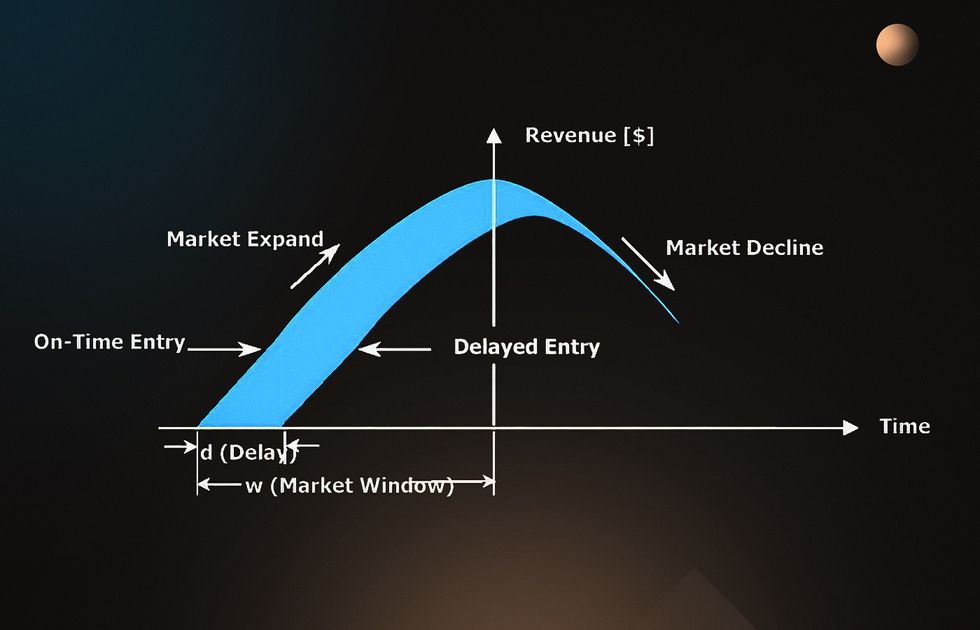 Types of Product Development Time to Market
After the speed to market definition, let's discuss the approaches to accelerate the initial stages of development.
Full-Speed Development
The release of apps and other digital products isn't expected to take much time. The full-speed development TTM is about passing all stages as fast as possible. To do this, startups build an MVP or a prototype of the product, which helps them get user feedback and adapt the product immediately.
Agility Boost
Applying this method for improving time to market will let you use changes and be flexible in development without postponing the release. This approach enables the company to establish a clear connection with the audience and implement the necessary changes to the product as soon as the feedback arrives. Unlike MVP, this method is suitable for any business field.
Certain Scheduling
Many products are set to be released on a certain day. It could be beneficial for marketing campaigns planned for a specific time. Such a strategy helps to avoid stressful haste and the possible mistakes made for this reason. Instead, you can set a clear schedule and strictly follow it.
Resource-Centered Approaches
You may choose to work with individual skilled specialists, each of them has to complete their part before moving on to the next stage. The other way is to hire a team of professionals. This approach ensures that each part of the workflow will be completed under any circumstances. A team working together on the project is ready to make joint decisions and perform various tasks simultaneously.
9 Tips to Improve Speed to Market
How to improve time to market? Here are nine ways to speed up your Time to Market and make delivering your product to the users more result-driven and less stressful.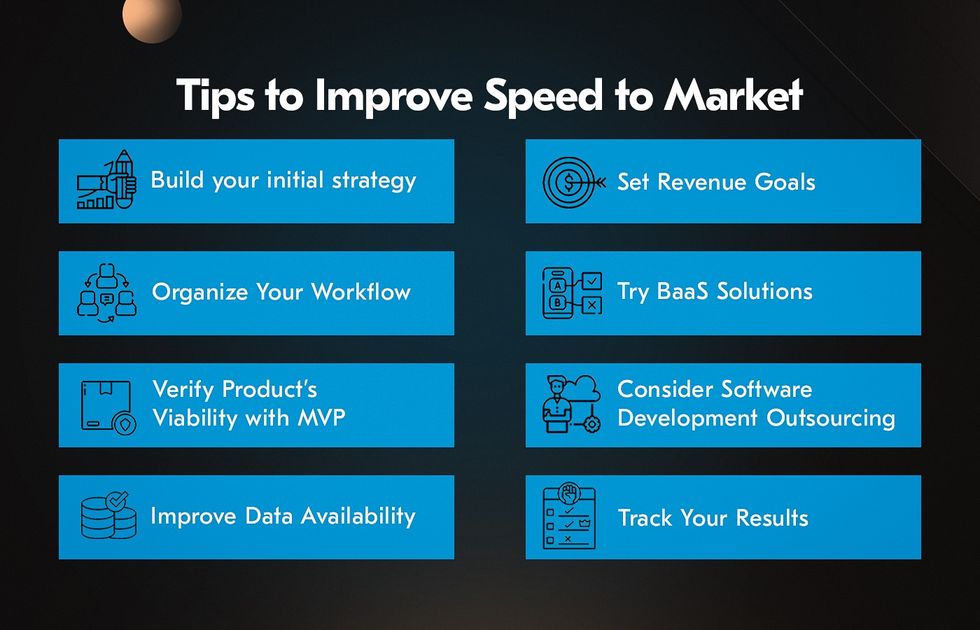 Build your initial strategy
To increase speed to market efficiently, you should create a good plan and follow it. Reconsider your idea, discuss it with the team and experts, analyze it, and make a final decision. Try to create the first calendar, set key dates and milestones. Calculate the approximate duration of TTM based on statistics and the specifics of your product.
If you are going to develop an innovative product, the most common delays happen because of too complex technical processes that take longer than expected. Remember that at this stage, you need a quick result, not a perfect product. Usually, technical bugs and lack of features can be fixed after the first testing and launch of the prototype.
Finally, be involved. A common mistake is to deviate from the process and expect your team to do the job. Keep every production stage under control, don't let everything run independently. It is the only way to be aware and promptly respond to emergencies.
Set Revenue Goals
Time-to-market duration impacts revenue by simple logic, making it grow if you launch the product sooner. But the trick is that if you try to shorten the development time, it will significantly increase the spending. To keep the situation manageable, set clear limits to your budget. Try to find a balance between the reduced timeline and the budget limits.
One of the ways to speed up time to market consists in setting clear revenue goals and keeping this strategy throughout all stages of TTM. It will help you learn the priorities better and concentrate on the core aspects of development. So instead of adding more functionalities and polishing your product prematurely, invest wisely and increase productivity.
To achieve these goals, consider prototyping and rapid iteration. Create a preliminary product version for testing and feedback, and make timely improvements. Such an approach allows you to quickly identify and solve problems at a lower cost. This way, you can realize market opportunities faster. In addition, it is a great opportunity to reduce the risk that the goods will not be accepted and your budget will simply drain.
Organize Your Workflow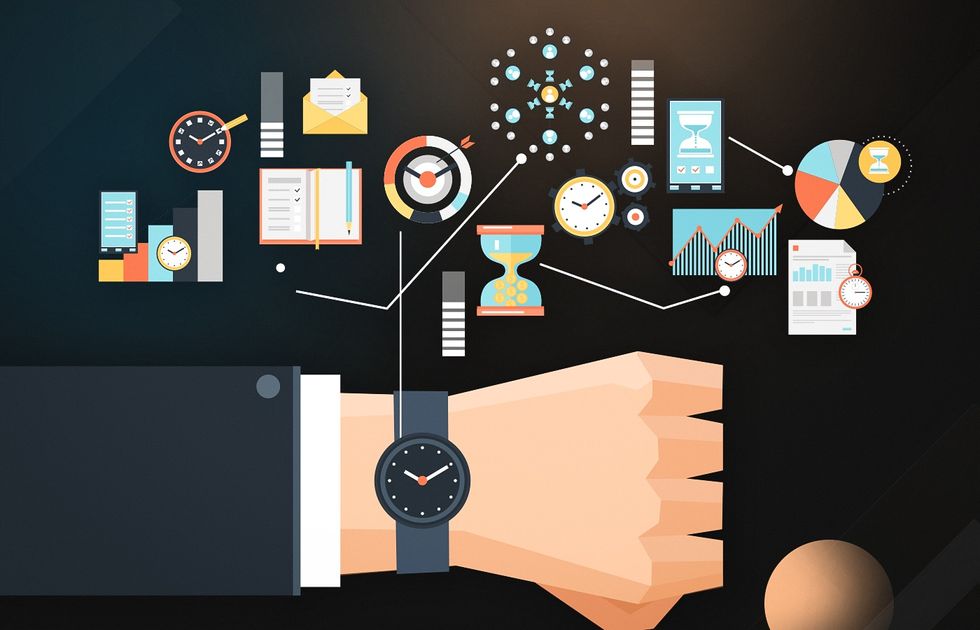 For successful project management, use relevant services. The tool will help you organize your team's performance better. It will provide convenient time-tracking, statistics, faster communication, and interactive boards that allow your staff to follow the plan and meet deadlines.
One of the most effective development methodologies is Agile, which includes Scrum, Kanban, and other models. It involves constant cooperation, feedback, and quick adaptation to changes. It lets you improve the product throughout its lifecycle, ensuring its relevance to the target audience's needs. As a result, you make progress and get your product to market faster.
Use Automation and Integration
Automation is one of the factors leading to a faster time to market. Where human error can cause problems, technology has become a lifeline. It unloads the employees working on the project and solves problems people would waste time on. You can use automation to perform frequently repeated and routine tasks. It helps to manage the basic cycles of product development.
Integration is another way to shorten time to market. Even one small project at the very beginning of its development may contain large amounts of data constantly increasing. To avoid confusion and constant verifications within the team, create one place to integrate and store it in an up-to-date condition.
Try BaaS Solutions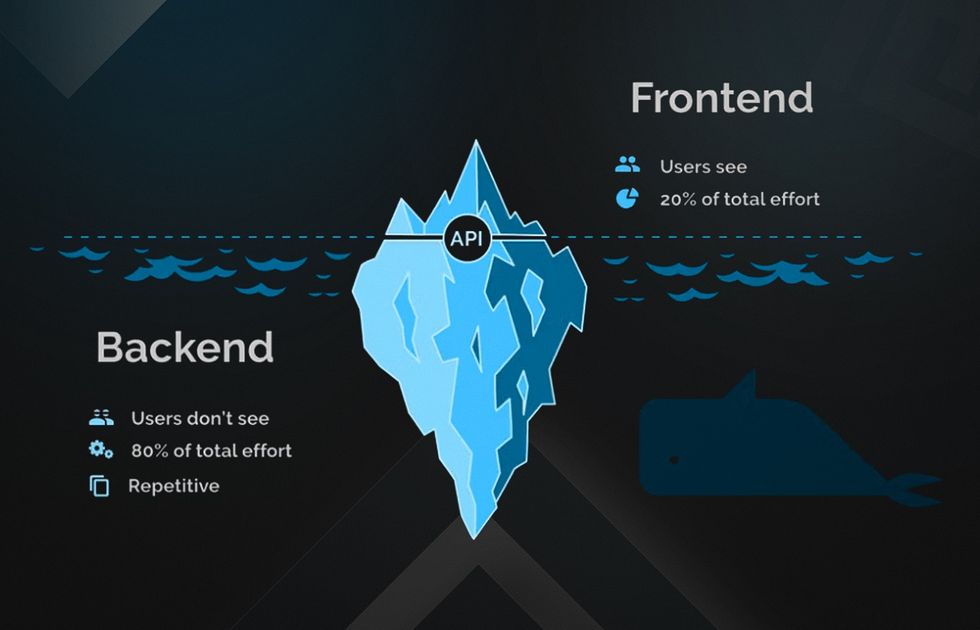 Integrating BaaS solutions is one of the most efficient ways to reduce time to market for digital products and deliver them to the market. Backend-as-a-Service is a cloud-based system that enables your team to primarily focus on creativity and the very production.
Constant partnership with a BaaS provider is particularly beneficial for those who regularly launch new products and constantly need a great tech stack to reduce TTM. It's inefficient to make your team deal with tasks related to the existing products, such as marketing and sales campaigns. It's much more convenient and, as a result, more profitable to involve BaaS solutions.
Consider Software Development Outsourcing
IT outsourcing can be highly beneficial and save you a few extra weeks, often spent on frequent offline meetings. If you decide to start working with an offshore agency, the time zone difference can boost the workflow. Just make sure you won't have any communication issues. Not only technical but any other component of product engineering can be outsourced if you have a good strategy for project coordination.
Experts will build a good application architecture using the best front-end and back-end frameworks and serverless solutions for better scalability.
Verify Product's Viability with MVP
MVP is one of the ways to accelerate time to market and study the needs of your audience. A Minimum Viable Product is the initial version of your product that includes only basic features. It is represented to the target audience and receives feedback before the official release.
The sooner you launch the MVP, the better. It will give you opportunities to improve or completely change your product, if necessary. And to speed up the process even more, use a low code option.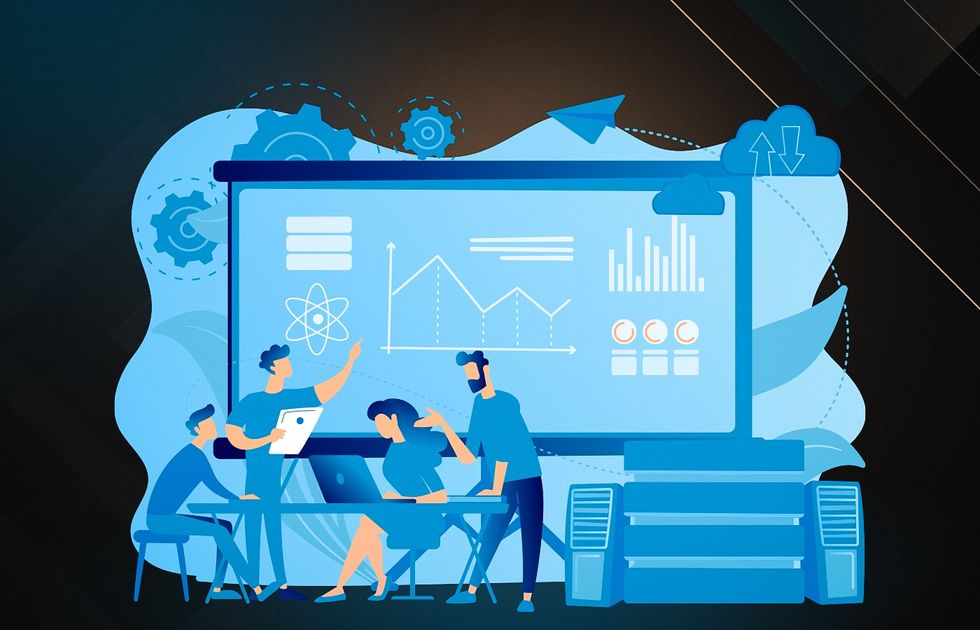 Improve Data Availability
To see real-time statistics and make data-based decisions, it is essential to improve data accessibility. Create a centralized data repository with all the necessary information — user feedback, market research, team insights, and performance indicators. Visualize reports understandably so all stakeholders stay in the loop about the progress.
Make sure that the information is constantly updated and illustrates the realities. Educate and encourage the team to use this data to make decisions. But at the same time, think carefully about access based on roles, so that users can use only the necessary information.
Such transparency will not only create a comfortable atmosphere but also accelerate the speed product development as participants will be able to cooperate effectively. They will make better decisions and see the impact of their activities on the project.
Track Your Results
Tracking results is an integral part of the speed-to-market strategy. Using established key product performance indicators (KPI), stakeholders assess the success of a specific development stage. For example, identify and fix bottlenecks, reducing the risk of failure. Or test hypotheses about the functionality of the product and its characteristics.
There are many KPIs used in product development. These include on-time delivery, efficient use of resources, team speed, etc. Low scores will help you rethink your workflow and adapt it to your team and company needs. Do not hesitate to involve employees in the discussion, because they know the internal processes well.
Acropolium's Experience
Do you want to reduce time to market by up to 50% and lower your SaaS development costs? Acropolium will provide your company with a backend as a service (BaaS) and consulting on implementation while you focus on other processes.
Our custom solutions with effective architecture allow you to stock data in cloud storage, manage a scalable database, authenticate users, integrate APIs, configure geolocation, push notifications, etc.
And here are the projects we implemented.
Shipping Service Solution
A shipping service provider needed web platform optimization and mobile application development for truck drivers and brokers. Our task was to establish the tracking of the actual number of driver working hours to generate payment for actual work. Also, we should provide a payment guarantee to drivers in case of unforeseen circumstances.
In 3 months, we optimized the platform, making it more advanced and scalable, and presented the MVP of the application for iOS and Android. Now users can track maps and geolocation in real time. It helped increase the security level by 90% and the session speed by 28%.
Location-Based Social Network App
The development of a location-based social network program was an exciting experiment. The client wanted to test a hypothesis, so he needed to quickly develop an MVP. With the help of Google Firebase, we were able to focus on the business logic of the software and implement the project in just three months.
Accounting Software Solution
Acropolium's dedicated team created a SaaS accounting automation solution with multi-tenant access, connecting various payment methods. Customers can conduct transactions and customize reports and invoice templates, setting up with 5 clicks.
MVP development took only five months. And the project immediately demonstrated its success because the transition rate from the free demo version to the paid plan reached 30%.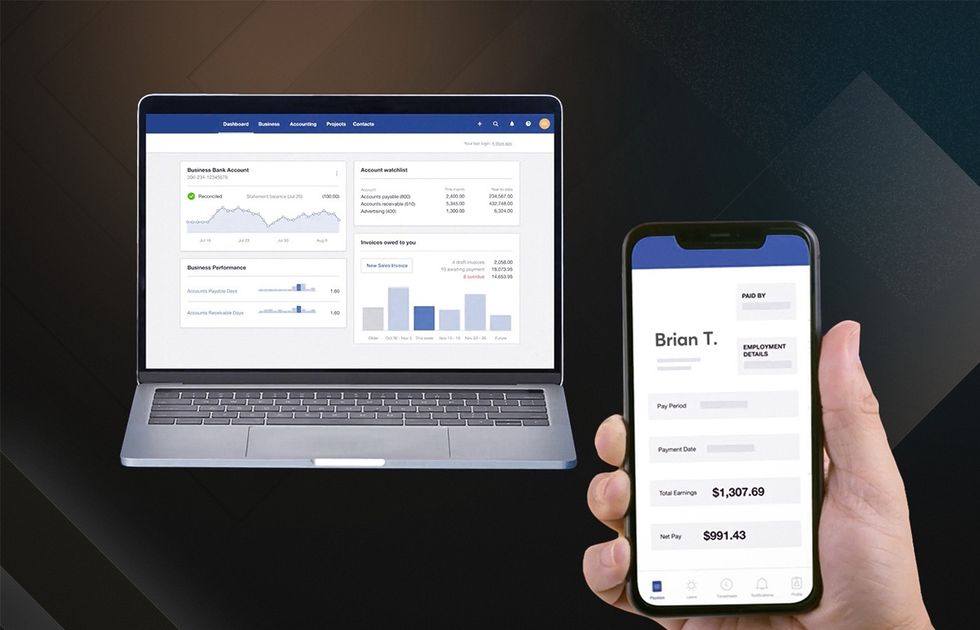 Final Words
Time to market is the determining phase of product development. This is when you generate ideas, build the strategy, improve the workflow, and establish project management. If you waste your time on hesitation and distribute your time inefficiently, there's a considerable risk of being late with the release and losing the advantage over competitors.
To finish on time and achieve the desired result, you must find ways to improve time to market. You should pay attention to development strategy, automate workflow, use Agile methodologies and BaaS solutions, or even consider outsourcing. Setting revenue goals, keeping data accessible, and tracking intermediate results are also crucial. Verify your product's viability and get the audience's feedback by building MVP.
Are you about to turn your idea into reality and launch your tech product? We at Acropolium have found solutions for almost two hundred projects in various industries. Our team has extensive expertise at all development stages and delivers it on a subscription basis. Feel free to get in touch and have a deeper consultation on how to speed up product development for the successful launch of your product just in time.
Sources of Information