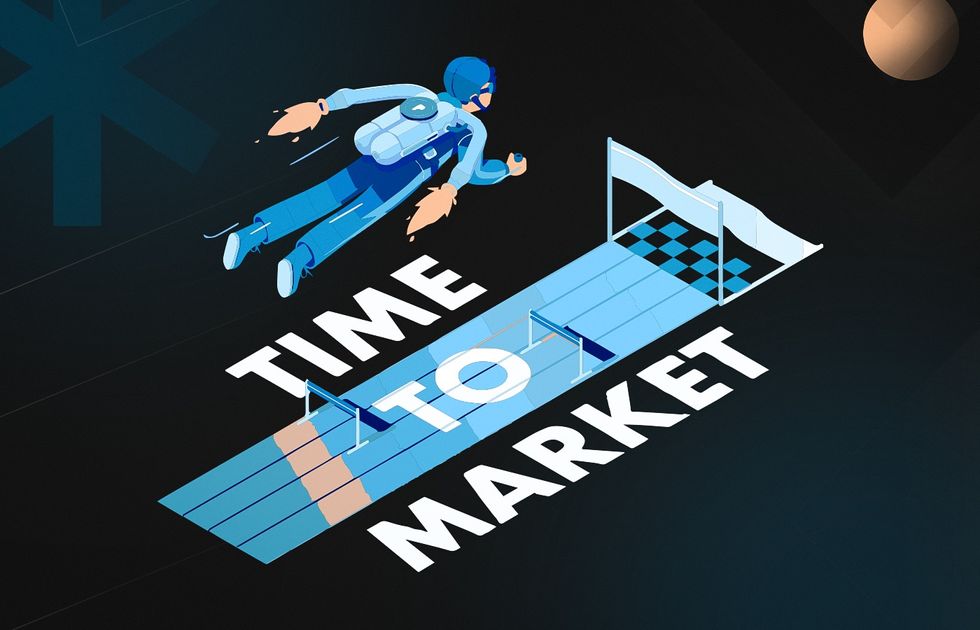 If you plan to launch a new product, timing has a critical impact. Any market niche is likely to be highly competitive. So to keep your idea viable and make it evolve into something real, you need to process it faster than the others will do.
The time to market concept includes all initial stages of the product's creation. It begins with the emergence of the idea and ends when your product reaches its audience. So how can you boost this process and leave competitors behind?
**We will provide you with 7 tips on how to reduce time to market and cross the finish line first in this race. **
Our research is primarily based on Acropolium's experience in the accelerated workflow for the sake of the product's best hit.
New Product Development Time to Market: Why You Should Care
So why is improving time to market for a new product so important? Statistics answer this question unambiguously. According to Gartner, only 55$ of product releases take place on time. Those who manage to launch their products on schedule are much more likely to meet their goals in the same year. Meanwhile, almost half of the delayed launches fail to meet the target.
Reducing time to market duration gives you an advantage over competitors and a better awareness of the manufacturing pace. Effective time management and keeping all stages of development under control directly lead to the improvement of marketing strategy. Rapid and well-planned TTM can be a determining factor.
In addition, your team will be more aware of what and when they need to do. They will improve their performance, discard redundancy, and focus on key goals. A fast and well-organized workflow will help increase margin earnings and lower the risk of late release.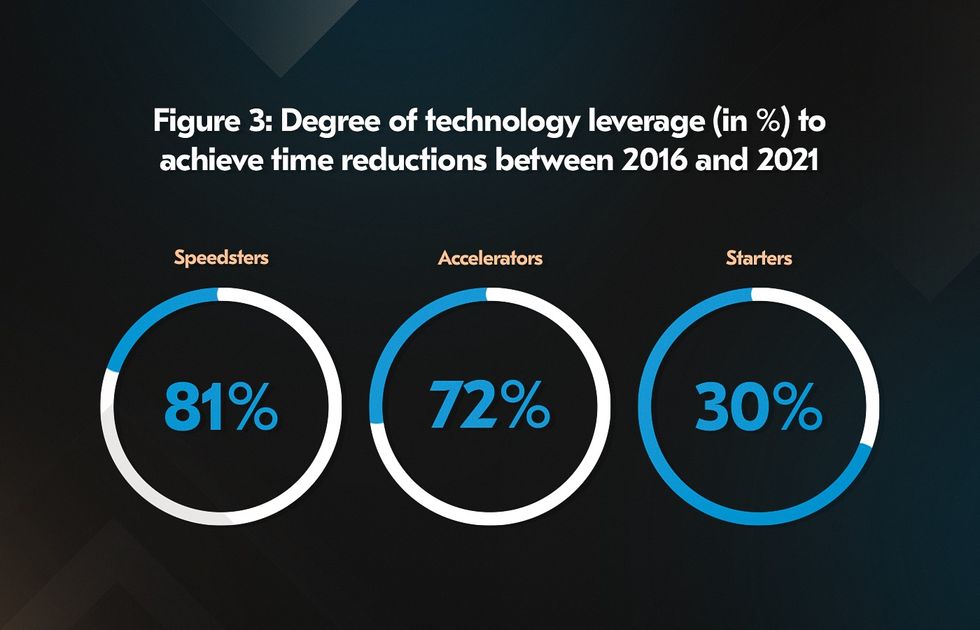 Read also: How much does it cost to develop a SaaS product.
Types of Time to Market
Overpassing the time to market stage, you can go different ways, depending on your product's type and the niche it wants to occupy. The priorities of your TTM strategy are determining and will establish the rules you follow at each stage. There are several approaches to accelerate the initial stages of development.
Full-speed Development
The release of apps and other digital products isn't expected to take much time. The full-speed development TTM is about choosing to pass all stages as fast as possible. To do this, startups build an MVP or a prototype of the product, which helps them immediately get feedback from users and adapt the product immediately.
Agility Boost
Applying this method for improving time to market will let you apply changes and be flexible in development without postponing the release. This approach lets the company establish a clear connection with the audience and implement the necessary changes to the product as soon as the feedback arrives. Unlike MVP, this method is suitable for any business field.
Certain Scheduling
Sometimes it's not about how short your TTM can be but about how well it follows the plan. Many products are set to be released on a certain day. It could be beneficial for the marketing campaigns that are planned for a specific time. Such a strategy helps to avoid the stressful haste and the possible mistakes made for this reason. Instead, you will be able to set a clear schedule and strictly follow it.
Resource-centered Approaches
There are a few strategies that are mostly focused on the efficiency of teamwork and productivity.
You may choose to work with individual skilled specialists, each of them has to complete their part before moving on to the next stage. The other way is to hire a team of professionals. This approach ensures that each part of the workflow will be completed under any circumstances. A team working together on the project is ready to make joint decisions and perform various tasks simultaneously.
Read also: How to reduce cloud computing costs for your product.
7 Tips to Improve Speed to Market
No matter which approach works best for you, the TTM reduction remains vital.
Here are seven ways to speed up your Time to Market and make delivering your product to the users more result-driven and less stressful.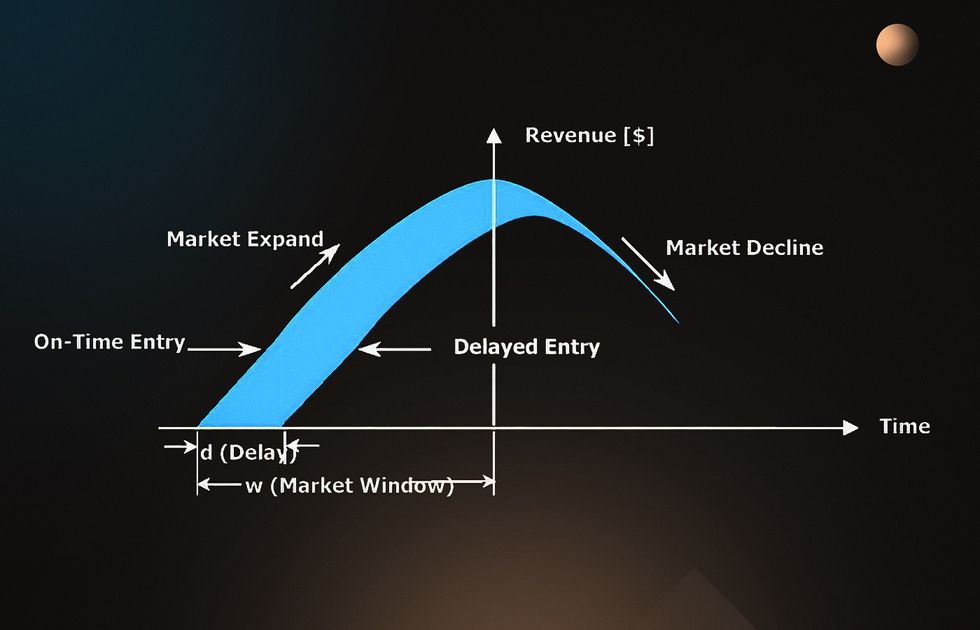 Build your initial strategy
To improve speed to market efficiently, you should create a good plan and follow it. Your initial strategy should serve as a guide to save you from confusion and chaos at the most crucial moments.
Reconsider your idea, discuss it with the team and experts, analyze and make a final decision. Try to create the first calendar, set key dates and milestones. Calculate the approximate duration of TTM based on statistics and specifics of your product.
Consider potential risks and think about solutions. If you are going to develop an innovative product, the most common delays happen because of too complex technical processes that take longer than expected. Remember that at this stage, you need a quick result, not a perfect product. Usually, technical bugs and lack of features can be fixed after the first testing and launch of the prototype.
Finally, be involved. A common mistake is to deviate from the process and expect your team to do the job. Keep every stage of production under control, don't let everything run independently. It is the only way to be aware and respond to emergencies on time. Don't keep the development separate from your business. Integrate it and attract internal resources.
Set Revenue Goals
Time to market duration impacts revenue by simple logic, making it grow in case you've managed to launch the product sooner. But the trick is that if you try to shorten the development time, it will significantly increase the spendings. Not to let the situation get out of control, set clear limits to your budget. Try to find a balance between the reduced timeline and the budget limits.
One of the ways to speed up time to market consists in setting clear revenue goals and keeping this strategy throughout all stages of TTM. It will help you learn the priorities better and concentrate on the core aspects of development. So instead of adding more functionalities and polishing your product prematurely, invest wisely and increase productivity.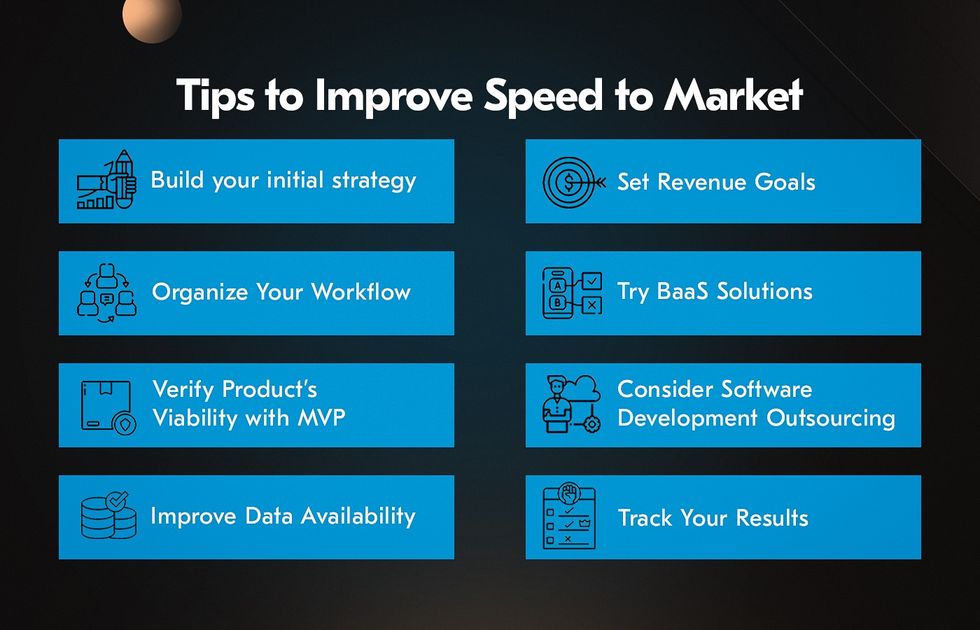 Organize Your Workflow
Even if you can't set a clear calendar and aren't certain about the timelines yet, do your best to manage your workflow efficiently. It is the first real step of optimizing time to market. Assemble a professional team, distribute responsibilities, and set first goals.
For successful project management, use relevant services. The tool will help you organize your team's performance better. It will provide convenient time-tracking, statistics, faster communication, and interactive boards that help your staff follow the plan and meet deadlines.
Having the workflow optimized, you will see how the development goes and which of its parts need to be improved. If it's your first startup and you don't know how to approach it, use others' experience and the relevant methodology. You will quickly learn the strengths and weaknesses of the team members and pitfalls and problem points. Use this knowledge and continue with the time-to-market optimization process.
Read also: How to choose the right tech stack for a SaaS.
Automation and Integration
Automation is one of the leads to faster time to market. Where human error can cause problems, technology has become a lifeline. It unloads the employees working on the project and solves problems people would waste time on. You can use automation for performing frequently repeated and routine tasks. It helps to manage the basic cycles of product development.
Integration is another way to decrease time to market. Even one small project at the very beginning of its development may contain large amounts of data that are constantly increasing. To avoid confusion and constant verifications within the team, create one place to integrate and store it in up-to-date condition.
Use BaaS Solutions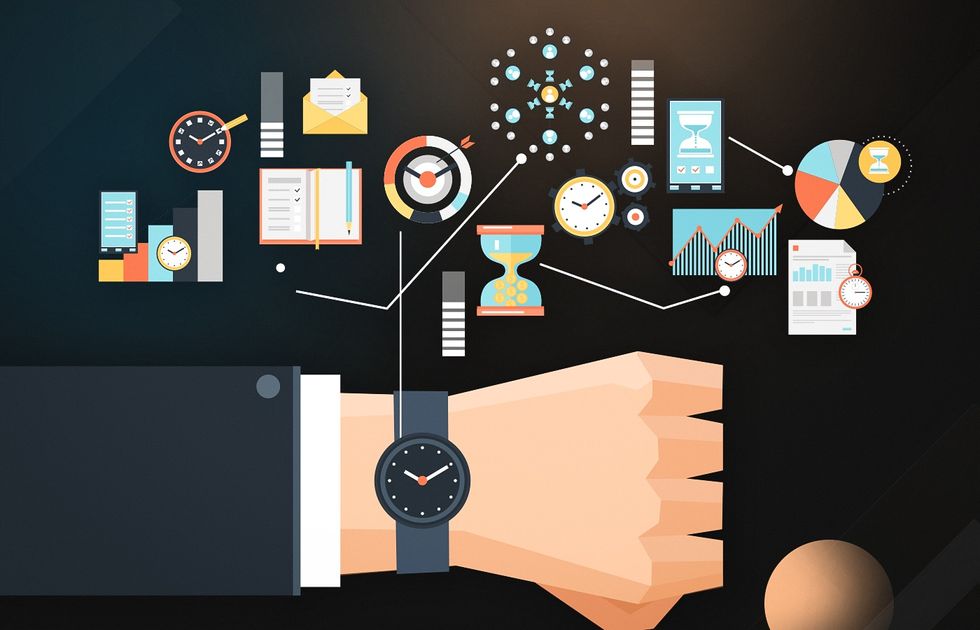 Integrating BaaS solutions is one of the most efficient ways to reduce time to market for digital products and deliver them into the market. Backend-as-a-Service is a cloud-based system that enables your team to primarily focus on creativity and the very production.
Constant partnership with a BaaS provider is particularly beneficial for those who regularly launch new products and constantly need resources to reduce TTM. It's inefficient to make your team deal with tasks related to the existing products, such as marketing and sales campaigns. It's much more convenient and, as a result, more profitable to involve BaaS solutions.
Read also: Best serverless BaaS providers to consider.
Consider Outsourcing
Your team's productivity is the core element of the time-to-market optimization process. Build coordinated, disciplined, and consistent collaboration to increase workflow efficiency. Avoid overburdening one particular specialist. If several team members have skills in the same aspect, you can prevent unforeseen delays. Outsourcing can be highly beneficial and save you a few extra weeks that are often spent on frequent offline meetings. If you've decided to start working with an offshore agency, the time zone difference can even boost the workflow. Just make sure you won't have any communication issues. Not only technical but any other components of product engineering can be outsourced if you have a good strategy of project coordination.
Read also: All you need to know about SaaS app architecture.
Verify Product's Viability with MVP
MVP is one of the ways to reduce time to market and study the needs of your audience. Building a digital product is the most effective way to find out if your innovation is viable and ready to be released. A Minimum Viable Product is the initial version of your product that includes only basic features. It is represented to the target audience and receives their feedback before the official release. The sooner you launch the MVP, the better. It will hand you the opportunities to improve or completely change your product if necessary.
Don't try to bring your MVP closer to perfection and fill it with all possible features. You will have time to do it later since the following versions of your product will be built on the same basis.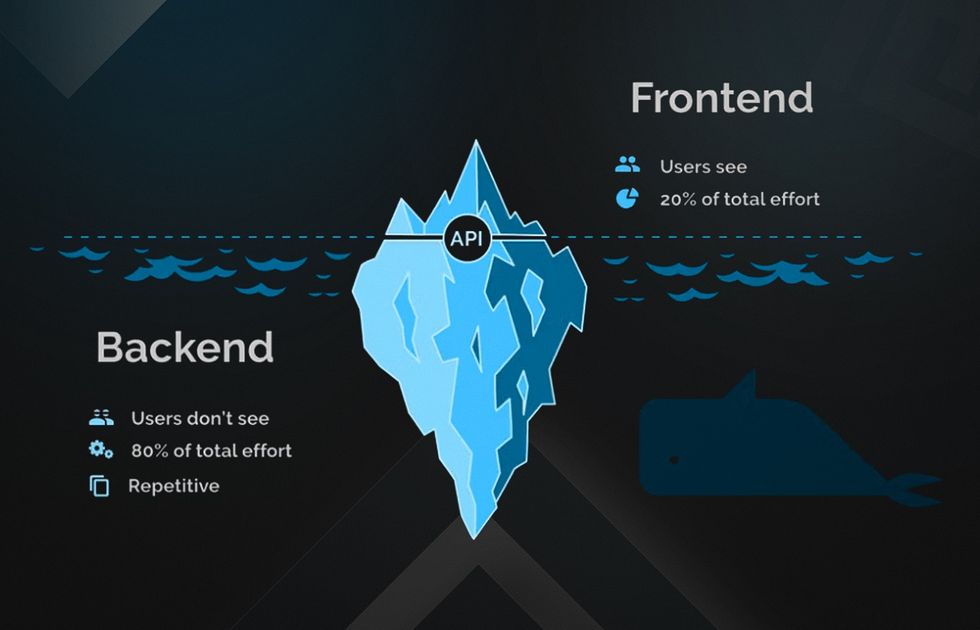 To Sum Up
Time to market is the determining phase of product development. This is when you generate ideas, build the strategy, improve the workflow, and establish the project management. If you waste your time on hesitation and distribute your time inefficiently, there's a huge risk of being late with the release and losing the advantage over competitors. To finish on time and achieve the desired result, you need to find ways to reduce time to market.
Start with building the strategy and brainstorm your idea.
Always be involved and don't let the project get out of control.
Gather a team of good professionals. Consider outsourcing agencies.
Improve the organization of your workflow and use a convenient project management tool.
Automate basic operations and use integrations.
Entrust marketing and sales of other products to a BaaS provider.
Set revenue goals to manage your budget and limit the time.
Verify your product's viability and get the audience's feedback by building MVP.
Are you about to turn your idea into reality and launch your tech product? We at Acropolium have found solutions for almost two hundred projects in various industries. Our team has extensive expertise at all stages of development. Feel free to get in touch and have a deeper consultation on how to improve time to market for the successful launch of your product just in time.