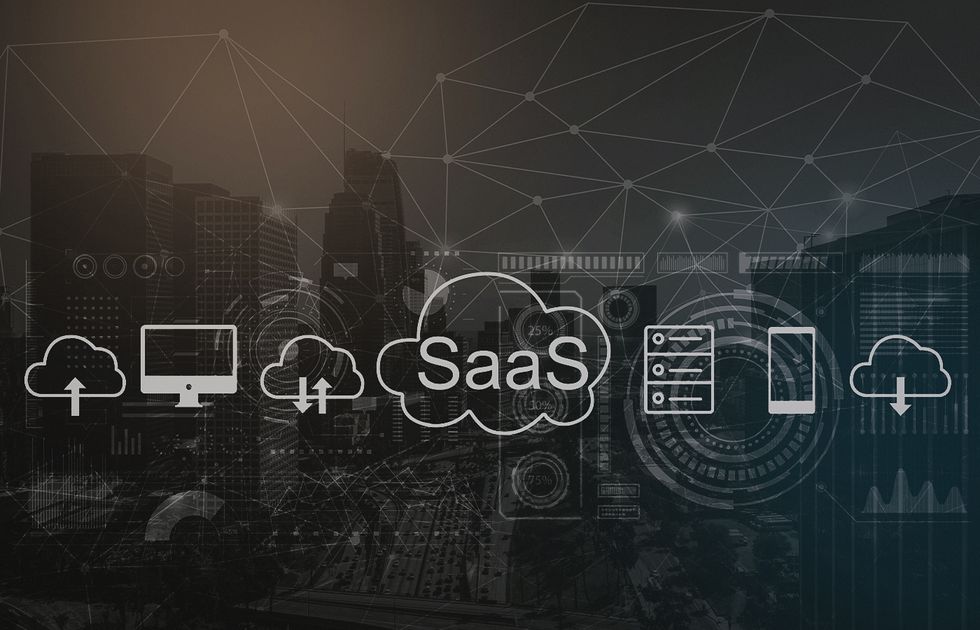 This post will reveal the real value of SaaS outsourcing. We will focus on its benefits, types, and stages to provide useful tips on choosing the right team. Finally, you will learn how to manage the outsourced SaaS development lifecycle effectively.
According to Statista, in 2021, the SaaS market is estimated to be worth approximately $145.5 billion. In 2022, its value is expected to grow up to $171.9 billion. And it's far from the limit.
A SaaS product development may be quite challenging, though. In-house solutions are not always efficient as it requires major time and resource investments. And that's where outsourcing may come to the rescue of your SaaS project.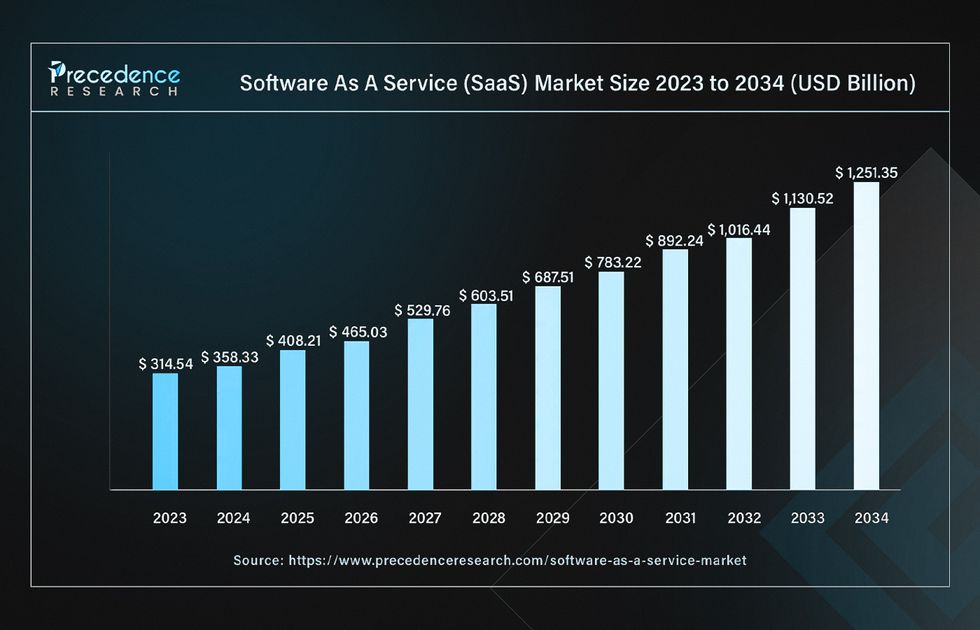 Why Do Companies Outsource SaaS Development
SaaS product development requires certain expertise of the hired team, money and time investment, and proper management. Many believe that outsourcing is risky for fear of potential flexibility and communication issues. Some businesses choose in-house development, counting on increased team dedication and enhanced control.
However, there are numerous drawbacks of in-house solutions you shouldn't ignore. Here are a few key reasons why businesses turn to alternative ways to build their SaaS apps.
In-house solutions may be too expensive. You need to hire a full set of specialists. Payroll costs may inflate your budget.
In-house development lasts longer. You will have to spend time finding and hiring talents. Later, you should be more involved in the process and conduct constant micromanagement.
On the other hand, if you outsource your product development, you may address these issues and get some extra advantages. Here are some of the most notable benefits of SaaS outsourcing.
Wider Tech Expertise
If you choose an outsourcing vendor for SaaS wisely, the hired team will have the essential skills and expertise to meet the highest expectations. Such firms often have even more experience in building various complex products than in-house talents. Having dealt with many large projects, they will explore your goals and find efficient solutions.
SaaS product development differs from building on-premises products. Experienced tech partners understand all details of such apps' architecture and technical requirements.
To name a few, they should be experts in:
Third-party integrations.
Software customization.
Frictionless onboarding.
Subscription management.
Zero-downtime deployment
Compliance with certain regulations, etc.
Hiring a solid SaaS outsourcing development team like ours will ensure your SaaS product is in good hands.
No Staffing Pain
Developers shortage is becoming a real issue. According to the Tech Republic, 61% of HR professionals believe that in 2022, finding a qualified tech specialist will be their biggest challenge. It's causing the growth of in-house developers' salaries, while the employers are often not satisfied with the hired software architects' performance. At the same time, the IT market shows no sign of a crash. On the contrary, Gartner claims that in 2022, it's expected to grow 5.3%.
Table 1. Worldwide IT Spending Forecast (Millions of U.S. Dollars)
| | 2020 Spending | 2020 Growth (%) | 2021 Spending | 2021 Growth (%) | 2022 Spending | 2022 Growth (%) |
| --- | --- | --- | --- | --- | --- | --- |
| Data Center Systems | 178,466 | 2.5 | 191,648 | 7.4 | 201,659 | 5.2 |
| Enterprise Software | 529,028 | 9.1 | 598,957 | 13.2 | 669,114 | 11.7 |
| Devices | 696,990 | -1.5 | 793,973 | 13.9 | 800,172 | 0.8 |
| IT Services | 1,071,281 | 1.7 | 1,176,676 | 9.8 | 1,277,228 | 8.5 |
| Communications Services | 1,396,287 | -1.4 | 1,444,980 | 3.5 | 1,481,878 | 2.6 |
| Overall IT | 3,872,052 | 0.9 | 4,206,234 | 8.6 | 4,430,051 | 5.3 |
Source: Gartner (July 2021)
Putting it all together, the demand for well-established software specialists is increasing, yet the talent pool is getting quite tight. The SaaS segment is one of the main IT market trends. Thus, staffing is a critical pain point.
Outsourcing provides a much wider choice of available software specialists than an in-house solution. Moreover, it may be twice or even three times cheaper without compromising quality. You may use the agile method to scale the outsourced SaaS project and make workflow flexible according to your needs.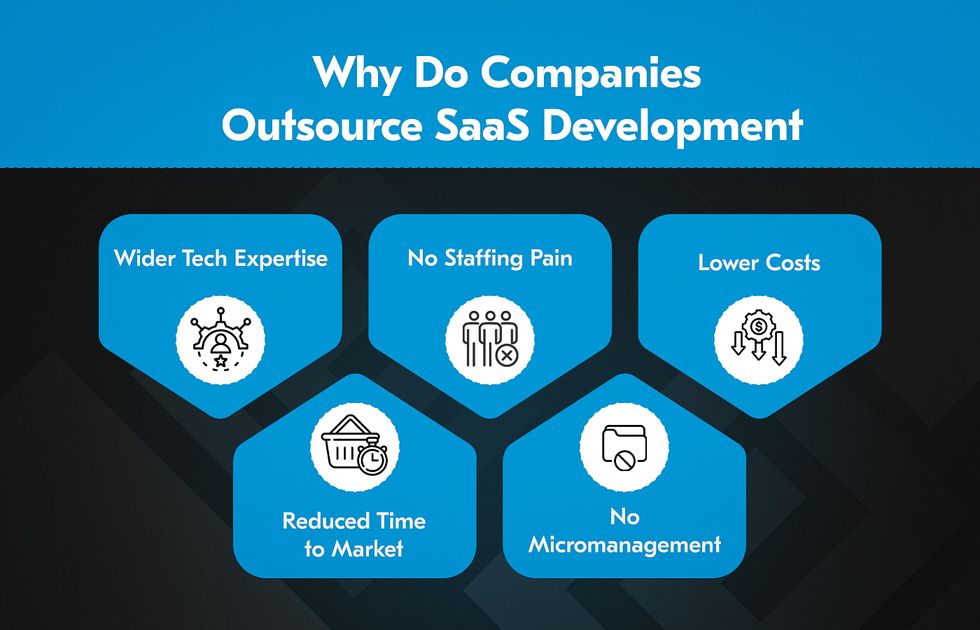 Lower Costs
Outsourcing your SaaS product development will considerably reduce your budget. Cost-optimization is one of the key benefits, especially for a promising startup with a strictly limited budget and schedule.
Turning to the outsourcing option, you can save more than 50% of the SaaS development cost. Most vendors work on a contract basis. So their quote will depend on the project's complexity and requirements. An outsourcing company will likely offer you their service with lower hourly rates and no extra operational expenses.
Reduced Time to Market
Reducing time to market is crucial for any SaaS startup. The release date may be fixed, which causes haste and leaves no right (or, rather, no time) to make mistakes. For such projects, in-house solutions may be inefficient. You will waste precious time looking for talents, hiring a cross-functional team, and onboarding new employees.
In contrast, outsourcing vendors normally have sufficient expertise to start working on your SaaS project right away. Having gained extensive experience working together, they know what to do to meet your deadlines and effectively manage your time. A trustworthy outsourcing firm has all the necessary crew and ready-made kits to build a SaaS project of any complexity on time.
No Micromanagement
An in-house development team needs strict supervision and micromanagement to support the performance quality and control workflow. Many would say such control is the key to success. However, micromanagement takes much time. When you outsource your SaaS software development, the hired agency doesn't need strict client-side control.
On the contrary, experienced vendors can help your product managers build more efficient planning, adjust technical requirements, and conduct additional analytics. Outsourcing software engineers are often much more experienced in building SaaS product development strategies.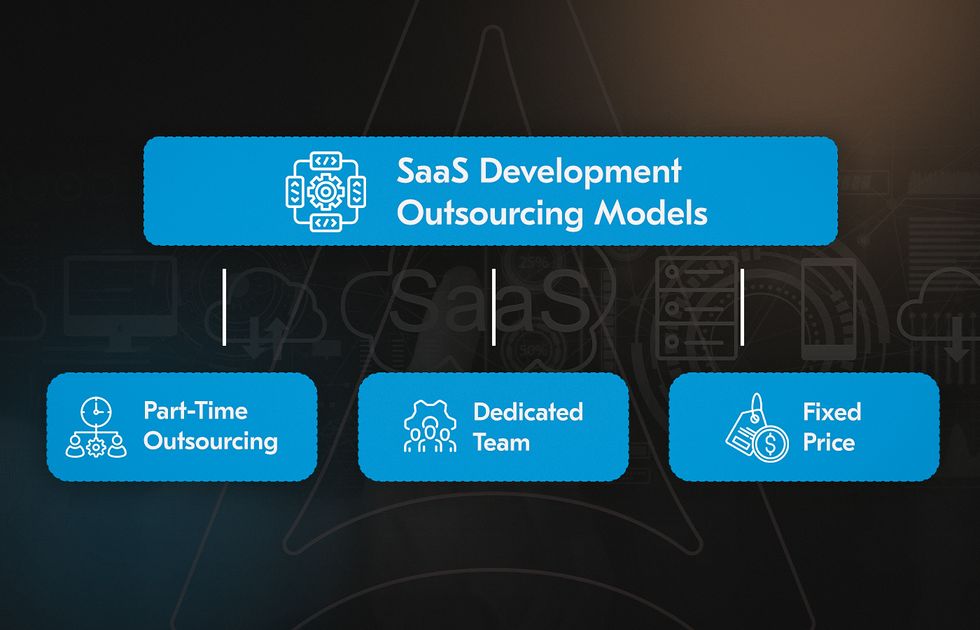 SaaS Development Outsourcing Models
There are a few types of SaaS development outsourcing, and each of them has its pros and cons. Here are the three most common ones:
Part-time outsourcing
Dedicated team
Fixed-price
Before choosing the appropriate company and signing the contract, ensure you know which model suits you best.
Part-time Outsourcing
This type of outsourcing SaaS development is perfect for those who build their product in-house but need additional resources to complete certain tasks. In other words, you outsource only some part of the project to resolve a problematic aspect of the development process.
Pros:
Control over the major part of the workflow.
Flexibility in staffing.
Less effort in expanding the team with necessary specialists.
Cons:
More time on additional onboarding.
Difficulties synchronizing two different teams working on one project.
Dependency of outsourced specialists on in-house processes.
Dedicated Team
This outsourcing model will be a perfect match for a SaaS startup primarily focused on meeting deadlines and keeping the budget within reasonable limits. Such projects normally have no time and resources to hire and train in-house talents. However, they require the total commitment of the hired professionals.
A dedicated team will be fully immersed in your SaaS project. The developers should constantly be in touch, providing you with regular communication, quality time management, and flexibility. One of the key features of such outsourcing is adapting to the changes in the project's scope and requirements.
Pros of dedicated team model:
Team's commitment
Flexibility
Well-established communication
Reduced budget and timeline
Deep expertise
No long-term onboarding
Cons of dedicated team model:
No one-size-fits-all solution
Better for long-term projects
Time zone difference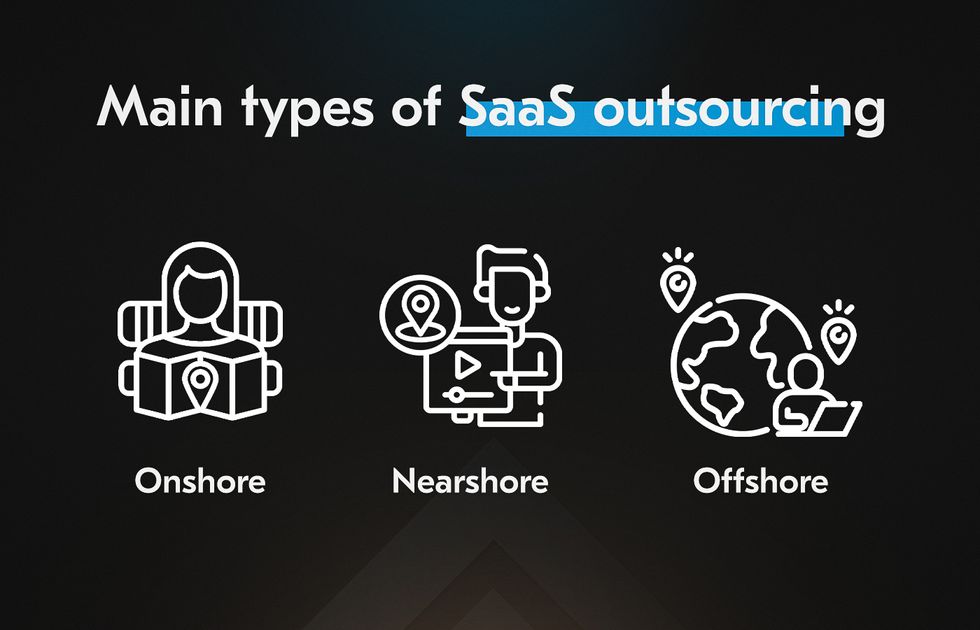 Fixed Price
The fixed price outsourcing model may suit a SaaS project that doesn't involve scaling or drastic changes along the way. If your product has a fixed budget and deadline, you may sign a contract where the price of the vendor's services is estimated and set beforehand.
Such a model is beneficial for building a small or medium-scale SaaS product with a pre-defined development strategy.
Pros:
Transparency and predictability
No need for supervision and micromanagement
Fewer risks of budget and time issues
Cons:
Lack of communication
Risk of compromising quality
Lower flexibility
Countries to Outsource SaaS To and How Much Does It Cost
One of the key factors that impact SaaS product outsourcing cost, quality, and reliability is the hired team's location. There are several popular destinations you may choose from. SaaS software specialists have different hourly rates and, accordingly, the project's cost will differ significantly.
There are three main types of outsourcing team location:
Onshore is outsourcing software development in the same country. This type of outsourcing is the most expensive since developers' hourly rates in the US and Canada are the highest.
Nearshore is outsourcing to the country located nearby, such as Mexico.
Offshore means outsourcing to a distant country with a significant time zone difference. The most popular offshore outsourcing destinations are Eastern and Central Europe, South and South-East Asia, etc.
Offshore SaaS development: Pros and Cons
Offshore SaaS app development can be twice or three times cheaper than onshore. The highest SaaS app development price is often not equal to the best service quality, though.
A considerable difference in price ranges is due to many different factors, such as economic condition, market specifics, and average wage rates. Thereby, a dedicated offshore development shop may offer high-quality service at a reasonable price.
Let's reveal the pros and cons of SaaS outsourcing development offshore.
Pros:
Top IT talent pool.
Deep expertise in SaaS product development.
A much lower price with no compromising the quality.
Flexibility and self-management.
Cons:
Potential communication issues.
Big time zone difference.
Lack of direct supervision.
The Most Popular Outsourcing Destinations
There are five most common destinations of SaaS IT outsourcing:
North America (the USA, Canada).
Western Europe (the UK, Germany, Netherlands, Switzerland).
Eastern and Central Europe (Ukraine, Poland, Czech Republic, Hungary, Romania).
South and Central America (Argentina, Brazil, Mexico).
South and South-East Asia (India, Indonesia, Taiwan, Thailand, the Philippines, China).
If you decide to build your product by hiring a team from the USA or Canada, the price tag will be the highest. The average hourly rate of a SaaS software specialist is approximately $175.
SaaS development in Western Europe is a bit cheaper. In the UK, the average rate of a corresponding professional is approximately $90 per hour.
Eastern European development shops offer much more affordable prices. On average, SaaS software engineers earn $68 per hour.
The approximate hourly rate of a SaaS developer from South and Central America is $45. Thus, outsourcing to this destination will cost you three times cheaper than onshore development.
Finally, Asian SaaS developers have an approximate hourly rate of $33. It makes this destination the most cost-efficient.
| SaaS app outsourcing region | Approximate hourly rate range | Average hourly rate |
| --- | --- | --- |
| North America | $40 - $270 | $175 |
| Western Europe | $30 - $120 | $90 |
| Eastern and Central Europe | $25 - $85 | $68 |
| South and Central America | $20 - $70 | $45 |
| South and South-East Asia | $15 - $50 | $33 |
Sources:
https://www.glassdoor.com/Search/results.htm?keyword=SaaS%20developer https://www.statista.com/statistics/793614/worldwide-developer-survey-average-salaries-region-percentile/
How to Choose Right Offshore SaaS Vendor
Choosing an outsourcing company for your SaaS app development is a supremely important decision to make. You should take your time and consider different options, relying on the following factors.
Firstly, ensure that the company has sufficient expertise in working with SaaS projects. SaaS is a complex product that requires a specific approach, multi-functional team, and well-established experience. Check the candidate's portfolio and reviews.
And secondly, ensure that the chosen agency has reliable methodology, good communication skills, and time management capabilities. If you are running a startup, it's crucial to know your collaboration with tech partners will be flexible and effective.
Armed with these fundamentals, let's outline some key details.
Rely on Your Goals
The most influential factors in choosing a vendor for your project are your own goals and requirements. You should know what exactly you're looking for. Define your project's scope and core goals. Next, provide your future tech partners with all the essential information concerning your SaaS product. Thus, the vendors will be able to build an efficient development strategy and find the right solutions.
Check the Portfolio
Outsourcing company's portfolio speaks louder than words. Carefully examine the examples of the candidate's works and case studies on their website. Pay extra attention to SaaS- and cloud computing-related cases. Thus, you will see if a particular team can meet your expectations.
Find Reviews
Along with the portfolio, clients' feedback has a tremendous impact on the choice of tech partners. You can find reviews on specific websites like Clutch. The reviews are helpful in both expertise assessment and verification of the other important skills like communication skills, time management, and professionalism.
Places to Find
You may simply google the desired services to find the top-ranking vendors' websites. However, to approach this more meticulously, you may use B2B platforms like Clutch or GoodFirms. Finally, visit Acropolium to check our services and portfolio. Our skilled software engineers have extensive experience in building SaaS products for numerous different industries.
How to Sign SaaS Development Outsourcing Contract
SaaS development contracts are vastly similar to more typical analogs. Depending on your project's goals, requirements, and complexity, there are three most common types of a contract:
Time and materials. In such agreements, the payment completely depends on the time spent and the materials used to complete the project. The developers' work is paid on an hourly rate basis. T&M contracts are suitable for projects with no clear scope.

Fixed price. These contracts are suitable for outsourcing projects with clearly set deadlines and milestones. Thus, the clients and service providers can fix the rate of the entire project. For signing such a contract, you need to grant all proper documentation and reasonable requirements beforehand.

Target cost. Such agreements are the least certain as neither fixed price nor estimated hourly rates are defined. It's suitable for large and complex SaaS projects without a clear scope. This type of contract is quite risky, so the vendors may come up with a definitive quote to ensure transparency.
Signing a contract with an outsourcing development team is a responsible step. Both parties should take it seriously. Here are a few tips on how to do it correctly and securely.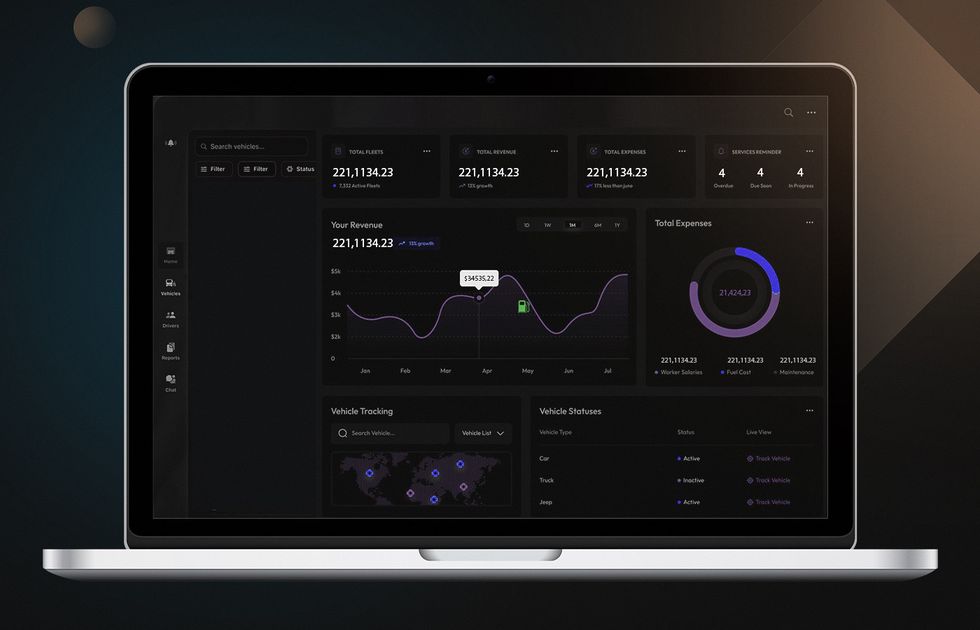 Time & Cost
Make sure the contract contains clear details about the time and price of the vendor's services. Depending on the type of your agreement, their accuracy may vary. However, you need to make sure that the deadlines and the defined budget are reasonable and transparent.
Acceptance Criteria
Define deliverables, milestones, and the reporting system. It's better to agree on communication flow and online meetings frequency.
Additionally, the vendors should know who is responsible for acceptance procedures and when the client wants to test the product. They also need to know whom to report about any potential issues.
Intellectual Property Rights
This aspect of the contract is especially important for a SaaS product since it's related to IP maintenance. So if you want your partner to keep supporting your SaaS app after the launch, it has to be specified in the agreement.
Confidentiality
In many countries, including the US, there are numerous restrictions and IP laws related to confidentiality. It's better to sign an NDA that protects sensitive private information in compliance with your country's regulations to prevent any issues.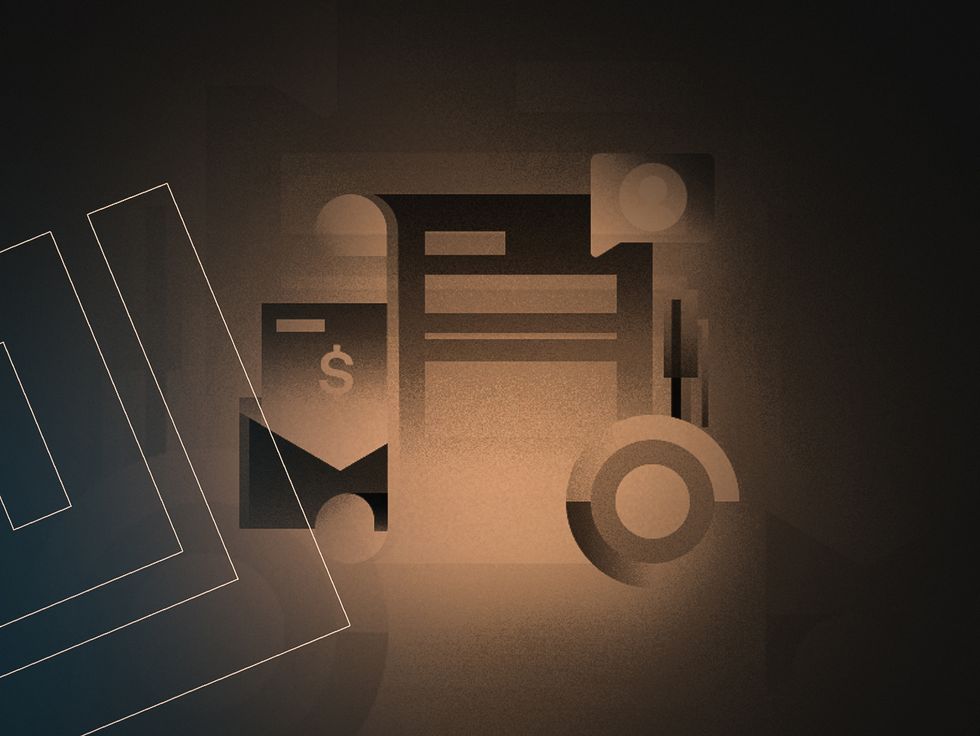 How to Manage Offshore SaaS Development Process
When it finally comes to the development process itself, the major responsibility falls on the chosen remote team. However, it doesn't mean that you lose control over the project. On the contrary, your technical partners will appreciate your support and involvement.
Here is a short description of a SaaS application SDLC, its key stages, challenges, and specifics.
Discovery
The initial stages of SaaS app production are planning, strategy building, and business analytics. If you've already hired an outsourcing team, they might share their rich experience in customer journey mapping, user persona, etc.
The list of your requirements will directly impact the number and complexity of your SaaS app's features. It should include all you know about your target audience, competitors, technical aspects, and so on. The more informative the requirements are, the easier it is for your tech partners to estimate the project's cost.
It's important to interview the chosen outsourcing development team. Prepare the list of questions you want to ask. Be sure to learn the roles of all team members. And above all, ask them how they can address the key project's development challenges.
Once you've signed the contract and NDA, it's time to build the app's architecture and work on documentation. At this stage, you will work closely with developers. They will prepare a draft that includes all essentials of your future SaaS product. It should contain details about the server, code deployment, databases, app's installation, solving potential development issues, product' launch, etc.
UX Design
This phase of app development is often underrated yet crucial for further success. SaaS products require a particularly careful approach to UX design. Since your application will provide clients with certain services, you need to enhance the quality of the user experience.
One of the major challenges of SaaS products is to reduce churn rates. Customers leave the app when they are overwhelmed or simply not satisfied with its usability. The end-users should have no frustration as the main goal is to attract and retain new clients. It can be achieved with a frictionless and personalized onboarding experience.
User Experience and SaaS app architecture should be based on your business goals and your target audience's needs. You may ask the designers to build a clickable prototype to test the app's features before the UI design and development stages begin.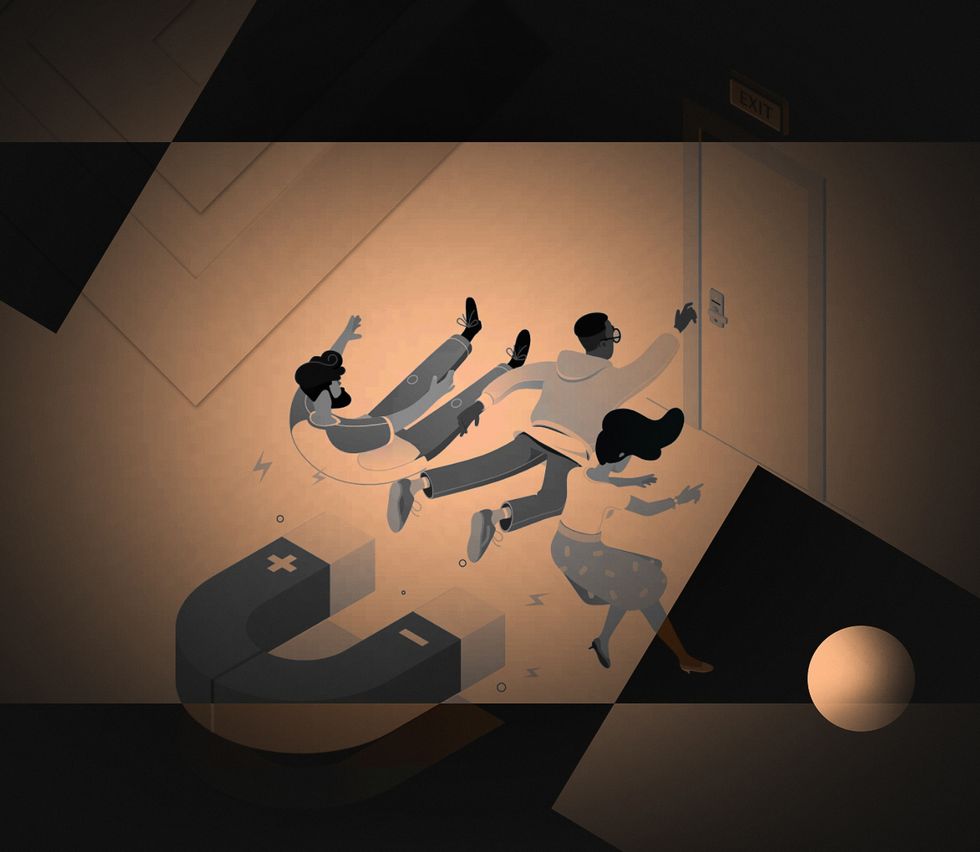 Development
Before the development process begins, it's extremely important to choose the right tech stack. The decision completely depends on the development solutions and the features required for your product. However, remember that this choice will have an impact even after your SaaS product launch. Select a technology that is future-proof and has a sufficient developers community.
SaaS app development is a complex process that takes time and effort. However, there are a few things that may facilitate workflow and prevent unwanted errors.
First, don't try to build a full-fledged SaaS product right away. It's highly recommended to start with an MVP. It will contain the essential features yet is simplified and takes less time to create. An MVP will give you a chance to get early feedback from the audience and see if your SaaS app meets their needs. Later, you can improve it, increasing your product's workability and performance.
Second, your outsourcing development team should use the agile management technique. It involves dividing the project into separate modules, ensuring a more flexible approach and frequent reassessment.
And finally, constant communication and multilevel testing will enable you to control the team's performance, ensuring that the development process goes according to plan. Constant demos, updates, and reports will keep you involved and allow you to make on-the-go adjustments.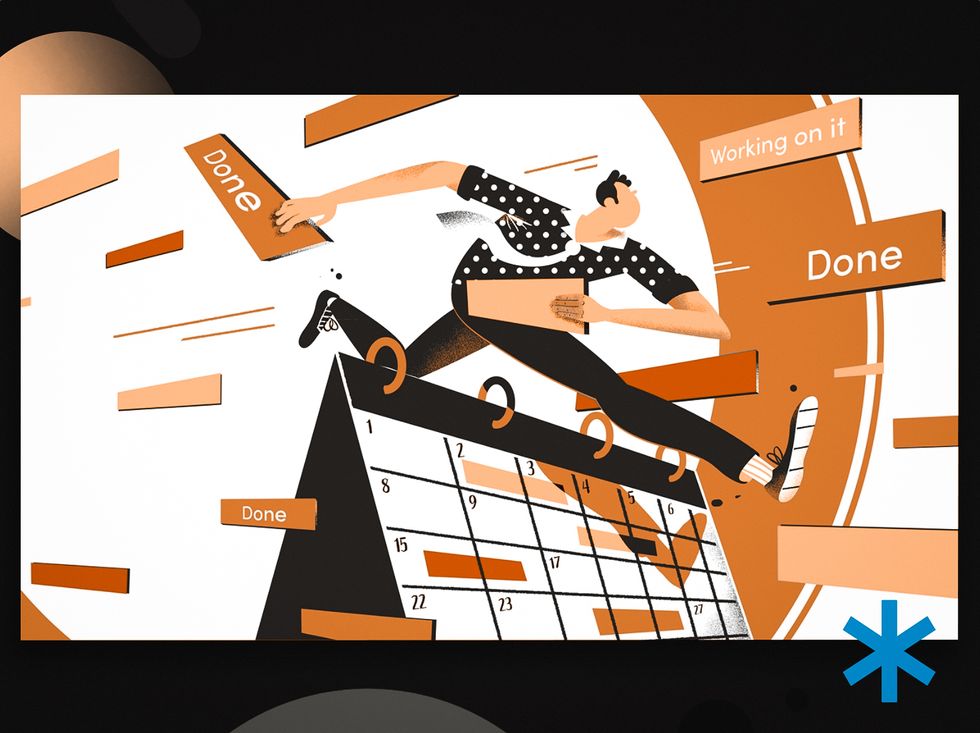 Looking for a Reliable Tech Partner?
Taking advantage of SaaS software development outsourcing, you can considerably reduce the project's budget and time to market. Besides, there's more chance to find a team with deep expertise in SaaS development than if you turn to in-house solutions. You won't have to seek talents, train them, and conduct constant micromanagement.
However, you should choose your tech partners wisely. Look for a team with sufficient experience working on SaaS projects. They should be flexible, have good communication skills, and fully understand how to reach your business goals. Finally, it's important to sign a reliable contract, setting budget limits and time frames suitable for both parties.
Looking for experienced software engineers to outsource SaaS development? We at Acropolium have delivered an impressive number of successful SaaS solutions for enterprises and medium businesses. We have ample experience finding robust solutions that can make your business one of the market's leaders. Our services include web, application, and SaaS platform development, APIs, third-party integrations, multi-tenancy, and scalability.
Feel free to get in touch and share with us your SaaS case!