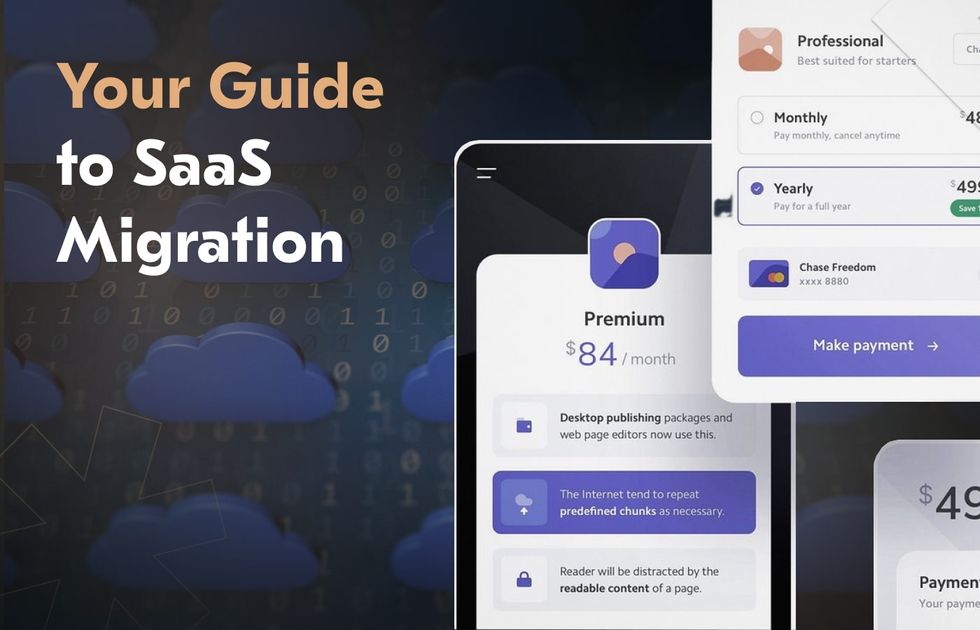 Some time ago, downloading and installing software was the only way to use it. Supporting and updating a program on a variety of devices wasn't easy both for users and vendors. However, new technologies allow running the software on the cloud, making it easily accessible and configurable. It gave rise to a new breed of businesses, using the SaaS business model (Software as a Service). In 2020 the global SaaS market was valued at $225.6 billion and expected to reach $272.5 billion in 2021.
"If you sell software as a product, you do it once. You can't be sure whether the same customer will buy this software again. Besides, you don't know the exact scale of your product's use. For instance, you Thus, you lose part of the revenue. The SaaS business model solves this problem using subscriptions. The owners of the SaaS companies know which services their clients use and how often", says Oleksii Glib, Founder at Acropolium.
How does the SaaS business model work? Read on, and you will find out about its peculiarities and benefits.
Moreover, we will tell you how to move your application to the cloud and what you should pay attention to while doing it.
What is the SaaS business model?
SaaS is a business delivery model in which a company hosts cloud-based software and sells customers access to it. The company is responsible for all elements, allowing subscribers to use its product: servers, data, etc. A typical SaaS business model example is Salesforce, a customer relationship management (CRM) platform.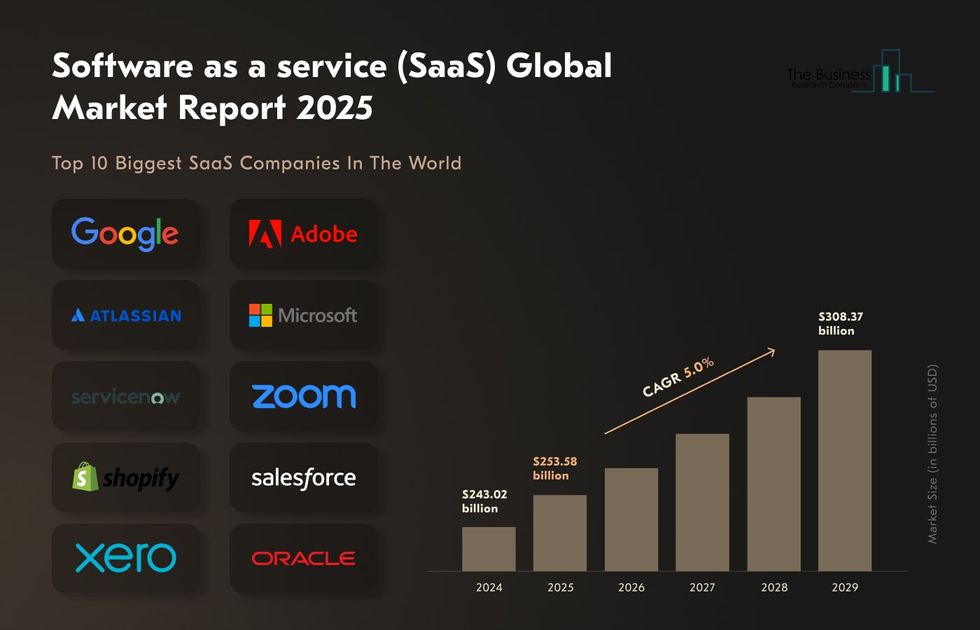 The subscription plans of a SaaS business may vary considerably. Some companies may offer many applications within their products. Available services (access to API, for instance) depend on the subscription plan.
Several distinguishing features that make the SaaS business model stand out:
Recurring payments. Software as a service delivery model is based on subscriptions. SaaS companies get payments not once but each month, quarter, or year. That's why one of their key metrics is MRR — monthly recurring revenue.

Revenue recognition is an important part of this business model as the customer signs the contract and may pay some cash right away. But the company has yet to uphold its end of the bargain — provide service properly. Until then, that money can't be counted as revenue.

Focus on customer retention. All businesses care about their clients, but in the SaaS operating model, customer retention is crucial. If a customer signs up for 12 months but leaves after just one, you lose 11 months of recurring revenue.
On average, an existing customer spends much more than a new one. However, this customer is more likely to go to a competitor for better customer service rather than a better product. That's why nurturing customer relationships and upselling are vital for SaaS.
Frequent updates. Another peculiarity of SaaS as a business model is small but consistent product updates. SaaS companies have full control over their software, so they can make some amendments whenever they need. They can release new features or improved versions of old ones. SaaS businesses constantly communicate with their customers. As a result, they can be extraordinarily responsive to the needs and feedback of their subscribers.
"Adding new features and upgrades with on-premise software isn't so easy. Think back to the time when if consumers wanted Microsoft Office, they would have to purchase the CD-ROM and install it. When a new version of Microsoft Office came out with more advanced features, they would have to purchase the new version and install it all over again. But with the SaaS model, you can present cool new features and useful updates to your users in a much easier fashion", says Thomas Griffin, Co-Founder and President of OptinMonster.
The benefits to SaaS business model
We've described how the SaaS business model works. Now let's focus on the pros within a B2B context, which contributes to its popularity.
Predictable revenue
If you use the subscription model, you can predict quite accurately how much money you will make. This strategy is shielded from seasonality, unlike many other business models that can't guarantee the security provided by annual or monthly contracts. Customers contribute to the well-being of your company simply by remaining subscribers. You don't have to sit and hope they will buy from you again.
The success of certain months may vary. But you still can use a general forecast based on your past performance. As a result, it is easier for you to estimate how much money you could spend on hiring, scaling, and marketing.
Swift growth
With the right architecture and enough investments, SaaS businesses are easily scalable. Many SaaS teams are tech-savvy and remote-friendly. As a result, they can use a larger pool of talents. Such companies can do without a traditional office, saving more money.
If you find a good product-market match and can secure funding, you can grow your SaaS company extremely quickly. Such success isn't something unheard of. For instance, in 2020, Zoom reported an adjusted profit of almost $1 billion, ten times more than the year before. The survey by SaaS Capital shows that an astounding growth rate of 80% is below average for a $3 million SaaS business.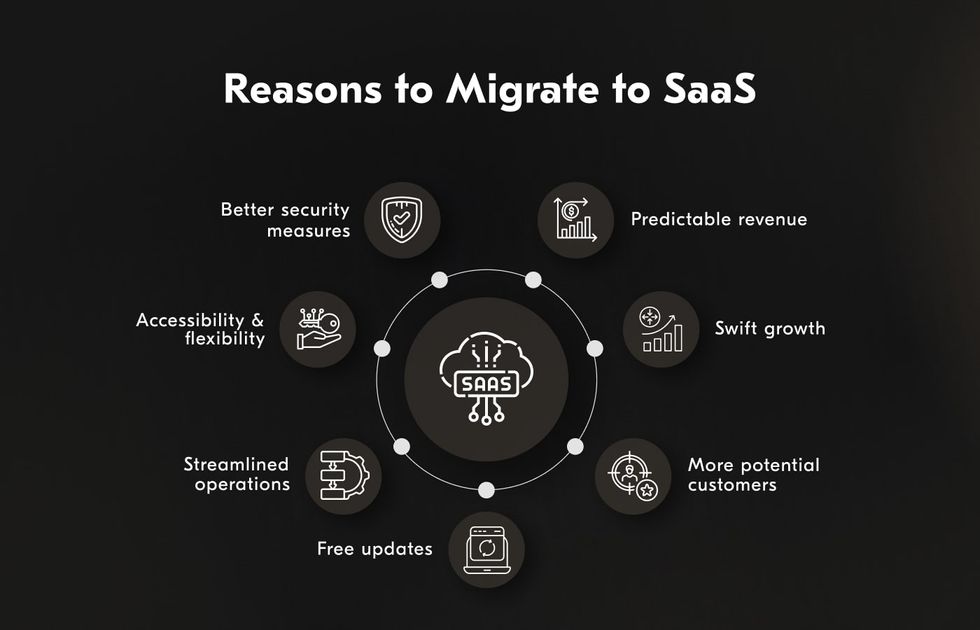 A wide variety of potential customers
Most SaaS companies can offer multiple product tiers. Free or cheap basic packages include limited features, while premium subscriptions have the most advanced ones plus extended customer support. Such an approach has two advantages. You can experiment with your pricing structure to understand what the customers would want to pay for. At the same time, you can appeal to both large and small businesses.
On top of it, you don't need to spend much time and resources customizing SaaS products. You offer several standard options the clients can choose from. Therefore, instead of tailoring and adjusting, the company can focus on improving the core product.
Why businesses should consider moving from on-premise to SaaS
Some business leaders might feel uneasy without total control over the infrastructure of their products. Let's dive deeper and look at the advantages of on-premise to SaaS migration.
Scalability. Using the cloud, you can scale your computer power in no time. Maintaining infrastructure is a responsibility of a third-party provider. Therefore, you don't have to worry about it and can spend your time and money elsewhere.

Accessibility. Users no longer depend on their on-site hardware. They can access cloud software any time and from anywhere, using a desktop and even mobile devices.

Easier deployment. Designing, building, and implementing your own IT infrastructure may take months. If you use cloud hosting, this process will take a few days or even a few hours.

Security. Cloud service providers face huge risks in case of cyberattacks. Hence, they spare neither time nor effort to employ top-notch cyber-security practices. Such investments may be beyond your budget if you consider doing it for an on-premise solution.
Read also: Guide to SaaS development outsourcing.
Step-by-step SaaS migration plan
You've chosen to move from on-premise applications to cloud-based SaaS. What should you do?
Even if the benefits are obvious, you should act carefully to make the transition seamless. Here are the steps you should take to make migrating to SaaS smooth for you.
Assess your architecture
Before starting migrating applications to SaaS, you should make sure that your product is scalable. Different components of your app will have to grow independently to meet customer demands. If you can split it into several of microservices, you are ready for migration. Otherwise, you will have to rebuild your software.
This step is really important as it will save you a lot of trouble in the future. The more parts of your application are self-contained, the more you'll benefit from cloud migration. Besides, such a granular structure will allow you to change specific elements without tearing the whole app down and rebuilding it.
Select the migration model
There are several ways how to migrate to a SaaS business model. Your approach will depend on the peculiarities of your business case. Here we will discuss the three most common options.
Silo migration (single-tenant model). Each SaaS user or tenant has a dedicated infrastructure. The changes to the design of your app are minimal. End-users get such perks as customization abilities and data security.
Layered migration model. SaaS migration is conducted layer-by-layer. You incrementally move layers to a shared multi-tenant structure. At the same time, other layers still have their single-tenant design. You can start your migration from anywhere, moving the rest whenever you are ready.
Data migration model. Data storage is moved to a multi-tenant scheme. Other layers employ a single-tenant architecture.
Migrate data
Tenant data optimization and transfer is the next step in migrating to a SaaS business model. Tenant data storage solutions come in all shapes and sizes. Each option has its pros and cons. The way your migration happens will depend on the solution you choose.
Organize ongoing monitoring
Moving to the SaaS model has advantages, but it's not a magic spell solving all the problems. Your SaaS migration plan should include setting up the monitoring of your application's performance and costs. Otherwise, you risk ending up disappointed.
Transitioning to the cloud will allow you to scale faster, deploy more easily, and develop new features quicker. However, you will still need some preparation and the right tools. You won't get anything you want in an eye blink — but you can get it fast enough!
Challenges of software migration to SaaS
While drawing your SaaS migration roadmap, you should remember that this process may be tricky. Pay attention to the following challenges you may face:
Configuring the cloud has its peculiarities. You don't have to worry about the whole infrastructure, but you can get things wrong the first time. IAAS (Infrastructure-as-a-service) businesses such as Azure, Google Cloud, and AWS offer different modules and many ways to assemble them. If you don't have much expertise, opt for a platform-as-a-service (PaaS) with some guidelines and templates.

Migrating to the cloud may not be as quick as you might think. For instance, moving data is a slow process. If you have a large dataset, you'll need a lot of bandwidth and some specialists to spare.

The true cost of service may be hard to grasp. Bear in mind that you are going to use the cloud for months or even years. Therefore, the costs will multiply. If you migrate to a software-as-a-service business model, start with the services that are least used. You may find most of your savings there. Note that you might use some cloud cost optimization strategy.

Architecture modifications should be reasonable. As we've mentioned before, aligning your app structure with the advantages of the cloud is important. However, both re-thinking the entire SaaS architecture and refusing to make any changes may result in some issues. Rebuilding the app from the ground up to suit the cloud will require some time and investment. It'd be better to get to the cloud as fast as possible and modify the architecture of your app over time.

Transferring security posture to the cloud is your responsibility. The cloud providers do focus on protecting your data from hackers. Nonetheless, you can't expect them to handle all security aspects. If you decide to convert to SaaS, your company will have to obtain third-party reports attesting to the cloud provider's security. These reports also describe measures the company should take.

Linking legacy systems with cloud apps may be troublesome. Many current systems, especially systems of record, are not ready to be transformed to the cloud. Connecting legacy systems with state-of-the-art cloud-based applications may be challenging. You should consider using a hybrid environment, at least temporarily. Research the services from vendors, supporting migration to the cloud to make the transition easier.
Read also: Advanced guide to SaaS product development.
Migrating to SaaS best practices
As you've seen, moving to the cloud has its peculiarities. What is the best way to do it? Here are some of the practices you might want to induce into your SaaS migration strategy:
Pay attention to the Total Cost of Ownership
The flexibility of SaaS makes calculating a fitting TCO difficult. Research all the factors influencing the cost of running a SaaS product. The list may include computing capacity, traffic, number of users, storage volume, etc. Include these factors into your planning — and you'll get a much clearer idea of your TCO from the beginning.
Inspect your Service Level Agreement carefully
An SLA determines the relationships between a service provider and a client. Both parties agree upon specific aspects of the service such as availability, quality, responsibilities. By signing this agreement, you get the guarantee that your SaaS software will function properly. In the worst-case scenario, the SLA can serve as a cornerstone of legal action.
"Each of your SaaS vendors should provide you with a service-level agreement (SLA). This will be a key legal document that defines what you should expect from the vendor and the product. Therefore, you should be meticulous in reviewing it. Check for what would happen in the worst-case scenario, like if their data center goes down for a few days, or if your users are unable to get in touch with their support", says Mori Kabiri, Founder and CEO at Counself Inc.
Bunch your assets together
Access your relations with third-party vendors. Using services from one vendor is better than having to deal with multiple vendors. If you have a single provider, check that all services are regulated by one contract. That is much more simple and boosts your negotiating power.
Create a consistent SaaS governance
All end-users should have clear guidelines about who is responsible for each software. It will ensure that your company gets the largest possible revenue from SaaS endeavors.
Take the flexible pricing model into account
Using SaaS comes with flexible pricing. Therefore, your monthly expenses may not be the same each month as they depend on usage. To make your accounting easier, create and maintain a monthly usage report.
Train your staff thoroughly
Devote some time and resources to employee training. Your team should have specific guidelines explaining how to deal with a new cloud environment.
Read also: How much does it cost to build a SaaS in 2022.
Move to SaaS with Acropolium
The SaaS business model has some considerable advantages. With the right architecture, you can scale your business easily, which contributes to a swift growth. The subscription model can bring you predictable revenue. Your business doesn't have to spend much effort maintaining costly infrastructure. At the same time, you have control over our product and can easily add new features and improve old ones.
Moving to the cloud has its peculiarities, though. To make this transition as smooth and effective as possible, you'll need a reliable partner. Acropolium can help your business to leverage the power of SaaS. We have been doing it for 14 years. Our team honed its skills and accumulated a lot of experience fulfilling 140 projects like scaling SaaSs for almost 70 clients.
For instance, we've created a cloud-based staff management system for one of the largest German airports.
Contact us, and together we will make your business more agile and profitable!