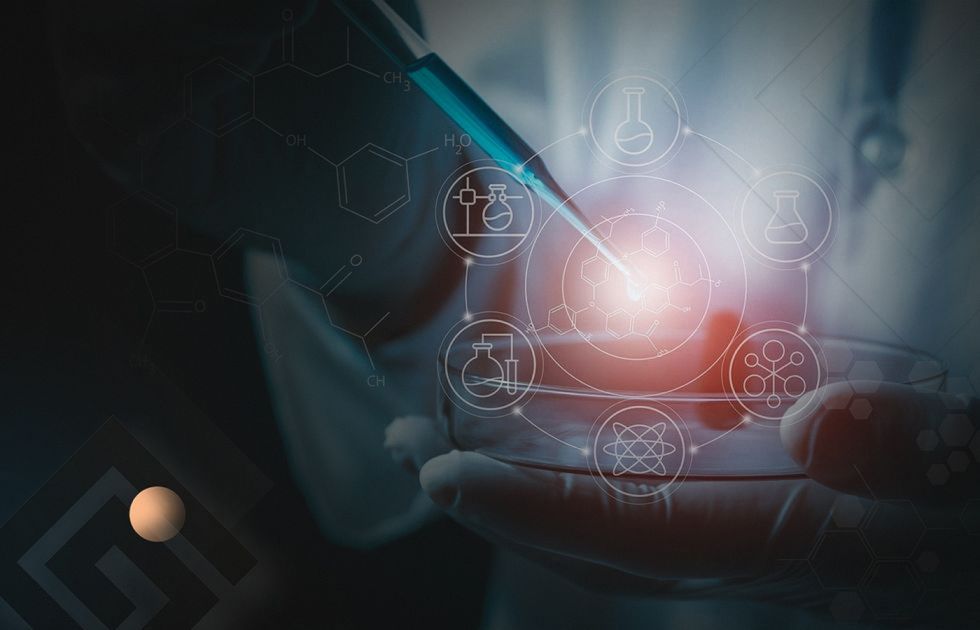 Biotechnology holds a lot of promise for today's thriving medical sector. Experts already estimated the size of the biotech market at $752.88 billion in 2020 and expect it to grow at a CAGR of 15.83% by 2028. To get the edge in this information-rich niche, businesses require modern software. No wonder biotech software development is a growing trend, and everyone wants a piece of the pie.
However, creating biotech software the right way is no walk in the park. The industry is heavily reliant on research, applications have to process huge amounts of data in milliseconds, and there's no room for error. From the business perspective, software must allow for efficient management of resources and provide automation where possible. High security and reliability standards are a must, too. Last but not least comes compliance with FDA's requirements and regulations like HIPAA.
Acropolium's developers have the experience and knowledge needed to build software for the biotechnology segment. Our team has already delivered several biotech-related projects, diving deep into the specifics of the domain and mastering the relevant technical skills.
For instance, we created a CMMS (Computerized Maintenance Management System) for an biotech enterprise client. The solution enabled the company to remotely manage precision equipment and provided a convenient platform for collaboration.
In the course of developing biotech software, we've gained some insights we'd like to share in this article. We'll cover the main types of solutions, describe the tech they run on, and provide you with a step-by-step guide to the process of building software for the biotechnology industry.
In the first section of this piece, we'll focus on the role of software in the success of biotech companies.
Why having the right software matters in biotech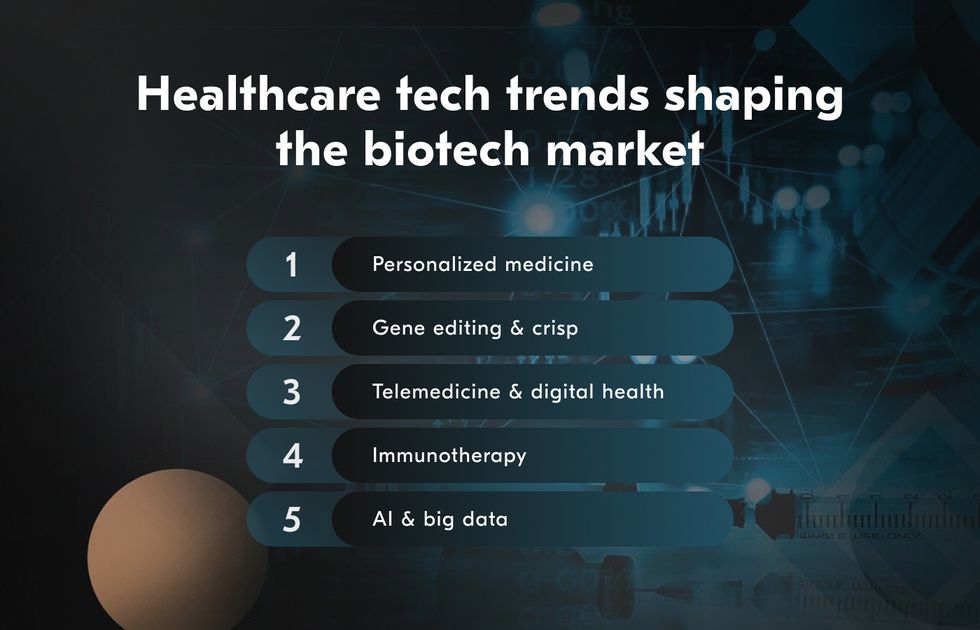 The entire healthcare industry is undergoing a digital transformation, and the biotech segment can't afford to lag behind. An up-and-coming startup and an established biotech business have equally good reasons to use the best software available to them.
Here's what you can achieve by investing in functional, well-designed biotech software.
Fully embrace digitalization
Today's healthcare has gone digital. EMR and EHR (electronic medical and health records), HMS (hospital management systems), and the adoption of universal data exchange standards like FHIR help the industry move forward. The biotechnology segment needs to be tightly integrated with this system. To do that, a biotech company should have a completely digital pipeline, from R&D to production, distribution, and marketing.
Automate standard tasks
Automation is one of the major boons of implementing software solutions. The path of creating pharmaceutical products is beset with repetitive actions that consume resources and affect efficiency. An experienced software partner will help you identify those bottlenecks and offer the right automation techniques to increase productivity.
Leverage the power of AI and ML
Biotechnology is a data-driven domain. Given the copious amounts of data biotech research and clinical trials produce, companies deserve to have the latest available tools at their disposal. Using AI (artificial intelligence) and ML (machine learning), biotech businesses can facilitate the collection and analysis of data. Projects specializing in bioimaging, DNA sequencing, or protein synthesis will find such technology especially useful.
Optimize business processes
Business efficiency is the backbone of successful innovation. Modern software can help you streamline financial operations, take care of your document flow, and enhance material and quality control. With cloud-based storage and computing capabilities, you'll be prepared to handle any challenges and scale your business as needed.
Ensure compliance
Another crucial aspect of every healthcare-related business, regulatory compliance doesn't have to be a headache. With an experienced software partner, you can focus on achieving your business goals without being distracted by compliance issues. For instance, your software may track and document the process of creating your product in accordance with applicable FDA and HHS standards.
Protect proprietary and client data
Data like the findings of your research or the formulas of your products must be protected at all times, along with any personal information collected during trials and sales. Biotech software that's been properly designed should guarantee protection from any data loss or leaks.
A fully digital workflow, automation, and optimization of critical business processes, improved data management and security — the list of benefits isn't even complete. A custom software solution can give your biotech company the impetus it needs to get ahead in today's competitive market. Speaking of which, let's see how big and diverse that market is.
Biotech global market: A brief overview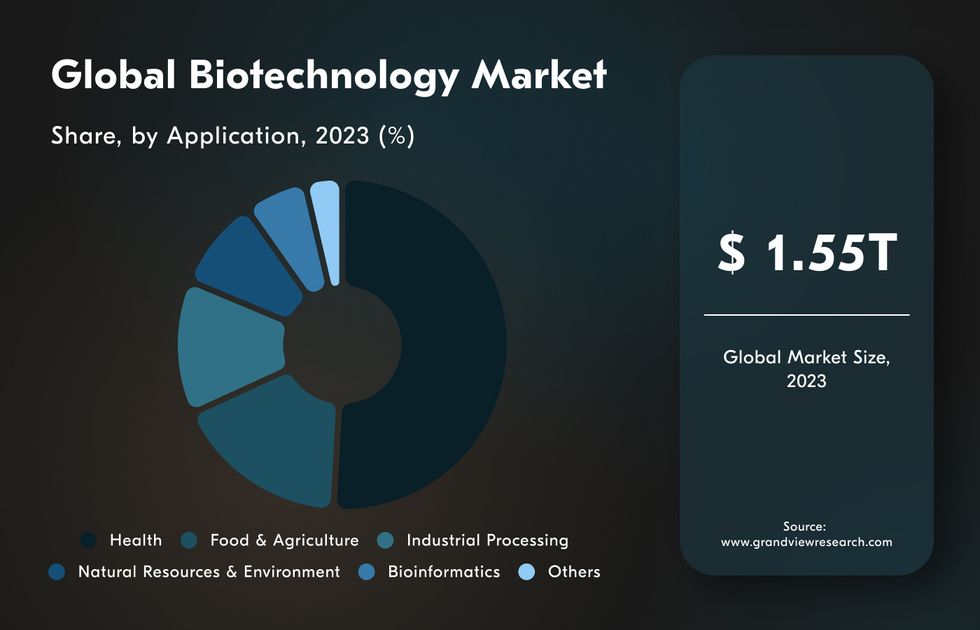 The growing popularity of biomedical products is driven by multiple factors like the prevalence of chronic diseases, advancements in molecular biology, and the simplification of approval procedures. According to recent reports, four out of ten new drugs are currently based on biotechnology.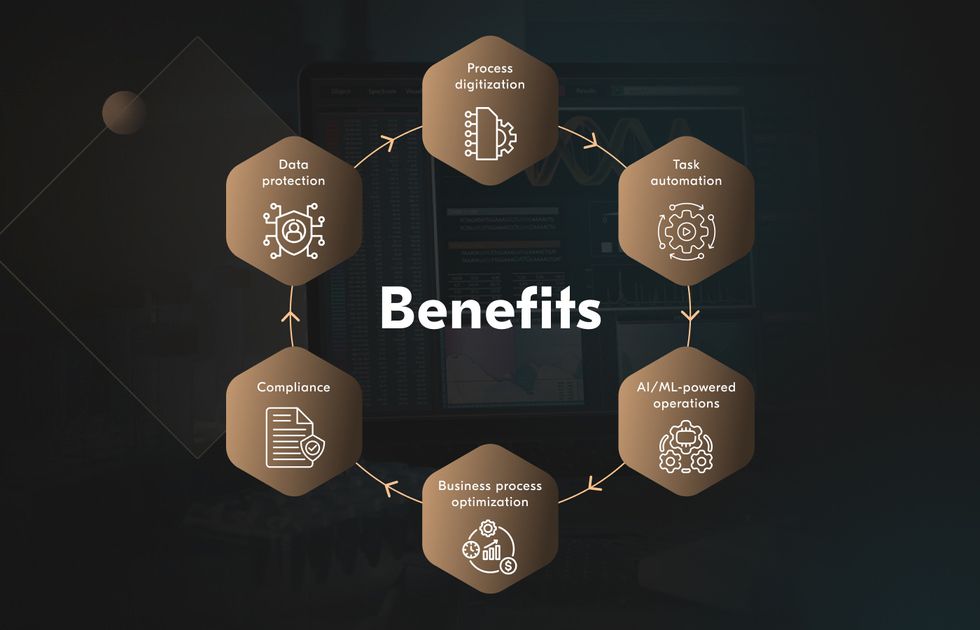 Researchers predict the size of the global biotech market to reach a staggering $1,683 billion by 2030. More and more players enter the market each year, and pharmaceutical giants are eager to join forces with biotech companies.
For instance, the very first FDA-approved Covid-19 vaccine, Comirnaty, was developed by Pfizer in cooperation with BioNTech. Another biotech-derived Covid-19 medicine, Remdisivir, was approved for use as a treatment for young children.
Due to market democratization, many biotech startups have entered the race and are able to secure some serious financing. For example, a San Diego-based biotechnology startup recently raised $140 million to fund its research on genetically modified immune cells. With a little tweaking, those cells are capable of neutralizing their cancerous counterparts.
Based on this study, North America recently accounted for the largest share of the market at 44%. It's closely followed by the Asia Pacific region, which is showing rapid growth at 16.8%.
Biotechnology has already given rise to novel sub-disciplines such as metabolomics and proteomics. Therapeutic proteins and other biotech-derived drugs are being developed thanks to the efforts of researchers. The segment is actively growing, and there's plenty of room — both for incumbents and newcomers.
We already know for a fact that the right software can increase your odds of success in the biotech market. The question is, what kind do you need? Let's find out.
Main types of biotechnology software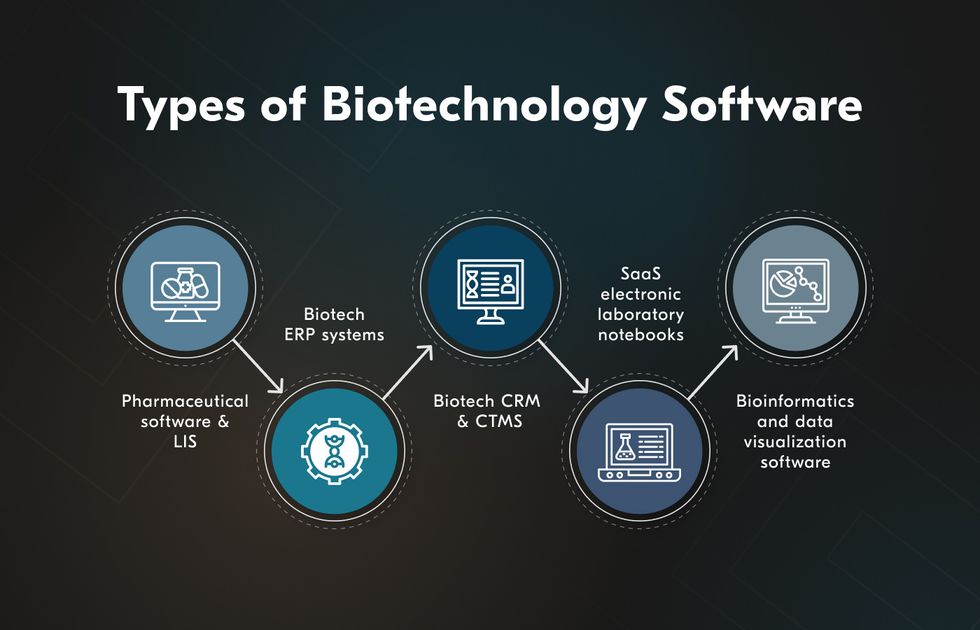 Depending on the model of business and the area of biotechnology, companies may have very different needs in terms of software. We can't cover every possible option, so we'll only look at the most typical kinds of biotech solutions.
Biotech LIMS
Is research the main focus of your biotechnology business? Do you manufacture biotech products and need to set up efficient workflows? Then you'll certainly benefit from adopting a laboratory information management system, or LIMS. This type of software is designed to help you dynamically manage your lab, from samples and tools to people and processes.
Here's what a typical modern LIMS system, created by skilled biotech software developers, can help you do:
Track samples and inventory
Automate experiments and workflows
Streamline instrument maintenance
Record, store, and manage scientific data
Proper organization of lab work is the foundation of success for most biotech startups. The impact of using a LIMS goes beyond simple optimization of routine laboratory tasks. It's a complex software tool that will help you build an efficient research or production pipeline, minimize human error, and save costs.
Biotech ERP systems
An enterprise resource planning system (ERP) is a comprehensive solution a biotech company can use to synchronize its multiple business processes. An ERP creates a unified framework and enables an uninterrupted flow of data within it. The software is built around a centralized repository, which means that data formats remain consistent across applications.
Depending on the configuration, typical modules of an ERP system may include:
Accounting
Supply chain management
Risk assessment
Project management
Compliance
Manufacturing
One of the greatest benefits of implementing an ERP solution is the visibility of resources it provides. Key stakeholders gain a holistic view of critical business operations, from product development to commercial sales. A perfect way to optimize budgets, streamline supply, and give impetus to the entire cycle. Modern ERP systems also offer extensive integration capabilities — with IoT (Internet of Things) devices, office apps, and other software.
Biotech CRM
Client relationship management is crucial for any biotech company that deals with customers. A properly implemented CRM system can provide unique insights about your client base and help improve communication. This, in turn, will lead to higher rates of client retention, better targeted sales, and an increase in revenue.
Below is the list of perks you can unlock by adopting a CRM:
A centralized hub for all client-related communication
Collection and analysis of patient data
Automation of sales
Efficient allocation of resources
Improved planning
By investing in a CRM system, a biotech startup can also receive the much-needed feedback on the innovative products it's selling. One thing to remember here is the importance of personal data protection — but it shouldn't be a problem when working with an experienced software partner.
Biotech cloud applications
The needs of modern businesses are diverse, and outsourcing and international collaboration have become habitual. If your research team is distributed between multiple locations across the globe, you'll appreciate using a cloud-based app. There's no better way to increase your team's efficiency than by giving them access to the tools they need via cloud services.
Using a сustom biotech software solution based on cloud technology, you can minimize the project's dependence on expensive local infrastructure. The cloud paradigm offers unlimited scalability in terms of computing power and storage. In addition to that, developers can utilize standard services that are built into platforms. This will save a lot of time without sacrificing quality.
You can choose between multiple first-tier cloud providers like AWS (Amazon Web Services), Microsoft Azure, or GCP (Google Cloud Platform). Of course, we'd recommend consulting with professionals first.
Bioimaging software
Bioimaging is widely used in biotech research, and the accompanying software must be capable of interpreting the visual data in real-time. Automated features like analysis of bone density, spot detection, cell counting, time-lapse imaging, and others can give your business a major boost in productivity.
With the help of AI and ML, your science team will be able to process and analyze data received from microscopy, spectroscopy, and other imaging techniques with improved accuracy. Modern algorithms, when used intelligently, can save tons of resources and uncover patterns that you can build your further research on.
Of course, there are more types of specialized biotech solutions than we were able to fit into this short section. The good news is that a software partner skilled in biotech software development can custom engineer an app for your particular use case.
In order to do that, they'd also need to have a handle on certain kinds of relevant tech. Let's talk about that for a minute.
Technologies that impact biotech software development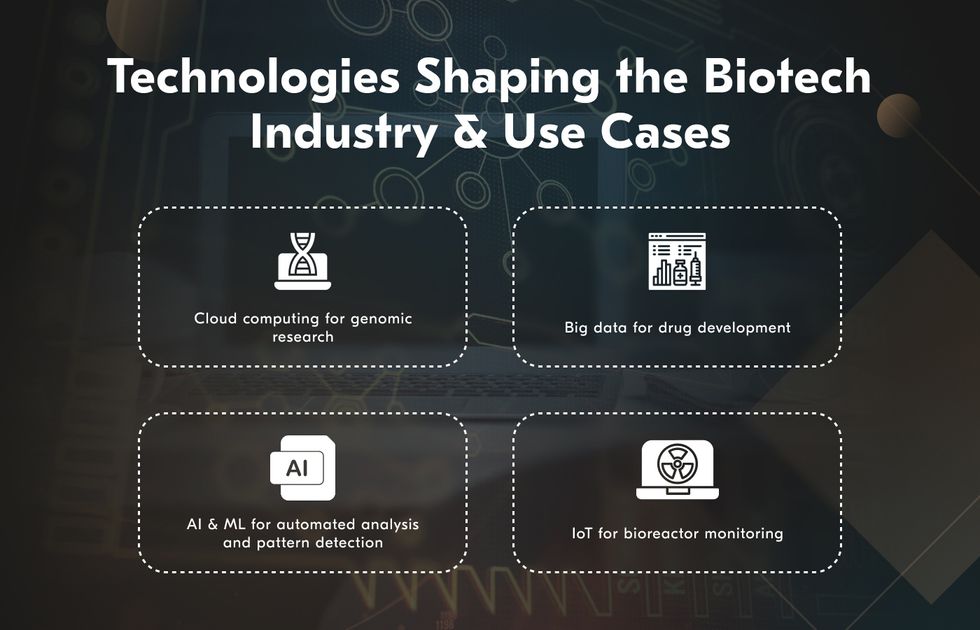 Today, upgrading the physical components of computer systems, such as CPUs, memory, or disk drives, can't guarantee a better performance of your software. It's the shift in paradigms that really drives progress.
Software developers have long stepped away from writing monolithic behemoths of code that rely on local infrastructure. Instead, today's apps are based on cloud computing and storage, microservices, low-code, and SaaS (software as a service). Outsourcing biotech software development is now becoming the go-to solution for most businesses, allowing them to shift focus to their core competencies. We've shortlisted five technologies that help the biotech industry move forward.
Cloud computing
The power of the cloud can give your app almost unlimited storage and processing capabilities. On top of that, cloud-based apps rely on microservices — a modular approach to building software. Instead of creating an application from scratch, developers can use a selection of "blocks" that contain typical functionality. This speeds up the development process and makes adding new features easy. But the best part is that you can use cloud apps anywhere, as long as you have internet access.
SaaS (software as a service) is an evolution of cloud technology. With SaaS, you get a cloud-based solution that's tailored to your needs and use a subscription model to pay for the used services.
Big data
The value big data brings to medical biotech software development is hard to overestimate. Biomedical research deals with complex datasets on a daily basis. "Volume, velocity, variety" — those are the three dimensions data engineers operate in, having to work with data that comes in large quantities fast and is varied in content. Adding big data capabilities to your software is an absolute necessity when you need to process and analyze it in real-time.
Artificial Intelligence
It seems that AI is everywhere these days, and there's a reason for it. AI is meant to mimic human behavior and is especially useful when combing through lots of data. Artificial intelligence is perfect for screening drugs, analyzing visual data, as well as building prediction models.
One example is project Alphafold that can build accurate 3D models of protein structures. AI-enabled software is extremely efficient in biotech, as it accelerates analysis, automates routine tasks, and eliminates human error.
Machine Learning
ML is a subset of artificial intelligence that is focused on creating self-improving algorithms. With the help of machine learning, software can use previous data to build better, more accurate predictions and models.
ML is truly indispensable when it comes to biotech applications. We can feed the algorithm a lot of various data and let it get to work, finding repeating patterns and interdependencies. This approach can be used, for instance, in the process of creating precision medicines. An ML-enabled solution, when supplied with medical history data, can track the patients who respond to the treatment.
Internet of Things
IoT devices have become very common, and the healthcare industry has fully embraced this trend. Smart medical sensors and lab equipment can be connected to your software and automatedly provide readings and measurements needed for your research or marketing. Monitoring critical parameters like temperature and humidity couldn't be easier with IoT.
This enables a constant flow of data, reduces the incidence of errors, and greatly improves the efficiency of the entire system. Connected devices in your lab can also send alerts about planned maintenance or the need to restock supplies.
Now that we've talked about the main types and the inner workings of biotech software, let's see how it all comes together during development.
Building biotech software: The process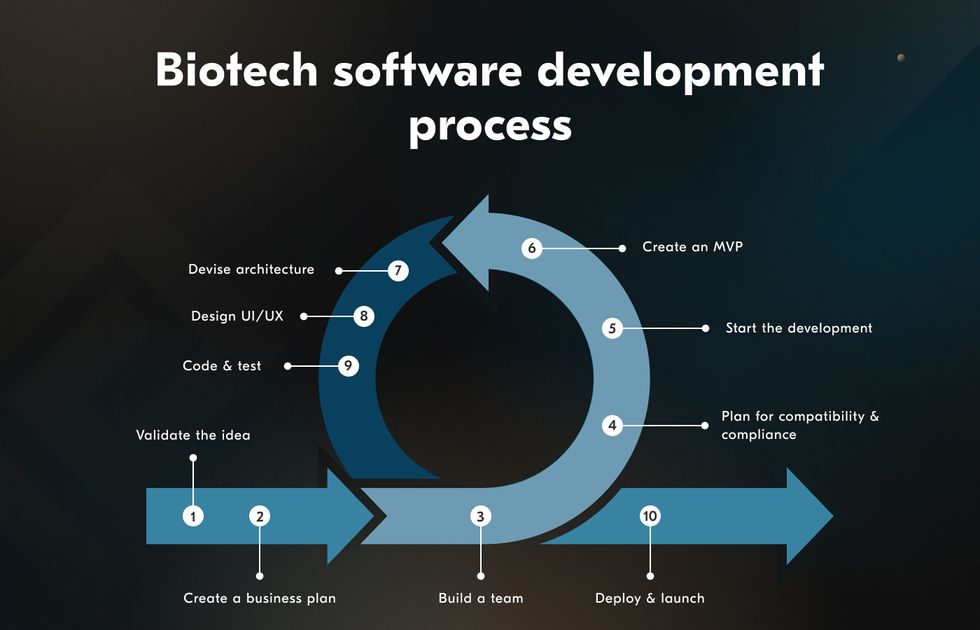 It'll take weeks, maybe months before you see the final version of your software, but the journey starts long before the first line of code is written. We've prepared a list of typical steps of biotech software development that will get you from the initial idea to a fully functioning app. Don't worry, we'll do our best not to overwhelm you with too much technical detail.
Validate your idea
You might have a revolutionary product in mind, but does the market really need it? Before you start building your software, do some research to ensure you have a niche to fill. Positive results will instill confidence in your investors and other key stakeholders.
Create a business plan
Write out everything: what you want to achieve, how you'll measure success, and what resources you're willing to spend. Pay special attention to budgets and timelines. Build a trusting relationship with stakeholders. This investment will pay back later when you need to openly discuss the inevitable ups and downs and make informed decisions together.
Build your project's team
This step is crucial for your project. The experience, skills, and cultural fit of your development team will define the quality of the final product. If you're planning to take the outsourcing route or try staff augmentation, make sure to assess your candidate's skills and background before making a choice.
For that, you can read reviews on websites like Clutch, Goodfirms, or G2. After you've narrowed down your pool of software firms to a few, set up a meeting and talk to the teams. We've always been able to tell whether we are the right fit for the client and if we "click" at the first meeting.
Plan for compatibility and compliance
The reason we put this step ahead of the actual development is simple: these issues are often overlooked. Prior to making important decisions on architecture, take a minute and think about the current healthcare ecosystem your product will soon be a part of.
Adopting data exchange standards like HL7 v.2 or FHIR in your workflow will guarantee compatibility with other medical data sources, and regulatory compliance with HIPAA and relevant FDA acts will ensure your app's safe passage into the land of healthtech.
It's important to include compatibility and compliance in your planning as early as possible to avoid forced implementation later.
Begin the development
When all the preliminary meetings are over, the team can start working on the project. But before developers get down to coding, you'll need to clarify requirements and confirm resource and deadline estimates. Then, it's time to code.
Create a prototype or MVP
Building a software prototype is a quick and inexpensive way to test the concept and see if it works at all. An MVP (minimum viable product) is a more lifelike version of the product intended to receive feedback and correct the initial course, if necessary.
Devise architecture
This step will define the internal structure of your software and the relationships between elements. Will the solution utilize cloud storage and other resources? What kind of tech stack will the project be based on for its backend (the invisible "under the hood" part) and frontend (the part that users interact with)? What kind of programming languages should be used? Your software partner will make choices according to the requirements you've agreed upon.
Design UX/UI
User experience and interface are critically important for the successful adoption of your biotech software. Your team will design, test, receive feedback, and repeat this loop multiple times before the app's functions become easy to use.
Code and test non-stop
Today, most software development companies use agile methods in their approaches to project management. This means that, instead of taking the original plan and following it strictly from beginning to end, teams work in short iterations. Code, test, fix, make changes, move forward. Thanks to this flexible approach, you can make minor changes to the initial design and add features on the fly.
Deploy and launch your biotech solution
When all the coding and testing are done and a working version of your app has been released, it's time to upload the software to the servers. Your IT team will perform the initial setup and help users with onboarding.
If it's a commercial product, a marketing campaign would be the next logical step. But that's not our area of expertise, so we'll stick to what we know and offer you a few more tips.
Some extra advice for the successful development of biotech software
Tip #1: Timing and context
In order to innovate, you have to know your context. To offer a solution, you first need to know the market and its problems inside out. You also have to be able to make predictions. And that means picking the right time.
Even the most brilliant ideas have a tendency to flop when the timing's wrong. When planning the launch of your startup, you need to assess the market first. Otherwise, you might miss your window — the industry might not be ready for your solution, or you might miss the hype wave.
So, what's the trick to getting it all right? Our advice: market awareness and research, intuition, and a little bit of luck.
Tip #2: It's always about people
Passion and knowledge drive change. When you're lucky enough to find a group of highly motivated professionals and get them to work together without too much tension, the sky's the limit. We've tested this rule at Acropolium, and it never fails.
It takes time to gather your perfect team, but when you do, take good care of them. Provide opportunities for growth, cultivate a healthy team spirit, keep them interested in their work. At least that's what we do, and it works every time.
Would you like to see it for yourself?
Why choose Acropolium?
Founded in 2003, Acropolium has accumulated an impressive portfolio over the years. We've worked with both startups and established companies of every size from all major industries. Our expertise is diverse, and we always deliver on our promises.
Healthcare — and biotechnology in particular — have been on our top priorities list lately.
Take a look at our latest two biotech projects:
Our bioscience data processing solution is based on cloud technologies for data storage and management and AI and ML for analysis.
We also created a CMMS for an enterprise client who wanted to remotely manage their precision equipment and improve collaboration between team members.
Acropolium knows how to develop biotech software, and we're eager to help your business reach its full potential in this niche.
You can start by using our consulting services, and if you like what you hear, we can move on to full-cycle development, where we'll take your ideas and turn them into functional, stable software. Unless, of course, you have your own developers and want to bolster their expertise by adding a dedicated team.
The bottom line
Biomedical innovation is about making the world a better place. Due to technological advancements and shifts in global health trends, biotech is making great strides and attracting capital. To a great degree, success in this industry rests on the shoulders of talented researchers and lab workers. However, the products they create would never reach the market without the right technological and business instruments.
A сustom biotech software solution, fine-tuned to the needs of a particular business, is a tool that every organization deserves to have. And just like any tool, it'd better be new, shiny, and sharp. In the case of software, it's about current architecture, great user experience, and the most fitting technology under the hood.
Get in touch, and we'll help you tick all the boxes.