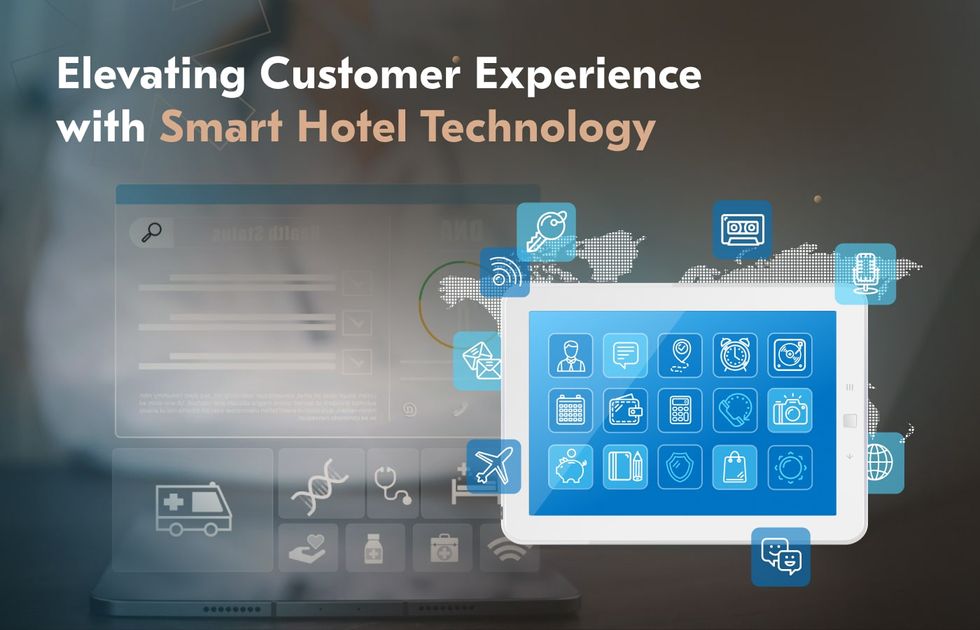 80% of modern consumers expect companies to provide a personalized customer experience. Thus a customer-centric approach is one of the critical long-term trends that can greatly enhance business performance in hospitality. Delivering a first-class experience has always been essential for hospitality, as it allows businesses to transform one-time visitors into loyal clients that convert on an ongoing basis.
In 2022 international tourism remained 67% below the pre-pandemic level. The competition for customers is more intense than ever. So, embedding innovative solutions and advanced technologies in hospitality can be the right way to make your services more exclusive and personalized, thus, attractive to large audiences.
In this article, Acropolium shares its profound experience, showcases the best examples of improving the customer experience for hospitality, and gives recommendations on finding the best vendor for your hotel software development project.
How Does Hospitality Business Benefit from Tech
Before diving into the specific software solutions that can enhance client service, it's essential to understand the potential of hospitality tech innovations for enterprises and your business. So, what are the gains of implementing different software across hospitality?
Enhanced operational efficiency and management processes
Reduced costs due to the process automation and increased employee productivity
Increased time efficiency
Facilitated smooth staff engagement and communication
Easier connectivity between the larger hotel chains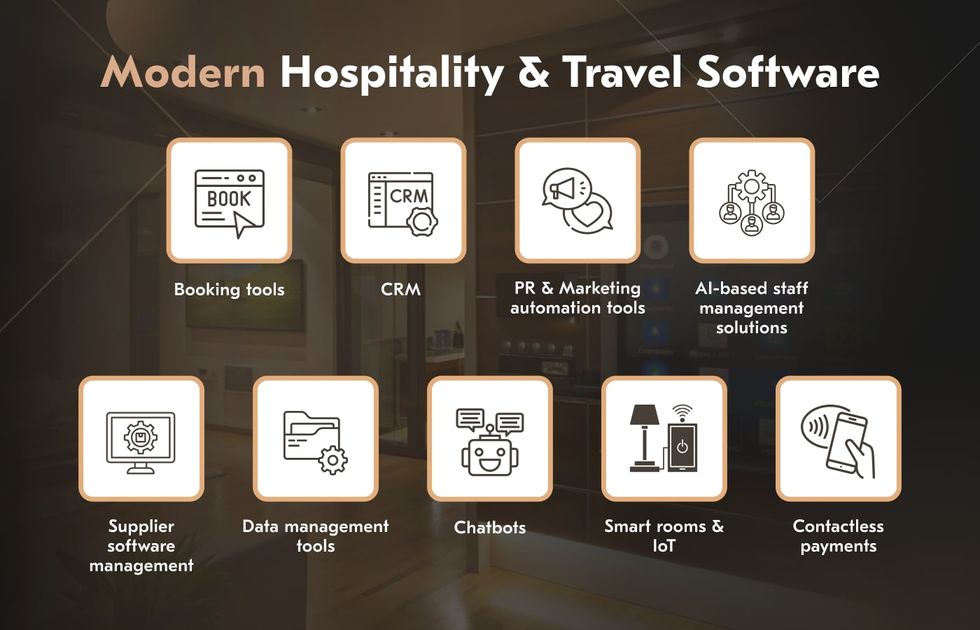 However, the most notable advantage of hospitality software is that accelerated business performance directly impacts client service quality. As a result, hospitality institutions can gain higher revenues at lower costs invested!
Types of Hospitality & Travel Software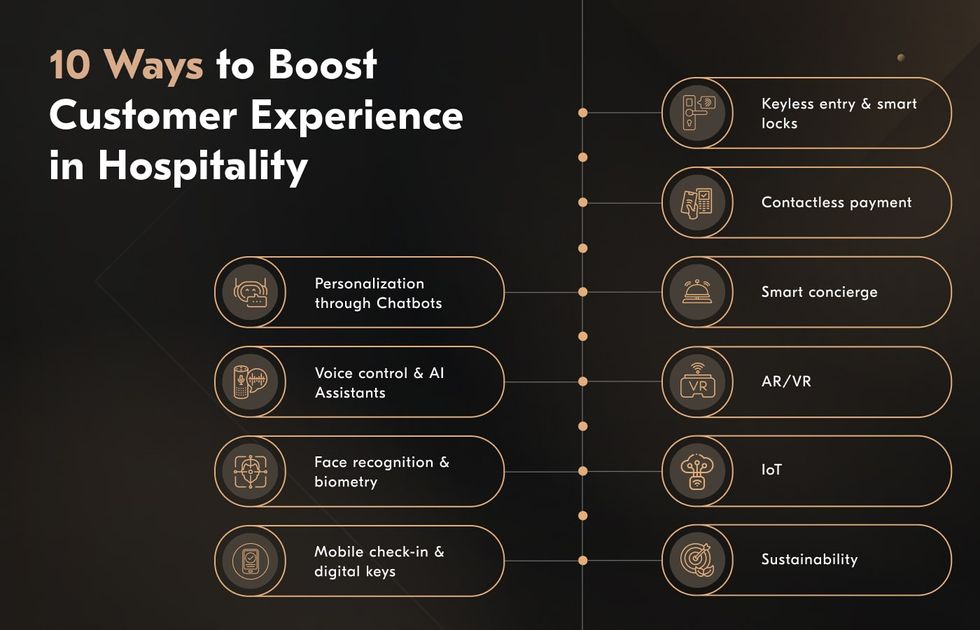 Knowing the benefits of hospitality app development, let's briefly cover the software solutions you can create to accelerate your business performance in terms of customer service and internal process operations.
At present, the most commonly used hospitality-focused software includes:
Booking management engines
Customer relationship software (CRM)
Sales, marketing, and PR automation software
Communication software for internal use
Time tracking software
Inventory control software
Supplier management software
Accounting software
Data management software (visualization, modeling, forecasting, behavior analysis)
These are the basic software categories hospitality industries usually order from outsourcing software development companies. However, to maximize the efficiency of your software in terms of client experience, it's essential to ensure the software developed can provide certain value to your guests.
Discover 10 Ways to Enhance Customer Experience
Now that we've reviewed the potential of the tech solutions in hospitality and what types of hospitality & travel software can actually improve the guest experience for the businesses within the target industry.
Here, we'll review the key technology fields that have been extensively used in hospitality or are currently being applied to maximize the client experience.
#1 Voice Control
With the emergence of a wide range of voice assistants such as Amazon Alexa, Google Assistant, Siri, Bixby, and many others, society has completely reconsidered the functionality those can perform. Today, the voice control system has been widely adopted across various hospitality services. The 'wake up' and 'sleep' commands are just simple examples. They can also perform more specific tasks, such as monitoring real-time weather outdoors, upcoming events within your location, smart gadgets control, and many more.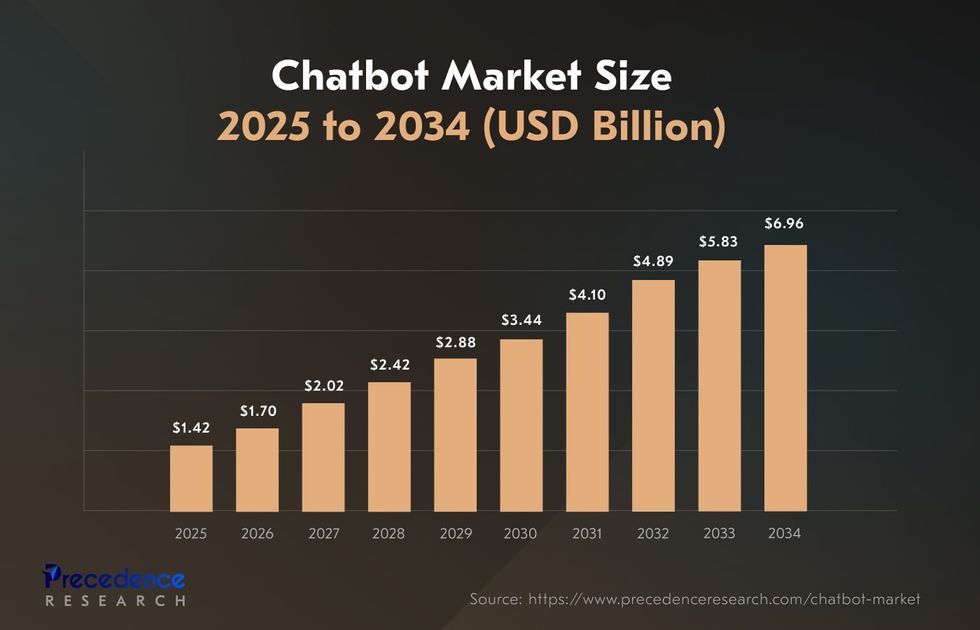 What makes this solution so beneficial for the target industry? First, voice control provides a high-end personalized experience to your guests, ensuring they're making the most of their accommodation. Also, these features greatly benefit your marketing efforts, providing a decent advantage over the competitors.
One of the best real-case examples of voice assistance in hospitality is the Alexa for Hospitality service by Amazon. It can be linked to a wide range of smart devices to provide advanced control under the room gadgets and IoT solutions, such as lights, heating, and music.
#2 Facial Recognition
After the emergence of systems like Apple Touch ID and Face ID, Facebook DeepFace, and other related systems, recognition technology has become a subject of interest for thousands of hospitality entrepreneurs. Main reason? Its wide use potential for both clients and employees.
When dealing with large volumes of customers at once, entrepreneurs need a reliable solution for providing high-end, efficient services without compromising safety. Luckily, facial recognition systems can do that!
The key responsibility of the current recognition solutions is to provide automated verification or authorization processes along the customer journey. For instance, accessing the rooms, conducting a transaction, quick guest identification, automated check-ins and check-outs, and many more.
One such example is Marriott hotels in China, which offer an option of automated check-in through a kiosk. Once the guests' faces are scanned, they receive a key card to their apartments. Simple and at minimal effort input!
#3 Chatbots
Chatbot solutions have been widely used across various industries due to the many opportunities they can offer for enterprises regardless of their size, business goals, or needs. According to Acumen Research and Consulting, in 2030, the global chatbot market size will reach $3,411 million, showing a whopping increase of over 550% in a decade of development.
In hospitality, chatbots are extensively implemented in customer service improvement. They provide on-demand information concerning hotel services, local events and must-visit places, weather forecasts, and many other aspects which contribute to improving the customer experience and comfortable stay.
Moreover, chatbots significantly reduce the workload on human staff members, resolving the questions at the earliest stage and in the shortest time. Otherwise, the hospitality chatbot can then pass the query to the staff so it can be addressed promptly and efficiently.
#4 Mobile Check-In
Mobile check-ins are probably one of the most widely applied areas that play a key role in the first impression customers make at the point of their arrival. These tech solutions enable smooth, hassle-free check-in registrations requiring minimum time and maximum comfort for the guests.
Depending on the specifics of your solution, the automated check-ins can be conducted through the self-service desks, or else completed directly from the smartphone app with your guests. The check-in process is pretty simple: after installing the hotel app on a smartphone, guests register in the system and book the desired apartment. Upon approval, the hotel will send a confirmation containing a personal identification code and the associated room number, which allows entering the property with the wireless key reader at the appointed time.
This practice has already become common for the big players in hospitality. We can now see it's been adopted for small and mid-size hospitality institutions as well.
#5 Concierge App
If you're a seasoned hospitality business owner, you've probably heard about the extensive deployment of the concierge app, an automated solution that is increasing in popularity these days. Basically, that's a hotel management software that enables guests to interact with and purchase goods and services from the hotel.
These applications allow hotels (and other accommodation institutions working within the hospitality industry) to increase guest revenue by providing personalized services without increasing staff. In most cases, they're multilingual. Thus, these apps help with communication, check-in and check-out, pre-arrival services, and much more. Additionally, concierge solutions significantly reduce the workload, enabling a more efficient cost allocation and fewer expenses.
Although the concierge applications were employed before the 2020 pandemic outbreak, their relevance has increased afterward with the emerging demand for contactless services. Some of the most popular hotel concierge applications used today are ALICE Guest Services, Flexkeeping, Faundit, Infosys App, Alliants Concierge, Hotefy, and ATLIST Scheduling.
#6 Keyless Entry System
Gone are the days when you needed to always take a key with you to access the apartments. The keyless innovation, which used to be an exclusive option in big players such as Hilton and Marriott, has officially become an industry standard. A simplified, agile and easy-to-install keyless entry system can reduce the hustle and stress of stolen keys, not to mention the excess expenses for their restoration.
According to Operto, 96.4% of hospitality experts agree that their guests now either "expect" or "appreciate" keyless tech, which is no wonder. With keyless entry technology, both parties win: hospitality institutions can save up on time and costs, reduce security risks, automate the entry system, as well as monitor cleaning and occupancy remotely within a single platform.
On the other hand, digital keys and smart locks are more secure and hassle-free, and cannot be lost. In some cases, they can work without a smartphone or app, providing maximum flexibility to the guests. Additionally, a keyless system can help provide remote control, which first-class corporations across the current industry have already implemented.
#7 Virtual and Augmented Reality
AR and VR solutions have made the hospitality industry extremely accessible today. You'll only need a smartphone and Internet access to leverage its advantages. Though compared to other solutions, it doesn't feature those heavy investments as contactless payments, robotics, and chatbots at the moment; its market recap is expected to grow at a CAGR of 34.2% during the forecast period of 2022-2028.
Such an extensive demand for AR/VR technologies is mainly cultivated with extreme dependence on travel services by some of the countries, including Maldives, Aruba, Macao, Bahamas, Thailand, and others, in which these services sectors were making a considerable input in their GDP.
Augmented and virtual reality solutions open up a large potential for both hospitality businesses and their clients. Some of these technologies' most notable use cases are AR-compatible wall maps, digital modeling of different accommodation options, exploring the local tourist points, and many more.
#8 Contactless Payment
The 2020 lockdown has significantly enhanced the popularity of contactless payments across various industries. According to the recent report from Research and Markets, the global contactless payment terminals market is expected to quadruple by 2026, reaching $51.07 billion during the forecasted 2020-2026 period.
Wireless payments have become increasingly popular within the traveling and tourism sectors due to their wide device compatibility, resource efficiency, improved security, and ease of use. Nowadays, you don't even need to have your credit card with you: everything is already set on your smartphone!
With this said, you can now see more and more hotels, resorts, restaurants, bars, and cafes offering wireless payment options. Thus, they enhance client loyalty, provide a better sense of safety and address security concerns to provide the best experience to each of their guests.
Some popular contactless payment system for hotels are Apple Pay, Google Pay, contactless-enabled bank cards, QR codes, and even crypto wallets.
#9 Internet of Things (IoT)
Another trend widely adopted across the hospitality industry is IoT. The research report by Smart Hospitality Market estimates a considerable growth of the hospitality IoT solutions market size from $13.6 billion in 2022 to a whopping $49.9 billion by 2027.
The key benefits of IoT gadgets in hospitality include the ability to streamline various services within the industry, including enhanced customer service, improved data security, timely reporting and troubleshooting of different issues, and more. Additionally, the smart devices implemented across the hospitality infrastructure can help significantly save costs and time through process automation while ensuring maximum comfort and personalized experience for your guests.
These future-proof solutions provided by IoT can enhance client loyalty, increase profitability without sacrificing the service quality and improve your business's competitiveness in such a challenging market.
Today's existing examples of IoT in hospitality are preventative maintenance IoT systems, autonomous indoor delivery robots, connected thermostats, and many more.
#10 Artificial Intelligence (AI) & Machine Learning (ML)
So far, AI has been widely valued for its ability to offer unique insights for marketing, customer experience, and business performance scopes. By 2026, the travel and hospitality market is estimated to surpass the $1.2 billion mark, according to the report by IndustryARC.
The significant concern about the implementation of AI is dedicated to financial management and security apparatus, though there are many instances of its implementation in booking solutions, pricing and forecasting, journey planning, customer purchase management, virtual customer services, risk assessment, inventory and property management, and more.
Apart from the common usage of AI and ML in voice assistance solutions, these technologies became extremely helpful for delivering a well-targeted and more personalized customer experience based on big data analytics, such as client behavior analysis, current industry trends, seasonality, and more.
Another decent example of AI in hospitality is AI robots, which are already making excellent, effective services to customers in providing information, front desk services, storage services, as well as check-in and check-out solutions.
How to Choose a Reliable Vendor for Custom Hospitality Software Development
Having decided what hotel management software you need, it's time to choose the development partner for your project. Here are some simple tips for getting your perfect team of developers on the first try!
Set up your hospitality project's clear needs and goals, identifying what product you need and how it can be developed.
Understand the key criteria for the selection that will help you to evaluate the potential of your candidates. The common factors are the company's industry focus, size, and tech expertise. Also, ensure they possess experience in the services you need (consulting, software development, or maintenance), relevant operation models (outsourcing, outstaffing, etc.) and fit your budget.
Review vendor listing to understand the experience of the past clients and projects the company has delivered. This can be easily done through Clutch, GoodFirms, Reviews.io, or any similar service
Study the company's website to ensure it's legitimate and features the best potential for your hospitality business.
Analyze their portfolios, certifications, partnerships, memberships, and rewards to better understand whether the target vendor can deliver the required services and what outcome you can expect with the project delivery.
All these simple but efficient tips will help you to ensure the vendor's reliability and define whether or not it can fulfill all your expectations within your hospitality software development project.
Why Choose Acropolium?
Acropolium is an experienced software development vendor with a long track of secure projects delivered for the hospitality industry. So far, our company has delivered nearly 500 powerful applications for restaurants and hotels, hotel commerce platforms, and many other hospitality institutions aimed to streamline their operations, improve their services and enhance the customer experience.
We have vast experience in delivering personalized tech solutions for startups, small and mid-size hospitality businesses, and Fortune 500 companies.
One of the projects we've worked on is hotel chain management software. The client sought a technology partner to rework their single-server-based legacy application into a cloud-based chain management solution. The Acropolium team has successfully upgraded the software making it more well-performing, fast-loading and scalable.
So, if you're searching for a dedicated team of developers for software consulting or engineering, contact us today. Acropolium's best managers will gladly help you to bring a hospitality software project of any complexity into reality!
Level Up the Customer Experience in Your Hospitality Business with Acropolium
As you can see, there are a vast number of solutions that can improve customer service across different fields of the hospitality industry. From online reservations and automated check-ins to the IoT, AI, and ML, and specific CRM software solutions that can significantly improve the relationship with your guests and convert one-time visitors into loyal clients.
Whether you consider launching a custom hotel software in-house or outsourcing its development to a software vendor, getting expert assistance can greatly maximize the efficiency of your project and generate the highest revenues.
At Acropolium, we offer top-notch hospitality solutions development services. Having years of experience creating booking systems, restaurant POS tools, property management solutions, travel agencies software and delivery apps, we can create a solution of any functionality at the most reasonable time and cost.
Contact our team today to discover the full potential of developing custom hotel management software for your enterprise!