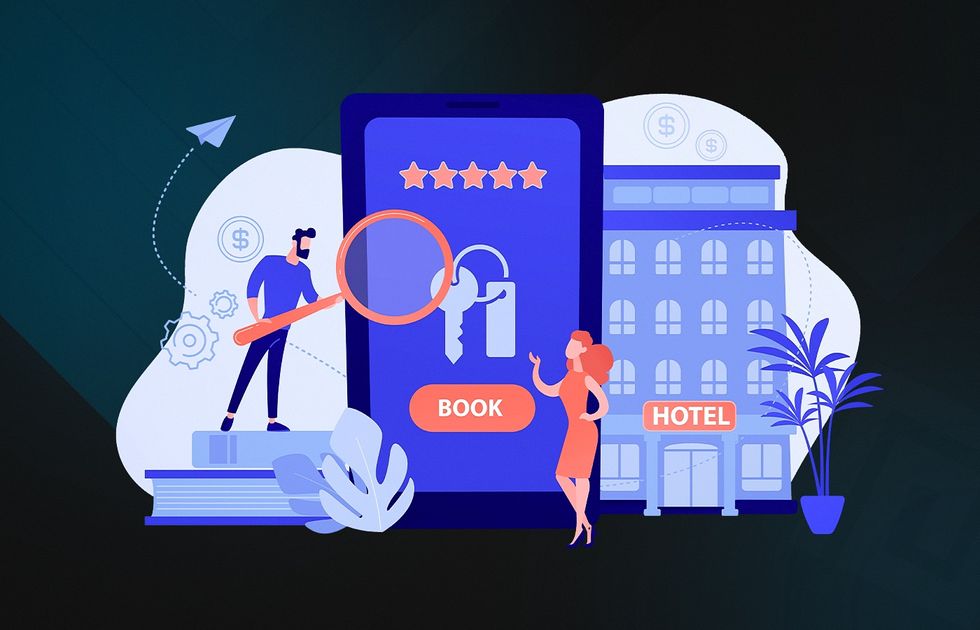 Key Takeaways
Hotel reservation booking system streamlines room bookings and management, enhancing operational efficiency and customer experience.
If you wonder how to create a hotel booking website, consider features like filters, hotel details, payments, registration and login, user profile, notifications, reviews, and cancellation.
Custom hotel booking software is tailored to meet specific business needs, providing greater flexibility, scalability, control, and competitive advantage.
At a time when guest demands are growing and hoteliers are suffering from labor shortages, hotel booking reservation software come to the rescue. This solution not only optimizes routine systems but also improves customer experience, reduces costs, and collects valuable data for marketing activities. Thinking about implementing similar bespoke software for your hotel? Keep reading.
What is hotel reservation system? What types and features does it include? Do you need a custom or off-the-shelf solution? Today, we'll answer all these questions. Acropolium is a hotel booking app development company with over 12 years of experience, which allows us to create outstanding software and share our expertise in this article.
Hotel Booking Software Market Size
The online travel booking platform market is projected to grow by $1.1 trillion from 2022 to 2027 at a CAGR of 14.85%. The contactless era, increased smartphone adoption, and multiple travel apps led to mobile bookings. Vendors enhance apps for a personalized experience and offer incentives like coupons, driving segment growth.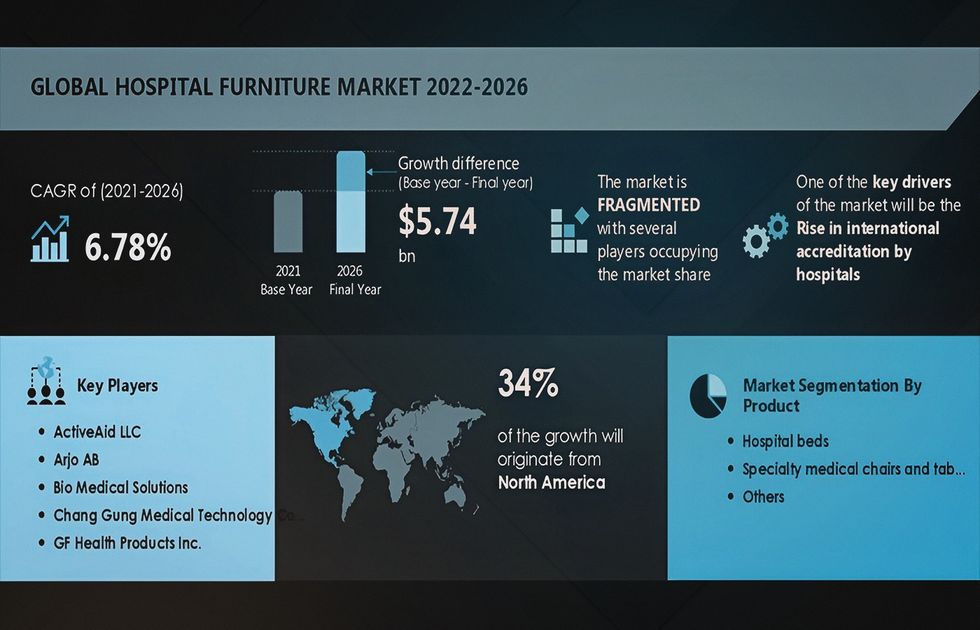 What is Hotel Reservation software?
A hotel reservation and booking system is software designed to automate the process of booking, managing, and maintaining hotel rooms and accommodations, improving overall business efficiency.
Hotel Reservation System Example
The key features of hotel reservation system include filters, hotel details, payments, registration and login, user profile, cancellation option, push notifications, and user reviews. To create the best hotel booking system, you can add virtual tours, local recommendations, loyalty programs, hotel comparisons, etc.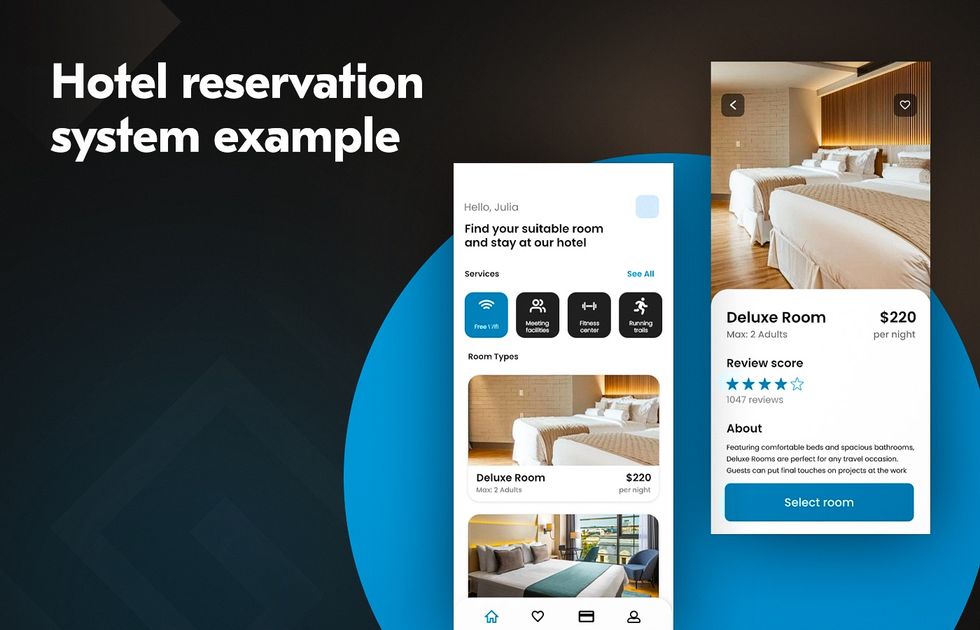 Types of Hotel Reservation System
There are several types of hotel reservation software solutions that hotels use to manage their bookings and operations: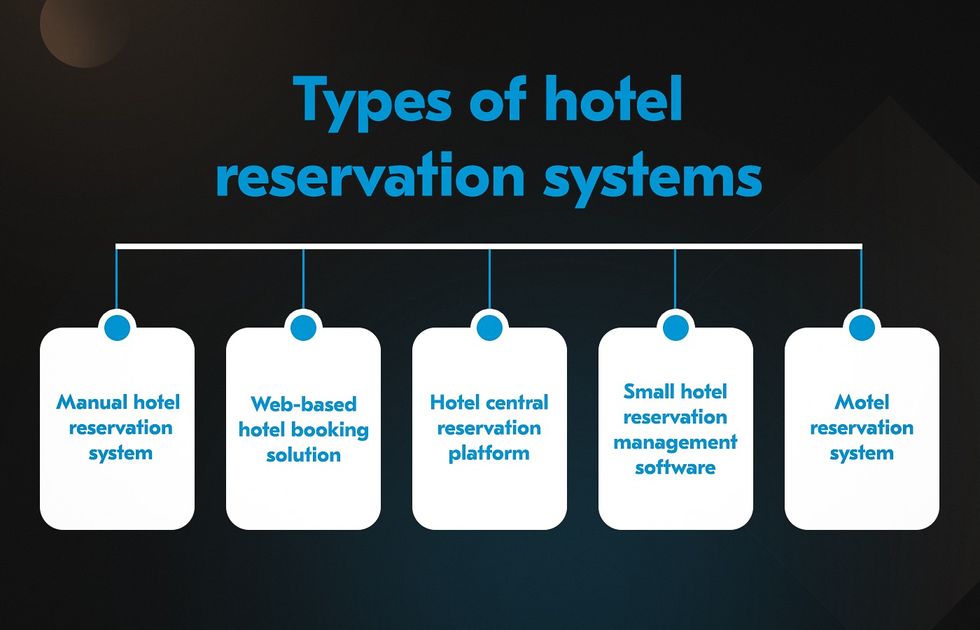 1. Manual Hotel Reservation System
A manual hotel reservation management system does not involve advanced technology. This means the hotel manages reservations via pen and paper, logbooks, phone calls, in-person, etc. Manual reservation systems are far less common in hotels since online tools make everything much simpler, quicker, and more effective.
2. Web Based Hotel Booking System
A web based hotel reservation system uses the internet to manage tasks and integrate with other online solutions. Such software brings more automation, synchronization, and simplicity. This gives hoteliers more time and freedom to manage time wisely and make better business decisions.
3. Hotel Central Reservation System
A central reservation system (CRS) helps hotels manage room inventory, rates, and reservations. This cloud based hotel booking software provides real-time updates to the website and external platforms, ensuring customers see accurate room availability and pricing. It can be an element of the hotel's property management system or a standalone solution.
4. Small Hotel Reservation Management Software
Booking engines for small hotels cater specifically to tiny accommodation providers, prioritizing ease of use, affordability, and reliability. Often, such properties have a few select goals and features they are looking for to make workflow easier. The best reservation system for small hotel fits its specific needs without charging for unnecessary features or services.
5. Motel Reservation System
It is designed for motels, but the core functionality and benefits align with those in hotel booking solutions. By automating reservation processes and providing centralized management, these systems allow motels to streamline their operations and reduce the risk of errors.
Custom vs. Off-the-Shelf Hotel Booking Web Application: Comparison
Choosing a custom hotel booking reservation software over off-the-shelf solutions can be a strategic decision based on your specific needs and goals.
Custom hotel reservation software is built to meet the particular hotel's needs and processes, accommodating unique features, workflows, and integrations. That means a strong competitive advantage, as you can offer unique services that set you apart from competitors.
A custom hotel booking management app provides full control over the software, allowing the hotel to make changes, updates, and enhancements as needed.
The booking engine for hotels is highly adaptable and can scale with the business as it grows or needs change. Also, it easily integrates with existing solutions, such as revenue management systems, point-of-sale software, or loyalty programs, ensuring efficient data flow.
While the initial hotel booking website development cost may be higher, over the long term, custom systems are cost-effective. They are built to precisely meet the hotel's needs, reducing the reliance on multiple third-party tools and subscriptions.
Let's summarize the key differences between custom and off-the-shelf web based hotel reservation software: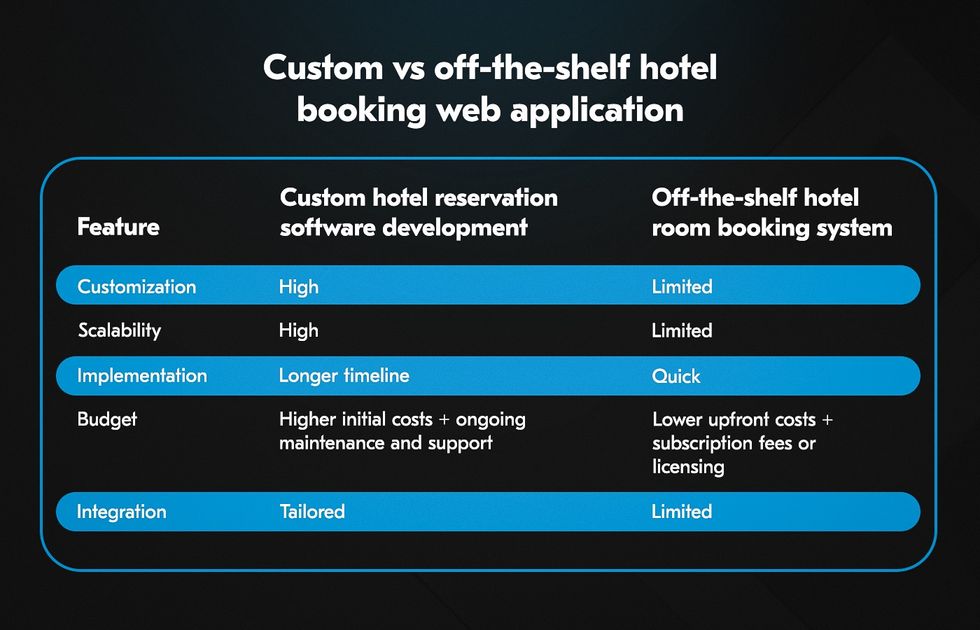 Key Benefits of Custom Hotel Reservation System Development
Despite high hotel reservation app development cost, such solutions bring a range of benefits:
Improved Operational Efficiency
Custom cloud based hotel reservation system is designed to precisely fit a hotel's unique requirements, reducing the reliance on manual data entry and calculations. This tailored approach minimizes errors, ultimately saving time and effort for the staff.
Enhanced Brand Visibility and Recognition
Hotel booking application development allows personalizing invoices, reports, and other documents with a brand logo, colors, and graphic elements. This adds a professional touch to operational documents and promotes the hotel's identity, enhancing brand recognition among guests and prospects.
Seamless User Experience
A cloud based hotel booking system usually has a user-friendly interface that simplifies operational tasks. This way, staff can easily navigate the system and complete their duties. Additionally, many systems provide mobile apps, offering convenience and flexibility for those who can perform tasks on the go.
Direct Communication with Guests
Custom hotel reservation application development includes integration with other management systems, enabling direct communication with guests. This way, hotels can address their specific needs, promptly resolve issues, and provide tailored services.
Guest Data Gathering
Custom hotel booking app development services let you gather guest preferences, booking history, and spending patterns. Hotels use it for personalized promotions, recommendations, and loyalty programs based on detailed profiles. Furthermore, the data can be analyzed to identify trends, preferences, and areas for service improvement.
Marriott International, Hilton, and Four Seasons prefer on demand hotel booking app development to manage bookings and offer a seamless experience for their guests.
Features to Consider in the Custom Hotel Reservation System
How to build a hotel booking website? Let's start with defining its key features: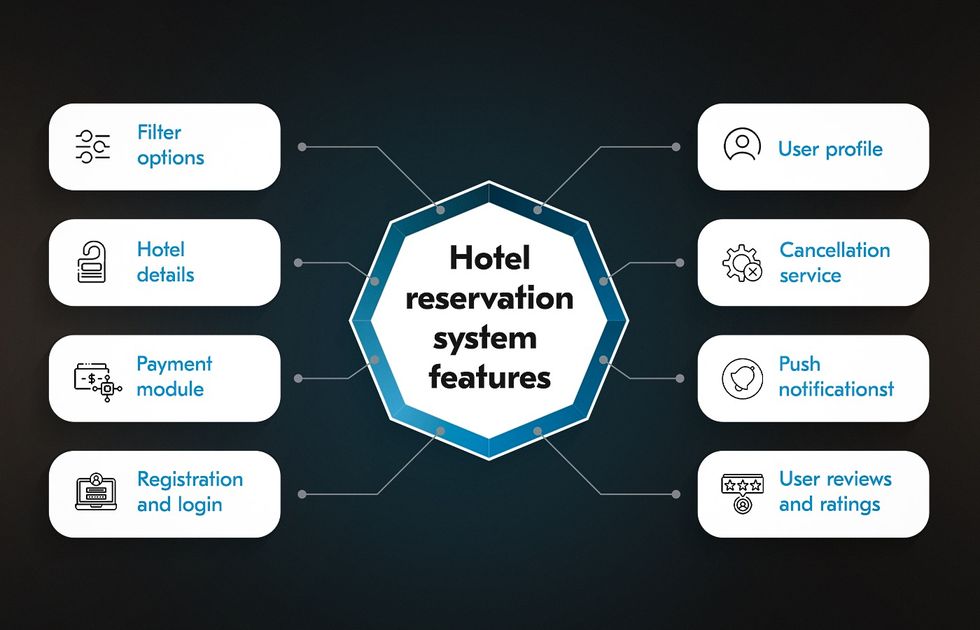 Filter Options
Your users may look for hotels by star rating, locality, pricing, amenities, room types, or other criteria. Include in your hotel booking management system the ability to filter, sort, search, and share information. This way, you ensure that prospects will easily find accommodations that align with their unique needs and preferences.
Hotel Details
Users should be able to access comprehensive details about the hotel they select, including information about amenities, inclusions, operational hours, and provided services. Empower them to make informed decisions and select the room that best suits their needs. Also, your hotel booking engine software should eliminate the need to contact the hotel for inquiries or clarifications.
Payment Module
A critical aspect of successful hotel reservation app development services is the availability of diverse payment options. This enhances the system's accessibility for a broad range of users. Integrate online payment methods like credit and debit cards, net banking, and payment wallets to deliver a convenient booking experience.
Registration and Login
Let users choose if they want to register on your web based hotel booking software, which offers several benefits. For example, tracking their booking history and preferences, showing reviews, or accessing loyalty programs. Options can include registration directly on the platform, linking one's social media account, or using an email address.
User Profile
Users can set preferences within their profile, such as language and currency. Additionally, they may create wish lists of their preferred accommodations, track booking history, and manage personal information. Use this data from the hotel management and reservation system to offer personalized recommendations and discounts.
Cancellation Service
Most software solutions for hotel booking system allow users to cancel their reservations up to the day of check-in. This flexibility provides customers with peace of mind, knowing that they have the option to change their plans if necessary without incurring financial penalties.
Push Notifications
Push notifications are a communication feature that keeps customers informed about the latest updates, features, discounts, and offers from your hotel website booking system. Users receive these notifications on their mobile devices or via web browsers.
User Reviews and Ratings
User reviews cover various aspects, including room quality, cleanliness, service, amenities, and overall satisfaction. Include this feature in your hotel booking website software to provide transparency, giving potential guests insights into what they can expect during their stay.
Custom Hotel booking system development with Acropolium
Acropolium is a hotel reservation app development company with 12+ years of experience in hospitality and 45 delivered solutions. Our expertise includes cloud services, big data, artificial intelligence (AI) and machine learning (ML), blockchain, chatbots, and other technology trends.
Our IT outsourcing agency helped the client create an advanced hotel management system. It was important to improve the integration capabilities of the existing software and expand the functionality. For this, Acropolium specialists:
Ensured the integration of existing hotel software systems
Connected the client's system to selected booking platforms with automatic data entry
Developed a cloud-based PMS with two-way data exchange in real time
Made the program available in different countries
As a result, the solution made connecting 12 hotel chains to the system possible, and the number of integrations with the best hotel reservation systems increased by 82%. At the same time, the company's client base grew by 9.7%, and its annual current income expanded by 14.5%.
Also, you can get acquainted with our other cases, including hospitality property management system and hotel chain management software.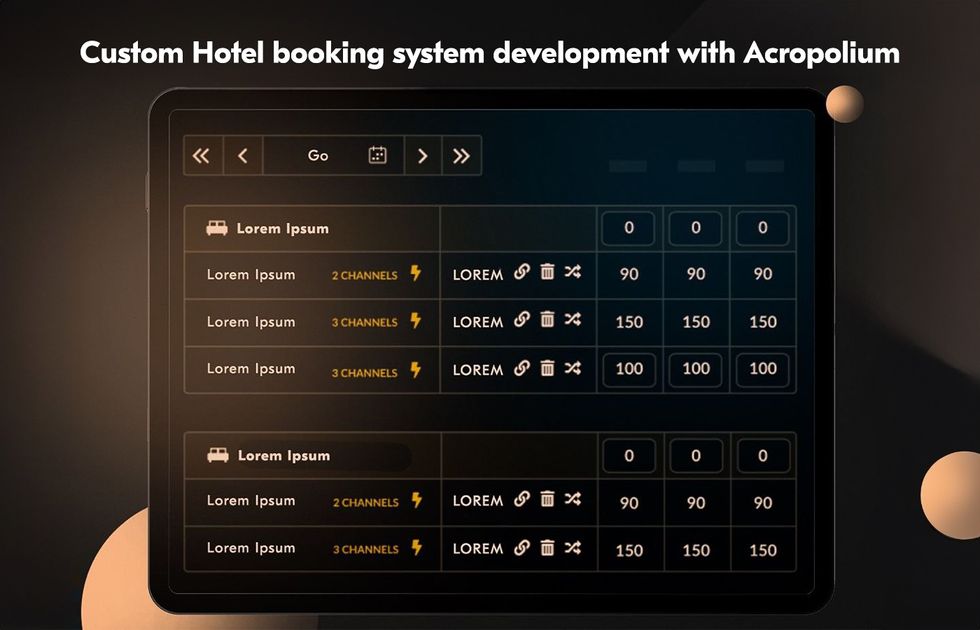 Final Thoughts
Hotel booking system software has become an essential tool for the hospitality industry. A well-designed platform streamlines the reservation process, enhances operational efficiency, and provides valuable features to both guests and hotel staff. There are many off-the-shelf solutions, but only a custom hotel booking engine for website will help you meet unique business needs, integrate with existing platforms, and easily change depending on the situation.
How to create hotel booking website with a monthly fee? Partner with us. Acropolium allows you to develop secure and scalable hotel booking systems software on a subscription basis. Contact our dedicated team to discuss the hotel booking app development cost.
Sources of information