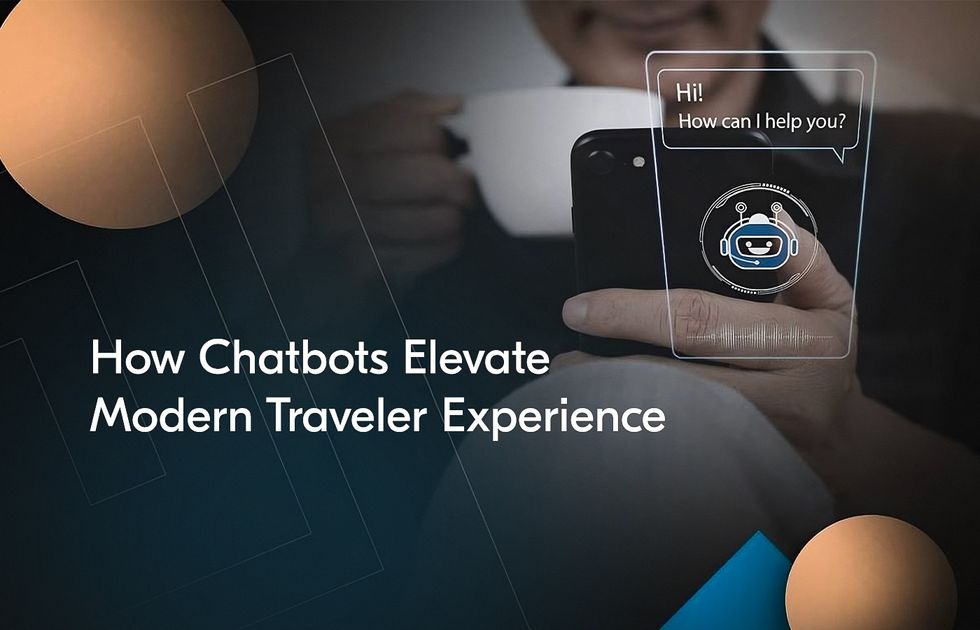 Customer service is paramount for travel agencies and hotels. But did you know that AI can help improve it? Smart travel and hospitality chatbots can become your hard-working front-line agents, meeting and communicating with your prospects like humans. Sure, they're not, and that's exactly the point! Besides, it will be really hard to tell them apart.
Today's chatbots are way more advanced than before. They're no longer obtrusive "Let's Talk" pop-ups that take forever to respond to a client's request. A modern chatbot is a sophisticated addition to any customer support team and can be trained to handle bookings, reservations, and recommendations swiftly and naturally.
"Chatbots can accompany guests from the minute they step out of a taxi to walk into a hotel till the end of their stays," says Acropolium's Founder Oleksii Glib. "They give hotels and travel businesses effective control over customer communication whenever guests initiate a conversation."
Not only are hospitality and travel chatbots maturing, but their service coverage extends beyond websites. Over 300,000 bots have made it to Facebook Messenger since FB gave businesses the green light to integrate their software. Your chatbot can be one of them.
HoReCa (Hotel, Restaurant, Cafe) is one of the industries Acropolium has been serving with AI-powered solutions for years. Let us share what we've learned about chatbots for hoteliers so far and why they can become a catalyst for your business growth.
7 reasons to implement travel and hospitality chatbots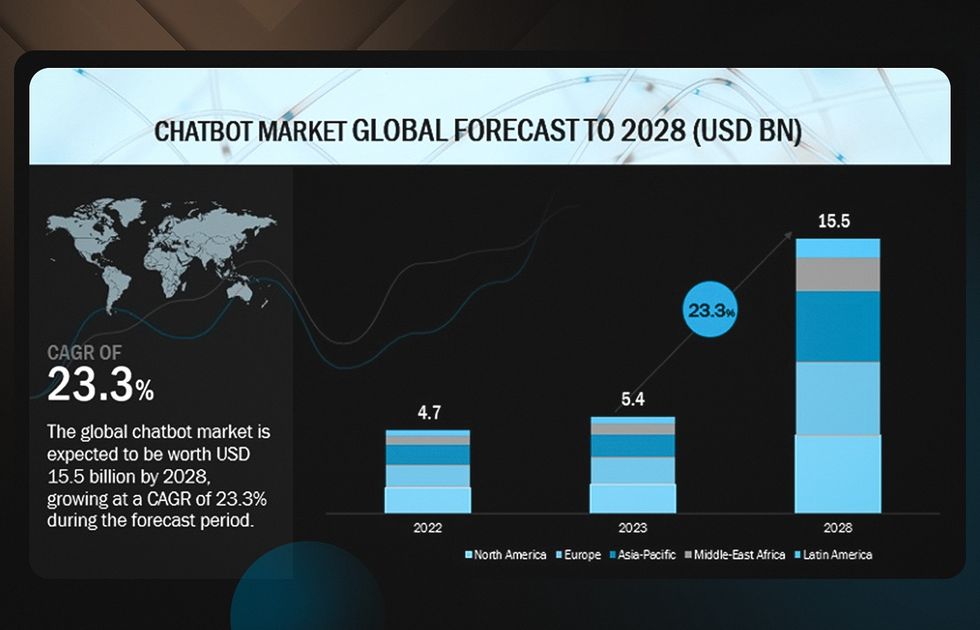 What AI chatbots do best is automate conversations to achieve a streamlined customer experience. 63% of people would rather text than use other business communication channels, and bots can position your brand as more client-centric.
However, this is only the first step of a smoother customer journey. With a chatbot for the hotel and travel industry, your business can get much more tangible benefits.
1. Bots can lighten your workload
Chatbots can be set up using existing software in the messengers your guests are already familiar with. You don't need to reinvent communication channels to deliver round-the-clock service without human oversight. They can interact with hundreds of customers at once in a no-latency way, whether your guests need details of a travel itinerary or want to book a room. Although chatbots can't replace your customer support team, they can handle routine requests and free up your staff.
2. AI-powered chatbots can add to your global service
Artificial intelligence is highly resilient in terms of language functionality, increasing the value of AI chatbots for travel companies. A multilingual bot ensures you can provide support to globetrotters without worrying about misunderstanding or communication failures due to language barriers. For a chatbot with programmed natural language processing (NLP), customer inputs are always easy to understand and respond to, whether in English or Arabic.
3. They can lower customer service costs
Reduced customer service costs often mean a worse experience for travelers and hotel guests. But that's not how it works with chatbots. When using them as your digital assistants across multiple channels, including your website and messaging apps, you can maintain your service standards while saving money. Bots help you avoid unnecessary hires and high training costs without dealing a blow to your business reputation.
4. Customer-centric communication can give your business a leg up
An AI bot enhanced with NLP is like a good therapist. It's an active listener that pays attention to every single detail your customers tell it. Once a conversation is over, the bot collects and analyzes the inputs to treat your guests in a personalized way the next time they initiate a dialog. This can distinguish your hotel or travel company from your competitors while also enabling you to make targeted offers, send notifications, and get to know your customers better.
5. Chatbots can increase your direct booking rates
Direct bookings are your bread and butter, but getting them may be a tall order. Automated bots are helpful here, too. With your bot integrated into your booking system, guests can easily check room availability, reserve a good fit, and even select dietary preferences. They don't need to leave the page or messenger where their first interaction with your AI assistant started.
6. They can reduce booking abandonment
A high abandonment rate should never be left unaddressed. Even though you can't eliminate abandoned bookings, you can reduce them by simplifying the booking process with a chatbot. Make sure your guests can reserve rooms without a hitch and be AI-assisted along the way so that they don't abandon the reservation. This is a crucial point for chatbots in the hospitality industry.
7. Improved customer experience means more positive reviews
Traveler reviews matter. According to TripAdvisor, 72% of people turn to reviews before choosing a hotel or a restaurant. What does this have to do with chatbots? Bots allow you to surround your customers with personalized attention, improving their experience with your business. They can be used to follow up with your guests during and after their stays, collect feedback, and increase your chances of getting positive traveler reviews.
5 Noteworthy uses of AI chatbots for the travel industry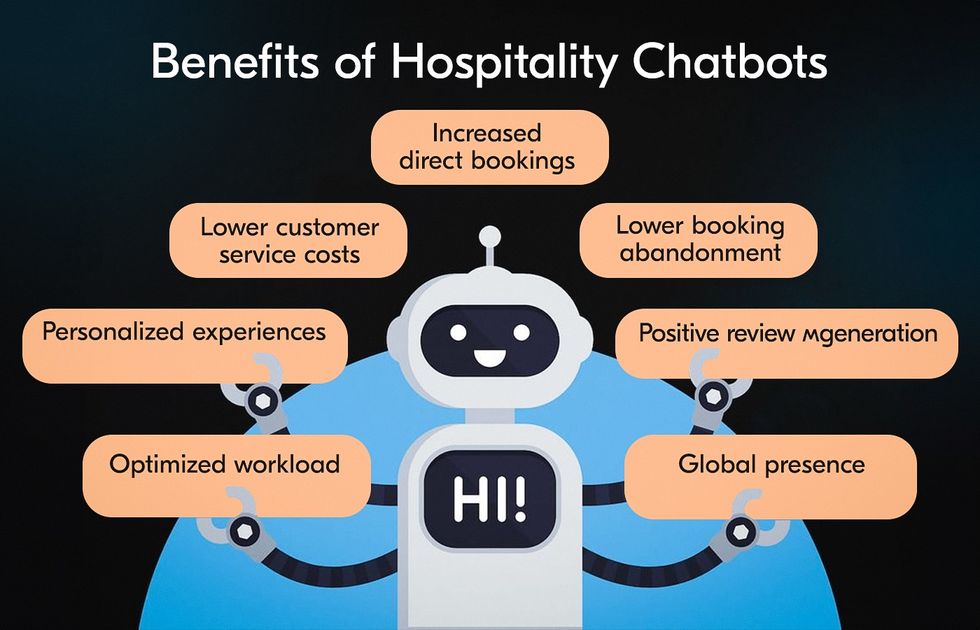 Online travel agencies (OTAs) and hotels use AI-powered bots for many reasons. For some, the rationale behind adopting one boils down to making it easier for guests to book tickets, rooms, and restaurant tables. For others, it's a way to provide customers with a higher level of care during their stays and keep them coming back.
No human agent is better at multitasking than an AI bot. It can be programmed to take on many roles, and here are the most common of them.
Digital concierge
As a digital concierge, a chatbot adds convenience to your guests' stays. Do they want to get pointers on the best spots to dine out at or request a ride? An AI concierge is at their service. Your guests will feel like they're managing their stays with a smartphone since a digital concierge will allow them to send housekeeping requests, schedule room service, and even open their room doors.
When serving repeat guests, a virtual concierge can retrieve information about their previous stays, like dietary preferences and special bedding requests. It can then build a more targeted communication and provide you with more upsell opportunities, like promoting restaurants or making exclusive hotel offers.
Reservation manager
An AI chatbot is a thoughtful manager. It doesn't irk your guests with endless filters and search results when they want to reserve a room or book a sightseeing tour. Your customers only need to let your bot know their preferences and dates to get the best options.
The caring nature of chatbots in the hotel industry also takes shape as reservation reminders. Your digital assistant can automatically send messages to your guests to make them feel cared for and receive confirmations or cancellations in advance.
Flight booking assistant
Flight booking assistance is one of the prevalent use cases of travel agency chatbots. They work best for OTAs to deliver an exceptional experience for busy travelers who don't have time to compare ticket prices and baggage policies.
A bot brings travelers all available flight options on a silver platter based on their inputs. The process happens through a natural conversation without going to airport websites or calling your agents. Plus, this is where a bot can suggest flight upgrades to make a traveler's experience even more comfortable (including a boost to your margin, of course).
Tour guide
Chatbots that serve as tour guides are designed to make your guests' time at your hotel more memorable. They can cherry-pick the places worth visiting and the things worth doing for every traveler individually.
What's more, chatbots can be integrated with location systems to provide travelers with directions. You can show you care about your guests and make sure they won't get lost halfway to some hidden gem.
Virtual receptionist
We all hate it when we have to line up to check into a hotel. To put it in numbers, if you make a traveler wait at the front desk for five minutes, you're reducing their satisfaction by half.
Chatbots can ensure your guest experience gets off to a good start. It's a good idea to bring your AI receptionist and mobile check-in technology together for a keyless and paperless front-desk experience. It can also improve the check-out process, with document uploads and billing integrations allowing your guests to make post-stay payments without human interactions. Still, if there's something beyond a chatbot's capabilities, they can also call on a human customer service specialist and get their issues solved instantly.
Roadblocks to creating chatbots for travel agencies and hotels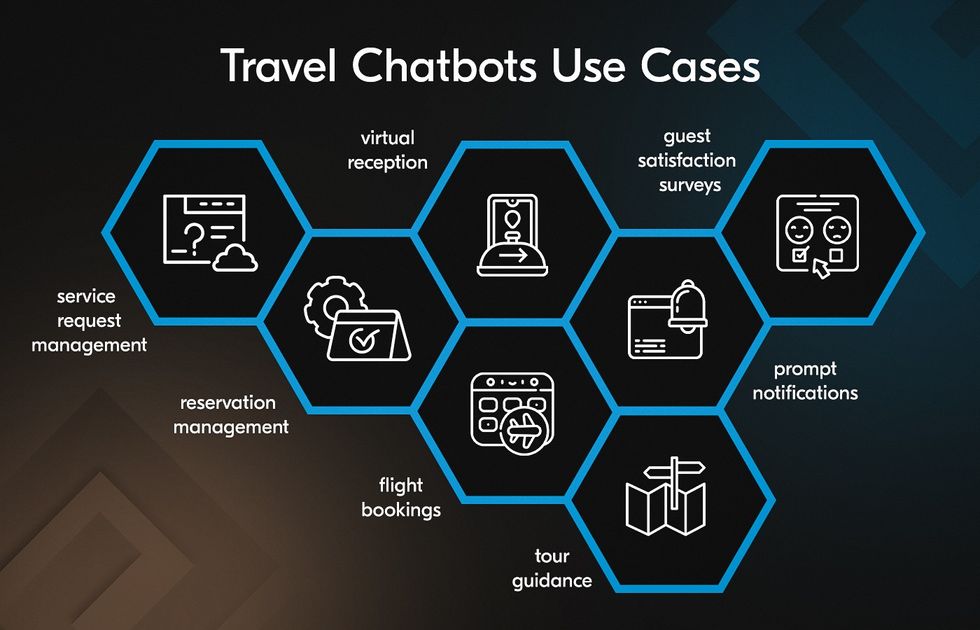 Despite all the market fuss about chatbots, integrating one into your travel business is no small task. But if you're not a quitter, read on to learn what you should be ready for. When getting started with a chatbot for the travel industry, you must steadfastly maneuver past:
Technological challenges. A chatbot is only an interaction-ready part of your service. There are many behind-the-scenes business processes, like data collection and room notifications, that need to be set up for a bot to function properly. And most no-code chatbot builders are of little avail here. They aren't up to the task of delivering a bot for your unique business processes. So creating a custom chatbot is the only way to attune it for them.
Usage challenges. You don't want to be naive to think chatbots are apt for all customer service cases. While millennials, zoomers, and tech geeks are unlikely to make a peep on turning to a bot instead of a human, Gen Xers and fuddy-duddy folks may balk at it. That's why you should implement a chatbot along with traditional information delivery ways, such as a website or a hotel app.
Integration challenges. If you want your bot to provide personalization with bookings and hotel stays, it needs to be embedded into your property management system and APIs. Another technical challenge arises when creating an omnichannel chatbot for a travel business. It'll take more time to integrate one into your website, messaging apps, and your own apps than rolling it out for a single channel, but your customers will be grateful for it!
Data privacy concerns. Chatbot conversations must be closely guarded against security weaknesses. You'll need to ensure no flight details or booking information can slip through the cracks. Get ready to adopt advanced encryption solutions for authentication and authorization while complying with data privacy regulations in your area.
Maintenance challenges. Bots are not fully independent. They still require humans behind them to monitor interactions with guests and join the communication process if a chatbot fails to resolve their problems. Additionally, your team should be well-versed in technical matters to handle unforeseen events or potential security issues.
Given that, you shouldn't go alone when breaking new ground with an AI chatbot. The best way to bypass implementation challenges is to have someone to guide you through them.
Acropolium and chatbots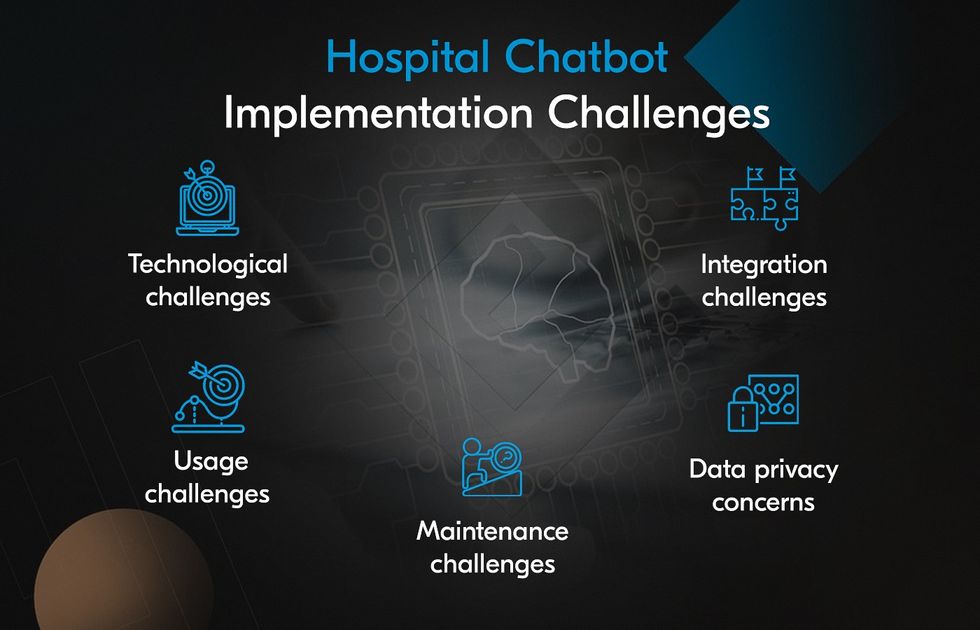 At Acropolium, we have a soft spot for smart technology and chatbots, and we love creating AI and ML solutions for the tourism and HoReCa industries. You can find the Acropolium name carved behind many advanced analytics and hotel management systems, among other software.
Acropolium can develop a chatbot for a travel agency or hotel located in any country while navigating the challenges that may get in the way. With our expertise, backend as a service, and the power of AI, you can treat your guests to a fantastic experience, whether solely on your website or across multiple channels. We'll walk you through everything.
The bottom line
AI- and NLP-powered chatbots are the final piece in your customer support puzzle. They answer questions like humans, they sound like humans (if voice-enabled), and they are tireless, unlike humans.
With bots, automation is the name of the game. That's why they are so valuable for customer support teams in travel and hospitality, the industries where customers require a personalized experience 24/7.
Do you want your OTA or hotel to be synonymous with killer customer service? Acropolium can show you the way. Let's talk about instilling automation and personalization into your business with hospitality or travel chatbots.