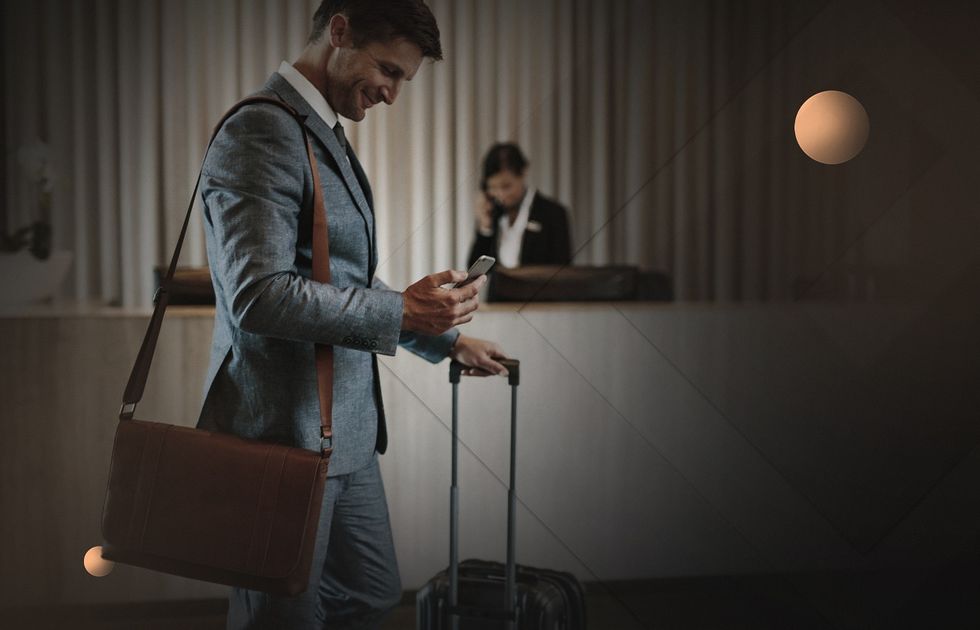 The lockdown has dealt quite a blow to the hotel industry, and the recovery process needs to be swift and efficient to limit the consequences. This drives hotel chains and hospitality businesses toward digitalization, which starts with hotel management systems and software for improving customer experience and eclipsing the competition.
This article will explain how hotel management software development can solve the issues with property management, booking, payments, personalization, and increased hygiene and security demands. Step-by-step, we will cover the market needs, the customer expectations, and the technology that can satisfy all participants of the hotel business.
You will discover:
The key trends affecting the hospitality industry
Hoteliers' critical issues that can be solved using technology
The essential components and features that comprise a robust hotel management system
What custom hotel management software development entails
At Acropolium, we know how to help you with hotel digitalization, and we're pleased to share our experience with you.
"A platform for hotel management isn't a single tool; it contains a range of components. They cover all processes and bring the hotel's offline journey online." Oleksii Glib, CEO at Acropolium
Hotel management trends: How the market reacts to the 2020-2021 turmoils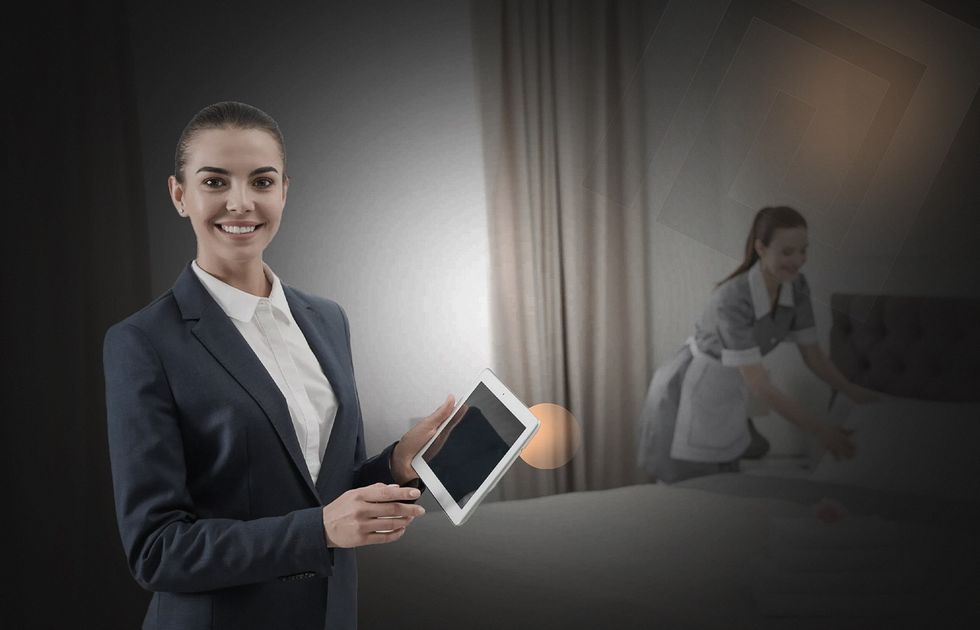 Hotel concepts have been slowly moving toward technical innovation, but when the pandemic hit, there was no place for "slowly" anymore. We have to embrace changes lightning-fast to stay competitive in the new landscape. These days, the hotel business routine starts with unprecedented hygiene measures. They are not just about disinfectants, frequent cleanings, and keeping distance – safety measures are critical for some hospitality trends.
Contactless tech
Less touching and more distance is the modern rule number one, and it will stay relevant for years to come. To return to full steam, hotels have to offer their clients a journey that's as contactless as possible. It should entail the full-service cycle: from making reservations to the hotel stay to payments and reviews.
A hotel's online presence shouldn't be limited to the website and booking module. Consider cloud locks with mobile keys, apps with chatbots and services, cashless payments, and seamless online communication. Your customers will appreciate your tech-savvy ways of keeping them safe.
Automation
Wondering how your clients would react to more automated and, probably, less personal procedures?
Don't worry: first, their experiences will be even more personalized, and second, they will love the results. During the lockdown, people have gained some digital habits they won't abandon soon, states McKinsey.
Another report claims executives from different industries and enterprises recognize the critical role of technology in their strategic planning. This is because all signs show that the consumer market is ready for digital experiences and tech solutions. COVID-19 has pushed businesses to catch up with customer's expectations: across all business areas, the share of digital offerings has increased dramatically.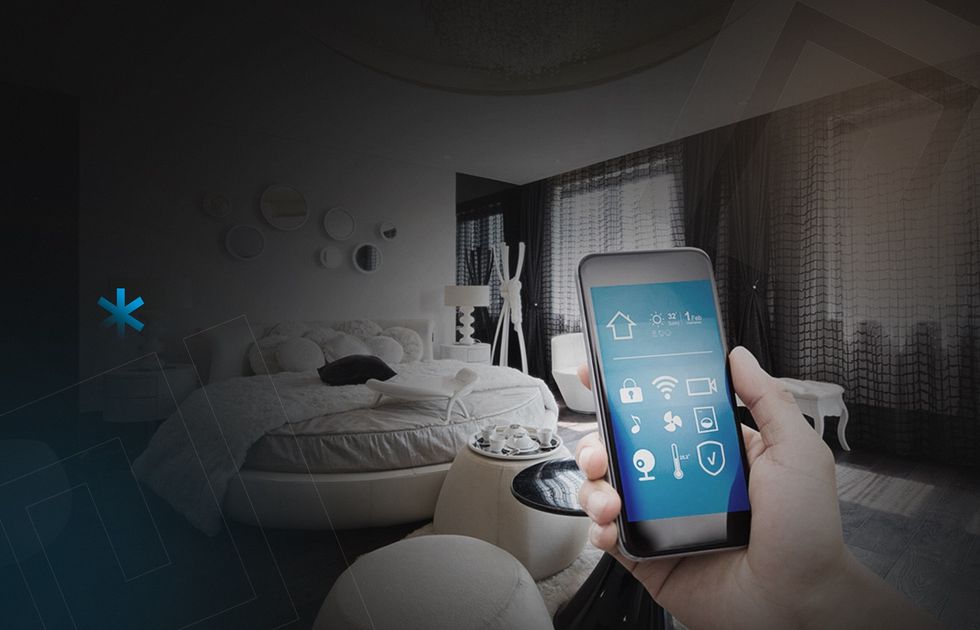 Both customer-facing and internal operations now include more digital products, from software solutions like maintenance or housekeeping management systems to physical IoT devices for customers.
IoT
Not only millennials but your older guests will appreciate the synchronization of physical and digital worlds in your hotel. How so? Elderly consumers were more restricted to their homes than their younger counterparts, and they had to gain new digital skills and knowledge to stay safe. Some IoT devices like connected health solutions, remote monitoring sensors, not to mention mobile-enabled experiences have become routine for seniors at home.
So don't worry that your guests might not appreciate you using IoT to optimize operations. On the contrary, when you build a hotel property management system, all components and IoT devices work like a single well-tuned mechanism, providing a seamless and highly personalized customer experience.
In fact, Marriott, Hilton, and some other big hotel chains adopted the "smart room" concept a few years ago. Leveraging IoT, connectivity, and mobility, these hotels prepare the room exclusively for you: from the temperature setup to Netflix sync on TV and your favorite food delivery for dinner. More tech doesn't mean less personality; it means an easier way to ensure it.
Personalization
Greater control over guests' stays and more personalized offers via connected devices is the goal for hoteliers in 2021. Digital-native customers want to customize almost every aspect of their hotel stay, and with the right tech, hoteliers make the wish come true. If a hotel chain uses a hotel management system (HMS), it's easy to track guests' preferences, manage loyalty programs, and ensure fast and seamless check-ins, reservations, and payments. All you need is to create a database for the hotel management system, and you will know every established customer.
Creativity and flexibility
To maintain the competitive edge, you need to add a touch of creativity to your processes. Think about it this way: if you have all the primary business directions covered and running efficiently, you can free some resources to test ideas and quickly react to market demands. Virtual reality tours? Your future customers would appreciate them. Facial recognition check-in? Sure, it means less touching. Front desk management, concierge and maintenance automation, and even housekeeping robots – they are already out there. We don't say you should turn your hotel into the futuristic dream of a sci-fi geek, but adding some technical creativity would really make you stand out. You can start with hotel management system development.
So, how exactly can a custom HMS help you run the hotel?
Read also: All about hotel dynamic pricing algorithm.
5 reasons why you should create a hotel management software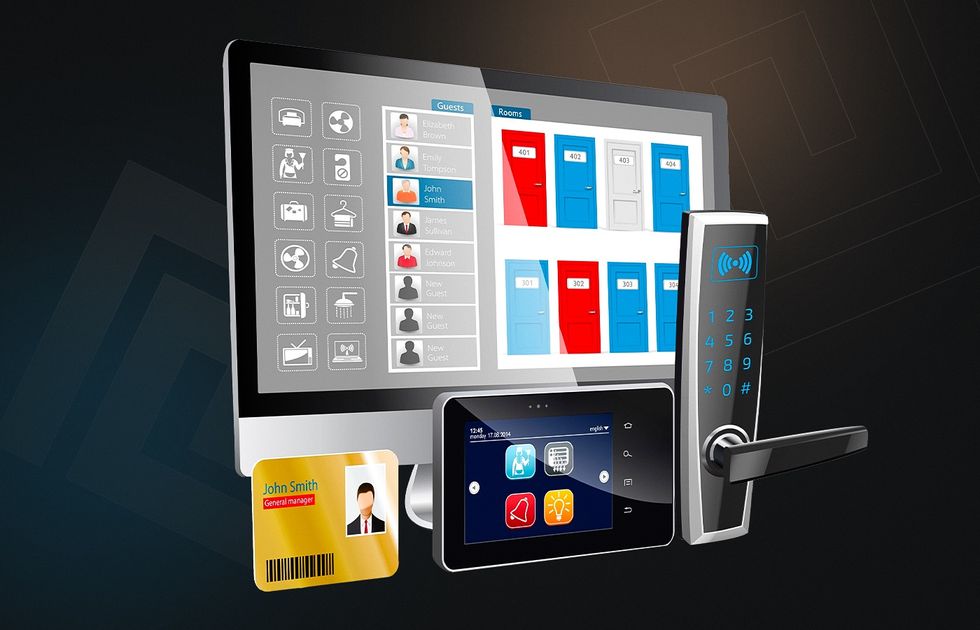 Software development for hotel management goes beyond an HMS, but it sure has to be your first step toward improving quality and reducing expenses in the long run. Here are five detailed reasons why hospitality organizations should consider HMS.
Routine automation
Like every big company, a hotel has to carry out multiple repetitive tasks: compiling cleaning schedules, controlling guest turnovers, calendar syncing, front desk management, supplies and delivery management, and so on. Custom hotel management software can effectively cover them all. It will reduce the workload on your employees, giving them more time to take better care of your guests.
Data control
Customers interact with the hotel via the website, mobile app, social media, and different third-party services. If you gather all the information about your customers from these channels, you will have valuable insights into your guests' personalities. HMS will not only store all the data in one place but also integrate it into your CRM and other systems. As a result, you will be able to fine-tune your services to clients' needs, optimize planning and scheduling, and provide the highest level of personalization.
Superior personalization
After you design a hotel management system, the guest information it stores will allow you to create personalized offers and loyalty programs, offer unique services, and build your marketing campaigns. Modern customers appreciate hyper-personalization, be it food, movies, or a hotel stay. Greeting them by name, offering them a cup of coffee with just enough sugar, fixing the room just as they like it, with a bottle of wine from your restaurant – the one they enjoyed during their stay in your other hotel – that's how brand loyalty is built these days. Seamless and personalized customer experience wins over annoying promotion and aggressive marketing.
Seamless customer experience
With hotel services like check-ins and check-outs, reservation management, online bookings, and accounting automated, there's less room for human error. Streamlined processes make the entire organization function seamlessly, reducing the chances for mistakes that might cost you money and customer loyalty.
Another side of the coin is customer-facing. When you develop a hotel management application, you complement your guest's offline hotel journey with a digital experience, making it more comfortable and integrated. And, in our current circumstances, way safer.
Increased safety control
HMS will increase your guests' protection, both digital and physical. First, with a custom hotel management system at hand, you will keep your customers' data well-protected and only share it with authorized third-party providers. Second, HMS means more contactless operations in your hotel and, therefore, less touching and less crowding. Third, your custom hotel application will help control all hygiene measures, from changing WHO requirements to room cleaning to supply management and staff check-ups.
Is it possible to cover all these issues with a single HMS? Absolutely, if we talk about custom software, of course. However, any hotel management system you choose has to include specific components that are critical.
Read also: Building dynamic packaging for travel agency.
Key features of custom hotel management system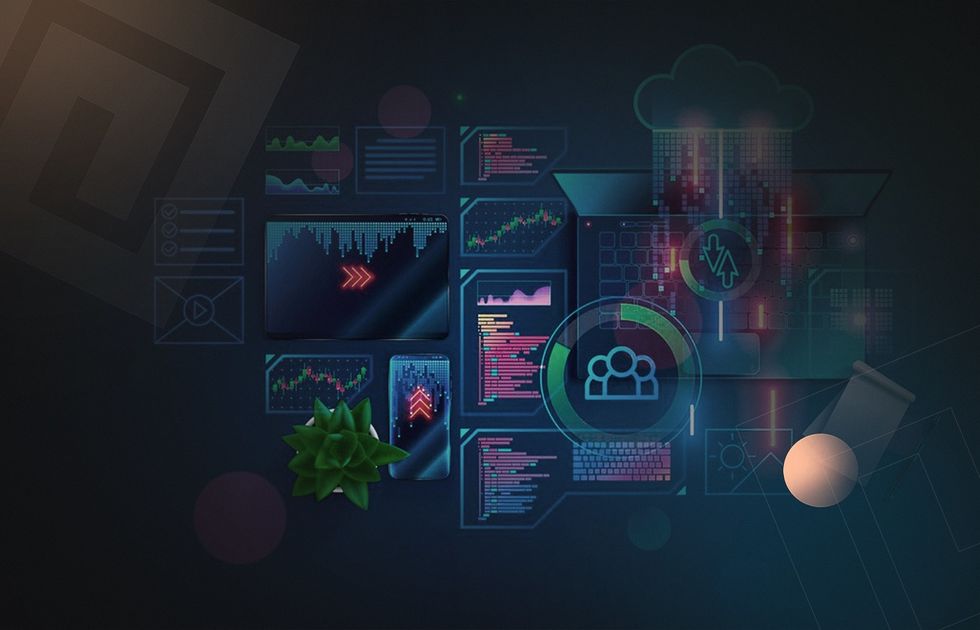 If you strive for optimization and cost-efficiency, just any HMS may not cover all your needs. More than that, you'll probably need integration with other software and third-party services, which is not an easy task and requires the help of software engineers. This will mean additional fees for every platform you use. To avoid unnecessary expenses, start by looking for several key components in your hotel management system.
Property management system
A PMS module is responsible for room and restaurant management, housekeeping, maintenance, gardening, and more. The system shows what is booked, when rooms or tables will be free, what needs cleaning, fixing, or any other kind of attention. In other words, this HMS component is where you can check everything that's going on with the hotel property. Read about hotel property management software development.
Client management system
A client management system answers the question: "Who's my customer?" The more complex the database for the hotel management system, the more significant insights you'll have into your customers. This could include a history of bookings and stays, bonuses and loyalty cards, preferences, experienced and resolved issues, and much more.
Taking advantage of big data and AI, you can develop custom hotel management software that will gather all the data your guests provide while interacting with your website, mobile app, social media channels, third-party booking partners, etc. It all depends on your business needs and the expertise of the software vendor you choose for this task. Read about ai use cases in travel & hospitality.
Marketing and channel management
A hotel website, mobile app, and channel manager are all components of hotel management systems and critical cogs in your marketing and sales mechanism. The functionality depends on your needs: you can use various mobile app or website builders like Wix or build a custom hotel management web application with an extended list of features.
The ability to manage online booking channels is another big HMS marketing asset. It allows you to synchronize information about room availability, prices, bonuses, special offers, and any changes across various third-party platforms like Booking.com, Mews, Booked.net, etc. With a channel manager at hand, you can extend your digital presence across thousands of websites and manage everything via a single dashboard for the hotel management system.
Payments
A booking module with instant payments ensures a fast and seamless user experience. Your mobile app can include all the payments associated with your guest's stay: bookings, restaurant orders, delivery, and even third-party services like taxis, city tours, doctor appointments, etc. Usually, online payment processing is built on Stripe API. This system takes care of licensing, data protection, authorization, access to multiple payment methods, and so on. Platforms like Mews offer it to their clients.
And more
You can ask for more when creating a hotel management system – that's what custom development is about. Think of built-in personalization, where the "know your customer" concept is applied across all HMS components, from customer-centered property management to special personalized offers and payment methods.
You can even try to implement an entirely contactless journey for your guests. Your customer can use a single app for online booking, check-in, concierge service, room access, food delivery, room adjustments, and more. No IDs, no signatures – the hotel only knows as much personal information as the guest allows, and any issues are solved via the chatbot and online support.
Customer experience like this is Acropolium's idea of HMS perfection, and it is highly relevant to modern reality. The functionality is IoT-based, so all you need is a smartphone. The hotel's chatbot provides a QR-code, ensuring the guest's entire online presence in the hotel. The person doesn't need to touch anything on the way to the room, dealing with all procedures digitally.
The shortcomings of an out-of-the-box HMS
If you don't need any advanced functionality and basic features seem enough to cover your business needs, be aware of some issues off-the-shelf HMS may possess:
The majority of channel managers HMS include are market-specific: they are limited to the regions they operate on (Asia, Europe, the US, etc.)
Localization is another market-specific matter – sometimes, the options are few, and you have to add the necessary languages yourself
The HMS system may offer services that aren't supported in the countries you work with
Financial, health, and traveling regulations may differ across different regions, and an HMS should cover all the changes
You should also note that any hotel management system integration requires a professional approach. An HMS is like Lego: there are many details you have to put together, and all of them must fit perfectly, work seamlessly with one another, and allow for additional integrations and scaling. What's more, you have to pay a fee for every "Lego brick" you use: channel manager, payment system, website builder, etc. And don't forget the developer team you need to employ for the task.
It's a lot to take in, so we tried to explain what HMS project development includes in more detail.
Read also: All you need to know about hospitality chatbot development.
Hotel management software development step-by-step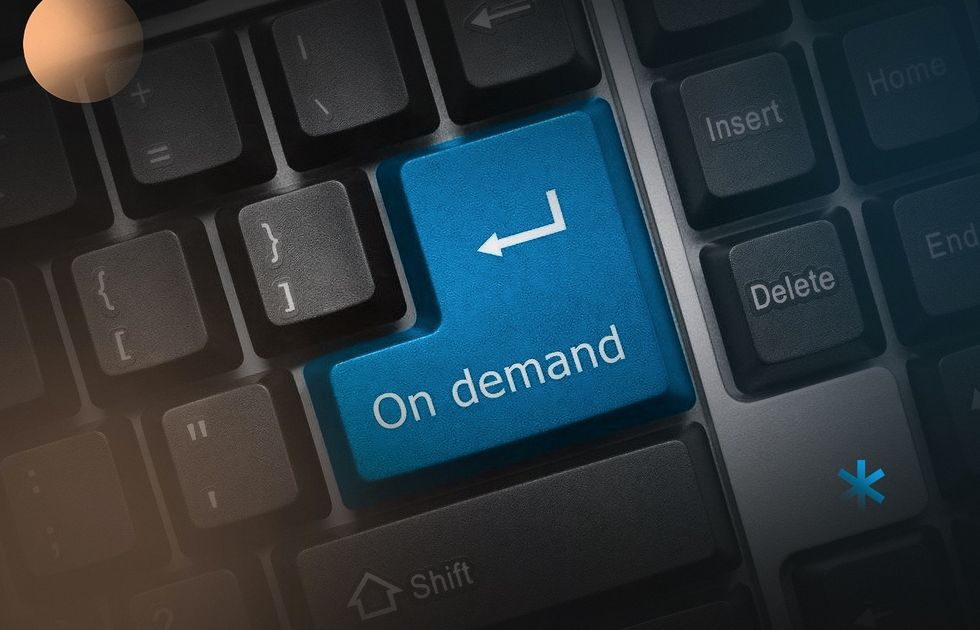 Whether you choose to develop custom hotel management software or opt for an off-the-shelf solution, it's worth knowing all the project stages. This will help you make informed decisions.
Business analysis
Defining business issues and setting objectives is the first step. Do you want to increase your hotel's online presence? Optimize internal processes? Improve customer experience? Depending on your goals, you can start looking for a solution that covers your needs. The best way is to come up with the desired functionality. Next, you either search among the off-the-shelf systems or look for vendors who can design a hotel management system specifically for you.
Module architecture
As a combination of several parts, the hotel management system includes analytics, staff and guest management modules, and reservation functionality. Every module will have functions you define as vital for your business. For example, the analytical part can include financial data to control revenue and expenses, customer behavior tracking, competitor analysis, hotel property information, etc. The guest management module will cover the functionality based on the customer data, and staff management will deal with the hotel's daily routine automation, staff monitoring, process tracking, and more.
When choosing an off-the-shelf solution, check the integrations of all the APIs you will use. You should also consider the price of all components and integrations, as well as the time your engineers will spend setting it up – this will help you define the feasibility.
Website and mobile app development
If you're going for fast and easy, you can use website builders and ready templates. But our advice is to strive for exceptional customer experience and process optimization. Your website and mobile app (if you need one) should be integrated into your hotel management system, starting with a joint database and finishing up with advanced personalization for your guests. Your options here begin with a simple several-page website and extend to a complex platform with IoT controls, chatbots, and exceptional data protection. Everything depends on your business needs and budget.
Support and maintenance
24/7 technical support is vital for any hotel, not to mention a chain. If you develop custom hotel management software, the team usually takes care of this task. But if you use an off-the-shelf solution, you either need to clear this matter with the seller or have your own technical team at hand to fix any emergencies as they occur.
With a custom HMS, the development team will usually consist of a business analyst, project manager, backend and frontend developers, UI and UX designers, and QA specialists. For advanced functionality, big data and ML experts will join the team.
Read also: Data management in hospitality industry.
The bottom line
No matter whether you choose a ready HMS or custom hotel information management software, here's the minimum set of features you should end up with:
Online booking and reservation process automation
Channel manager
Financial management and reports
Task delivery and staff monitoring
Back-office management
Customer data management
Online invoices and payments
While out-of-the-box HMS solutions usually cover these features, you may feel it's not enough for your business. Also, there are market-specific issues like localization and limited payment methods we've mentioned earlier. Besides, you will still need developers on board for system integration and technical support.
If you don't have a team of skilled engineers in-house, Acropolium can help you with system integration or custom hotel management software development.
We have the necessary expertise in the field, having delivered and currently supporting a hotel management system for a large hotel chain.
Whatever option is more feasible for your business, we are ready to assist you – just get in touch with Acropolium's HoReCa IT experts.