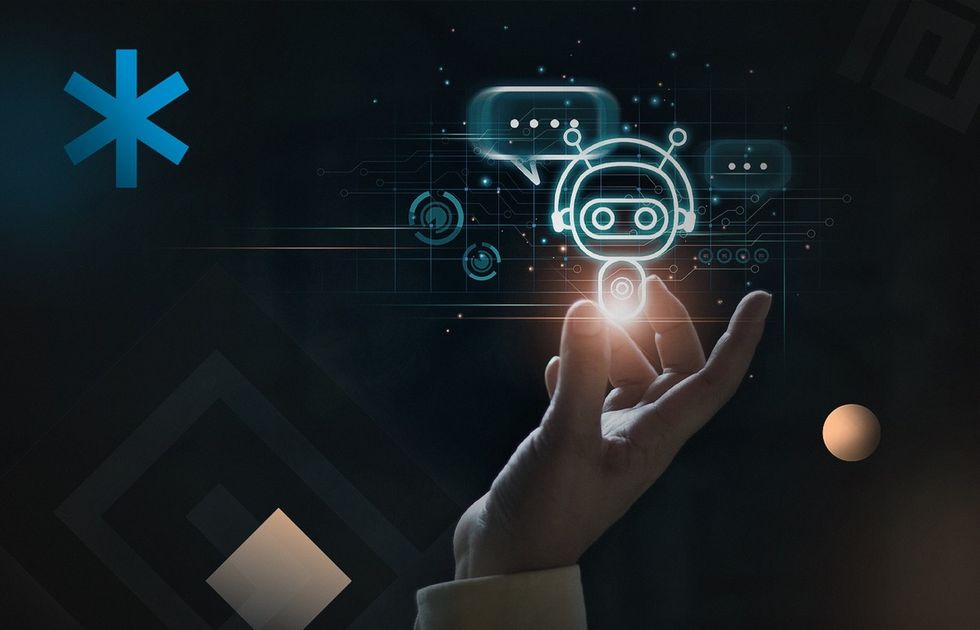 Scaling customer support, automating internal processes, upgrading data packages, detecting fraud, and even upselling — these are the superpowers modern enterprise chatbot development has. With 63% of consumers expecting businesses to know their unique needs and expectations, AI-powered chatbots can cater to that need and offer enterprises a competitive edge.
These small yet mighty software applications can unlock numerous possibilities for enterprises to empower customer self-service and automate complex interactions. Read on to learn how they do it and what industries can benefit from implementing enterprise chatbots.
How chatbots drive enterprise business value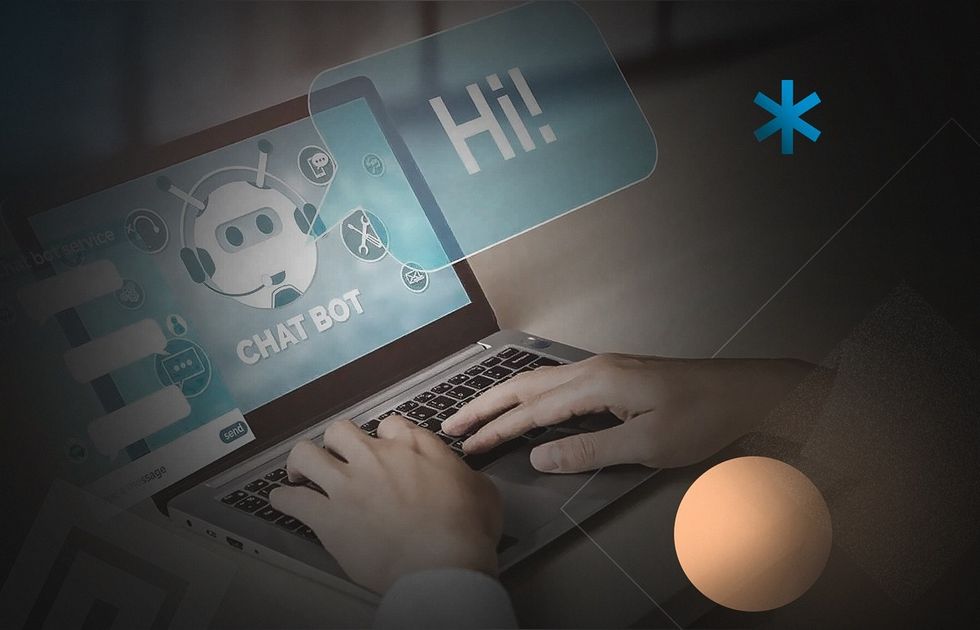 Developing enterprise chatbots can help companies extend their reach and expand their presence. A chatbot powered by AI can help your employees prioritize tasks, schedule meetings, compose reports, and take over routine tasks. But that's only a tiny part of what chatbot development can do for enterprises. Other benefits include:
Providing omnichannel support. Two-thirds of consumers report that the most frustrating aspect of customer service is the need to explain the same information multiple times. AI-powered chatbots remember every conversation they have across various communication channels and can offer consistent user support.

Increasing customer engagement. Chatbots are intelligent enough to analyze customer details and previous requests and quickly drive conversations. Statista proves that one-third of consumers are extremely happy with the service chatbots provide. The same study shows that only one in ten consumers isn't satisfied with their interaction with a chatbot.

Keeping costs down. Chatbots can take over a lot of tedious, repetitive tasks like filing insurance claims or generating invoices. They can also cut down the time your staff usually spends dealing with customer queries. This lets your employees focus on high-value customer interactions.

Boosting brand loyalty. When customers are happy with your service, they become regulars. Investing in chatbots can help your company provide excellent customer service and grow brand loyalty by 62%.

Delivering 24/7 support. Speed and convenience are paramount for modern businesses. Two-thirds of customers expect to resolve their queries very quickly, and 40% expect customer service to be available round the clock. Fortunately, chatbots can handle this task.

Opening new revenue channels. Chatbots have the power to grow your company's revenue by 63%. Having conversational AI under the hood, they can gather your customer's preferences and suggest products and services they may be interested in.
These are only some of the reasons why building a chatbot for an enterprise can help your company stay ahead of the competition. Yet, not all chatbots are equally effective for particular tasks. Let's look at enterprise chatbot types and the purposes they can serve.
Types of chatbots for enterprises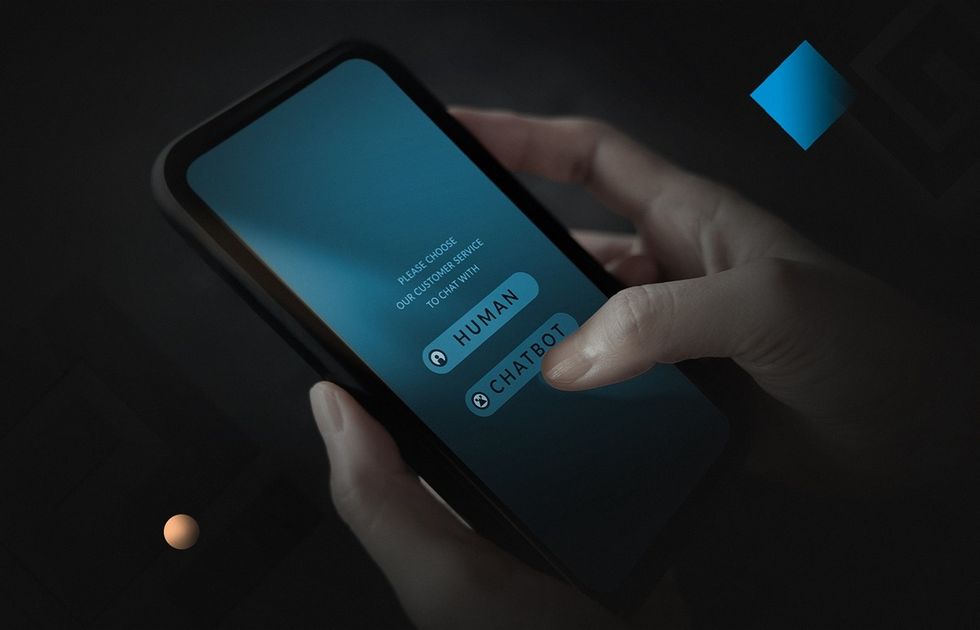 Modern enterprise chatbots are often associated with AI since it allows them to handle requests without human intervention. Scripted bots backed by decision tree hierarchies can only be sufficient for simple FAQ queries and can't keep pace with enterprise customers' demands.
So if you plan to make a chatbot for an enterprise, here are the four main options to choose from.
Rule-based chatbots
As the name suggests, these chatbots create conversational flows using a series of defined rules and if/then logic. Once you determine the conditions for your chatbot (set of facts, rules, query types, words, and synonyms), it can provide answers almost instantly.
Naturally, rule-based enterprise chatbots fall short when a query falls outside the scenarios you trained them for and can neither answer it nor learn through interactions.
Keyword recognition-based chatbots
Thanks to natural language processing (NLP), these chatbots can respond appropriately by analyzing the text to find specific keywords from free text input. It gives users more freedom and a feel of natural conversation.
Yet, keyword recognition-based chatbots fall short when a query contains too many keywords related to different questions. To control the flow of the conversation, companies usually use a combination of menu-based and keyword recognition-based chatbots.
Contextual chatbots
Backed by machine learning (ML) and artificial intelligence (AI), contextual chatbots can self-learn and improve based on their interactions with users. These chatbots remember previous conversations and can strengthen their responses thanks to deep learning.
They can cater to customer queries like ordering food, booking tickets, supporting supply chain operations, and more.
Conversational AI chatbots
These bots have deep learning, natural language understanding (NLU) and NLP at their core to capture, interpret, and analyze users' voice commands. No more robotic voice: conversational chatbots respond in fluent, natural language.
Just like other contextual chatbots, voice bots can learn from their interactions. And you can train them with industry-specific cases to understand your audience requests.
Now that you know what types of chatbots you can use to drive your enterprise business value, let's look at the industries that can benefit most from integrating virtual chatbot assistants into their flow.
Which industries should consider building an enterprise chatbot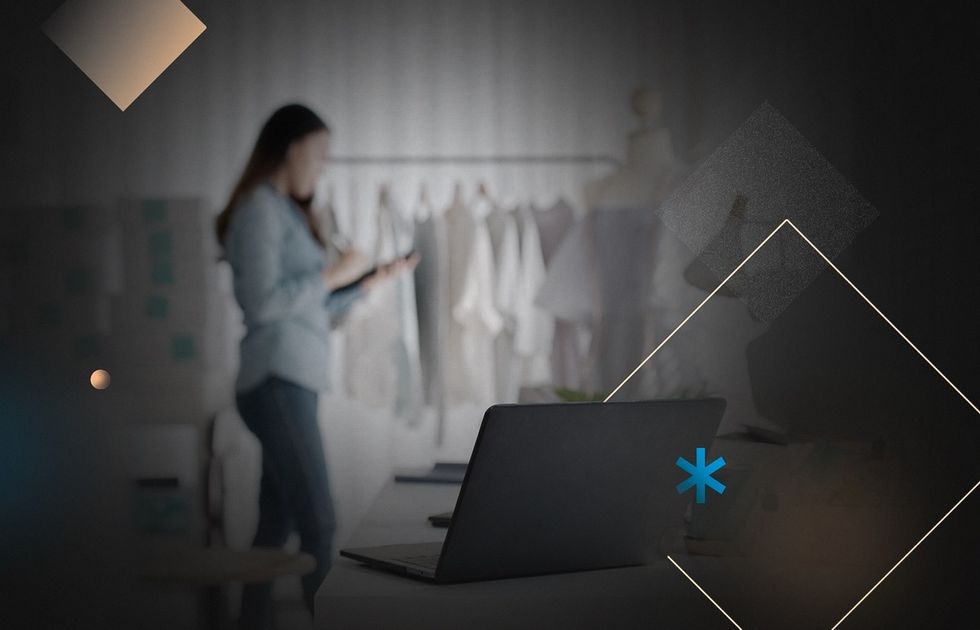 Chatbots find wide acceptance in diverse business environments and use cases thanks to exclusive customer support, cost reductions, and internal processes automation. Here are industries that can reap the benefits of creating an enterprise chatbot.
Retail
Juniper Research forecasts that the retail industry will be in charge of over 70% of all chatbot conversations by 2023. This isn't surprising since chatbots have all prerequisites to boost sales, improve customer satisfaction and brand loyalty. A chatbot can help with:
Finding stores
Placing orders
Tracking packages
Sending personalized notifications
Managing complaints
Collecting customer feedback
In addition to providing in-store and online customer support, an AI chatbot is a perfect helper in inventory management. For instance, it can help find specific products in stock or issue an order for more items.
Read also: Chatbots in Logistics & transportation.
Insurance
The recent Deloitte insurance industry outlook finds that 74% of executives will consider investing more in conversational AI and chatbots in 2022. Indeed, chatbots can perform various tasks to reduce wait times, simplify insurance-related processes, and enhance customer service. This includes:
Providing customized quotes to new customers
Answering policyholder queries 24/7
Offering customers relevant solutions and cross-sell
Facilitating the claim filing process
Bots can also help identify suspicious patterns when processing claims and submit notifications about potentially fraudulent submissions.
Media and entertainment
Using conversational AI chatbots can help media and entertainment companies better engage with their audience, curate content, and collect data to improve customer experiences.
Thanks to having NLP technology under the hood, the bots can remember the context of each conversation they handle and use it to offer personalized recommendations and offers. What's more, they can help book tickets or find events in a few seconds.
Real estate
Using chatbots can help real estate agents respond to their leads irrespectively of the working hours or the time they come to the website. Bots can communicate in different languages and have personalized conversations with customers to:
Answer FAQs for buyers, sellers, and renters
Schedule and update estate view appointments
Build customer profiles
Suggest apartments based on customer preferences
Send follow-ups
In addition to that, chatbots can provide multi-platform support and reach out to your customers across different channels, including Facebook Messenger, Slack, SMS, and others.
E-commerce
Empowered by NLP and NLU technologies, e-commerce chatbots can help engage prospects, understand their requirements, and even guide them toward the products they might want. Chatbots can serve as personal shopping assistants, helping purchase items without filling out long check-out forms.
Furthermore, developing enterprise chatbots can boost sales by simplifying the shopping experience and offering personalized product recommendations. Juniper Research projects chatbots to generate $112 billion by 2023 by holding e-commerce transactions.
Hospitality and travel
The primary purpose of hospitality chatbots is to improve the guest experience that restaurants and hotels deliver. An AI bot enhanced with NLP can lower customer service costs by handling most of your bookings and reservations and free your customer support team for the tasks chatbots can't do.
Integrating chatbots can increase the booking rates and give your company a leg up by sending personalized targeted offers, notifications, and friendly reminders.
Healthcare
Using chatbot technology in healthcare can cut administrative costs and provide real-time assistance to those who need it. Powered by ML algorithms, chatbots speed up the initial assessment by asking the patient about their symptoms and even suggesting a possible diagnosis.
Chatbots can also manage insurance inquiries and claims and schedule appointments to facilitate post-discharge and rehabilitation care. Besides, they never get tired and are available round the clock.
Key features for enterprise chatbots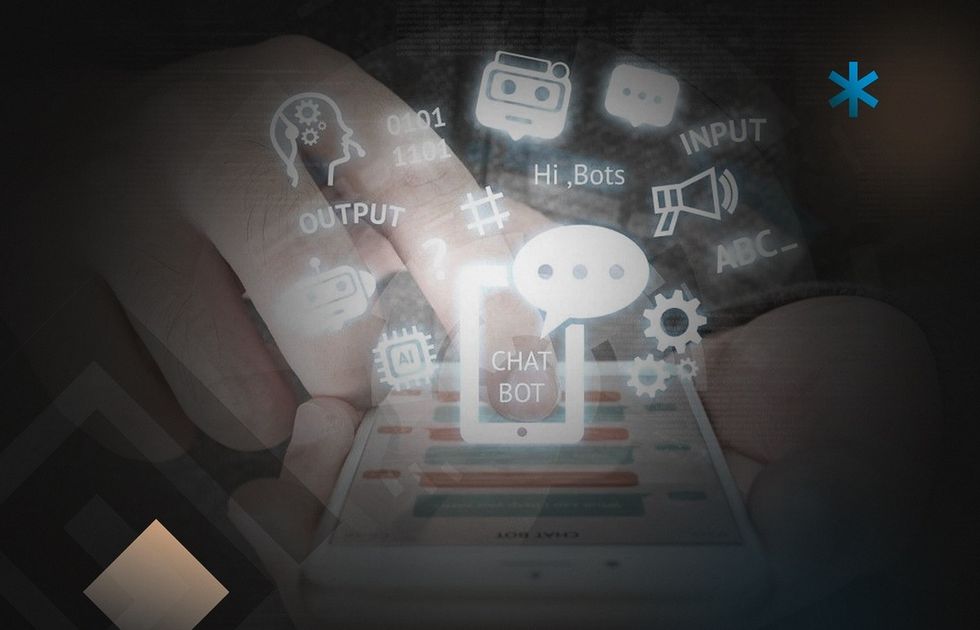 What makes a great chatbot? Is it speed, ability to learn, or maybe a sense of humor? We've gathered the essential chatbot features to help your business thrive.
Omni-channel AI-enabled chatbot can give your target audience a coherent and seamless experience across all devices and communication channels. Centralizing customer data from different channels can help avoid duplication and offer consistent user support.

Extensive customization gives you a chance to reflect your company's identity and values through designing conversation flows and offering customers contextualized experience. You can make your bot understand natural language (even regionalisms) and use emojis, gifs, and images to achieve this.

Image recognition lets your chatbot detect objects in the image, recognize them, and answer questions. Deep learning techniques can even help your chatbot hold meaningful conversations about specific images your customers upload.

Multi-channel integration lets you integrate your chatbot into any messenger your customers use and streamline this information into a single channel for your team.

Speech recognition allows your chatbot to convert voice commands into text. Once done, the information goes through the same processing as the written text.

NLP capabilities empower your chatbot to understand and analyze human inputs and handle fluid and efficient conversations. NLP lets your chatbots automatically learn from every conversation they handle.

Sentiment analysis is a subset of NLP that helps you identify and analyze emotions and measure their intensity. This helps to understand whether the conversation is neutral, positive, negative, or objective. Then, your chatbot segments the audience based on satisfaction level and modifies the responses to drive the conversation accordingly.

Information retrieval approach allows providing human-like answers without human intervention. It helps to sort out user queries, match them with those in its database, and answer them accordingly (using pre-stored or trained options).

Integrations let you collect all the necessary data from user queries, reduce repetitive tasks, generate leads, and automate ticket creation. Depending on your business specifics, you can integrate data from custom services, business applications, or third-party apps like Salesforce, Slack, Zoho CRM, Mailchimp, Zendesk, Google Sheets, and more into your chatbot.

Push notifications can help you re-engage churned users and keep the active ones engaged. Your chatbot can notify customers about your product updates, remind them of their incomplete purchases, share insights, promotional messages, and more.

Audience segmentation lets your chatbot collect basic qualification details to better understand the audience (segment your users) and personalize their next steps. You can decide on several attributes to categorize your audiences into specific segments.

Sales and conversion are also among the superpowers of AI chatbots. They can assist your customers with pricing queries, choose the best pricing plan, offer product recommendations and even automate appointment bookings. As a result, it helps reduce cart abandonment rate, ensure better engagement with customers, and boost conversion.

Lead generation. Chatbots can ask contextually relevant questions to help you identify potential customers and initiate their interest in your products or services. No wonder 55% of businesses that use chatbots generate more high-quality leads.
Sure, you don't need your chatbot to have all these features. Yet, choosing the proper feature set may be a cumbersome task. That's where an experienced development partner may step in to create an enterprise chatbot that will fit your business needs. Let's look at how they do it.
Enterprise chatbot development process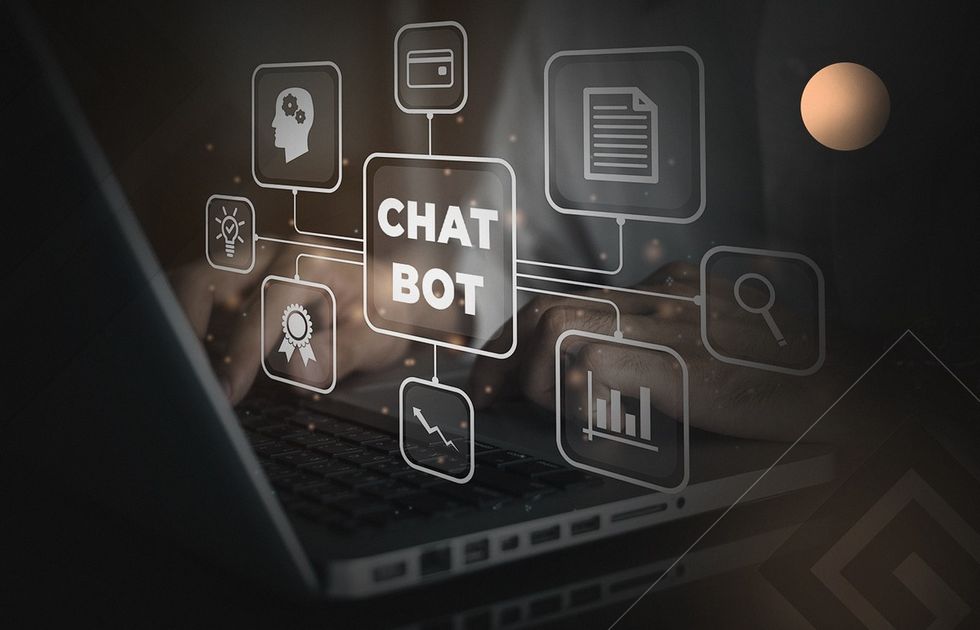 Discovery, planning, building, and launching are the four major steps you need to develop a chatbot.
Discover your idea
This is where enterprise chatbot development starts. Our team discusses the project with a client during the discovery phase and elaborates, validates, and verifies their requirements. We can also suggest development options, solutions, or thoughts on improving the existing idea upon the discussion.
Plan your enterprise chatbot
Once we know your challenges and requirements, we proceed with detailed planning of your bot's personality to create user journeys and conversation design flows. For this, you need to:
Assess your business needs and decide on your use cases
Choose the right type of conversation flow
To build your chatbot's personality, we suggest using AI and ML techniques (NLP, NLU, RPA) so it can carry on human-like conversations and learn from its experience.
Build
This is where the magic happens. With eight years of experience in enterprise chatbot development, we know all the ins and outs of building a chatbot and designing the conversation flow. Once done, we can help you train your AI bot on required data sets (e.g., support tickets, emails, third-party data).
Furthermore, we'll prepare your product for easy and smooth scalability to cope and perform well under an increased or expanding workload.
Test and launch
Chatbot testing isn't like regular software testing. It challenges the QA team to foresee various, even the most unpredictable, scenarios and define how the chatbot will respond. (especially in cases when users ask questions beyond your business specifics).
And the work on your chatbot doesn't end with the launch. You need to check conversational flows and refine answers with the information your bots collect. The best way to go through this journey is to have someone guide you in all these steps.
Acropolium's experience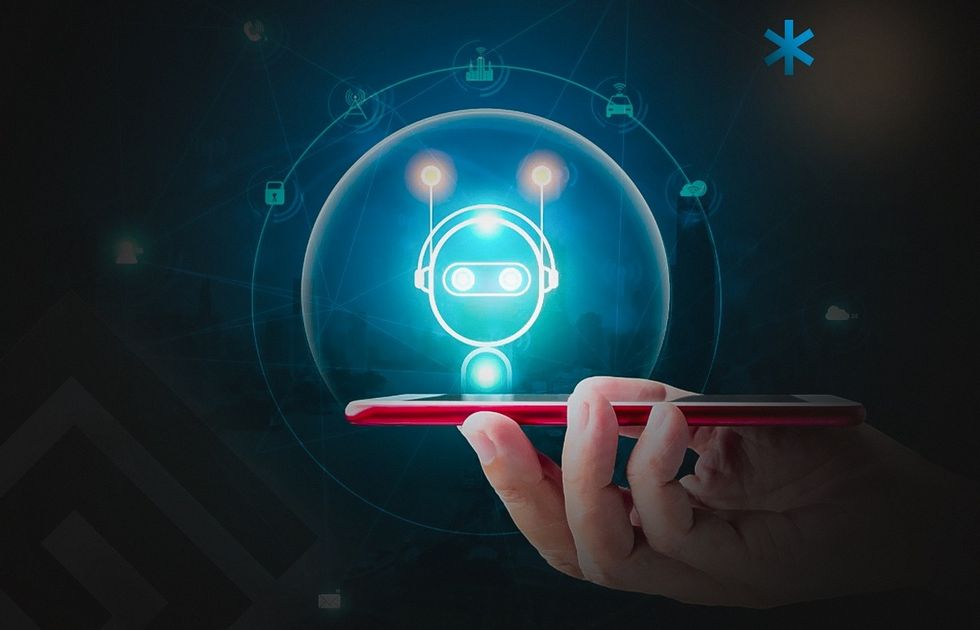 Building enterprise chatbots is in Acropolium's DNA. We started investigating chatbots eight years ago and can now boast of having developed 38 custom chatbot solutions that helped our clients grow their businesses and increase revenue. Here are some of them:
Our partnership with CoBrowser, an independent software provider in the Netherlands, helped the company increase its clientele by 44% and boosted its revenue by 63%. Together, we developed livechat software that made the integration process with the customers 36% faster.

Acropolium's experts assisted a US-based fintech company in developing a cryptocurrency trading platform. The chatbot we created helped traders track the exchange rates and trade on crypto exchanges. As a result, the company faced an increase in the client flow of 53%.

Chatbot development for a premium car dealer network helped increase their client inflow by 30%. It allowed the client to automate car selection and purchase processes for car dealerships fully and decreased the sales funnel time by 38%.
At Acropolium, we have deep knowledge of AI and ML and experience in using them to create an enterprise chatbot of varying scale and complexity. We can walk you through every aspect of chatbot creation and build a virtual chatbot assistant specifically tailored to your business needs and flow.
Conclusion
Building an enterprise chatbot is a great way to stay ahead of the competition, offer exceptional digital customer service, simplify processes, and increase your customers' loyalty and engagement. Powered by artificial intelligence, chatbots can simulate human-like conversations, learn from their interactions and provide a consistent experience across multiple platforms.
Modern chatbots have a huge potential in automating internal routine tasks and taking over the bulk of customer support queries. They are never tired, always friendly, and available wherever and whenever you need them.
If you want to modernize your business flow without having to rebuild your entire system, developing enterprise chatbots can be a perfect choice. Contact us today, and we'll help you build a chatbot specifically tailored to your company's needs and goals.