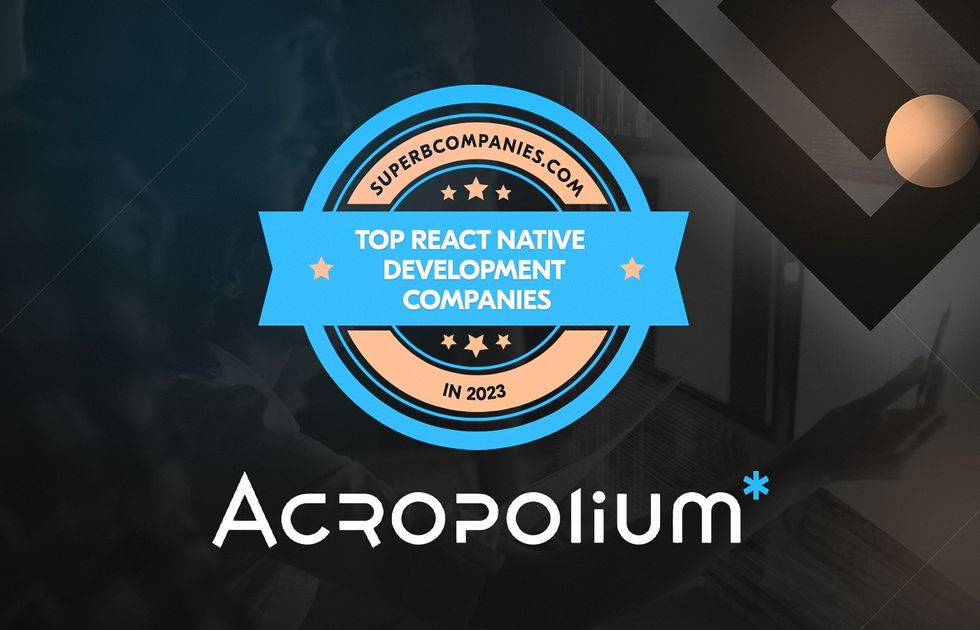 We at Acropolium are excited to announce that our company has been recently featured on SuperbCompanies' 2023 ranking of the top React Native development companies. SuperbCompanies is a leading independent market research company in B2B IT services. We are honored to see our expertise in React Native development recognized globally.
Overall, 33 software development agencies from all over the world were selected for SuperbCompanies' list of the best React Native Development companies. All of them are award-winning agencies. Each has an impeccable reputation, rich experience, and in-depth expertise to deliver top-notch React Native solutions.
Our Latest Achievements
Acropolium has earned itself a reputation as an award winner. Our excellent service quality has been recognized multiple times over the past several years. For instance, Clutch.co certified our niche experience and extensive skillset with several awards, listing Acropolium in the rankings of:
In addition to the recognition of the Clutch.co's analytics, our clients attest that Acropolium is a reliable developer on the platform, too. Their reviews have earned Acropolium an outstanding 4.9/5 rating on Clutch.co, as well as 5.0/5 on GoodFirms.
The GoodFirms market research firm also recently verified Acropolium's expertise as a development agency. It did so by featuring Acropolium as a top software development company in the Czech Republic in 2022.
GoodFirms and Clutch.co aren't the only independent B2B vendor platforms to recognize Acropolium's outstanding service quality. Techreviewer, another leading analytics hub, featured Acropolium on its list of the top software development companies of 2022 and the top software development companies for startups of 2022.
We at Acropolium aren't used to resting on our laurels, however. That's why we continue innovating and putting in the effort to deliver solutions of exceptional quality.
Don't just take our word for it: our certifications back up this claim. In 2021, we secured the ISO 9001:2015 certification. It guarantees that Acropolium has consistent quality standards in place.
About SuperbCompanies
SuperbCompanies is an independent market research firm with a focus on IT service providers. Created by tech professionals with over a decade of experience, SuperbCompanies is a platform that helps businesses all over the world find the right B2B development partner for their projects.
In its assessment of the companies' expertise, SuperbCompanies relies on three key criteria:
Service quality
Reliability as an IT vendor
Market presence
SuperbCompanies publishes monthly rankings of the best companies in multiple fields, from web development to React Native development.
About Acropolium
An award-winning software development partner, Acropolium is an ISO 9001-certified developer that delivers exceptional tech solutions to clients in 23+ industries.
At Acropolium, we believe that experience is the ultimate source of knowledge. That's why seniors with 10+ years of experience account for 60% of Acropolium's core team.
Over the past 19 years, Acropolium delivered 450+ solutions, including 50+ high-load and custom projects. You can find unicorns, startups, and Fortune 500 companies among our clients.
To meet every client's unique needs, Acropolium offers the following services:
Dedicated team
Software engineering
Software consulting
Software development as a subscription