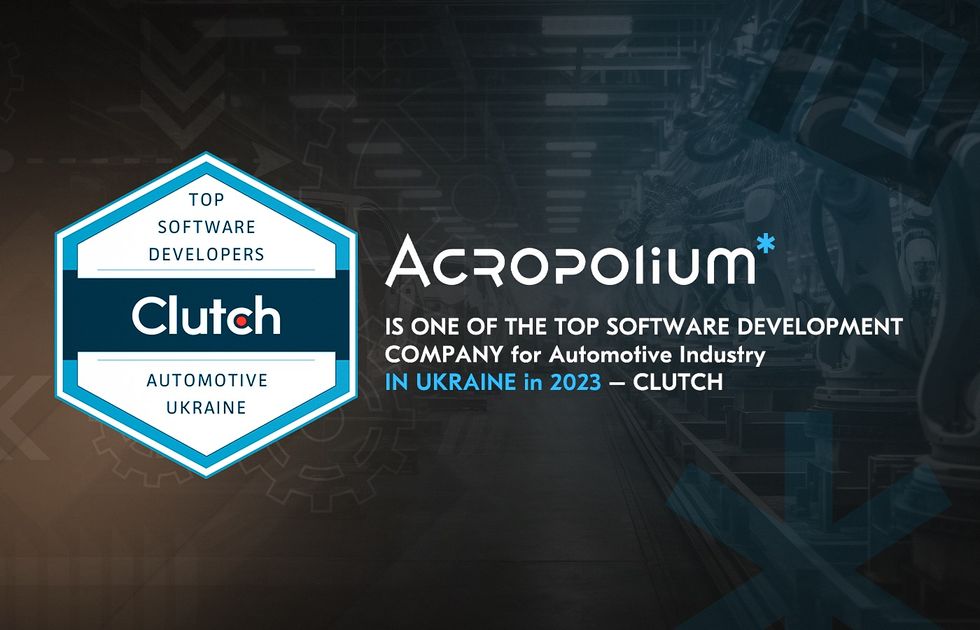 We are delighted to announce our inclusion in Clutch's 2023 review of the top automotive software companies in Ukraine!
Providing IT consulting and development services for the automotive industry, Acropolium is proud to be featured by the credible reviewing platform. With 3+ years on the market and 12+ consultations delivered, we have received a 4.9/5 rating on Clutch!
Along with business portfolios and service scope, the platform has evaluated the customer satisfaction rate of 47 companies. To name the top automotive software companies in Ukraine, Clutch has analyzed the strongest industry players based on:
Business certifications
Client testimonials
Industries served
Developers' hourly rates
Client & service focus
Our impeccable reputation cultivated throughout 20+ years of software development has been acknowledged by top-notch reviewing websites for several years. Below we are sharing our most significant awards and recognitions — learn how Acropolium has gained solid customer trust!
Our Latest Achievements
In all our services, we operate according to ISO standards to guarantee exceptional quality to our partners. Acropiloum is a certified industry player with a strong record of over 220+ IT consultations delivered. Besides standing among the best automotive software companies in Ukraine, we were consistently mentioned by Clutch as a trusted vendor:
TechBehemoths, another verified IT business reviewing firm, has also reacted to our level of services:
Our clients can also see how their feedback contributed to our ratings on TechReviewer and Trustfirms. TechReviewer marked us as one of the top construction software companies for our strong portfolio of 28+ consulting projects. Focusing on our diverse client focus, Trustfirms put Acropolium on the list of the best software development companies for startups.
About Clutch
Each month, over 500,000 companies and sellers use Clutch to find the right vendors for their needs. By reviewing 280K+ service providers globally, Clutch possesses a place among Inc. Magazine's 500 fastest-growing U.S. companies.
The Clutch review system empowers businesses to identify leading B2B companies in their regions. Providers are assessed based on industry experience, market presence, technical certification, and customer feedback. The valuable insights collected from the platform's analytical algorithms allow businesses to make educated decisions for future cooperation.
About Acropolium
Acropolium is a bespoke software solution provider catering to businesses from different industry landscapes. For the automotive sector, we've been delivering cost-effective services and consultations for 3+ years.
We provide extensive IT service scope— from audit and automotive tech solution development to navigation systems and IoT implementation. Our partners' objectives and timeframes are the cornerstone of our vision.
Offering flexibility and adaptability, our subscription-based cooperation model is designed to realize your goals at the specified budget. Contact our team to unlock your business potential and see high-quality service meet efficiency!