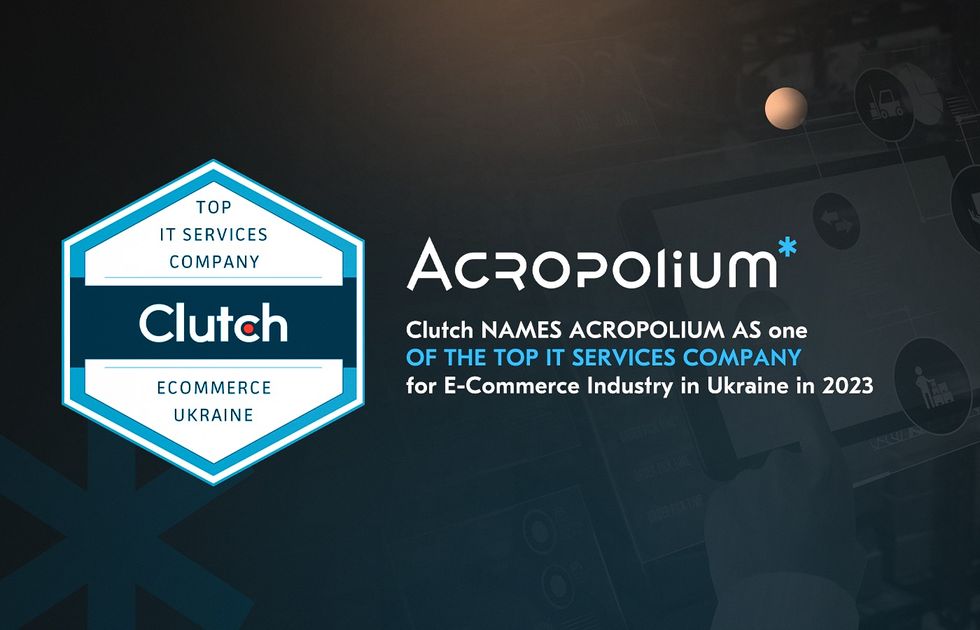 Acropolium has received an upstanding rating in the 2023 Clutch review of the top e-commerce IT services company for the E-commerce industry in Ukraine!
As a result-oriented, customer-first company striving for excellence in developing unique solutions since 2003, we are proud of this recognition. Clutch, a platform used for tech service analytics worldwide, has analyzed the performance of 149 firms delivering e-commerce services.
With our previous Clutch reviews and client testimonials in mind, the platform has rated us 4.9/5! The website verifies businesses through in-depth research, customer reviews, and market data, including the following criteria:
Scope of services
Service focus
Industries served
Portfolio and expertise
Breathing innovation and cost-efficiency in businesses for 20+ years, we boast numerous recognitions and mentions by seasoned reviewing websites. Let's see what tech analytics giants think about our approach to software development!
Our Latest Achievements
When partnering with retail and digital commerce projects, we aspire to become the best e-commerce software development company in Ukraine. However, our dev expertise stretches along various industries. From logistics to healthcare, we bring the highest ISO standards to ensure the development process with long-term, viable results.
Before the recently received reward, Clutch repeatedly mentioned our company's 11-year healthcare expertise in its ratings. For example, in 2023, the platform named us a top IT services company for the healthcare industry in Ukraine. Having operated in the transportation sector for 9 years, we received a place in Clutch's top logistics development companies in Ukraine.
Apart from gaining acknowledgment across the Ukrainian IT sector, our company has been recognized on a broader scale:
About Clutch
Clutch is a well-known platform renowned for its deep reviews and credible ratings of B2B service providers. With 15+ million active users, it has become a reliable source for businesses and individuals seeking information on IT service quality.
The platform utilizes a sophisticated ranking algorithm with business performance monitoring standards to simplify decision-making processes in growing businesses.
About Acropolium
Acropolium tailors comprehensive IT solutions that meet unique business needs, focusing on cost-efficiency, high quality, and client satisfaction. Throughout 20 years of partnering with large enterprises, unicorn companies, and industry top leaders, we have delivered 220+ consulting services.
Focusing on cutting-edge technology, quality assurance, and adaptability, Acropolium delivers value with client's budgets in mind. From custom software development and engineering projects to IT consultations, we offer a flexible service subscription for unique business needs.
Contact us to uncover business growth opportunities with the power of tech and strong partnerships!