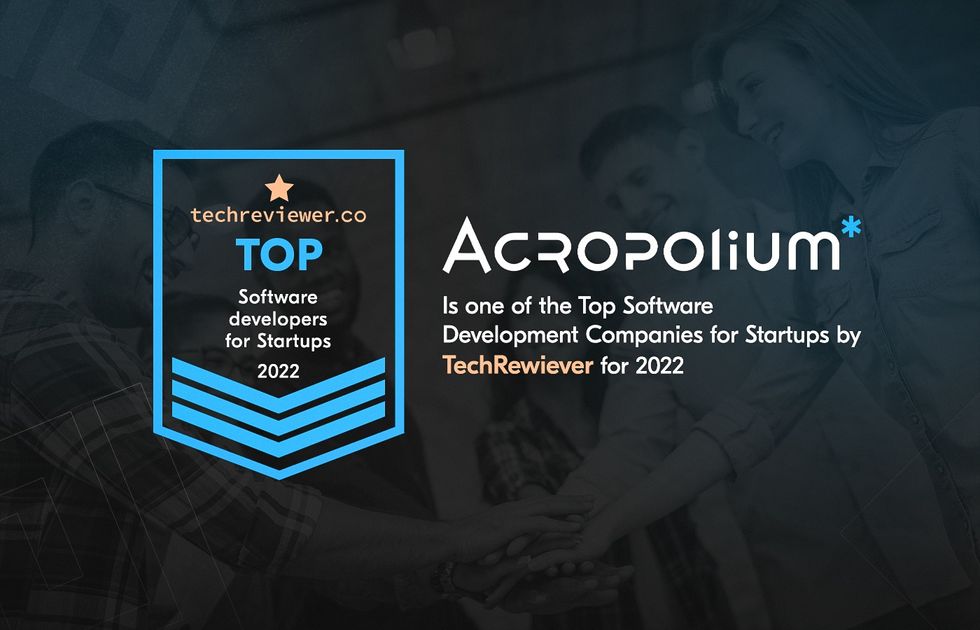 Acropolium is honored to be featured in Techreviewer's list of the top software development companies for startups in 2022. We are pleased to see our expertise in creating startup solutions recognized by a B2B market research leader.
For its ranking of the top custom software development companies for startups, Techreviewer conducted a study of over a thousand service providers that specialize in working with startups. Only the most adept and talented vendors made it to the list.
Based on Techreviewer's market research methodology, Acropolium currently holds an exceptional rating of 4.9/5. Client reviews and references play the largest role in determining a company's Techreviewer rating. Other factors taken into consideration include:
Work experience
Organic search presence
Market presence
Employees' reviews
Our Latest Accomplishments
This isn't the first time Techreviewer has acknowledged the excellent quality of our services. The platform featured Acropolium in its list of the best web development companies in 2023. Acropolium was also named the best software development company in its 2022 ranking.
Techreviewer isn't the only independent analytics hub to confirm our prowess in delivering high-quality software development services. Clutch.co, a leading B2B research firm and a review and ranking platform, has honored Acropolium with several awards over the past four years:
GoodFirms, another leading B2B research and review platform, also awarded Acropolium the top ranking in 2022.
Our expertise has also received the recognition of TrustFirms, a software development vendor review and ranking platform. It recently featured Acropolium as one of the best custom software development companies for construction solutions in 2022.
Another testament to the quality of our services is our ISO 9001:2015 certification that we secured in 2021. It officially verified that our quality management policy ensures delivering consistently high-quality results.
Receiving the ISO approval also certified that as the best website development company, we follow the fundamental principles of the 9001:2015 standard in our work. These principles include effective leadership, customer-centricity, and risk-based thinking.
But most importantly, our former and current clients' feedback helps Acropolium maintain an outstanding reputation as a top website development company and software development partner. Our clients' feedback drives up Acropolium's ratings on Clutch.co and GoodFirms (4.9/5 and 5.0/5, respectively).
About Techreviewer
Techreviewer is a leading market research firm. It specializes in ranking top web development companies and software development partners. Techreviewer's analytical team uses multiple factors to assign a rating to every vendor. They include:
Client reviews
Work experience
Market and organic search presence.
Techreviewer's mission has always been to help clients find the best web development agency or software development partner for their needs. To this end, it regularly publishes and updates lists of the top web development agencies and software development companies.
About Acropolium
Based in the Czech Republic, Acropolium is a development partner for companies for over 19 years. With 220+ projects of various complexity under our belt, including four Fortune 500 clients, we have in-depth expertise in developing the most complex solutions.
As one of the best custom software development companies, Acropolium provides services across the board, including hiring a dedicated team and software consulting and engineering. To better respond to our clients' needs, we also introduced software development as a service subscription.