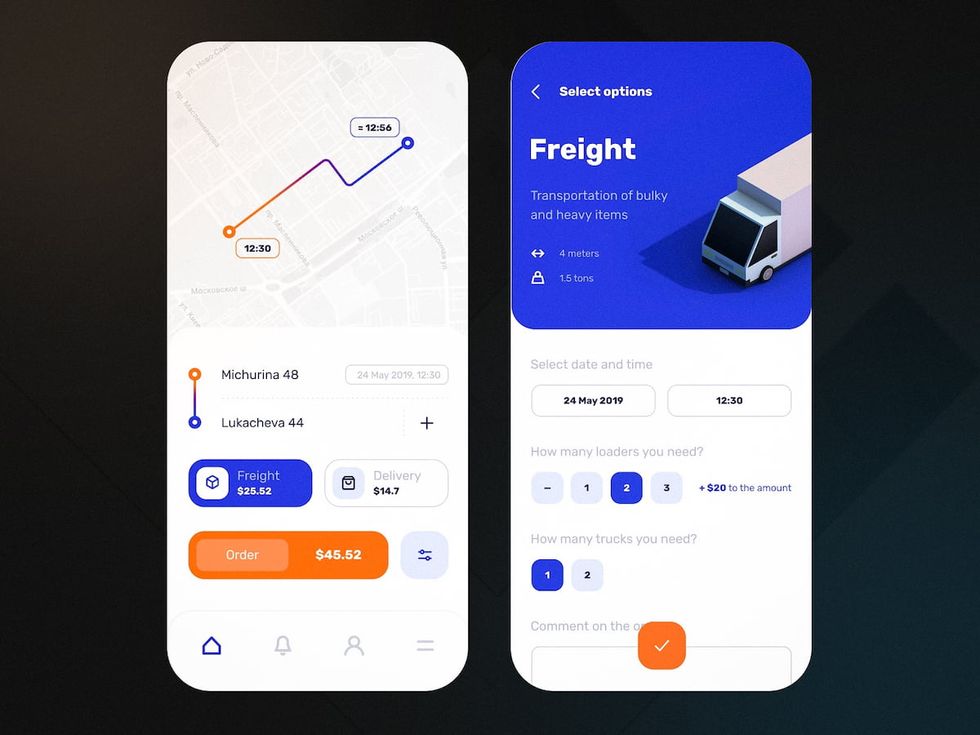 Air cargo transportation, especially cross-border flights, depends on the intensive exchange of information between carriers, freight forwarders, ground cargo handlers, regulations, and customs authorities. Conducting one shipment can require up to 30 air cargo documents. According to the International Air Transport Association (IATA), the annual weight of processed paper documents exceeds 7,800 tons. That is 80 Boeing 747 freighters filled with paper.
The Air Waybill (AWB) contributes to this huge pile of documents. It contains important information about the flight and cargo, which should be shared swiftly and efficiently. Besides, tracking cargo online is becoming an indispensable option. That's why e-AWB implementation for a freight forwarder is a steady trend. Electronic data interchange software converting paper documents into digital is getting increasingly popular.
"Electronic documents exchange speeds up the cargo shipment. A freight forwarder just fills in the electronic form while the software system stores and shares the data in the necessary format. Customs agencies, for instance, can get all required data in advance. Thus, when the cargo arrives, there are fewer delays because all the documents have been already checked," says Oleksii Glib, Founder at Acropolium.
From this article, you will find out more about e-AWB, its functions, and peculiarities of implementation, both technical and organizational. You will also learn more about the e-AWB management software. Read on to find out which solution is the best!
What is an e-AWB?
According to IATA, the Air Waybill or AWB is a crucial air cargo document, constituting the contract between the "carrier" (airline) and the "shipper" (freight forwarder). Electronic Air Waybill (e-AWB) is an electronic version of that document, replacing the paper version. First introduced in 2010, it has become the default contract of carriage since 2019. e-AWB adoption or the share of e-AWBs from all AWBs exceeded 75% in May 2021.
There are three main types of e-AWB:
Master Air Waybill or MAWB specifies the terms and conditions of the carriage and protects the goods. It is subject to international conventions and IATA Rules.
House Air Waybill or HAWB also determines terms and conditions, but it is an internal document issued by a forwarder.
Electronic Consignment Security Declaration or eCSD specifies who, when and how secured cargo along the supply chain.
The Benefits of e-AWB Implementation
To start using e-AWB, you should invest some time and resources fitting it in your technological and business environment. In this article, we will dwell upon the necessary steps. However, why is such innovation worth the trouble? Here are some e-AWB benefits for freight forwarders and carriers:
Enhanced productivity
The use of e-AWB, as well as any freight forwarding software, speeds up operations. Firstly, there is no need to check data from the system with paper AWB. Secondly, you don't have to enter data manually. It is not only convenient but more reliable — the number of data entry errors drops. Thirdly, storing and exchanging electronic documents is much easier and faster than paper copies. Besides, the latter can get lost. On top of it, an e-AWB allows swift access to information about the shipment.
IATA claims that e-AWB reduces the cycle time by up to 24 hours. Customs agencies can clear the shipments faster, while regulatory bodies also get all necessary information quickly and efficiently. Moreover, relevant shipment information can be sent in advance of the cargo.
Reduced costs
Electronic documents require fewer resources to process. Besides, the paper documents have to be transported from the warehouse to the plane as well as between the airline and the freight forwarder. e-AWB eliminates those expenses. To crown it all, less paper clutter means reduced storage costs and more office space.
Improved customer service
Airlines can alert freight forwarders about document issues. The latter are able to react in no time and ensure the loading of cargo. e-AWB contributes to the spread of enhanced cargo tracking solutions, offering more transparency to freight forwarders and stakeholders. Besides, there is no need to manage the discrepancies resulting from missing paper documents. On top of it, freight forwarders get direct access to warehouses, so they can unload the cargo.
Increased level of security
e-AWB provides access to special handling requirements or information about dangerous goods. With electronic documents at hand, businesses can respond to customs demands faster and more efficiently.
Better quality of data
The implementation of e-AWB results in more accurate, valid, consistent, and complete data. As a result, there are fewer delays due to mistakes in data entry. Unlike paper documents, electronic documents are instantly accessible. Moreover, they can be easily achieved and retrieved, minimizing delays caused by missing information. Customer data is available throughout the whole shipping process.
Reduction of the environmental footprint
Saving several sheets of paper per shipment may not seem much. However, according to the World Bank, registered carrier departures in air transport exceeded 37 mln in 2019. Imagine the amount of paper required for all those flights. Therefore, substituting paper copies with electronic ones can have a palpable environmental effect.
How to Integrate e-AWB in Your Business: Step-by-step Manual
You may wonder how to use e-AWB as a freight forwarder or carrier. IATA provides a roadmap consisting of six steps. They include both technical and business adjustments. Note that you might need a team of software engineers to make the former. If you don't have one at hand, contact Acropolium. We have experience in developing custom software solutions for clients from the logistics industry. In particular, our company created systems, operating electronic cargo documents. Read on to learn more about our experience.

Let's have a look at the key points of the e-AWB implementation for a freight forwarder in detail.
Signing the agreement with IATA
First and foremost, both an airline and a freight forwarder have to come to an agreement about electronic document exchange. The IATA Multilateral e-AWB Agreement was designed to substitute a growing number of such bilateral agreements. Signing it is free. After joining the Agreement, the forwarder can use e-AWBs dealing with any other member. Before signing the documents, make sure that your partners have also done it.
The main steps for the freight forwarder to join the multilateral Agreement are:
Fill in the joining form (name and address of the company, contact details, and signatories)
Get the agreement, e-sign it online, and send it to IATA
After signing the document, IATA sends the final copy to your company. Now you can cooperate with other participants under general terms and conditions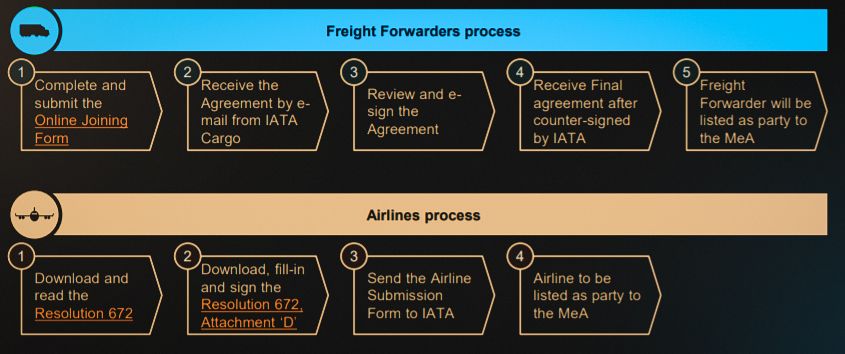 Satisfying technical requirements
Exchanging information about cargo status between an airline, a freight forwarder, and a ground handler is one of the main functions of e-AWB systems. There are different technical requirements for each of those actors. For instance, a freight forwarder should be able to:
Send AWB messages
Receive flight status updates
Archive messages
Print AWB information if required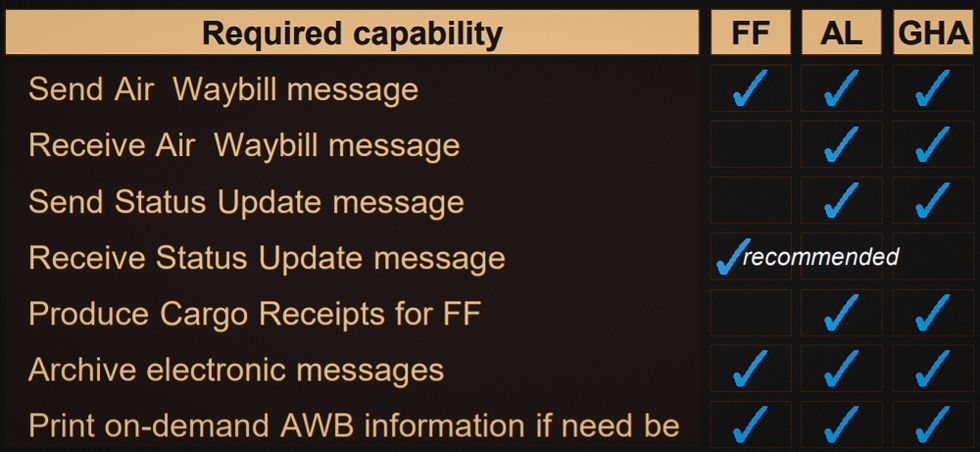 For message exchange to be successful, all participants should structure information according to certain rules (formats). There are two methods of e-AWB exchange: Cargo-IMP and Cargo-XML. Cargo-IMP was created by IATA back in the 1970s and is now considered outdated. So the new Cargo-XML is actually the only real option. It has become a preferred format for exchanging information between airlines, freight forwarders, regulators, ground-handling agents, and other air cargo stakeholders.
Cargo-XML, which is easily readable, simplifies cargo processes. This messaging standard meets the security and customs requirements. In particular, it fulfills requirements for ACI (Advanced Cargo Information). Besides, it has an unlimited number of lines and characters. Unlike Cargo-IMP, XML is an Internet-based message type.
However, using Cargo-XML requires knowledge of message specifications, which aren't free. IATA charges from $999 to $6993 for using the Cargo-XML toolkit. The price varies according to the package you buy. Aside from specifications, the toolkit includes code lists, business rules, data length recommendations, FAQs, examples of messages and layouts, etc.
Ensuring High Quality of Messages
To start using e-AWB, you should do your best to eliminate possible errors in data exchange. Otherwise, the system may not fulfill its functions properly. The most common issues are: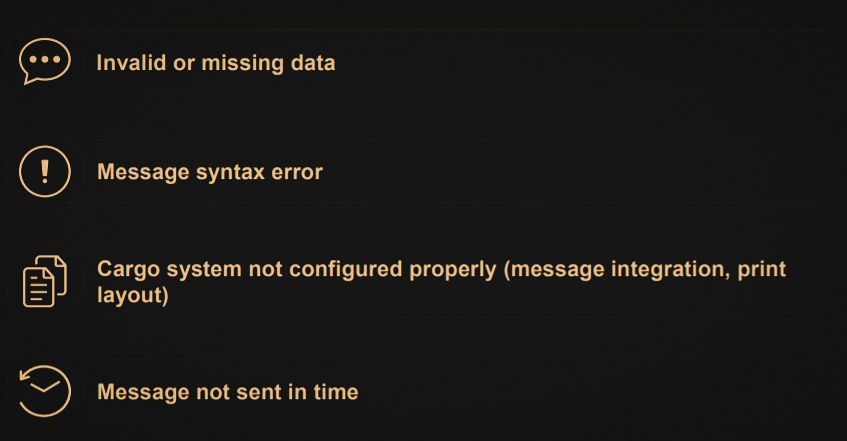 Data quality monitoring remains important even after e-AWB system integration. While choosing your e-AWB software, check whether it has a quality assessment feature. However, even if it doesn't, there are some ways out.
Firstly, some airlines have their own systems for this purpose. A freight forwarder can ask them to perform a message quality check. For example, Lufthansa Cargo has a DQI, Data Quality Initiative, while SAS Cargo also developed a validation option. Besides, cargo transportation associations, such as Cargo Network Services Corporation, share the best practices of data quality assurance during various events and workshops.
Secondly, IATA offers the AutoCheck tool. This instrument validates the syntax of the XML flight manifest message, booking message, status message, house waybill message, and Waybill Message. However, sending delays, content issues, and other problems can be solved only through communication between the cargo process stakeholders.
Reaching out to your partners to activate the agreement

That is an organizational rather than technical step in the process of e-AWB implementation. Both an airline and a freight forwarder should confirm that they are ready to use e-AWB. At this stage, the parties can agree on shipment terms and channels of e-AWB exchange (web or EDI), test data exchange, align business processes, etc.
After that, an airline prepares a document enabling e-AWB processes — an Activation Notice. It contains the list of locations, airports, and effective dates of shipments. The parties can start exchanging electronic documents when a freight forwarder signs the Activation Notice.
The peculiarities of the process depend on the airline. For example, to get the Activation Notice from Lufthansa Cargo, you'll have to come in touch with their sales representative. After discussing the technical requirements and conditions of paperless shipments, you can create your first e-AWB document.
How to Choose an e-AWB Software
e-AWB management systems allow freight forwarders to exchange information with airlines, track cargo status, and print messages if required. In some cases, you can also share details of shipments via email. Such software is Internet-based and quite easy to use. It comes in all shapes and sizes: as on-premise, cloud-only, hybrid products, or as software modules and plug-ins. Note that e-AWB providers usually charge their clients per document sent.
Here are several options you can consider.
Boltrics (Cargonaut)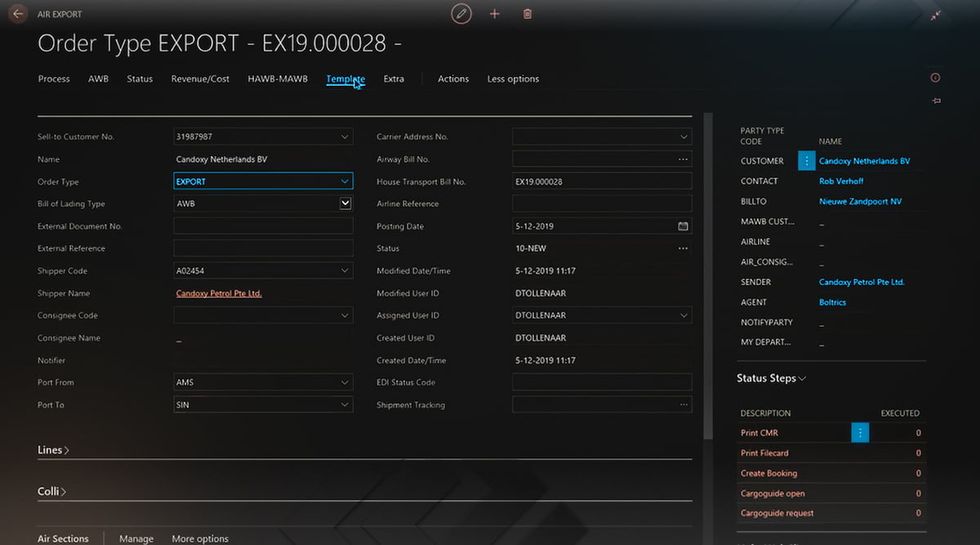 Boltrics's transport management solutions include an e-AWB platform called Cargonaut. It allows users to export e-AWB, HAWB, and customs manifestos, operate pre-bookings, get flight details, manage CMR, transport orders, etc. The software is available on-premise, cloud, or hybrid.
Logitude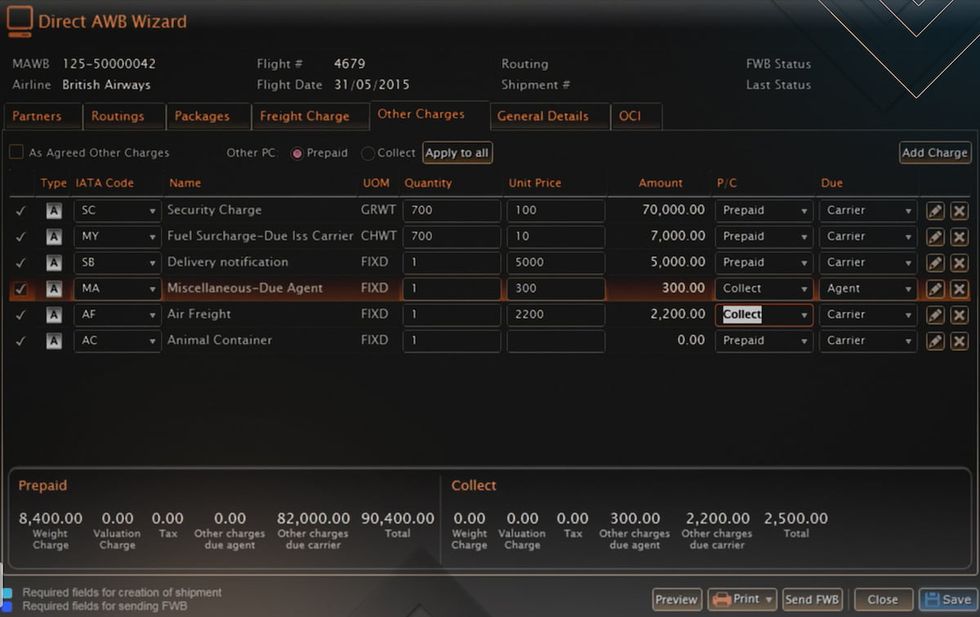 e-AWB service is a part of Longitude freight forwarding software. Its features include e-AWB Wizard, a tool for managing expected departures, automatic status updates from airlines, as well as an on-demand status check, querying schedules and availability, printing customs manifests and labels, emailing documents, etc. The price for those services depends on the number of documents the user needs to operate. For instance, handling 100 eAWBs will cost you $100, 1000 eAWBs — $650.
eAWBLink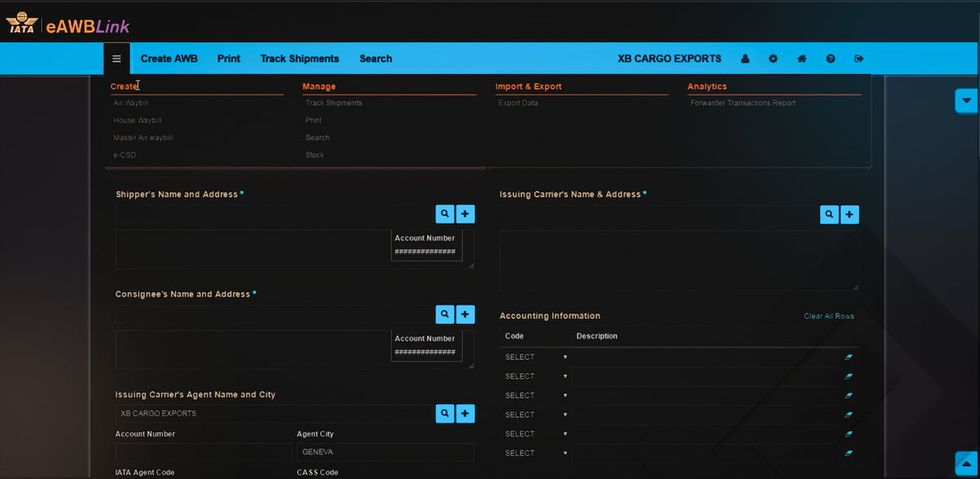 eAWBLink was launched in 2016 as a low-cost e-AWB desktop solution for small and medium-sized freight forwarders. Now it is developed and distributed by the Mphasis company. eAWBLink connects a shipper to more than 200 Airlines. Its features include:
Submitting MAWB or HAWB to airline cargo systems
Issuing eCSD
Managing airway bill stock
Saving bill documents, cargo receipt, warehouse receipt, cargo security declarations, and house manifest as PDF
Tracking real-time airway bill status
Converting Cargo-XML messages into Cargo-IMP
The annual subscription will cost you $540 per user.
Build your own e-AWB system
There are some off-the-shelf e-AWB software solutions to choose from. Still, developing your custom system will be the ideal option. Firstly, as we've pointed out earlier, third-party solutions aren't free. Usually, the more e-AWBs you need, the more the provider will charge you. If you have lots of cargo operations to conduct, investing in software development may be justified.
Secondly, if you develop an e-AWB platform yourself, it will be tailored to your business needs. Such a solution will handle the documents crucial for your cargo operations in the most efficient way. A custom system may be equipped with maximum features, eliminating routine tasks (for example, exporting documents to a specific format) and improving data quality (built-in quality checks).
On top of it is that custom software will be designed to blend smoothly into existing infrastructure. Your business may already have some third-party software in use. Adding new items to your IT arsenal should require as few adjustments to the whole system as possible.
Why choose Acropolium to help with your AWB solution?
Acropolium has been working with clients from the transport and logistics industry for eight years. Two dozens of software solutions and more than 50 consulting projects are testimony to our experience. Let's have a closer look at one of our recent projects, related to digital cargo documents.
Our goal was to develop a tool, capable of exchanging information with the United Kingdom customs agencies. The UK has been using the Customs Handling of Import and Export Freight (CHIEF) system for more than 40 years. However, in 2018 a roll out of a new system, Customs Declaration Service (CDS), began. Acropolium aimed to investigate perspectives of integrating with the new system, and create necessary software.
This project posed both technical and organizational challenges. Getting access to restricted documentation about CDS required much negotiating with British authorities. To get the project rolling, our team had to process 600+ pages of technical descriptions and the collection of business rules, totalling another 1.500 pages.
We've started with the Import declarations. At present, our solution has one out of eight types of such declarations implemented, two more are on the way. Using the standard customs Single Administrative Document, our team has created a digital form with more than 100 fields to fill out. Thus, dealing with the UK customs becomes easier.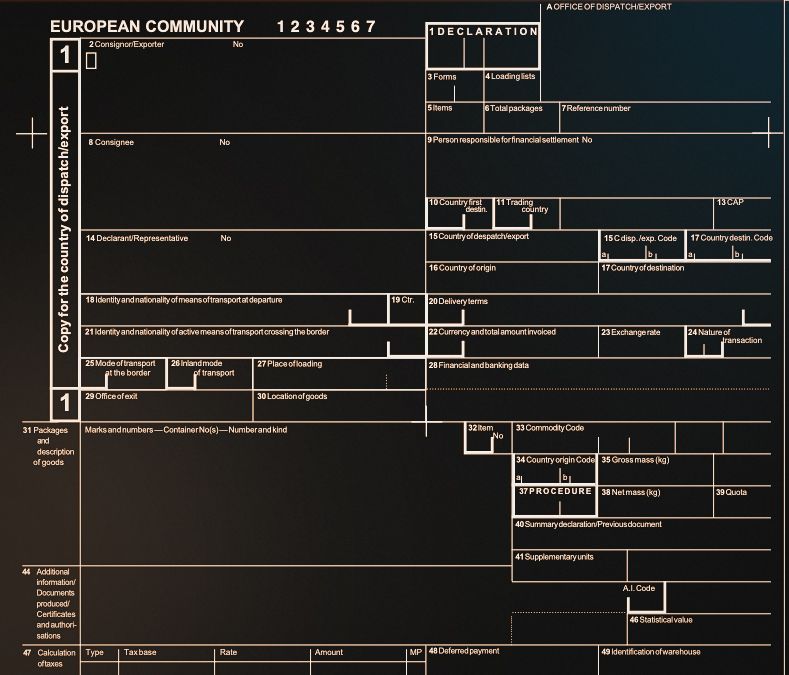 After integration with the CDS API, our system can submit a declaration, edit and cancel it, getting updates about the declaration's status. Besides, it can parse information from notifications to a declaration and change its status according to rules described in the official documentation.
Integrate e-AWB in your company with Acropolium
Employing the electronic Air Waybill instead of paper one saves freight forwarders' time and money. The cargo shipping process becomes more efficient, and data is less prone to errors. Handling and storing electronic documents is much easier than paper copies.
To start using e-AWB, the company should become a part of the IATA Multilateral Agreement and align its business processes accordingly. Aside from that, there are some technical requirements to fulfill. With the help of e-AWB management systems, freight forwarders can exchange data with airlines and other cargo process stakeholders.
There are some out-of-the-box e-AWB solutions on the market. However, creating a custom solution tailored perfectly to your needs would be preferable. If you don't have experienced developers to do that, you can contact Acropolium for help. Our company has fulfilled dozens of projects for clients from the transportation and logistics industry. A dedicated team of skillful engineers will help to integrate e-AWB for a freight forwarder or build a solution, which requires digitizing cargo documentation. Contact us to make your cargo operations more efficient!