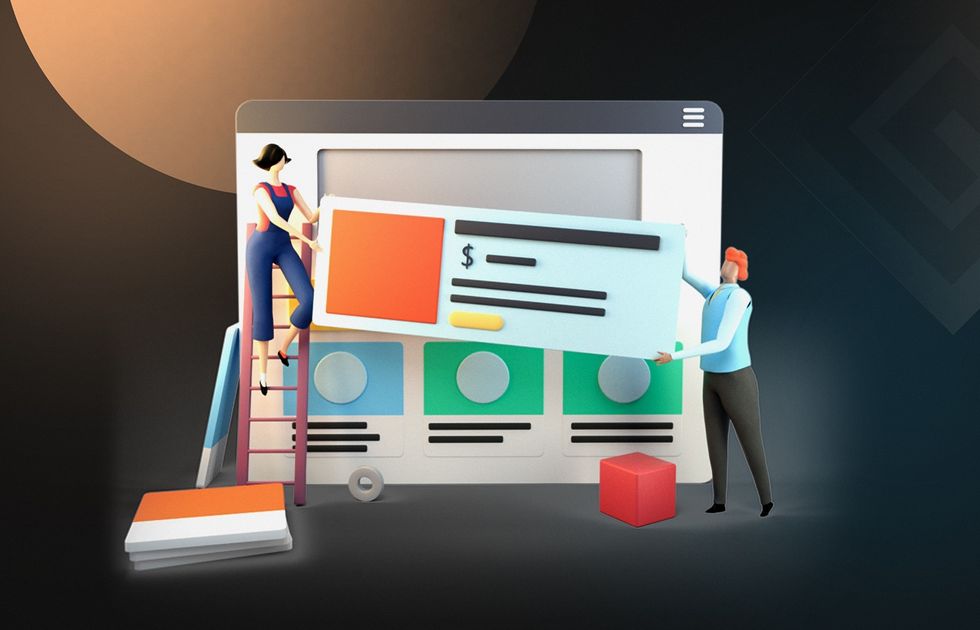 The wheels of progress never stop turning, so the existing digital product may eventually stop matching your business needs. Software reengineering becomes inevitable if your system isn't efficient enough, doesn't withstand the competitive market, or is simply too expensive to maintain. If any of these or some other reason forces you to change your legacy code, migrate your data or rebuild software completely, you may find answers to all your questions in this article.
Upgrading the existing system is quite challenging. If your legacy code performance is poor or you want to expand your platform, it may be hard to find a development team that will offer you an efficient solution. In addition, there are several options to optimize the system, each of which may suit you better, depending on the case. Software engineers are often hesitant about dealing with a project that was originally built by somebody else.
We at Acropolium have coped with numerous cases related to legacy software reengineering and gained sufficient experience to provide you with in-depth analysis in this post.
Ways To Upgrade Your Software
When looking for the right way to upgrade your software, there is no one-size-fits-all option. To understand how to change your existing system, you should examine your very case and determine the scale of the problem. Most likely, you will be choosing between the three most common solutions. You may rehost, rewrite, or rebuild your legacy software.
Each of these options can be either highly beneficial or misleading. So before you start upgrading the code, make sure you've chosen the right direction.
Rehosting
Software rehosting perfectly suits the systems that require rapid migration. Your legacy code leaves its original hardware and moves to a more modern and well-functioning one. Many companies also use rehosting option for cloud migration. Such a solution can address the costly software maintenance issue. Besides, many prefer this approach since it's fast, straightforward, and cost-efficient.
The main use case of the rehosting solution is when your on-premise platform is unaffordable and difficult to maintain. Cloud solutions allow you to expand your capabilities and modernize the software capability without changing the system itself. Your employees won't have to learn how the new software works. Furthermore, cloud services offer reliable and secure data storage.
However, if your legacy code is ineffective, rehosting won't help. In this case, it would rather be a temporary solution.
Read also: What cloud computing platform to choose.
Rewriting
Rewriting may be suitable if your legacy app's code fails to perform its functions properly. Each code has its logic behind the software architecture. So it's quite complicated to improve it, keeping consistency and adding the required features. In many cases, rewriting the software is much more challenging than building it from scratch. With no appropriate architectural documentation, the code eventually turns into a complete mess. Any further changes may snowball into a disaster, so not many developers dare to deal with such tasks.
Rewriting cannot be completed automatically. It requires a deep immersion into your business environment. Developers will also need to translate databases and add or remove certain features. This process is accompanied by testing software at all stages, building roadmaps, and providing detailed business analytics.
Although rewriting legacy software is a complex and time-consuming process, it may be quite effective. In case of success, your application will be fully operational, preserving and enriching the original idea.
Software Rebuilding
Digital technologies are developing rapidly, and an application built years ago may no longer meet current business needs. If you want to update outdated software, rehosting or rewriting your system won't address the issue. In contrast, rebuilding can bring your app back into the game. It's done by partial or complete reconstruction with all new requirements taken into account.
Legacy code rebuilding begins with an in-depth study of your business, its current needs, and goals. The developers' team should find the weak points of the existing solution. They decide whether to leave some parts or to rebuild everything from scratch. Of course, partial rebuilding is a much more cost-efficient option.
You can benefit from reengineering your software in many ways. It gives a unique chance to improve user experience, interface design, update the tech stack, and add new features. Finally, you will get completely updated software that will still perform its key functions.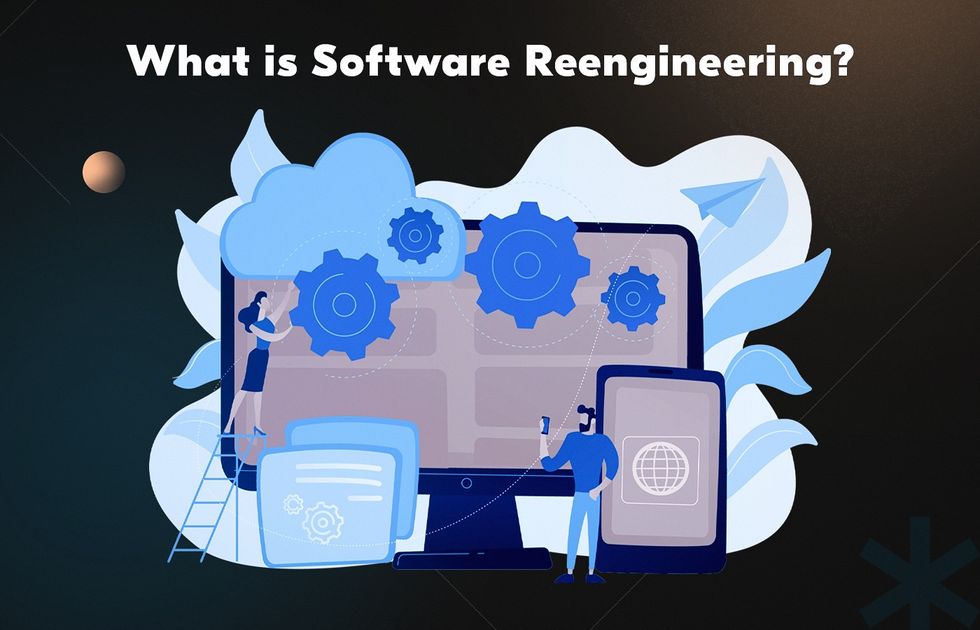 Reasons to Rebuild Software
There might be various reasons why you should reengineer legacy software, from unaffordable system maintenance to outdated software and data security risks. Let's take a closer look at each of these issues.
High Maintenance Costs
On-premises solutions used to be the option with no alternatives. However, the situation has changed tremendously. Old systems require significant investment in technical support, including maintenance fees, labor costs, hosting hardware expenses, etc. Over the last few years, new hosting and cloud solutions such as the SaaS model are likely to address this issue.
For a business that spends too much on an ineffective in-house solution, cloud migration is the best way to save their software and databases with no need to rebuild the entire system. They can move to a more convenient and cost-efficient platform that works by the subscription model.
Read also: 13 Cloud Cost Optimization Strategies.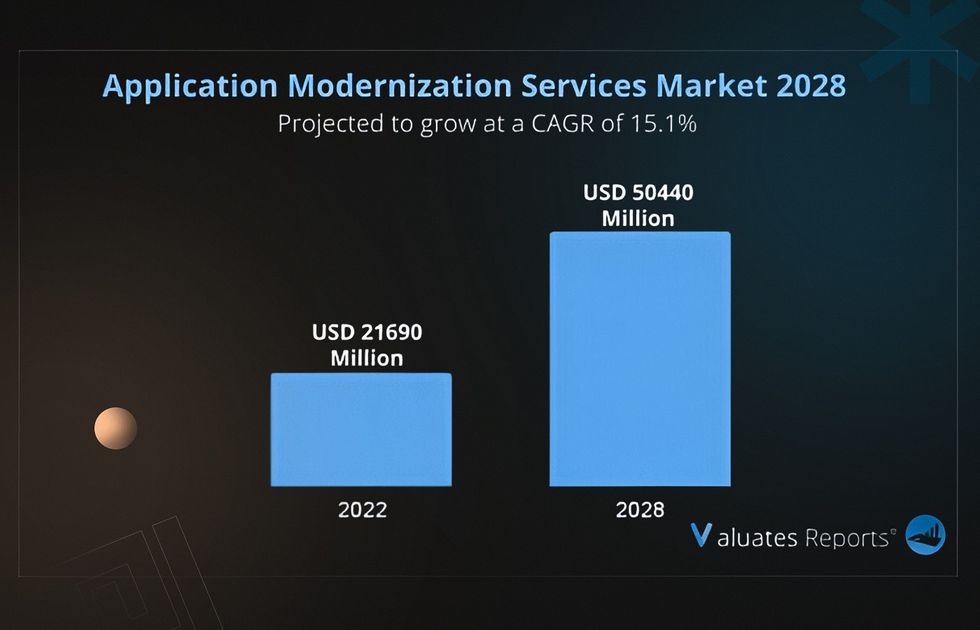 Compliance Issues
Many existing systems weren't built in compliance with certain regulations, such as GDPR and HIPAA. These restrictions are majorly related to the personal data privacy requirements that your software should meet. Changing the app's infrastructure to comply with the necessary regulations may be complex and time-consuming.
That's why many prefer taking advantage of cloud-based solutions like SaaS that offer ready-made compliance with all required regulations. You can use this opportunity by migrating your databases to the cloud or reengineering outdated software solution to the SaaS model.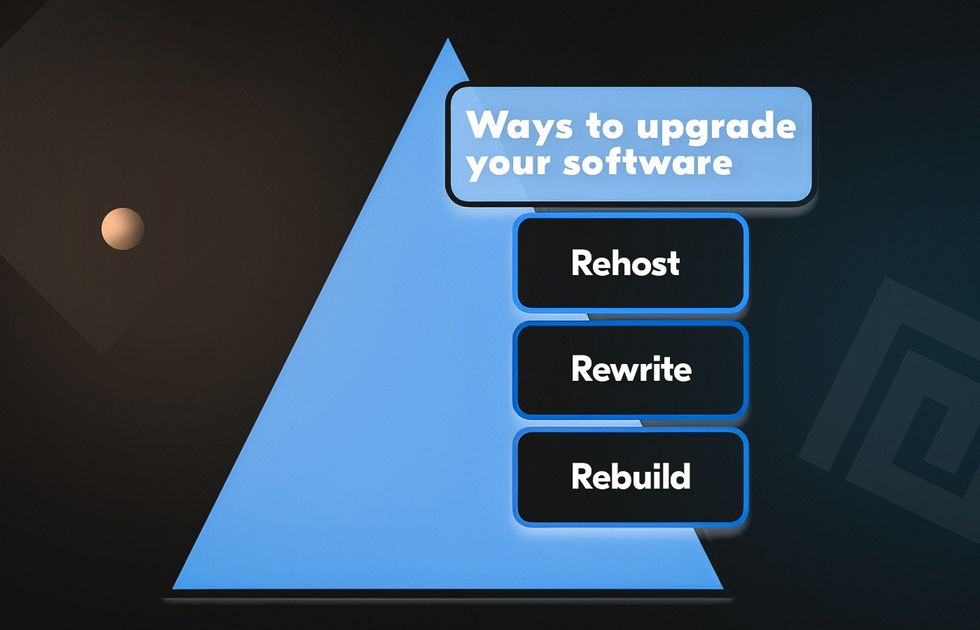 Outdated Tech Stack
Many companies built their software with the use of technologies that turned out to be unstable. Dealing with this problem might be quite challenging. The outdated tech stack's developers community is often not large enough. Thereby, it may be hard to find good specialists for your legacy software maintenance and optimization. Rebuilding your application with a more relevant and future-proof technology could be much more efficient than looking for developers to update the old one.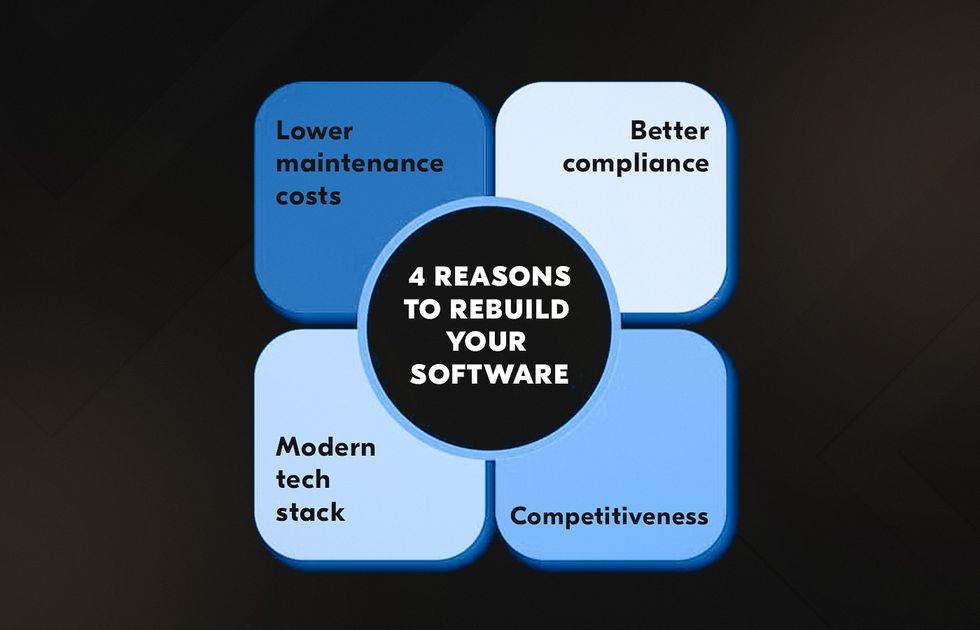 Read also: How to choose the tech stack for SaaS.
Non-competitiveness
Finally, one of the most widespread reasons to reengineer old software is the desire to increase competitiveness in the market. Your business should keep up with the latest trends and offer users up-to-date services. If your existing software doesn't meet your core business goals and slows down the company's development, it's time to change it.
What is more, an outdated code may also be insecure. According to the source, enterprises running old software can lose 47% more money in data breaches than updated IT systems.
Software Rebuild Process
Tactic for rebuilding software completely depends on your case. However, there are some common stages of the reengineering process. The hired developers' team should undergo these phases to assess the problem, find the most appropriate solution, and consistently implement it step by step.
Build New Software Architecture
The legacy app's architecture and its logic lie at the root of the whole system. If you decide to rebuild your software, it requires an in-depth analysis of the existing architecture. Studying it will give an understanding of how to reconstruct the system. The new architecture will be based on your current needs.
The developers need to investigate the client's business, including its audience, core goals, and objectives. Thus, they can develop an architectural solution that will address the former system's issues and determine which elements and features should be implemented, replaced, or removed.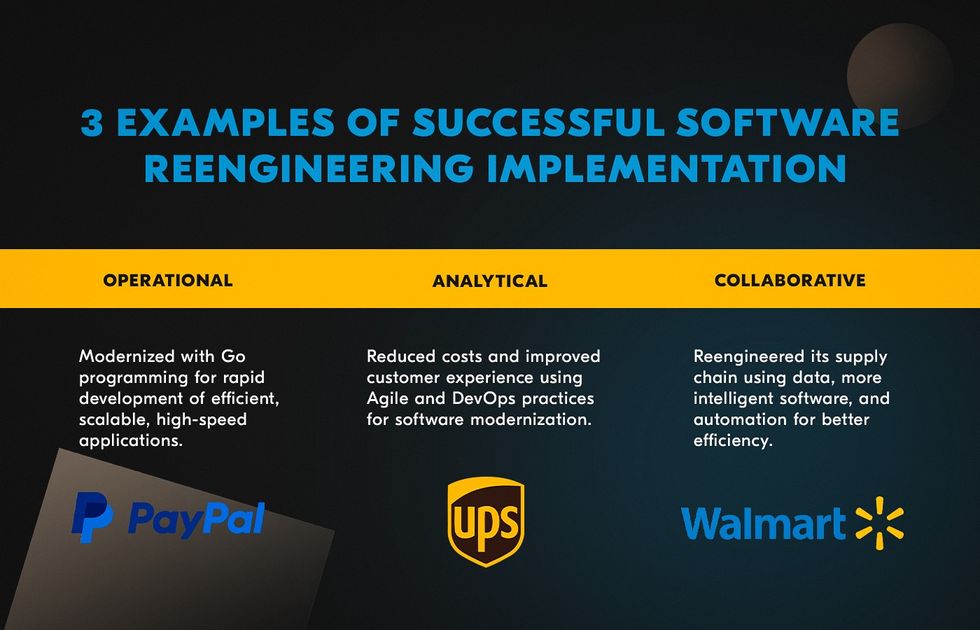 Define Scope of Work
The scope of work for software reengineering depends on a few key factors. Firstly, the developers need to estimate if the system needs complete rebuilding or partial replacement of the original legacy code. Secondly, they need to find the right solutions for each goal. It contains the choice of the tech stack, backend solutions, updating databases, etc. Finally, it's possible to calculate the approximate timeline and cost of software rebuilding.
These three most common reengineering approaches define the project's scope.
Implementing the new tech stack or facilitating software maintenance with no drastic changes in the system's functionality.
Using rebuild as a chance to add new required functions to optimize the system's functionality.
Rebuilding the entire system from scratch by modernizing every single piece of outdated software.
Prepare New Software UX\UI Design
Redesign is an essential part of the software reengineering process. Usability and interface design are the core components of a satisfying user experience and convenient software environment. Modern UI/UX design trends include overall consistency, minimalism, and custom interface elements adapted to users' needs. Designers should tailor the application to new requirements and refresh the UI. They should look for solutions that will make the interface as intuitive and easy to navigate as possible.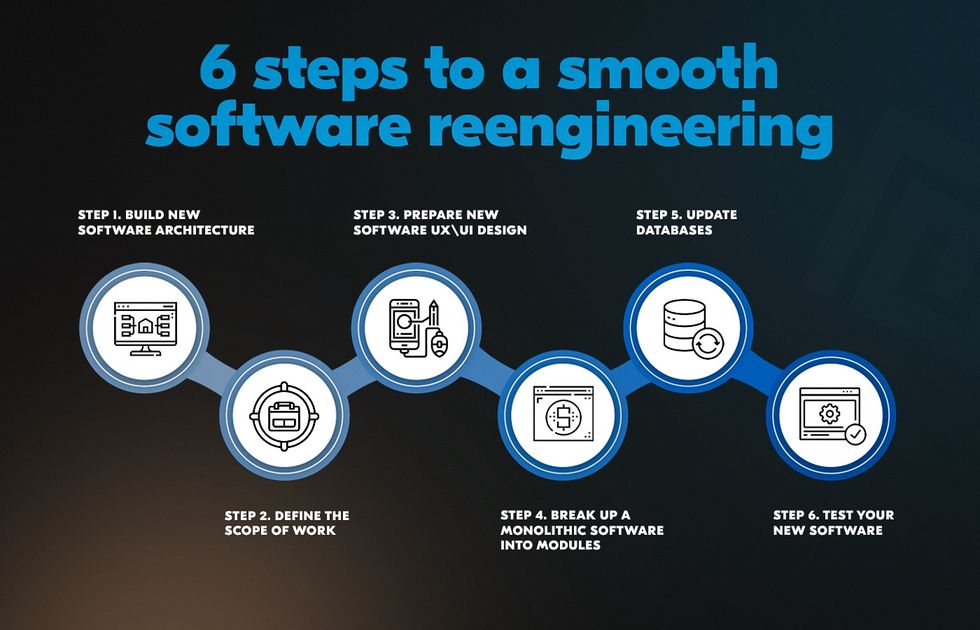 Break Up A Monolithic Software Into Modules
The traditional approach to legacy software architecture uses a monolith code-base. It means that all modules are deployed together and depend on each other. Such a solution is not reliable and difficult to scale. If one module stops working, you will need to change the entire system.
However, today you may take advantage of more modern and scalable alternatives.
Microservices architecture enables breaking up monolithic software into separate modules, developed and deployed independently. Such a system will be much easier to maintain. Splitting monolith software into microservices can be achieved by turning to cloud services. The migration should be performed step by step. The developers' team will separate APIs, databases, and other layers into independent modules.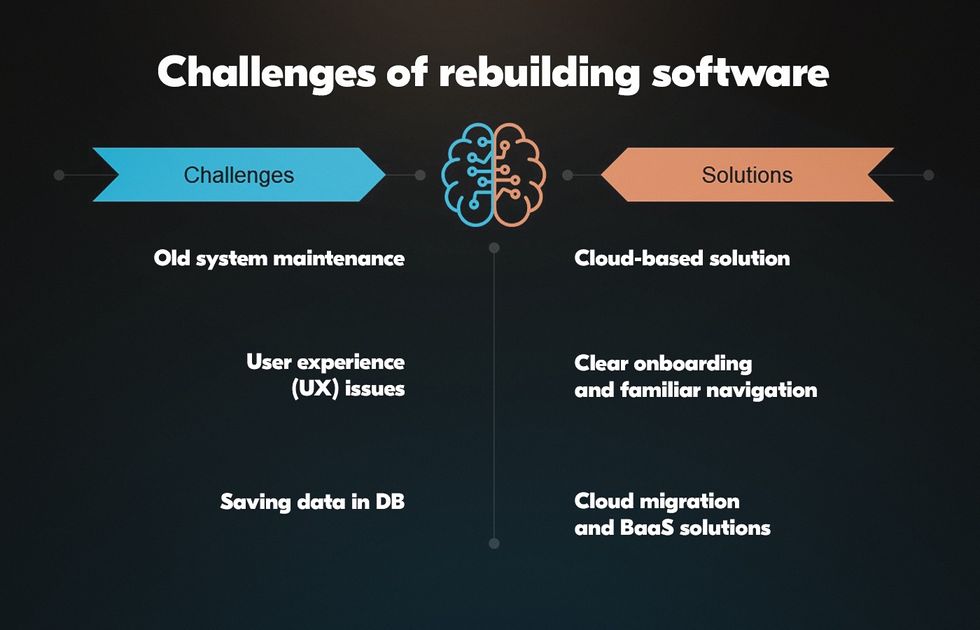 Update Databases
Your existing legacy software stores certain data that should be well-protected and accessible to certain user groups. Reengineering your system should be followed by consistent database updates.
There are two possible approaches to accomplish this task:
Keeping your databases in the existing storage and sharing them with the modernized system.
This approach may be cheaper and less time-consuming. However, your current data-storing solution may be as outdated as the software itself. If the service is unreliable or too expensive to maintain, it would be wise to turn to another option.
Moving your database to the new storage.
Modern businesses often choose cloud solutions that are more secure and cost-efficient. They use a ready-made service instead of building a new in-house solution. BaaS offers scalable database management for processing data and secure storage.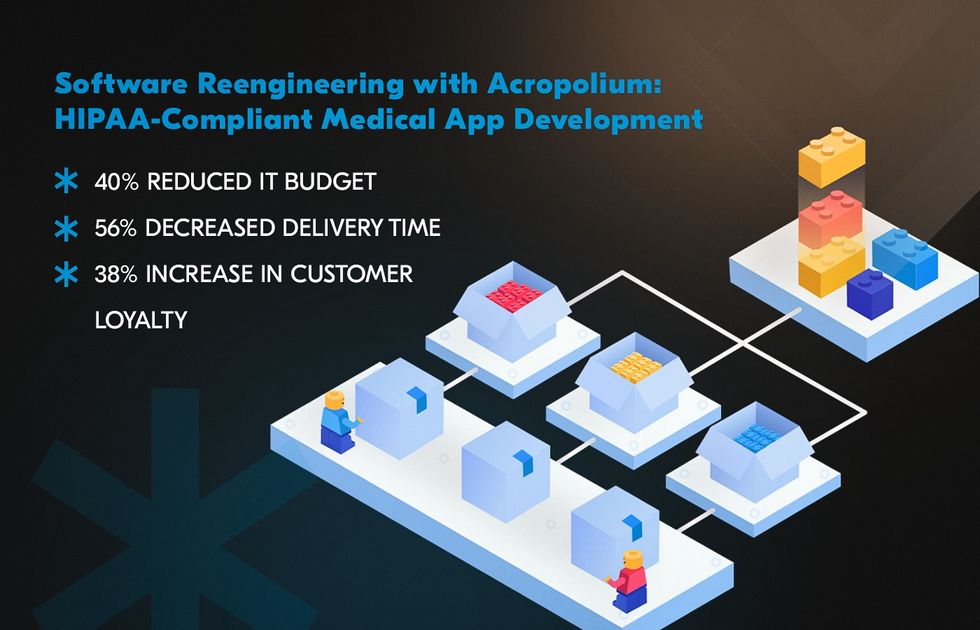 Test Your New Software
During the software reengineering process, test your software as often as possible. QA specialists should check every change for sustainability and compliance with your business goals. Rebuilding and redesigning processes can be quite risky and challenging. Planning and analytical mistakes may cause serious problems or even the entire project's failure. So it's highly recommended to build prototypes and test them, involving real users.
Challenges of Rebuilding Software
When you hire a developers' team to reengineer legacy software, they may face many challenges that need certain expertise to cope with. Here are the most typical issues and the possible ways to address them.
Maintain Old Project
Your old software maintenance might be too costly and ineffective. Furthermore, it's often hard to find a developers' team that will be ready to support your system with an outdated tech stack. Refusing from on-premises software solutions and turning to cloud-based ones may save up to 40% of the cost you would spend on in-house backend development.
Educate Users to New Interface
Businesses often need to change the entire system architecture or some part of it to rebuild software. However, users might find it hard to get used to it after the new system is launched and learn how it works. So if you change your software environment, the redesigned interface should be clear and intuitive. Providing users with clear onboarding and familiar navigation will facilitate their adaptation to the new system.
Save Data in DB
Some companies may find it easier to keep their databases in the existing storage and transfer access to the new system. But, in many cases, old data storage systems are insecure. Hence, the attempt to save costs will be unjustified.
Cloud migration and turning to alternative solutions such as BaaS are much more cost-effective and time-saving than building a new backend from scratch.
Read also: How to Reduce Software Development Cost.
Our Experience
We at Acropolium have dealt with numerous software reengineering projects. Our dedicated developers gained experience in rebuilding outdated systems. The following case study may bring you useful insights into software modernization's challenges, goals, and results.
HIPAA Compliant Medical App Development
We developed this project for an American virtual healthcare company focused on the sexual health market. Initially, several external vendors attempted to build the application. Inconsistency in product creation led to the absence of uniform architecture documentation and large technical debt. The challenge was to examine, improve, and rewrite the existing legacy code. Thus, we had a goal to improve the code quality and optimize the system for further scaling.
Our developers did their best to understand each module's function and create the required documentation. Research and analytics processes took a lot of time. However, we managed to optimize the code and infrastructure. Furthermore, our team developed the functions that enabled the required compliance with HIPAA regulations.
As a result, our team rescued a promising project that risked failing due to the low original code quality. The IT budget and the delivery time were reduced by more than 40%, while the customer loyalty was increased by 38%.
Rebuild Your Software
The need to re-engineer your software may emerge for many different reasons. Some of the most common ones are high maintenance costs, system obsolescence, and compliance issues. Depending on your case, the ways to modernize your existing software may vary. But all of them lead to a single destination. Your system should start working properly, obtain all the necessary functions, and meet your business goals. There are numerous challenges on the way to improvement. However, the main challenge is to hire the right team that will manage to find a perfect solution.
We at Acropolium have sufficient expertise in modernizing various systems, with more than fifty successfully completed projects. Our services include technical software audit, modernization consulting, complete system reengineering, cloud-based solutions, code refactoring, and platform migration.
So whether you need to rebuild a custom software or rewrite the legacy code, feel free to ask any questions. Get in touch, and we will find the best solution to modernize your system!