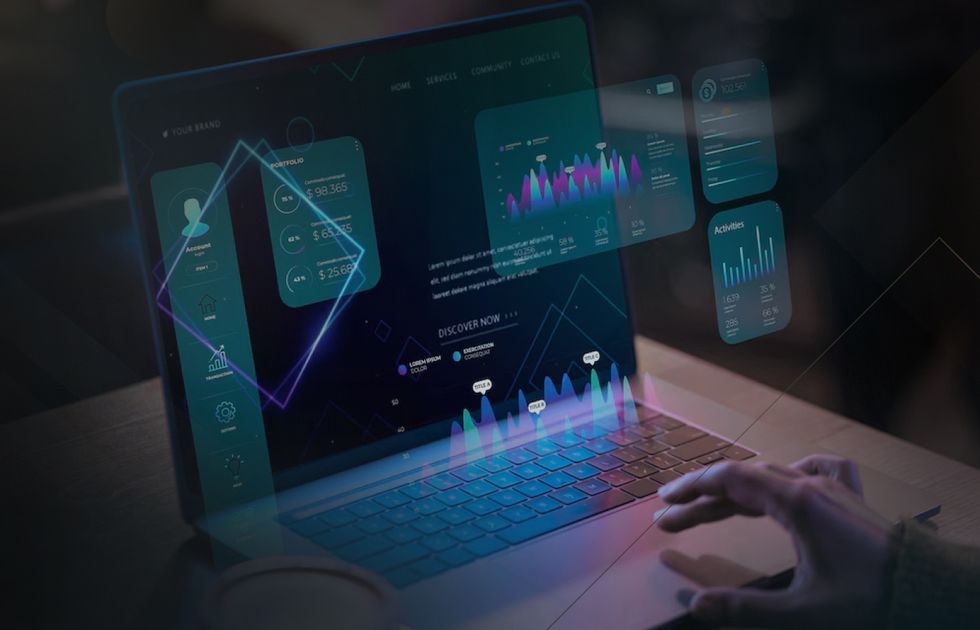 More and more fintech companies are disrupting the marketplace with innovations that leave banks struggling to catch up. Outdated platforms are preventing legacy banking systems from turning into applications that please clients with fast and convenient transactions. And modern clients are used to getting instant results, or else they switch.
At Acropolium, we can breathe life into your legacy system with the same software development solutions that have made modern fintech platforms a frontrunner in the industry.
In this article, we'll get into the details of modernizing legacy banking systems, but first, let's discuss why you can't keep putting software modernization on the backburner.
Why banks shouldn't ignore upgrading legacy banking systems
Banks are slow to adapt to new technological developments, mainly because of strict regulations and outdated core platforms that keep them rooted in decades-old legacy systems. Although they continue to serve their purpose, these legacy banking platforms fail to keep up with clients' needs for speed and advanced functionality.
Old and clunky software continues to support core banking services, such as payments, accounts, loans, and mortgages. As a matter of fact, 43% of US banks are still using COBOL, a programming language developed in 1959. This antiquated technology renders the systems incompatible with advanced software solutions.
With digital innovations like artificial intelligence (AI), big data, and the internet of things (IoT) transforming the consumer landscape, banks need to catch up with technological developments to satisfy an increasingly demanding client base. Besides, system modernization comes with advantages that banks simply can't miss.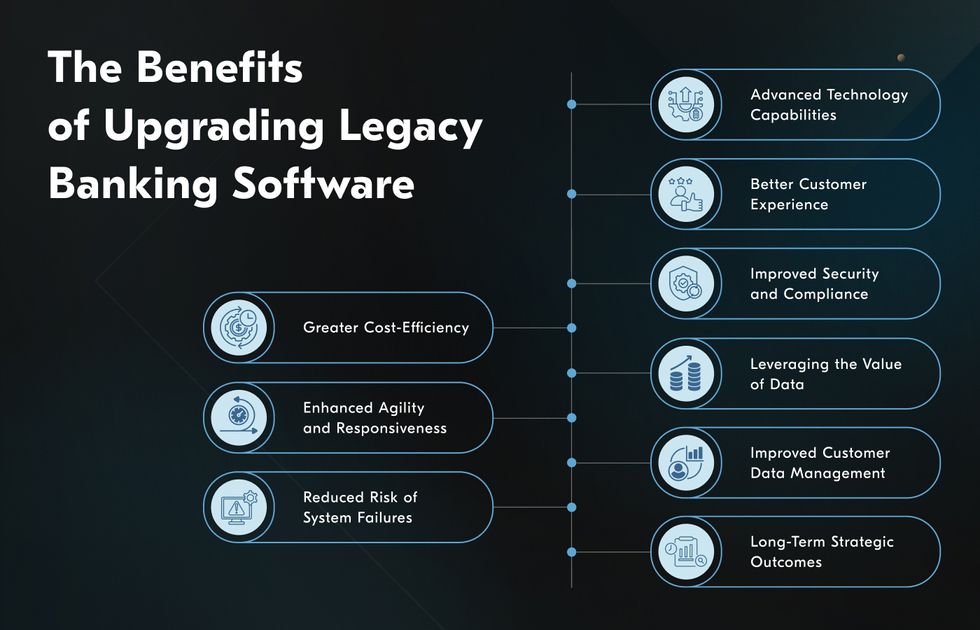 The benefits of upgrading legacy banking software
Although expensive and time-consuming, modernizing legacy systems in banking is a worthwhile undertaking. Here are the benefits that await your banking institution.
Advanced digital capabilities
Upgrading the core platforms allows banks to integrate advanced software and keep up with the demands of our digital world. Banking systems can stay compatible with modern application programming interfaces (APIs) and leverage hot technologies like cloud computing, artificial intelligence, and data analytics.
Streamlined business processes
With advanced technology running the show, banks can count on a productivity boost, optimal use of resources, and revenue growth. Deployment of new software functionalities can improve performance, drive growth, and open doors to new opportunities.
Better customer experience
Advanced software paves the way for features that elevate service levels and product development. It also spares users the frustrating slowdowns and crashes they commonly experience with outdated systems.
Improved security and compliance
Unable to keep up with the latest upgrades and security patches, legacy systems are more susceptible to cyberattacks and data breaches. Upgrading the software allows banks to keep up with today's security standards and regulations.
Greater cost-efficiency
A significant legacy banking system replacement may require hefty investments, but it comes with improved efficiency and productivity that can help offset the costs. It's also easier and cheaper to maintain and modify in the long run.
Leveraging the value of data
Paving the way for sophisticated data analytics, a modernized banking system allows financial institutions to meet their business goals, recognize any room for improvement, and capture opportunities. It provides actionable insights that improve decision-making.
Encouraging a culture of innovation
Modernizing the system allows financial institutions to veer away from increasingly rare and costly legacy specialists and create a culture of innovation that attracts top tech talent.
But for all its advantages, modernizing banking legacy software is not without its challenges.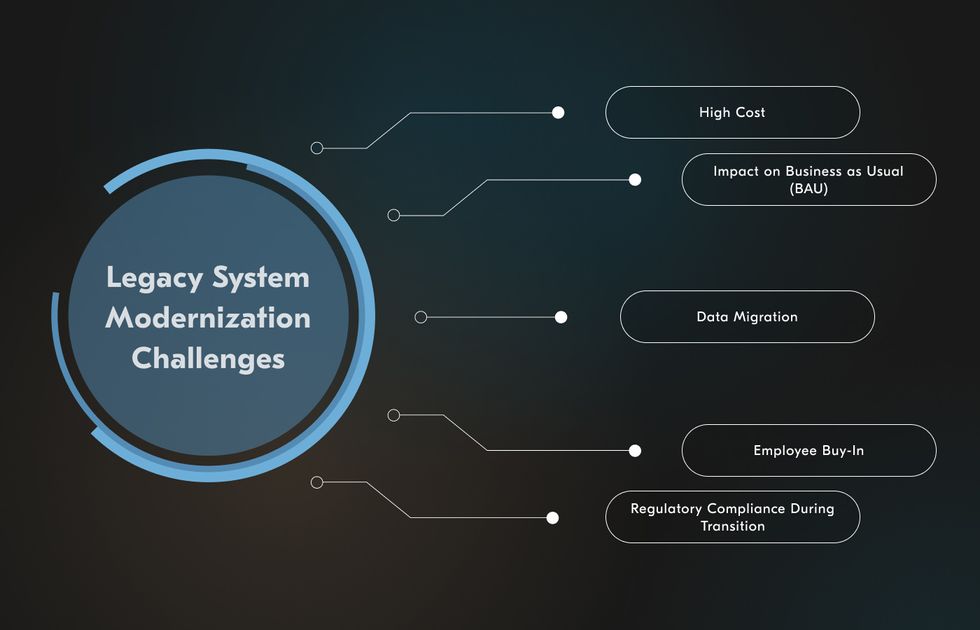 Challenges your business will face while modernizing financial legacy systems
Prepare for the following challenges before setting out to redesign legacy platforms in banking.
Cost
It's expensive to modernize legacy financial systems, especially if you factor in the licenses, hardware, data migration, and implementation. Because your company won't see the return on investments until after a few years, you may have difficulty convincing top management that it's all worth it.
You can overcome this challenge by implementing the project in phases. Focus first on upgrading the core processes. This won't be as costly and disruptive as a full-scale financial legacy systems modernization and may be easier to sell to the key decision-makers.
Impact on business as usual (BAU)
Banks can't afford system downtimes, especially lengthy ones. To ensure continued service, it's best to modernize the system in chunks. Carefully plan the timing and scope of the software upgrade to minimize their impact on business-critical processes.
Integration
Oftentimes, banks modernize the core platforms to make them compatible with new technology. You should plan the upgrade with a view to integrating more solutions or APIs in the future. Take the time to gain a complete understanding of the complex dependencies the new system is creating.
Data migration
Data loss can be debilitating for financial institutions. And because the legacy infrastructure in banking stores data that run into terabytes, data migration can be particularly challenging. Creating an actionable legacy data migration plan will help ensure smooth data transfer and keep you prepared for contingencies.
Employee buy-in
People tend to get comfortable with legacy systems, so get ready to deal with resistance to change. A comprehensive change management system will help you confront the challenge. Make sure it includes a communication plan that adequately conveys the benefits of the upgraded system and helps ensure employee buy-in. No amount of challenges should keep you from taking the next step to bolstering the competitiveness of your banking system. To implement the upgrade, you'll have to undertake common processes.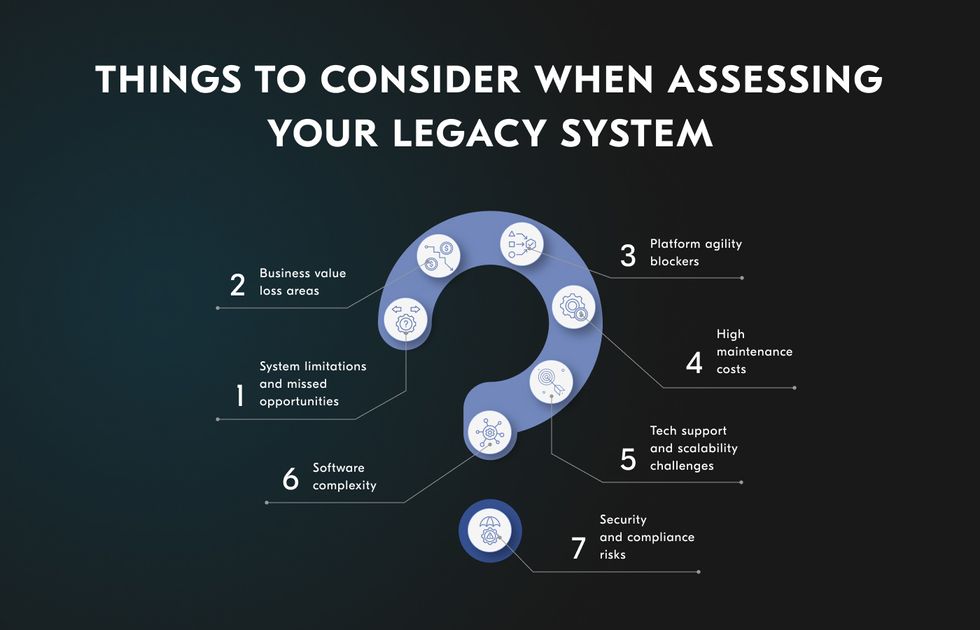 The process of banking legacy software modernization
The process of modernizing a banking legacy system generally involves the following steps.
Assess your legacy system
To ensure your modernization efforts are on point, you need to assess your legacy system's shortcomings. Take note of the areas that are keeping it from making the most out of current market opportunities. You can carry out your evaluation by answering the following questions.
Which business opportunities are you unable to capture because of your system's limitations?
In which areas are you losing business value?
Which part of the platform prevents agility?
Does your legacy system come with unreasonably high maintenance costs?
Will you be able to sustain its tech support and scalability?
Is your software unnecessarily complex?
Is your system compromising security or compliance in any way?
And remember: it's best to keep the top executives or decision-makers involved when assessing your core platforms.
Explore your modernization options
Now you can explore available legacy modernization options. Pick those that can address the issues you've identified during the evaluation of your legacy system.
You're likely to make out the following options:
Retaining current functions but transforming them into features that are accessible to APIs
Moving the components to a new infrastructure without changing the code
Shifting to a new platform while retaining the core functionality and making only minor changes to the code
Building new software from scratch, completely eliminating the old technology
Building new core platforms that reflect modern solutions and serve your current business goals
It's a good idea to invite a software vendor with experience in financial app development to join you during this stage.
Pick out the most suitable approach
To select the best approach for modernizing your legacy system, you'll have to weigh your options. You may choose to make minor modifications to your old system that will keep it running smoothly or decide to carry out an overhaul that may be costly at the moment but cost-effective in the long run.
Don't just learn the process. Familiarize yourself with the best practices that help ensure a successful outcome.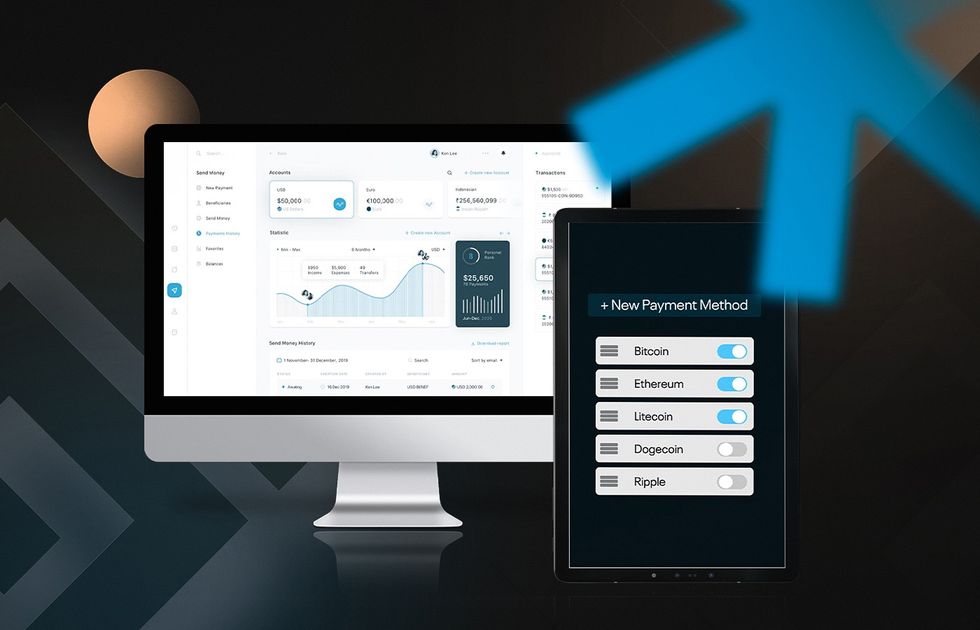 Valuable tips for upgrading legacy banking platforms
Modernizing your system requires significant investment. You simply can't afford for the project to fail, so ensure success with the following best practices.
Gauge your system's technical debt
Your legacy system may be riddled with bugs and low-quality code, which often result from long-term projects passing through the hands of various developers. Factor in this technical debt when you evaluate the upgrades you'll make and their costs.
Stay proactive throughout the modernization process
Even if you have a team of reliable developers, you should still take an active part in the modernization project. Keep your company's decision-makers in the loop. You need all key stakeholders to bring in their expertise and take responsibility for how the system will turn out.
Keep the project centered on meeting your business objectives
Always remember that your system is not an end in itself. Make sure every upgrade you're making is helping you meet your business needs. And this is only possible if you've clearly defined and communicated your objectives.
Maximize the system's business value
The coolest technical features won't matter if they're not bolstering your system's business value. Make sure they'll bring tangible benefits that will instantly justify the investment. They should also result in long-term benefits that will more than make up for the cost of ownership.
Safeguard your data and intellectual property
Your legacy system is likely to have accumulated significant data and intellectual property over the years. Safeguard these digital assets throughout the transition. Stay proactive and work only with developers who prioritize data security.
Go for the most advanced solutions
Make the most out of your modernization efforts by choosing the most advanced tech stack and architecture. This way, the system can retain its relevance or compatibility longer. You'll have better chances of integrating new solutions well into the future.
Stay on top of the implementation stage
Even the most efficient systems can still fail if you don't properly implement them. Plan ahead for the implementation stage so that you can ensure employee buy-in. Work with software providers who are willing to help you with the onboarding process, allot time for training, and prepare to assist your employees with their learning curve.
Which components should make it to your upgraded banking software? Let's get into the nitty-gritty of legacy app modernization in banking and talk about the advanced tech blocks to add to your legacy system.
Read also: Enterprise mobile app development guide.
New tech blocks to add to your banking system
Here's a list of components and features that should be included in your modernized banking system.
Advanced self-service capabilities
In this digital age, consumers expect to accomplish what they need without visiting a physical branch. Self-service digital banking solutions are no longer confined to basic services like checking account balances and transferring money.
Banks can now provide the following services online:
Account opening
Self-registration
Loan origination
Purchasing insurance coverage
These self-service capabilities are made possible by technologies like real-time ID verification, facial and fingerprint biometrics, real-time credit bureau checks, device verification, and eSignatures.
APIs
To thrive in the modern world, a bank must be able to be a part of digital ecosystems. That is, it must have the capacity to integrate products and services from third-party applications. And APIs are just the solution for this since they enable software and apps to share data and communicate with each other.
For instance, core banking platforms can integrate an API that allows them to receive money transfer requests from card systems, digital payment systems, mobile wallets, and other third-party financial services.
Instant payments
Consumers expect digital banking to work without delay. To stay competitive, banks must deliver. Instant payment solutions or electronic retail payments make this possible with real-time, effortless processing of transactions. Consumers no longer have to wait for one to three business days for a transfer to push through.
Banks can connect with real-time payment networks to integrate instant payment solutions by working with technology providers like Sherpa Technologies, Fiserv, and PayFi.
Cloud Computing
With cloud computing allowing institutions to store data and applications in remote servers, banks can develop products and scale services at a faster rate without shelling out huge investments.
Established cloud providers like Amazon Web Services (AWS), Microsoft Azure, and Google Cloud Platform provide a range of services that allow banks to quickly innovate, meet client demands, and keep up with technological trends.
Biometric Technology
Clients expect banks to provide the highest level of security for their personal information. Financial institutions take it to the next level with biometric technology, which offers a balance of convenience and security. Now, clients can use their voice, fingerprints, or irises to verify their identity and access their accounts.
Compared to passwords or PINs, these biometric identifiers are easier to use and harder to hack. Financial institutions can use them for mobile banking, digital onboarding, and know your customer (KYC) processes.
Chatbots
These days, clients are quick to leave reviews online about their bad banking experience. To avoid any reputational damage, banks must stay on their toes. One way or another, they must instantly respond to customer queries and issues. Capable of simulating online conversations with people, chatbots can stay available for clients 24/7.
Enterprise chatbots can respond to queries in real-time, offer personalized service, and assist clients with their banking tasks.
Process automation with AI and machine learning
Automation takes operational efficiency to the next level with a rate of speed and accuracy that's beyond human capacity. Powered by artificial intelligence and machine learning, it allows banks to greatly reduce costs, enhance customer experience, and increase agility.
Automation plays a vital role in banking processes, such as account opening, client onboarding, repeatable payments, automatic report generation, and mortgage lending.
Microservices
Banking systems no longer have to rely on a monolithic architecture that covers all functions. They can opt for microservices, which divide systems into standalone services that function independently but meld together into a well-oiled machine.
While a buggy code in a monolithic architecture can affect the entire operation, a malfunctioning microservice won't completely handicap the rest of the system. The latter does a better job of ensuring business continuity.
Big data and advanced analytics
Banks are some of the most data-intensive institutions, and they should use this to their advantage. Banks can leverage big data with analytics that provide actionable insights and improve decision-making. The wealth of information also enables them to provide personalized financial services to clients.
Data can come from a variety of sources, including online transactions, accounts on digital banking channels, ATM withdrawals, biometric authentication, and KYC databases.
You may be wondering how major banks have performed their banking legacy system modernization. We'll show you some examples.
Legacy banking software modernization cases
What does modernization of legacy banking software look like in real life? Here are some examples.
Royal Bank of Scotland (RBS)
The Royal Bank of Scotland (RBS) Group has come a long way from the year 2005 when they were juggling 600 Unix servers and grappling with manual processes that slowed down their software delivery cycles. After the 2007 banking crisis, they poured a lot of resources into modernizing their legacy system.
Here are some of the initiatives they carried out to achieve their modernization goals:
Shifting more and more from physical servers to cloud services
Adopting infrastructure-as-code tools
Running workshops aimed at convincing the change management team of the merits of automation
Sharing key metrics with management
Their modernization efforts have resulted in £7 million in savings since October 2018.
Wells Fargo
One of the world's largest banks, Wells Fargo works with approximately 273,000 employees and caters to more than 70 million clients across 8,500 locations. This huge enterprise is running a digital transformation program called One Wells Fargo, which aims to provide a unified customer experience (CX).
Wells Fargo is building a Banking-as-a-Service (BaaS) platform with APIs that integrate partner services and applications. Called the Wells Fargo Gateway, the platform covers key services like processing payments, account servicing, and foreign exchange.
The API-led connectivity has greatly improved the bank's responsiveness to clients' needs and the speed by which they deliver software.
Are you wondering which software companies are equipped to handle the modernization of a legacy banking system?
Let's talk about how Acropolium can help you.
Acropolium's experience
At Acropolium, we've spent 19 years building complex software solutions for organizations from various industries. Our extensive experience in delivering successful fintech projects has solidified our ability to provide you with the solutions you need to rev up your banking system.
We can help you in various ways. We can put together a dedicated team with the tech stack necessary to give your legacy system an overhaul. You may benefit from turn-key solutions that can be customized to match your unique requirements.
You may also choose to hire the services of our consultants, who can use their strong engineering background to provide you with professional advice, strategic consulting, and deep system audit.
We specialize in building or upgrading fintech systems with cutting-edge solutions, such as business processes automation, cloud computing, chatbots, big data, artificial intelligence, machine learning, and blockchain security.
Final thoughts
In this digital age, no business can afford to sit on its laurels when it comes to technological advancements. It's not any different for banks. These institutions need to catch up with the changing world to meet client demands and continue to thrive. Modernizing legacy systems can bring banks the agility they need to stay ahead of innovations.
Ready to explore your options? Reach out to us at Acropolium.