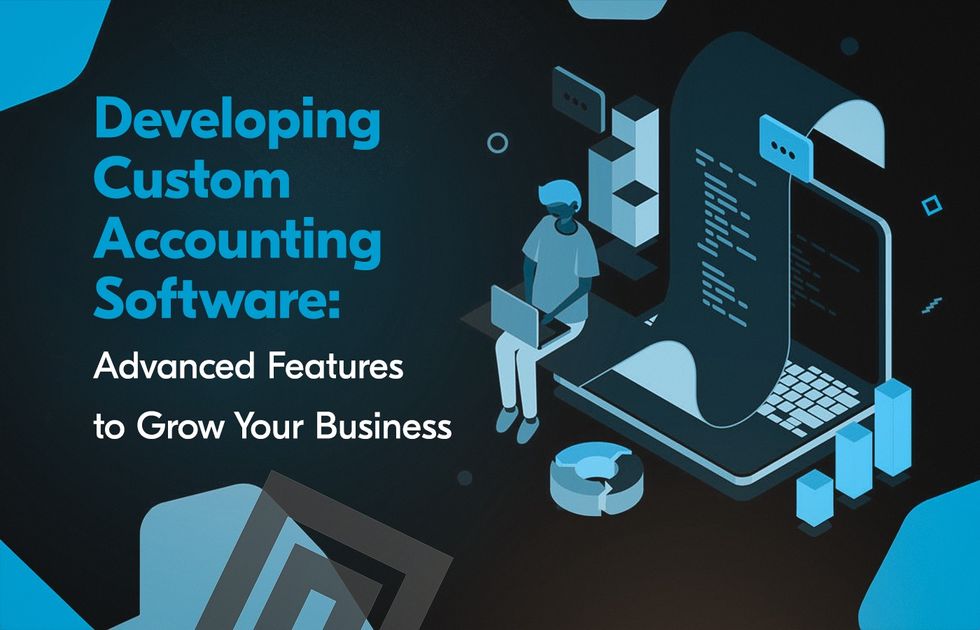 Key Takeaways
Bespoke accounting software addresses specific business needs, streamlining financial operations, improving accuracy, and enhancing overall efficiency.
Unlike off-the-shelf solutions, a tailored accounting system allows for greater control of financial management processes, strengthening the competitive edge.
Larger companies invest in custom accounting software development to ensure the product's scalability and complete alignment with unique operational requirements.
In a business world highly dependent on financial data collection and processing, accounting automation is vital for successful operations. Modern small, mid-sized, and large businesses deploy on-premise or cloud-based accounting software to understand their profitability and improve workflow efficiency.
By automating accounting processes, companies can quickly access financial data, enabling timely reporting to minimize human errors. At the same time, data-based accounting software architecture allows for real-time expense monitoring, which helps to identify accounting gaps and prepare for tax season.
Сompanies consider custom financial software development, where a vendor crafts solutions to address the business's requirements. At Acropolium, we've been providing advanced software solutions for 20+ years for various industries, with fintech being our latest focus.
Accounting Software Market Size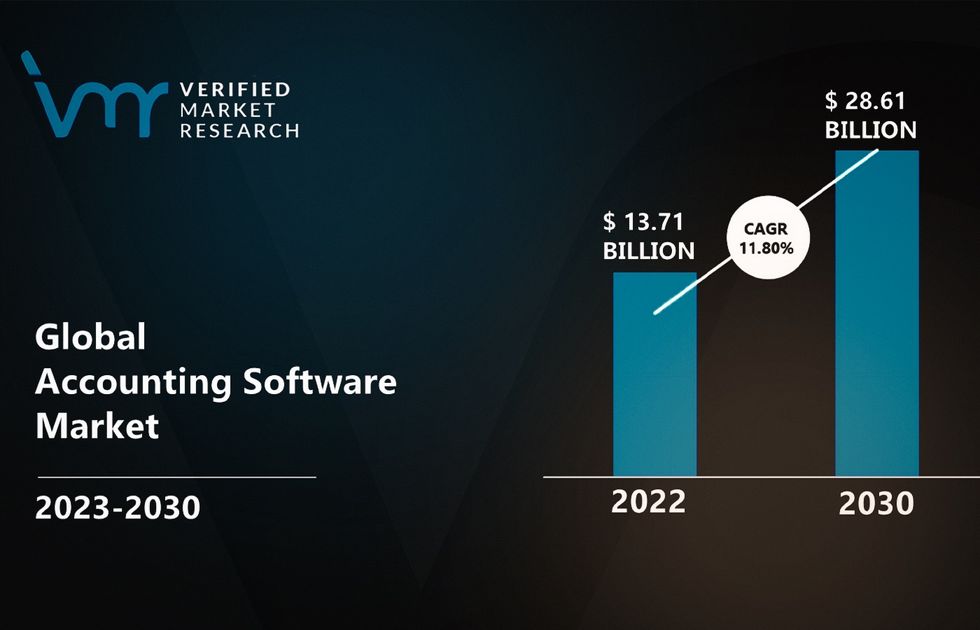 The accounting software market was assessed at $13.71 billion in 2022. Estimated to achieve $28.61 billion by 2030, the evaluation showed a CAGR of 11.8% from 2023 to 2030.
Every business has unique challenges and needs reflected in its accounting operations focus. While the market is saturated with ready-to-use accounting software, their broad-scope capacity might not fulfill specific goals.
With 7+ complex financial services and 18+ consulting projects delivered, we give life to tailored solutions that spark business growth. In this article, we share the fundamental features of custom accounting software, describing its benefits with real-life implementations.
What is Custom Accounting Software?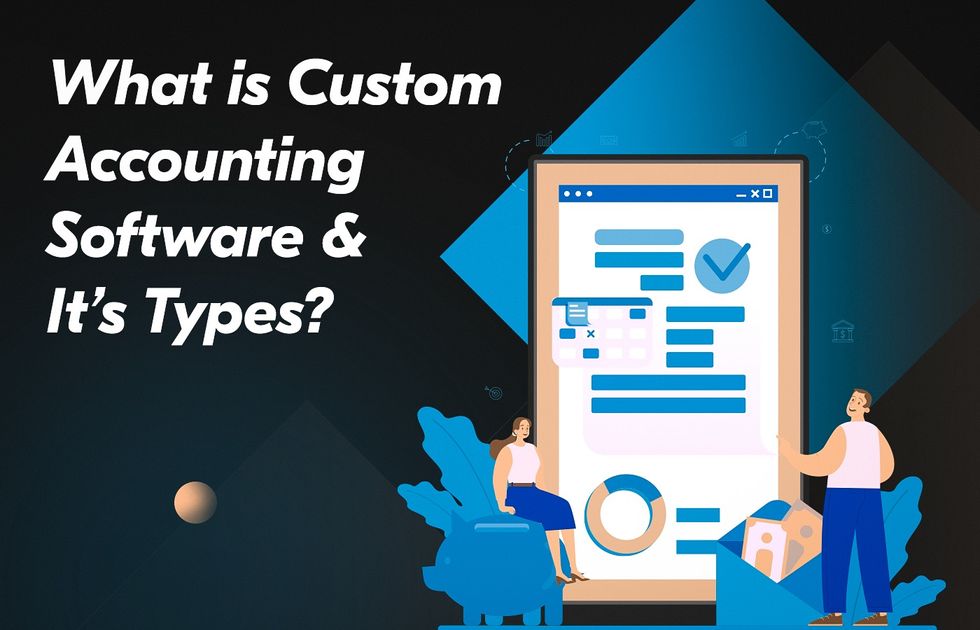 Custom software for accounting refers to the web, primarily cloud-based solutions developed to meet an organization's specific bookkeeping and transaction management needs. Unlike financial systems with pre-built features, customized accounting software comes with a functionality that targets particular business challenges.
Most companies opt for cloud-based accounting systems handled by a third party — from software integration to migration. Essentially, both on-premise and cloud systems require constant performance monitoring and security assessment.
However, in the latter case, a web development company is responsible for system deployment and operational evaluation. That way, cloud accounting solutions allow businesses to automate financial processes while delegating system maintenance and focusing on core objectives.
The main bespoke accounting software advantages empower companies to:
Strengthen core financial operations. With custom financial software development, a product can be built to align with your workflow. Besides controlling the product's future functionality, you can coordinate the UI/UX part, ensuring the tool is user-friendly to your employees.
Increase efficiency. Designed to cover your financial operations, bespoke accounting software can automate required tasks, reducing human error and increasing overall efficiency. As a result, you can experience significant time and cost savings.
Scale smoothly. Accounting software solutions providers craft products that scale along with your business. As your company grows, the software will expand its functions to handle increased volumes of transactions. Such solutions can also support integration with inventory and customer relationship management tools for seamless growth.
Improve data management. The primary focus of digital accounting is centered around optimized data management. You can leverage advanced reporting and analytics with smartly collected and distributed data, promoting better tax management.
Enhance security. For financial operations, it's crucial to ensure proper protection for sensitive information. Therefore, as part of business modernization, accounting software development follows solid security standards to safeguard essential data and reduce breach risks.
Ensure compliance. If your business needs to adhere to specific accounting regulations, your software provider will design a unique compliant solution. Since regulatory requirements vary from country to country, ready-made software might not meet your compliance goals.
Promote cost-effective growth. Custom accounting software costs imply higher upfront expenses than off-the-shelf solutions. This investment, however, can be more cost-effective in the long run, as it eliminates the need for frequent software replacements or costly workarounds.
Sharpen competitive advantage. Automated financial systems can enhance your competitive edge with capabilities that deal with your business pains and highlight your strengths.
Custom Accounting Software vs. Off-the-Shelf Solutions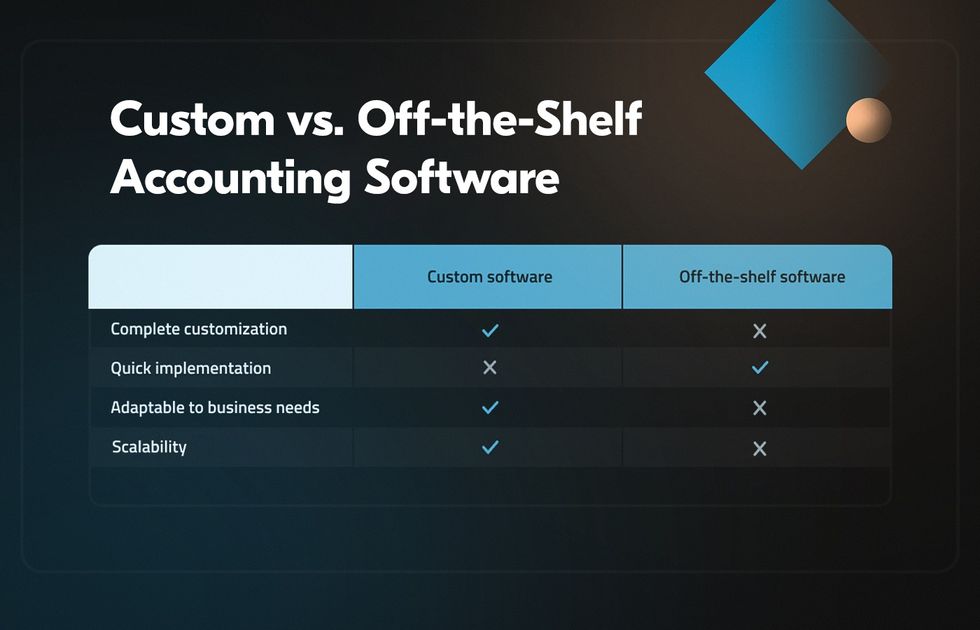 When choosing between custom and off-the-shelf software for financial operations, knowing each solution's business opportunities, pros, and cons is essential. Off-the-shelf solutions are more affordable due to a unified and limited set of features. Ready for instant implementation, they allow businesses to leverage automation quickly. On the other hand, a fixed functionality doesn't support customization, which is crucial for growing businesses with their changing needs.
Bespoke fintech solutions offer an extensive kit of accounting software modules where every feature works for a designated process. Since the development process is tailor-made for each requirement, it takes more time for deployment.
Such an investment results in a one-of-a-kind tool that scales while a business evolves, allowing for integrations with other systems.
Key Benefits of Custom Accounting Software
Developing your accounting product is a complex, time-consuming process and a wise long-term investment at the same time. By partnering with a web development vendor, you can unleash the following accounting software benefits:
Customization and control
Whether you require a platform for crypto trading or ecommerce operations, your product will have only the necessary features. You can modify the functions for anything from fintech applications supporting payment system integrations to receivable and payable management tools. A product that fits your workflow will provide intelligent data allocation and systematization, ensuring faster processing.
Adaptability and scalability
Customization allows for seamless steady progress for companies of any size. For example, startups outsource software development for accounting operations to ensure they can adjust their assets as the project grows. Seasoned businesses operating with custom software can always request a payment system update to improve overall efficiency and user experience.
Integration and compliance
On-premise and cloud-based accounting software solutions are crafted according to your objectives and regulations your business needs to comply with. That enables relevant reporting, eliminating the risk of financial data compilation inaccuracy and maintaining business reliability.
On top of that, organizations can synchronize all operational tool performance with the software's API integration features.
Ownership and competitiveness
The rights to utilize and modify custom accounting software belong solely to your business. You will strengthen your competitive positions by having complete ownership of the product that works specifically for your success.
Features to Consider for Custom Accounting Software Development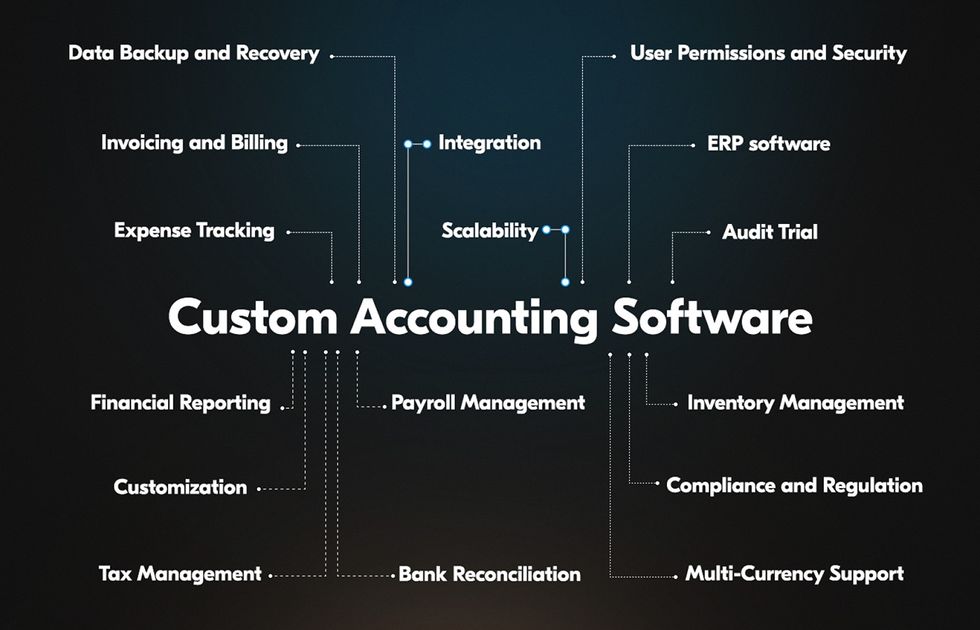 The cost to build a custom accounting app, tools, or platform depends on the scope of functionality of your future custom accounting software. Before outsourcing application development to a vendor, consider which functionalities the product needs to solve your major tasks. The potential accounting system features might include:
Ledger Management
Invoicing and Billing
Expense Tracking
Financial Reporting
Payroll Management
Bank Reconciliation
Tax Management
Inventory Management
Multi-Currency Support
User Permissions and Security
Customization
Integration
Data Backup and Recovery
Compliance and Regulation
Scalability
Audit Trial
Ledger Management
Custom accounting solutions businesses to manage precise and well-structured general ledgers effectively. This feature simplifies the tracking of income, expenses, and financial transactions.
Invoicing and Billing
Bespoke software empowers businesses to create and oversee invoices efficiently, facilitating bill generation, payment tracking, and accounts receivable management.
Expense Tracking
Recording expenses within the system will help you pinpoint cost-reduction opportunities, allowing for accessible expense monitoring and smart cost allocation.
Financial Reporting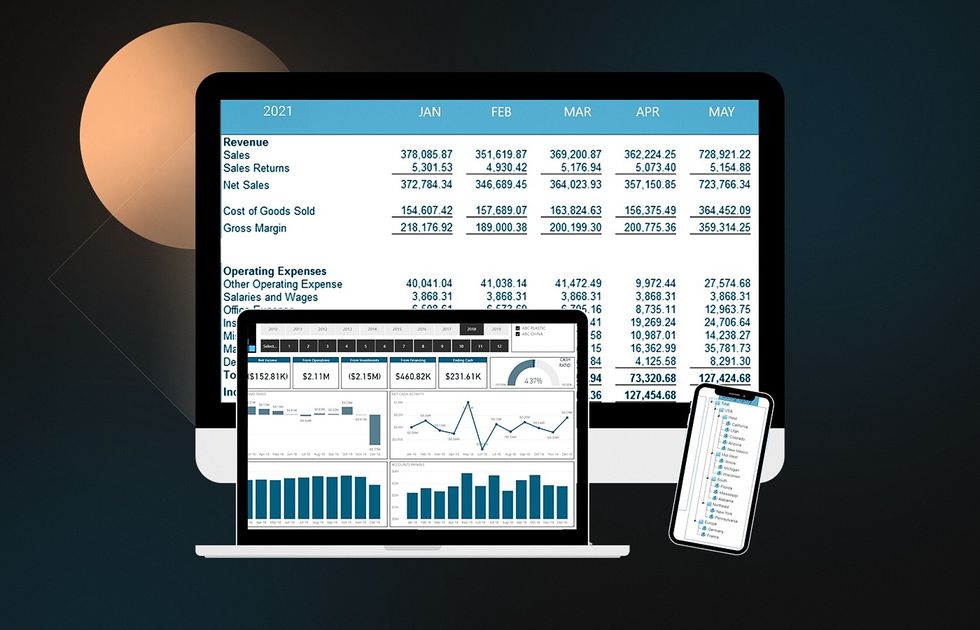 Tailored accounting software provides powerful reporting features. It delivers insights into the financial well-being of an organization through balance sheets, cash flow reports, and income statements.
Payroll Management
Employee compensation tools automate salary, deductions, and tax withholdings calculations. Additionally, it ensures adherence to payroll regulations.
Bank Reconciliation
Your organization can use custom accounting software to align its financial records with bank statements. This process helps to spot discrepancies and improve financial data accuracy.
Tax Management
Accounting systems offer tax management features with accurate and timely taxing reports and calculations for companies processing large transactional volumes.
Inventory Management
Businesses handling physical products can utilize inventory management features to monitor stock levels, set reorder points, and monitor inventory.
Multi-Currency Support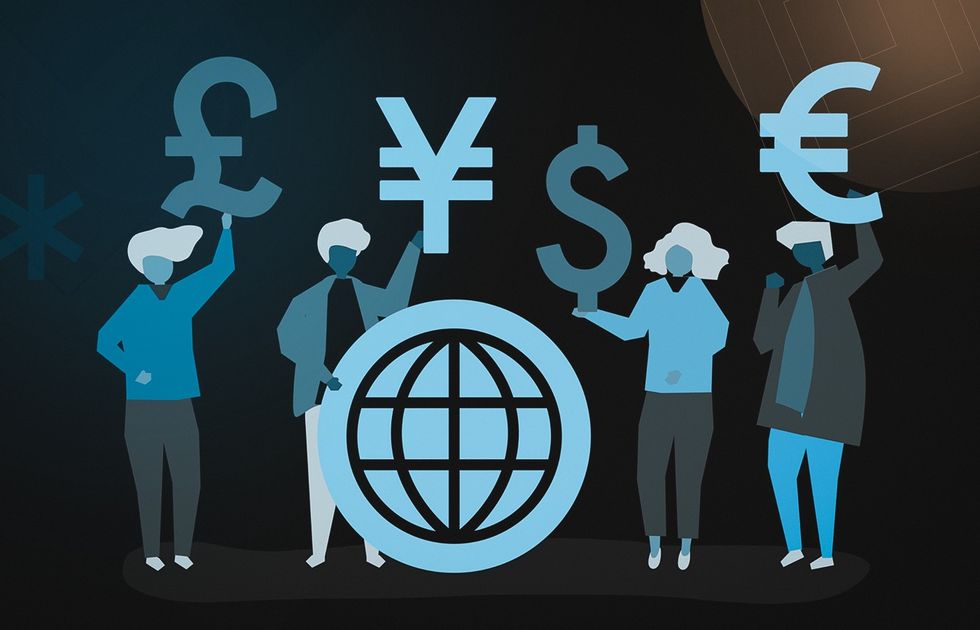 If your business targets the international market, your software should have multiple currency management features and support foreign exchange transactions.
User Permissions and Security
Operating with software offering role-based access control and data encryption is imperative to protect solid data and sensitive records.
Customization
Accounting software reveals the full potential of your business by providing customization of fields, workflows, and integration with other tools.
Integration
If you focus on workflow and asset optimization, your custom accounting app must provide integration capabilities with other business systems. Usually, it refers to customer relationship management (CRM) software, e-commerce platforms, and payment gateways.
Data Backup and Recovery
Comprehensive backup and data recovery functionalities ensure data security, enabling companies to restore financial information in case of system failures.
Compliance and Regulation
Accounting software must adhere to financial regulations like Generally Accepted Accounting Principles (GAAP) or International Financial Reporting Standards (IFRS).
Scalability
Tailored accounting software can expand functionality alongside with the business, accommodating rising data volumes and additional users as required.
Audit Trail
An audit trail function records all modifications and transactions, offering a history of actions taken within the software. The feature is vital for internal control and compliances.
Custom Accounting Software Development with Acropolium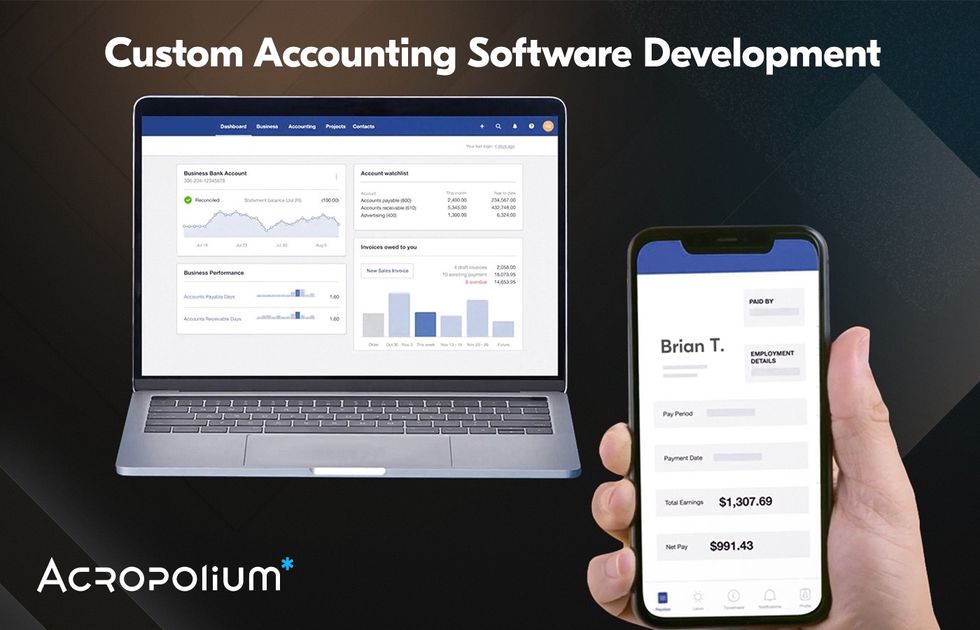 As a certified solutions provider for businesses of various industries worldwide, Acropolium provides all-inclusive accounting software development services. Our client-centric approach and vast expertise in the fintech industry help us deliver measurable results with significant conversion rate increases.
In this success story, we partnered with a leading accounting software company specializing in real-time payments. Acropolium was asked to design an accounting SaaS platform for financial business.
Client goals
Develop a comprehensive, user-friendly SaaS product serving small and mid-sized businesses
Provide simplified invoice creation and forwarding for users
Incorporate multi-tenancy into the invoice and accounting software with multiple payment methods supported
Enable transaction processing, tracking, payments, and report generation
Provide customizable reports with filtering, categorization, and export options for users
Challenges
Managing a tight development timeline and complex business logic while considering various stakeholders with varying needs was the primary challenge. We also had to ensure accurate financial data with thorough testing and validation of reporting tools within a fixed timeframe.
Multi-tenancy for accounting firms had scalability and security challenges since the client aimed to serve multiple clients on one platform.
Solution
We took a comprehensive approach to developing top cloud-based accounting software with clear communication and planning. Key features included a multi-tenancy architecture through a custom website and a tailored user interface for individual client needs.
By integrating Stripe for digital payments, we ensured efficient and secure online transactions. As for usability, our dedicated team added a library of invoice and review templates, saving time and enhancing the user experience.
Our tech stack, including Node.js, React.js, AWS, and Docker, enabled rapid feature development on a robust, scalable foundation.
Outcome
The client received a complex multi-tenant accounting system with software bookkeeping MVP business in just five months. Opting for offshore software development, our partner reached a 30% conversion rate from a free demo to a paid plan.
Final Thoughts
Accounting processes automation provides quick access to financial data, reducing human errors, and enhancing risk management. With accounting software tailored to specific challenges and needs, businesses can reach a new operational level while reducing costs.
Acropolium has been delivering unique, cost-efficient solutions to fintech businesses for over three years. Throughout 20 years of our operations as a bespoke software provider, we know how to create scalable custom software that will realize clients' goals while fitting their budgets.
As an ISO-certified web development partner, our company offers flexible subscription-based cooperation where challenges turn into business success. Contact us to see how we can elevate your accounting operations and accelerate your operations!
Sources of Information