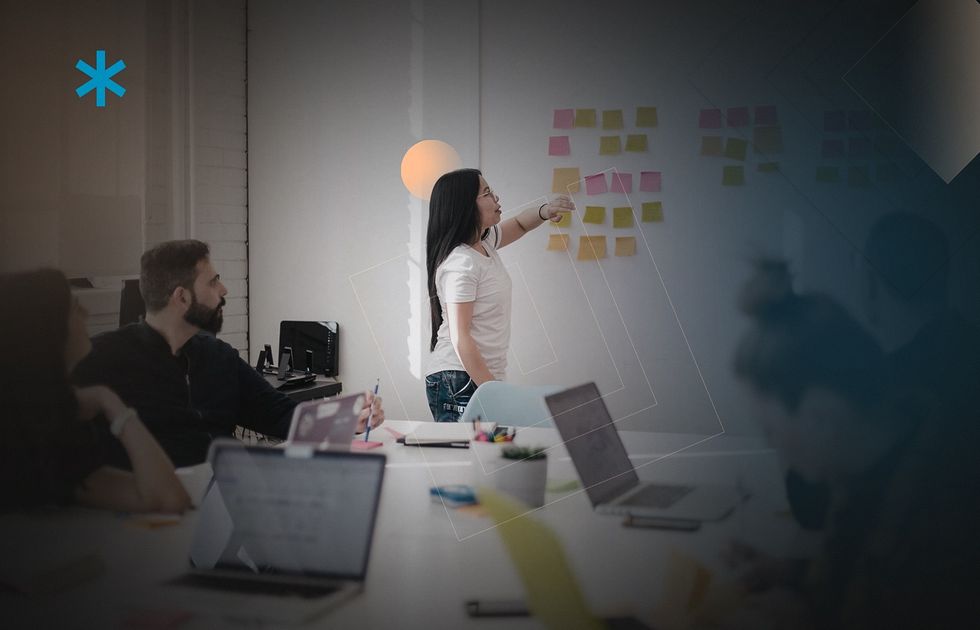 The EdTech market is booming, driven by the soaring popularity of distance learning. More and more entrepreneurs show interest in this niche. The key question they are trying to answer is how to build up-to-date and commercially successful educational software.
If you are one of them, this article is for you. Here, we will analyze why software is vital for education, where the EdTech market is going, and what types of educational software are available. We've used our expertise as a software development company with two decades of experience to outline the trends to define the future of EdTech. Read on to find out more!
Why Does the Education Industry Need Quality Software?
Some old-school educators may be skeptical about the role of digital technologies in their sphere. However, high-quality educational software development does bring several benefits. The EdTech solutions can:
Facilitate remote learning. The importance of this benefit came into focus during the COVID-19 pandemic. Learners and educators no longer need to be in the same classroom or even in the same geographic location. Students can learn from anywhere, which makes them feel more comfortable. Subsequently, it may improve their results.
Make educators more efficient and satisfied. Once teachers get used to new high-tech tools, EdTech can relieve them of some of the mundane duties. For instance, such solutions can make attendance checks much easier. Online teaching platforms enable quicker collecting of assignments and grading. Moreover, online tests can be evaluated automatically.
Boost the advance of personalized learning. Different students may have different educational needs. One learner may help with the basic curriculum, while another may want a chance to explore advanced topics. With EdTech, teachers can be more flexible in accounting for those peculiarities. The learning plans can be tailored to suit various students better.
Increase students' engagement. An interactive tablet app can be much more fun than a conventional paper textbook. Students can visit new locations with augmented reality (AR) or virtual reality (VR) tools and play educational games.
Make collaboration easier. Online tools allow students and teachers to collaborate on assignments during classes and after school. Learners can contribute to the same project remotely, discussing different details in group chats. They can also contact instructors for clarifications via built-in messengers or video calls.
Make education more accessible. EdTech allows more people to learn effectively. Firstly, specially designed software helps pupils with special needs. Secondly, learning becomes less location-dependent. A mobile phone with an internet connection broadens educational possibilities considerably.
Do all those benefits make education software development a prospective investment? To answer this question, let's look at the EdTech market.
Global EdTech Market: A Brief Overview
The global EdTech software and smart classroom market is valued at around $102 billion in 2022. The experts expect a staggering compound annual growth rate of almost 18% in the next seven years. Thus, by 2029, the market will triple in size, reaching $319 billion.
The increased investments in the education sector have been fueling market growth in recent years. Another game-changer is the increase in mobile penetration along with the reducing cost of online learning materials. Therefore, the market will likely demonstrate burgeoning growth in the near future.
Mobile learning is expected to become even more popular in the coming years. Stimulated by the COVID-19 threat, governments put more emphasis on creating online or distance learning programs and tests for students. Thus, the demand for mobile learning services will probably grow.
The key segments of this market include admission automation tools, learning management tools, administration tools, alumni, placement, and library management tools.
The researchers predict the learning management systems to be the fastest-growing segment. The reason is new capabilities enabled by Artificial Intelligence. Also, the rising student enrolment around the world will boost the popularity of the admission automation software.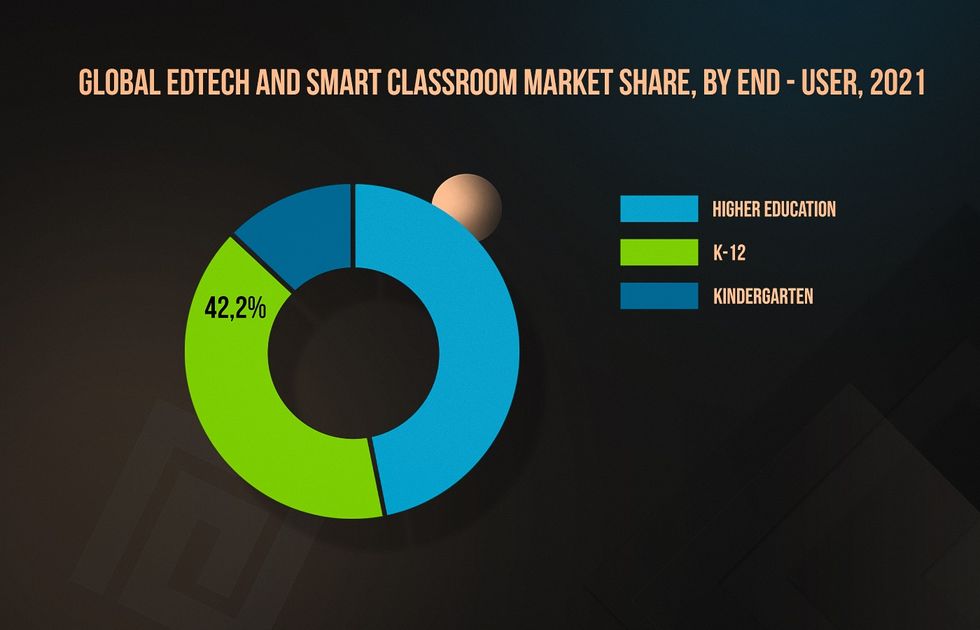 The solutions for higher education are likely to occupy the largest part of the market as the expenditures and funding are growing. However, the COVID-19 pandemic has also facilitated the adoption of EdTech instruments in the K-12 sector.
Main Types of Educational Software
Educational software comes in many shapes and sizes. However, according to the purpose of its creation, it can be roughly divided into four major types. Let's see a short overview of each of them.
Learning content creation software
This category includes authoring tools and Learning content management systems (LCMSs). The latter are far more complex: they are designed to create, host, manage, and track e-learning content. The crucial features of such solutions include templates for course creation, a learning objects repository to store, manage, and share the learning resources, a grading system, course management, training tracking, and motivation tools.
Learning delivery and completion tracking solutions
Learning Management Systems (LMSs), including online course platforms and e-learning portals, fall into this category. Also, there are Learning Experience Platforms (LXP) designed to boost personalized learning with the support of Artificial Intelligence. Such solutions often feature discussion forums, chats, video conferencing tools, student profiles, course management tools, learning paths, and feedback gathering.
Reporting and analytics software
Learning Record Systems (LRSs) and Learning Analytics Platforms (LAPs) belong to this category. LAPs are more sophisticated solutions, allowing administrators to optimize the learning environments by analyzing how students learn and how educators teach. The key features, in this case, are training tracking, reporting, and competency mapping to identify the workforce skills gaps.
Management and administration software
The Student Management Systems (SMSs) and Training Management Systems (TMSs) belong to this category. SMSs help teachers and administrators to manage all the routine operations of a training organization, including scheduling and communications.
The functionality may include events scheduling; tools for managing users, instructors, and facilities; admission, attendance, and examination management instruments; staff management tools for tracking and assigning activities.
Trends to Shape Education Software Development in the Coming Years
EdTech software solutions not only gain popularity but also evolve. They embrace new technologies and become increasingly sophisticated to meet the needs of modern learners and educators. Here are the trends that, in our opinion, will influence the industry in the near future.
The use of blockchain for security and transparency
Educators vigorously explore the possibilities of using blockchain in EdTech. This technology can help educational institutions to store students' records securely and employ reliable identity authentication. Moreover, blockchain may be instrumental in establishing a transparent and accountable evaluation system. Therefore, EdTech developers might want to pay close attention to blockchain-based educational platforms and applications.
The continuing rise of mobile learning and microlearning
Packaging information in short lessons has proved more effective than long lectures. Straight-to-point learning sessions are engaging and can be accessed when a learner has some free time. That's where the ability to use educational apps on mobile devices comes in handy. Thus, dedicated mobile app development or at least creating a user-friendly mobile version is a must for modern educational software.
The growing importance of Big Data
The wide adoption of distance learning due to the pandemic shutdowns provided educational institutions with a unique opportunity to collect more student data than ever. Those huge datasets can contain valuable insights. For instance, instructors could measure the effectiveness of different educational methods against students' performance. Hence, Big Data technologies are becoming indispensable in educational software development.
The wider use of Artificial Intelligence
AI-powered solutions have proved their usefulness for a wide variety of purposes in education. These include personalized learning, smart content creation, task automation, 24/7 assistance, and so on. Such tools as AI-assisted immersive classrooms, chatbots, and AI grading solutions are likely to continue the transformation of education. If you are about to build an EdTech solution, you may require the help of experts in Artificial Intelligence and Machine Learning.
The increasing complexity of gamification features
Gamification is now widely used to boost learners' engagement. Learning more like a computer game with points, virtual badges, and levels boosts motivation and improves results. In the nearest future, gamification is likely to become even more complex. For example, a teacher may couple an originally structured educational program with a detective story. Your educational solution should provide the possibilities for such experiments.
The penetration of AR and VR
Augmented reality (AR) and virtual reality (VR) tools allow students to practice what they learned in a simulated environment. Adding virtual elements to real-world scenarios also boosts student engagement. Simulated and lifelike environments offer much more vivid explanations than textbooks. Though AR or VR implementation is a complex endeavor, it may well give your EdTech solution a competitive advantage.
The soaring popularity of subscription-based learning
Selling access to particular courses is a common practice in e-learning. Lately, however, more and more educational platforms offer users to buy monthly or yearly subscriptions and get access to multiple courses. Of course, it is up to you to decide whether a subscription model fits your particular case. However, if your educational solution will offer to purchase something, it will surely need a secure payment gateway with several payment options.
Read also: The Power of Subscription Models
The use of cloud technology
Cloud technologies allow students to easily access educational materials from any device anywhere. Teachers, on their part, have no difficulty managing them. Also, cloud-based solutions make collaboration among learners much easier. On top of it, such software is easier to build, maintain, keep secure, and scale. If you plan to build an EdTech solution, you may want to consider using a cloud.
The remaining security concerns
As EdTech software becomes more and more widespread, cybersecurity threats will remain an issue. Data leaks, ransomware or malware attacks, and cyberattacks may disrupt the educational process and even endanger students and teachers. Therefore, the task of securing your educational solution should not be taken lightly. Take all necessary precautions and check it for vulnerabilities before the release.
The preference for multifunctional solutions
Using multiple software solutions to cover all the needs of educational institutions has its downside. Often integrating them into the cohesive digital ecosystem is problematic. As a result, institutions started to favor multifunctional solutions. In some cases, they are ready to invest time and money in custom EdTech software development.
How to build an EdTech software
If you are interested in creating an educational software product but are unsure how to proceed, here is a brief step-by-step guide:
Find your niche. Will your solution provide supplementary learning content or extra tech solutions for some education scenarios? Or will it be a full-fledged tech product covering assignment creation, distribution, and grading? You may also want to create an EdTech marketplace. Think of the direction you want to take.
Identify the target audience and the problem to solve. Who are your potential users? Who will buy your product — adult learners, parents who want their kids educated, or educational institutions? Which of their problems will you try to solve? For instance, students with poor internet connection and limited access to a PC may appreciate a lightweight, full-featured mobile app.
Conduct market research. Identify your competitors and their offers. What are they doing right? What are they missing? Which audiences do they cater to?
Choose a monetization model. Decide on how your software solution will make money. Will it contain ads – video advertising, banners, interstitials? You may also sell additional services, features, or courses. Or you may charge users for access, offering them subscriptions. It is also possible to use a combination of different models.
Determine the positioning of your product. How is it different from the competitors? Will enough people be interested in your solution to make it profitable? How will you make your brand recognizable and attract new customers?
List the key app features. The exact functionality may vary depending on the concept you choose. However, you probably need some communication features (forum boards, chats, video conferencing tools, etc.). Also, you may want to provide instruments for assigning and assessing tasks, easy-to-use search and filters, and security features (such as two-factor user authentication).
Choose the way to build your educational solution. You have three major options:

Using an app constructor. It is the cheapest option to create an educational app without coding. However, you will hardly be able to come up with something unique. Besides, there is a risk of maintenance issues or unsatisfactory performance.
Assembling an in-house team. You will need a project manager, back- and front-end developers (including Android and iOS developers), UX/UI designers, Quality Assurance engineers, and testers. Building such a team will take months and significant financial investment in recruitment and infrastructure.
Outsourcing software development. With a reliable and experienced technology partner, you can get a high-quality product while saving time and money, as well as avoiding the administrative hassle of in-house hiring. Outsourcing companies can find the required specialists as swiftly as possible and provide them with everything they need to work on the project.
Read also: Software Development for a Startup
Tips on selecting a development partner for an EdTech project
Though software development outsourcing offers significant benefits, it also has some risks. However, they can be easily mitigated if you choose the right partner. We'd like to offer you some advice on how to find such a partner.
Don't rush through the Request for Proposal stage
You might be eager to start working on your project. Nonetheless, don't make any rush decisions. To access your potential partner, check its clients and references. Study the company's portfolio and ask about previous projects. Take time to make sure the company has relevant experience and expertise. It is better to start a project a little later with the right partner than start it early with the wrong company that will fail you.
Find out how the company deals with challenges
Your partner must have an efficient strategy to cope with unpredictable scenarios effectively. You should find out how transparent, accountable, and proactive this company is. Ask its representatives about their most challenging projects and how they successfully completed them. Discuss how your potential partner is prepared to deal with miscommunications if they arise.
Assess how your partner is prepared to boost your business
A reliable educational software development partner wants to get to the core of your business first. It is essential to build a solution that will contribute to your success. Such a company asks about your target audiences, who your future users are, how you came up with the idea of educational software, etc. If a potential partner isn't too interested in your business background, that should be a red flag for you.
Why choose Acropolium for education software development?
Our team will be glad to take on your EdTech project. Acropolium is a solid custom software development partner with a proven record of building the most comprehensive digital solutions for medium and enterprise businesses.
We've been creating complex web apps and desktop solutions for 19 years and have worked with companies from more than 20+ industries. Our team has delivered 450 applications for almost 148 partners and customers. Our software development processes are ISO-certified. That means we use optimized workflow to save clients' time and money while maintaining the consistent quality of our products and services.
Acropolium has strong expertise with GDPR-compliant software, which is essential for building EdTech solutions dealing with personal data. We also know how to build serverless solutions that provide more flexibility and scalability along with shorter time-to-market and reduced costs.
Final Thoughts
EdTech software continues to transform the education industry. The market for such products will likely continue to grow soon. Educational software embraces cutting-edge technologies, such as Artificial Intelligence, virtual and augmented reality, blockchain, big data, and cloud platforms.
Some other trends involve the rise of mobile learning, microlearning, and gamification. EdTech solutions will have to become increasingly more complex and multifunctional to get a competitive advantage.
Therefore, successful educational software development requires the expertise of a trustworthy partner. Acropolium is ready to build a new EdTech solution for you. Our subscription-based software development services will cover all everyday needs of a software development project at a stable monthly fee. You can learn more about this cooperation model here.
Contact us, and let's shape the future of the education industry together!