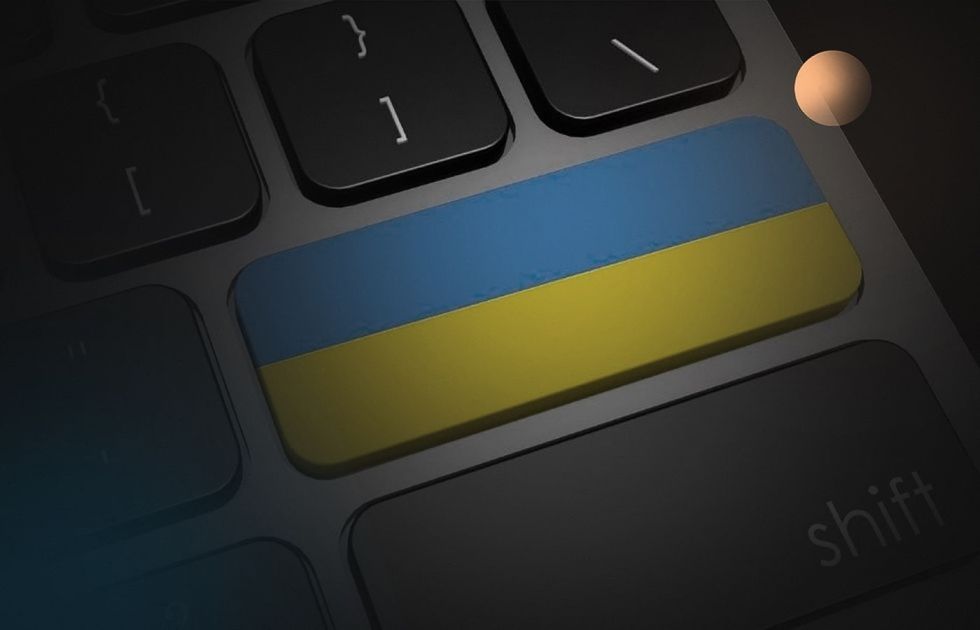 Software development outsourcing is becoming increasingly popular every year, and for a good reason: the benefits of saving money, accessing a global talent pool, and accelerating development cannot be ignored. What's more, according to the 2022 Commit survey, outsourcing for software development might increase by 70% between 2022 and 2023.
This means that even more companies will face the question, "Which country is best for outsourcing?" Of course, it's difficult to give a straight answer since many factors influence the final choice.
Still, we can confidently say that some of the best outsourcing software development companies are in Ukraine, and we recommend you consider this direction. More than that, we offer you ten reasons to outsource to Ukraine today and assure you that each of them is worth your attention.
So, let's start and consider the current situation in Ukraine.
Software development outsourcing destination stays resilient
For the last couple of decades, one of the most popular destinations for IT outsourcing has been Ukraine. A huge talent pool, affordable prices, broad software expertise, and other reasons we'll discuss below have lifted Ukraine to the top ratings.
For example, in 2010-2014, Ukraine ranked in the top 30 World Outsourcing Destinations by Gartner, and in 2017 and 2021, the British organization Global Sourcing Association announced Ukraine as the winner of the Delivery Destination of the Year nomination.
After the Russian invasion of Ukraine on February 24, 2022, a lot has changed but not the allure of Ukraine for software development outsourcing.
In fact, it took most Ukrainian software companies just a month to relocate their staff and restore their previous activity. According to the IT Ukraine Association's survey, 52% of companies retained 100% of their contracts, 32% of companies — 90-99% of contracts, and only 16% lost about 10% of agreements.
Just think, for the first half of the year, during the war, Ukrainian IT managed to retain profits and increase software exports by 23% compared to the identical period in 2021!
At the same time, software became the major supporter of the Ukrainian army and people within the country. Almost all tech companies, regardless of size, have donated thousands of dollars to purchase ammunition, humanitarian aid, or weapons. 3% of Ukrainian software specialists joined the armed forces, and 5-9% of specialists participated in government, volunteering projects, or the cyber army.
Yes, Ukrainians now have a cyber army to fight back hacker attacks, discover fake news, and help intelligence with gathering information.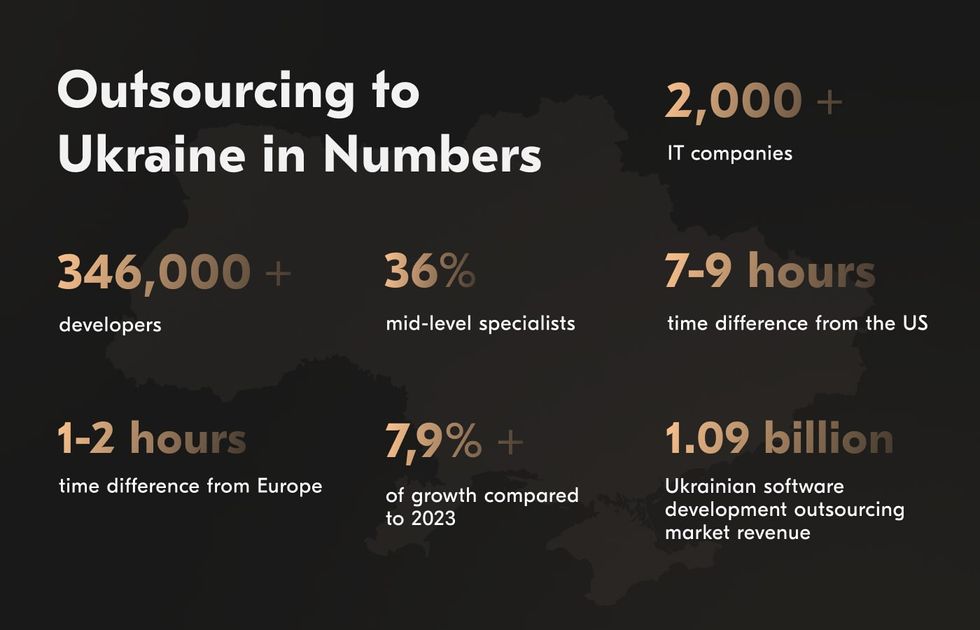 Ukraine and Ukrainian IT are resilient and stronger than ever. That's why you shouldn't worry about war in Ukraine more than any other outsourcing risks. Ukrainians have experienced crises multiple times, and that has only made them stronger.
So instead of second-guessing, check out the reasons why Ukraine is one of the best outsourcing destinations and find your confidence.
High-quality and available tech education
The Ukrainian government and society traditionally pay much attention to higher education. In fact, 83% of Ukrainians have at least a bachelor's degree. So, to keep up with demand, hundreds of universities operate in Ukraine and provide high-quality education: eleven Ukrainian universities are even included in the QS World University Rankings.
About 200 universities have one or more IT-related specialties, so approximately 30,000 students graduate with computer science degrees annually. Most of these graduates continue to study at courses from private schools to deepen their tech knowledge or expand their skills.
Some Ukrainians also choose not to go to university but enroll in tech courses in private schools after getting secondary education.
On top of that, large companies provide beginner software specialists with internships to prepare junior developers with practical experience and skills in 3-6 months. As a result, most software companies hire highly-educated specialists ready to excel at their job.
The best thing is that bright students can get free higher education, internships, or courses. For that, they must put much effort into passing tests or interviews and overcoming their competitors. This way, the industry attracts the best people even if they can't afford the training.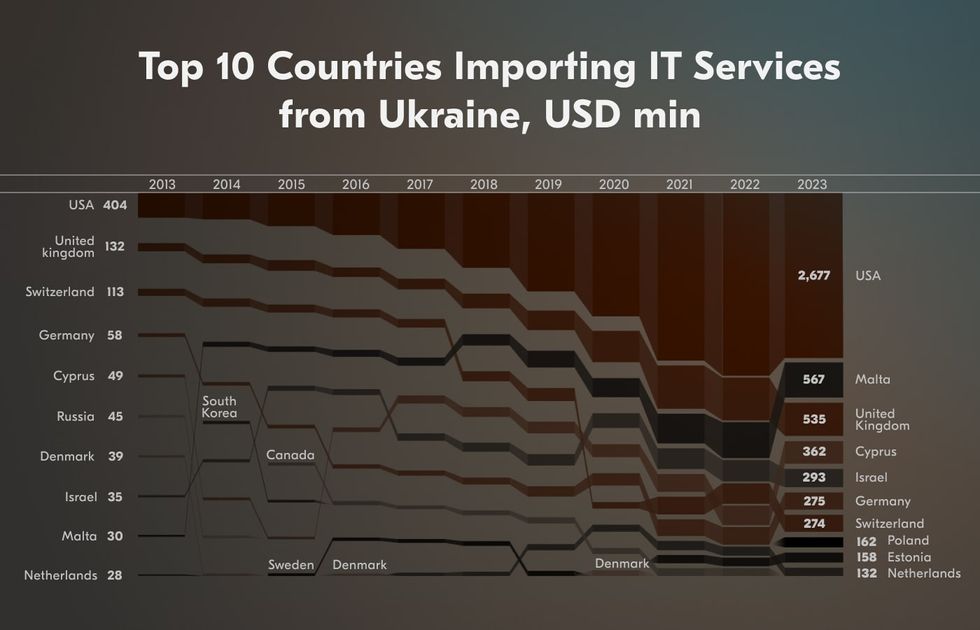 Developed software community
The education of tech specialists doesn't stop with getting a job, as Ukraine has a vast software community, which offers many opportunities for development and knowledge sharing. Until February 24, more than twenty IT clusters operated in Ukraine — in Kyiv, Dnipro, Kharkiv, Lviv, Odessa, Poltava, Mariupol, Ivano-Frankivsk, Mykolaiv, Vinnytsia, and Kremenchuk.
Most of them continue to work today, and even more: people who migrated to western regions of Ukraine for safety reasons are forming a new IT cluster in Mukachevo (a small city next to the Hungarian border).
Clusters actively cooperate with schools and universities to adapt the curriculum to the market's needs and attract youth. In addition, they host major Ukrainian and international events, workshops, internships, and courses for software developers and other tech professionals.
For example, the Lviv IT Cluster hosted eight annual international conferences that have been visited by 18,192 attendees from more than 40 countries. And even during the war, the cluster continued its activities: in the spring of 2022, it organized the IT Future project to introduce schoolchildren to the tech industry.
So, the Ukrainian tech community helps its members to develop, learn, and exchange ideas and attracts future generations of software professionals.
Vast talent pool and tech stack
Access to tech education leads to an obvious outcome — a vast talent pool with a wide tech stack of Ukrainian specialists. Let's look at the numbers, shall we?
At the beginning of 2022, 285 thousand people worked in Ukrainian IT. Although about a quarter of software specialists relocated abroad because of the war, most continue working for Ukrainian companies. So, for you as a customer, the talent pool has remained the same.
At the same time, Ukrainian tech specialists' skills are quite diverse: the most popular programming languages ​​in Ukraine are JavaScript, C#, Java, Python, and PHP. Other widely used languages ​​are Kotlin, Swift, C++, TypeScript, Go, and Ruby.
Ukrainians know how to work with blockchain, fintech, healthcare, and governmental projects. This is easy to check by looking at the most popular apps used in Ukraine: Privat24 and MonoBank (internet banking), Diia (an official governmental app to get public services, pay taxes, and show ID or driver's license to authorities), and Helsi (online public healthcare portal). Ukraine can also brag about having many highly demanded specialists, such as data science, artificial intelligence (AI), or cloud engineers. For example, Acropolium offers its clients to build AI-based software, chatbots, and Internet of Things apps, or conduct software modernization by engaging the most experienced engineers.
So, be sure you'll find experienced developers for any of your project's demands by outsourcing to Ukraine.
Easy communication
As you might know, hard skills are not enough to build a perfect project. But, you'll be lucky to work with Ukrainians who are as good with soft skills as they are with technical expertise.
Most Ukrainians are easy-going and open to discussion, so it will be easy for you to work with them, especially if you hire a dedicated software development team. In addition, 75% of Ukrainian software professionals know English since companies pay for employees' language lessons. So, you don't need to worry about the language barrier or miscommunications.
Ukrainian companies also understand the importance of customer service and are flexible in meeting clients' needs. For example, they can plan a meeting after business hours or overwork sometimes to meet deadlines.
As proof, you can easily find photos of Ukrainian tech people working from bomb shelters. Ukrainians even joke that every citizen can now add "the ability to work under stress" to their resumes.
On top of that, over the past decades, the digitalization of services has reached a new level in Ukraine. For instance, any Ukrainian can register various documents or sign and send papers online with an app. So, you can be sure that most formal procedures won't take much time.
Variety of software services providers
Hundreds of vendors from all over the world are ready to offer Ukrainian tech specialists jobs. According to a Beetroot report, there are 3,000-5,000 software companies in Ukraine, and 60% of them provide outsourcing services.
Before the full-scale invasion, more than half of the companies were located in Kyiv, a quarter in the eastern and southern regions, and about a quarter in the other areas. Today, most companies from territories bordering Russia, such as Kharkiv, have relocated their offices or employees to the western regions of Ukraine, which are safer. Considering that most tech professionals got used to working remotely during the pandemic, such changes don't interfere with their effective work in any way.
More companies also mean more diverse services, vendor types, specializations, and pricing models. According to Clutch, 226 companies offer bespoke software and custom software development in Ukraine, 206 — web development, 140 offer mobile app development, and 104 — software strategy consulting. You can also find more narrowly-focused businesses, such as cloud consulting, staff augmentation, big data consulting, CRM consulting, and so on.
So, you can easily find an outsourcing software company for your needs with significant expertise and great reviews.
Global recognition
Talking about the reviews: Ukrainian IT has earned global recognition and secured its status. For example, Google, Samsung, and Amazon have R&D centers in the country, and many tech startups are founded in Ukraine or by Ukrainians.
For instance, Jan Koum, co-founder of WhatsApp, and Vlad Yatsenko, co-founder of digital bank Revolut, are both of Ukrainian origin. Such startups as Grammarly, Ajax, MacPaw, and RefaceAI were also founded in Ukraine and have headquarters there.
Even Bill Ackman, an American billionaire investor and hedge fund manager, recently tweeted:
"Idea: recruit engineers from @Ukraine. They are extremely talented, hard-working, and grateful, and you will be doing good."
So if the billionaire and multi-billion companies entrust their projects to Ukrainian specialists, you can too.
Hight data security and quality of service
Ukrainian companies also know that you need more than trust to sign contacts, so they use all legal methods to guarantee the security and confidentiality of your data. For example, signing a non-disclosure agreement (NDA) and a data processing agreement (DPA) is a standard procedure. And most software development outsourcing companies provide services for developing HIPAA and GDPR-compliant software.
In addition, some Ukrainian companies have ISO and other certifications. For example, Acropolium is ISO 9001:2015 certified, which officially confirms the company's quality of service. Basically, this certification means that Acropolium follows international standards for providing services based on customer-centric principles, effective leadership, and risk-based thinking.
So, you can be sure that your and your customer's data is safe and secure.
Beneficial business environment
Ukraine's government understands the tech industry's importance for the country and adapts the legislation to promote its development. For example, many software companies practice hiring Ukrainian developers as contractors or self-employed workers rather than employees on paper, although they still get the same benefits as employees. They do it because taxes on such a contractor-employee are several times lower (5% instead of 22%). This way, outsourcing companies can set lower service prices, which is the next reason to hire Ukrainian companies for outsourcing.
High value for fair money
Let's be honest, the main reason for outsourcing for most companies is to save money. And Ukraine is ideal for this as it's pretty high in the rate of offshore countries by cost-effectiveness. The average hourly rate of a developer in Ukraine is 2-3 times lower than in the UK or the USA and even lower than in Poland and other Eastern European countries. Of course, you can find the lowest prices in Asia or South America, but be aware of the cultural, time, and other differences.
Opportunity to support Ukraine
Last but not least, by hiring Ukrainians, you support the country and help it to be one step closer to winning the war and bringing stability to Europe. If you think that your contribution is not that significant, let's look at the numbers:
Software development companies working in Ukraine brought 3.74 billion in export earnings to the country's budget for the first half of 2022.
Ukrainian software companies donated about $28 million in the first two months of the war.
Ukrainians daily donate for civil and military needs from their personal accounts. Did you know that the Ukrainian people (not the government) bought a satellite for the needs of space intelligence?
So, by outsourcing to Ukraine, you help software companies and their employees stand up for the country and its freedom.
If you don't like the idea that your money ends up buying weapons, you can always ask the company where they donate. Believe us, there are many options, from rescuing animals to rebuilding houses destroyed by Russian bombs. In any case, remember: one dollar you donate to the Ukrainian army saves ten dollars donated to Ukrainian refugees.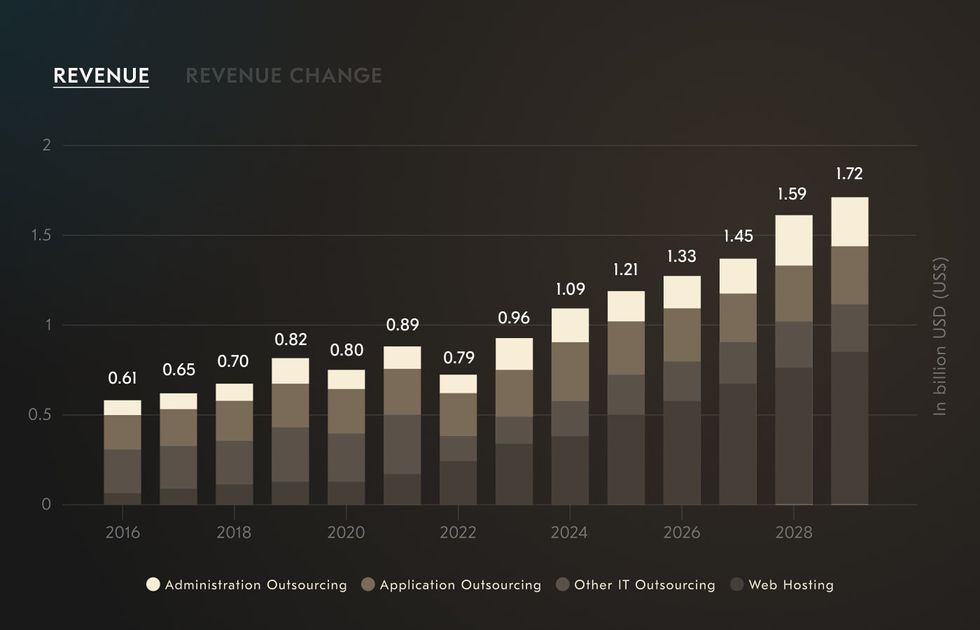 Acropolium — your software development outsourcing partner with Ukrainian roots
Acropolium is a software outsourcing company with Ukrainian roots, and some of our dev teams work in Ukraine today. We support Ukraine and our Ukrainian employees, without whom many of Acropolium's achievements wouldn't have been possible, including 170 small and medium projects and 50 custom solutions for various enterprises.
Acropolium has earned its reputation by implementing projects for fintech, retail, healthcare, hospitality, and other industries. We have achieved expertise in almost any type of software service, from document generation to AI software. For example, we've developed hotel channel management multi-platform web and mobile solutions for one large hotel chain digitalizing the entire business.
Such a variety of services and subscription forms has allowed us to attract both small businesses and Fortune 500 companies as clients. Some of them chose IT consulting or custom software development, while others chose our subscription-based service that covers the common needs of a software development project at a monthly fee.
In any case, all our clients have been satisfied with our services as we apply our expertise and professional approaches to service providing, as confirmed by ISO. As proof, we can show Acropolium's high rating on Clutch and GoodFirms. You're welcome to check it yourself and contact us if you have any questions.
Final thoughts
Companies have many reasons to outsource software development to Ukraine: affordable prices, high professionalism, and quality of work, combined with excellent service and communication. Today, unfortunately, you have one more reason to hire a software development company from Ukraine — to help Ukrainians bring victory closer and restore peace in the country.