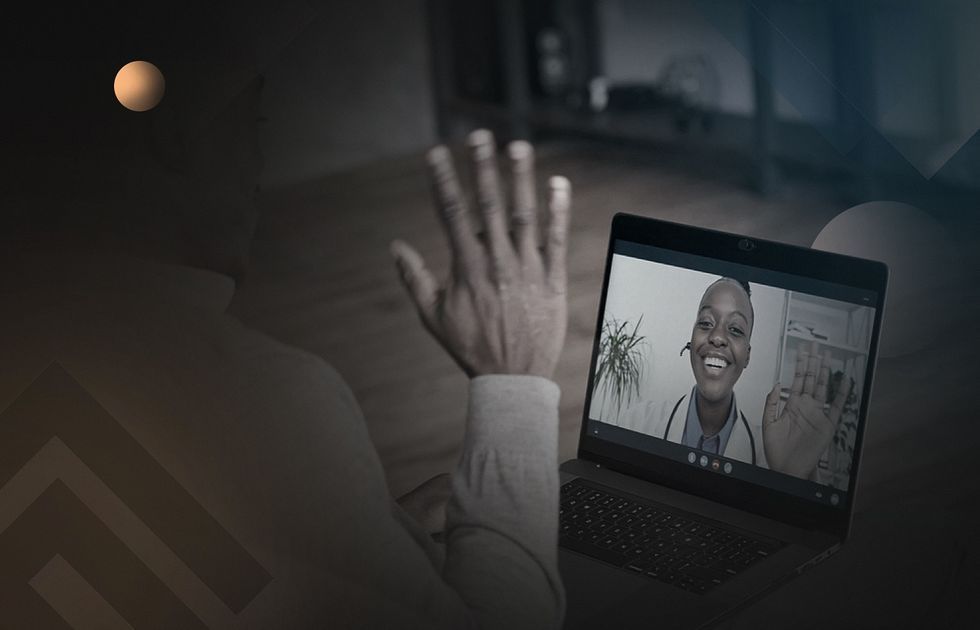 Today, a telemedicine software company notices doctors' and patients' growing interest in remote healthcare. Statistics also confirm these observations. In 2022, the global telemedicine market was valued at $60.8 billion and projected to reach $225 billion by 2030.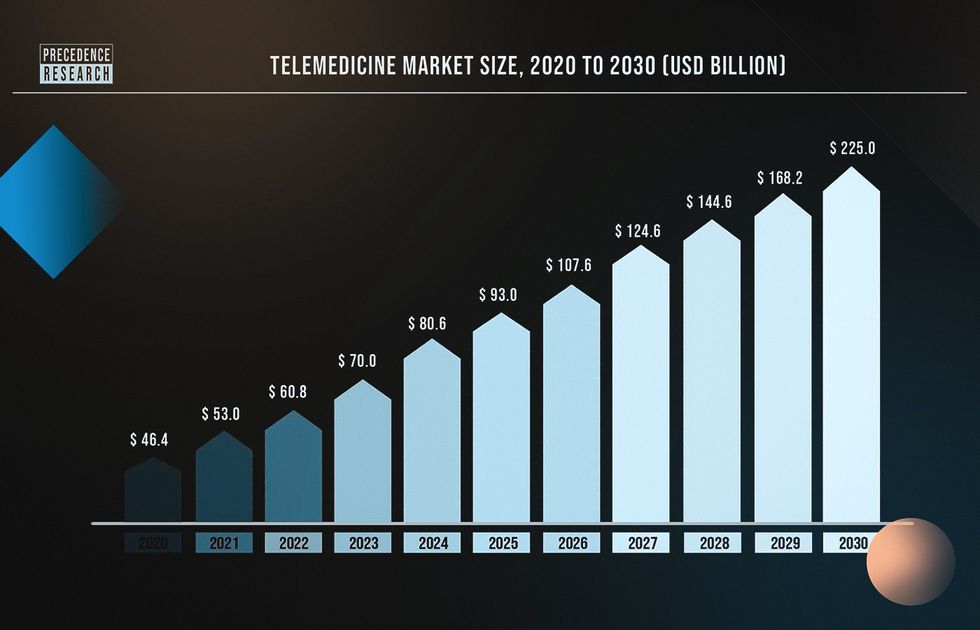 Telemedicine offers improved quality and safety of services, addressing the rising burden of diseases and the growing senior population. In addition, maintaining patient records and providing doctors with valuable insights enhances the overall healthcare experience.
As a telemedicine app development company, Acropolium has been at the forefront of healthcare transformation. In this article, we want to share our expertise and discuss bespoke software types and benefits, crucial features to include, and a step-by-step guide to its building. Also, you will know the approximate cost of telemedicine app.
Read further to discover real-world examples of popular solutions and our cases of building addiction recovery, veterinary telemedicine, and pharmacy kiosk software.
What is a Telemedicine Application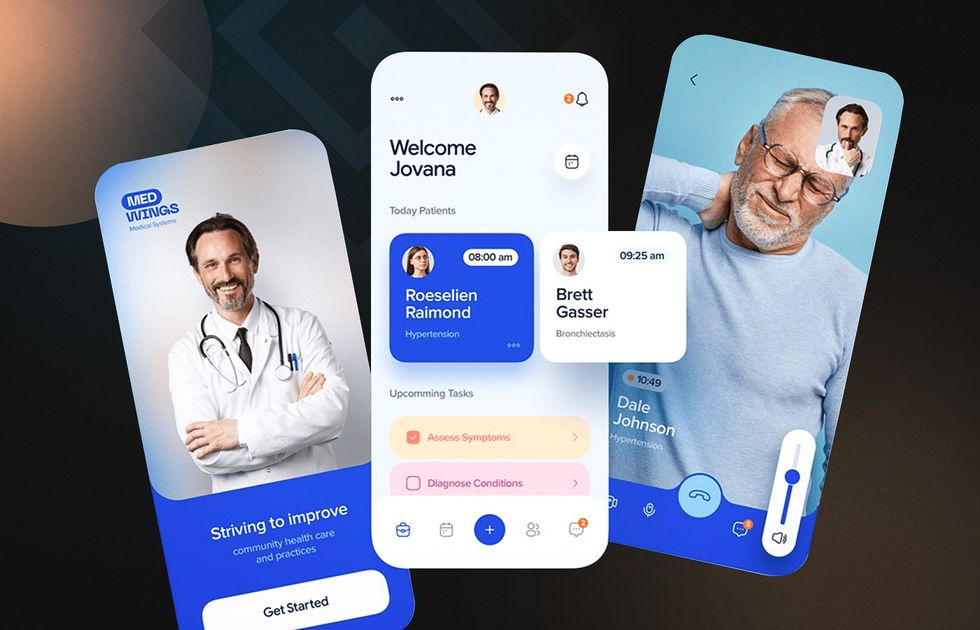 Telemedicine applications enable patients to receive medical advice, diagnosis, treatment, and prescriptions without visiting a physical clinic or hospital. Instead, they communicate with specialists through video, audio, and text.
The terms "telemedicine" and "telehealth" are often used interchangeably. Yet, there is a subtle difference between the two:
Telemedicine focuses on the direct delivery of medical care from healthcare providers to patients in a remote setting.
Telehealth application includes both remote clinical services and non-clinical services like health education, health monitoring, administrative tasks, and provider training.
Types Of Telemedicine Applications
Telemedicine software solutions have three main types based on their primary focus and functionality:
Digital Therapy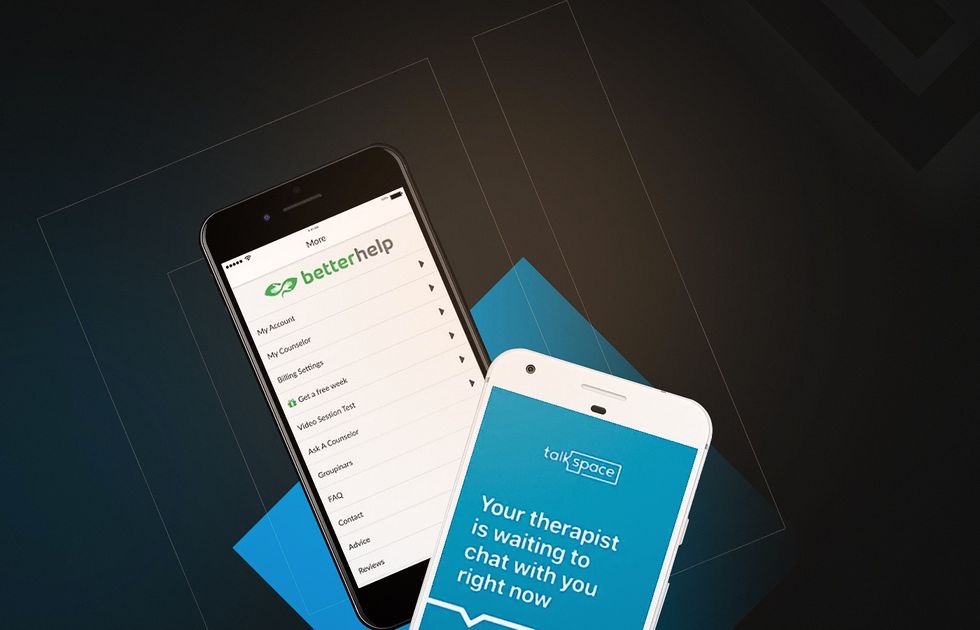 These solutions focus on providing remote mental health support and therapy services. Telemedicine mobile apps often offer features like appointment scheduling, virtual therapy sessions, and secure messaging for ongoing support.
Popular telehealth applications for digital therapy include Talkspace, BetterHelp, and Ginger.
Remote Monitoring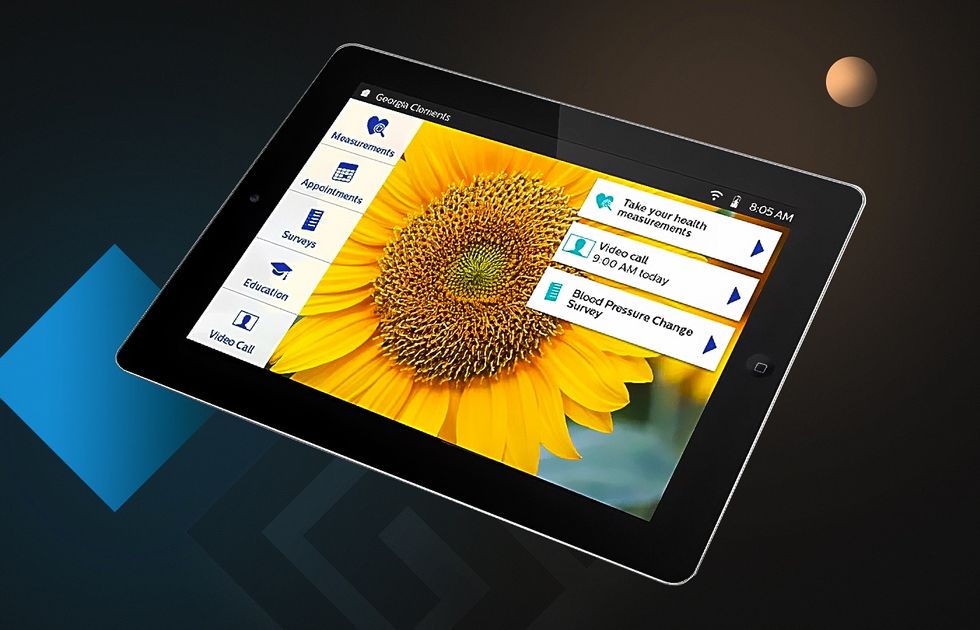 These telemedicine software platforms allow healthcare providers to remotely monitor patients' health conditions and vital signs. For example, people use wearable devices or medical sensors to track their heart rate, blood pressure, glucose levels, or oxygen saturation and transmit this data to doctors.
Examples of apps for remote monitoring include Philips eCareCompanion, Cardiogram, and Medtronic CareLink.
Chronic Conditions Treatment
These telemedicine app development solutions let patients with diabetes, hypertension, or asthma connect with doctors for regular check-ups, medication management, and lifestyle guidance.
Examples of software platforms for chronic condition treatment include Livongo, Omada Health, and MyHealthTeam.
Telemedicine App MVP: Features list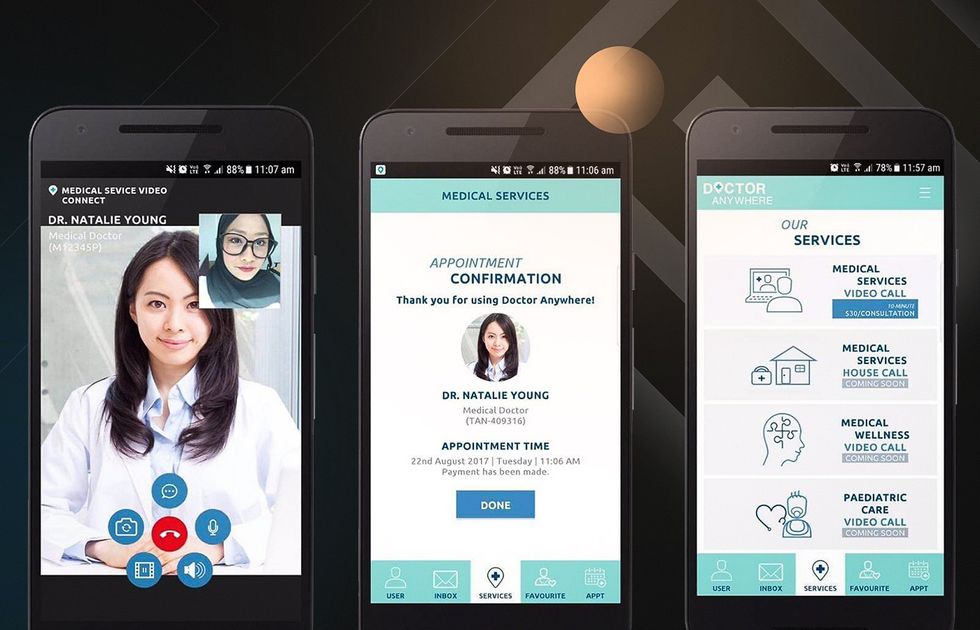 Telemedicine applications for healthcare offer a range of features to facilitate remote interactions and streamline the medical process for all participants:
For Healthcare Professionals:
Doctor's profile. Let doctors create and manage their professional profiles, including their qualifications, specialty, and availability.
Virtual consultations. Doctors should conduct live video or audio consultations, providing remote healthcare services and addressing patient concerns.
Secure messaging. Allow healthcare providers to securely communicate with patients and share sensitive information.
Electronic Health Records (EHR). Doctors can access and manage patient health records, including medical history, lab results, and treatment plans.
Appointment scheduling. This feature allows doctors to handle their schedules and offer online appointment booking to patients.
Prescription management. Include in the telehealth app for doctors the opportunity to generate electronic prescriptions and send them directly to pharmacy platforms.
Clinical notes and documentation. Let medical specialists record patient interactions, diagnoses, treatments, and follow-up plans for accurate documentation.
Telemonitoring integration. Integration with remote monitoring devices helps medicians receive and analyze patient data.
Billing and payment processing. Include in your teleconsultation app for doctors the ability to generate invoices and track payments.
For Patients:
Patient profile. Allow patients to provide relevant personal information, medical history, and preferences.
Search for doctors. Patients should easily find and select healthcare providers based on desired specialty, location, availability, and reviews.
Appointment booking. In the telehealth app for patients, scheduling consultations with doctors based on availability is essential.
Virtual consultations. Ensure remote access to healthcare services through live video or audio consultations.
Secure messaging. Let patients securely ask doctors non-urgent questions and discuss concerns.
Health data tracking. Patients can track their vital signs, symptoms, or activities — manually or through integration with wearable devices.
Medication reminders. Enrich telemedicine apps for patients with notifications to ensure timely and accurate medication intake.
Access to medical records. Access to diagnoses, lab results, and treatment plans is vital for patients.
Integration with wearable devices. Users can integrate their fitness trackers with telehealth mobile apps and share this data with doctors.
Telemedicine App Development Cost
Telemedicine software cost depends on many factors, from app complexity to the location of the dedicated team. However, we've prepared a table with average time for creating popular telemedicine app features:
| Feature | Approximate Development Time (Hours) |
| --- | --- |
| Patient & Doctor Profiles | 150-350 |
| Appointment Scheduling | 200-450 |
| Video/Audio Consultation | 250-400 |
| Text Messaging | 200-350 |
| Electronic Health Records (EHR) | 150-250 |
| Prescription Management | 80-150 |
| Payment Processing | 90-150 |
| Notifications | 40-60 |
| Total | 1160-2160 |
Accordingly, the telemedicine platform cost for MVP may vary from $180,000 to $335,000.
Why Develop Telemedicine Apps
If you're wondering if patients are willing to trust a telemedicine app, the answer is yes. 69% of people are ready to use such solutions for common illnesses treatment, 66% for follow-up visits, and 49% for talk therapy. Also, 44% of patients think it is convenient for chronic condition management.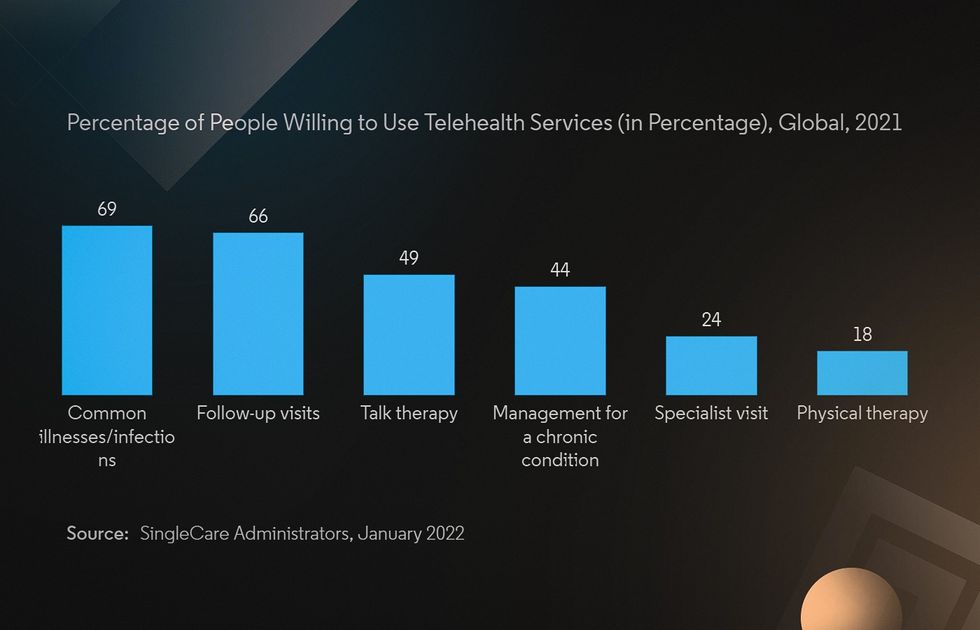 Telemedicine software development company offers numerous solutions to bridge the gap between patients and doctors. Let's review all the advantages.
Enhanced Access to Care
Overcoming Geographical Barriers
Best telemedicine apps for doctors and patients break down distance barriers, allowing users in remote or underserved areas to access healthcare services.
24/7 Healthcare Availability
Unlike traditional office hours, patients can connect with doctors anytime, including evenings and weekends.
Reduced Waiting Times
Create telemedicine app that reduces the need to wait for in-person appointments.
Access for Underserved Populations
Telemedicine software systems also cover individuals with limited mobility or transportation challenges.
Increased Convenience for Patients
Scheduling Flexibility
The telemedicine platform allows patients to book appointments at their preferred time and avoid long waiting room visits.
Time and Cost Savings
Patients save time and money by avoiding working day-off, traveling, or parking. For example, pediatric telemedicine is 9% less expensive than traditional hospital care.
Home-Based Care
Such healthcare app development enables patients to receive care from home, reducing the need to visit a clinic.
Improved Medication Adherence
Teleconsultation platform for doctors and patients improves medication adherence by providing reminders, prescription refills, and educational resources.
Endless Opportunities of Telehealth Apps for Doctors
Remote Monitoring
Such apps can early detect potential issues and offer timely interventions, improving patient management and reducing hospital readmissions.
Administrative Cost Savings
Telemedicine helps doctors reduce expenses associated with physical infrastructure, administrative tasks, and non-essential appointments.
Collaboration and Consultations
Telemedicine platforms for doctors facilitate collaboration between healthcare providers, allowing them to seek second opinions or conduct multidisciplinary consultations.
Practice Growth and Competitive Edge
Offering telemedicine services can differentiate healthcare providers and attract new patients.
Real-World Examples of Successful Telemedicine App Implementations
By examining the best telemedicine software companies, we gathered valuable insights.
Doctor On Demand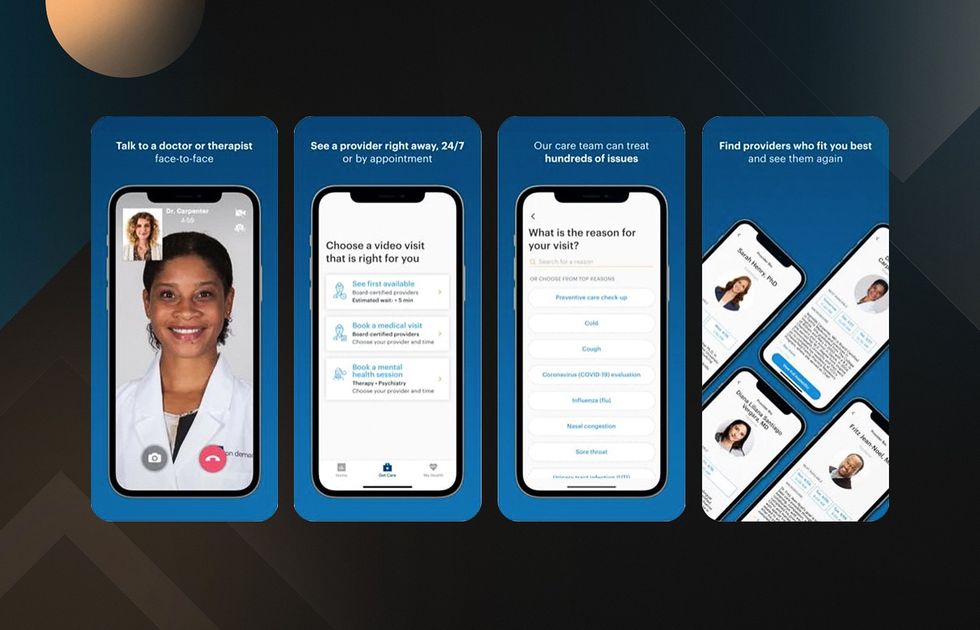 Doctor On Demand is a telemedicine app for doctors and patients. The platform provides urgent (allergies, cold and flu, infections), mental, preventive, chronic, and skin care. Also, it works with most insurance providers.
This app has demonstrated reduced absenteeism, improved access to mental health services, and high patient satisfaction. To repeat their success, ensure user-friendly interfaces, align with employer wellness programs, and integrate with existing healthcare networks.
Teladoc Health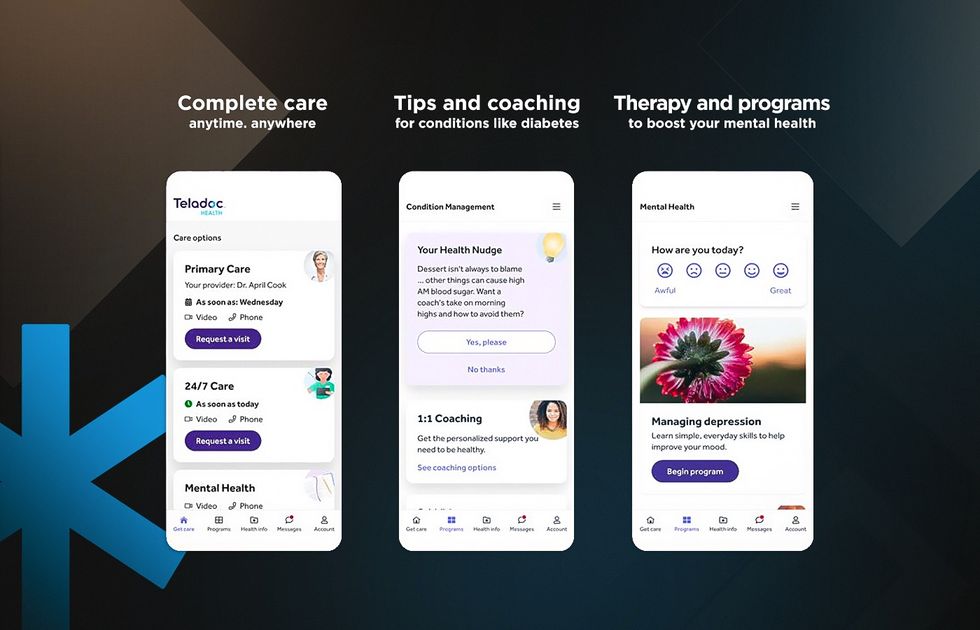 Teladoc Health is one of the largest telemedicine providers, offering primary care, mental health, condition management, and specialty and wellness care. Their solution connects patients with board-certified doctors, therapists, and specialists 24/7.
Teladoc has reported positive outcomes, including reduced hospitalizations and emergency room visits, improved access to care, and high patient satisfaction rates. When planning a telemedicine app development, consider robust infrastructure, a user-friendly interface, and multi-language support.
How to Build Telemedicine App for Better Customer Experience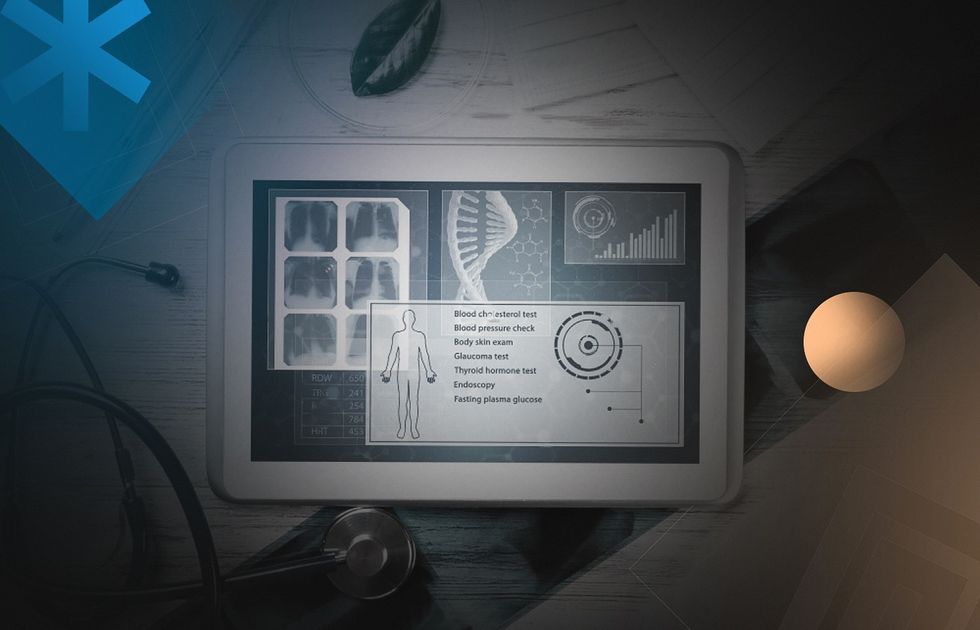 Knowing more about the solution's benefits and core features, you may wonder how to develop a telemedicine app. The building process covers various stages, from market research to software creation and scalability.
Let's overview each of them in detail and calculate an appropriate telemedicine app development cost.
Define the Unique Needs of Healthcare Organizations
At this stage, the telemedicine website development company should:
Communicate with healthcare providers and administrators to understand their needs, challenges, and desired outcomes.
Analyze the existing workflows and processes to identify areas for improvement.
Tailor the app's features to suit the specific needs of the organization's specialty.
Understand the regulatory environment and compliance requirements specifics.
Define a realistic budget and project timeline based on the desired project scope.
Build a User-Friendly Interface
Building a user-friendly interface is a critical aspect of telehealth app development. The UI/UX designer needs to:
Incorporate clear information hierarchy and visually appealing design elements.
Minimize the number of steps required to complete common tasks.
Optimize the app for different devices and screen sizes.
Ensure that the app follows accessibility guidelines and standards.
Provide clear instructions and tutorials to familiarize users with the interface.
Gather user feedback, conduct usability testing, and make iterative improvements.
Develop Front-End and Back-End
Telemedicine mobile app development is a complicated process where the vendor should:
Select the appropriate tech stack based on the app requirements.
Build the user interface, interactive elements, and data presentation.
Develop the backend to handle data storage, user authentication, and business logic.
Embed robust security measures and HIPAA-compliant features to safeguard patient data.
Integrate Your App with Existing Healthcare Systems
Building telemedicine platform allows the company to access patient information and streamline workflow. Connect APIs and integration modules to seamlessly integrate the telemedicine platform with electronic health records (EHR), practice management software, and billing systems.
Test and Deploy the Telemedicine App
At this stage, the telehealth website development company ensures the solution works as intended and prepares the app for release:
Conduct functional, performance, usability, security, and compatibility testing.
Address any issues, bugs, or defects identified during testing.
Make iterative enhancements to the app's features, UI, and overall UX.
Prepare comprehensive documentation for healthcare providers and users.
Develop a detailed plan for deploying the app to the target environment.
Provide Monitoring and Maintenance
Work with the telemedicine software company continues after the release. You should set up monitoring tools and processes to check the app's performance, usage patterns, and user feedback.
Why Choose Acropolium?
Acropolium is a telehealth app development company with a long track record of advanced projects. Our specialists consider your unique business needs and provide solutions that adhere to the timeline, budget, and desired features.
And here are some reasons to choose Acropolium's telemedicine software development services:
Our services comply with global healthcare industry standards like HIPAA and HITECH.
To guarantee the security of patient information and clinical data, we follow GDPR and ISO 9001 process standards.
Acropolium delivers telemedicine solutions with E-prescribing, telemetry and remote tracking, patient portals, billing, etc.
We use top-notch technologies, including IoT and IoMT, AI/ML, data analytics, blockchain, video streaming, chatbots, and GPS.
Acropolium Case Studies
Let's look at custom telehealth software cases developed by Acropolium.
Addiction Recovery Mobile App Development
A private center for psychological assistance for people with addictions contacted us. It needed a cross-platform application to minimize offline communication on sensitive topics and provide patients with online help.
After the mHealth app development, the flow of new patients to rehabilitation increased by 36%.
Veterinary Telemedicine Platform Development
The e-commerce company for pet owners wanted to provide on-demand veterinary consultations. Our telemedicine app developers found a reliable video communication provider and integrated this option into the mobile application.
The upgraded telemedicine app development solution helped the client increase new users by 67%, customer loyalty by 37%, and pet sales by 44%.
Kiosk Software Development for Pharmacy Kiosks
A company that sells and installs kiosks in supermarkets and pharmacies asked Acropolium to develop a solution and integrate it with third-party devices. We have added the possibility of a video chat between the specialist and the customer.
This kiosk software made it possible to increase sales by 47%, profitability by 60%, and customer loyalty by 54%.
Final Thoughts
Telemedicine provides convenient access to healthcare services, improving patient satisfaction and enabling timely interventions. With the increasing adoption of telehealth website development services, patients can now receive medical consultations and monitor their health conditions without physical visits.
Acropolium, a leading provider of HIPAA compliant telemedicine apps, knows how to optimize the patient experience and streamline healthcare delivery. Contact our team to explore our innovative solutions on a subscription-based basis, leading to an accessible cost of telehealth software.
Sources of Information