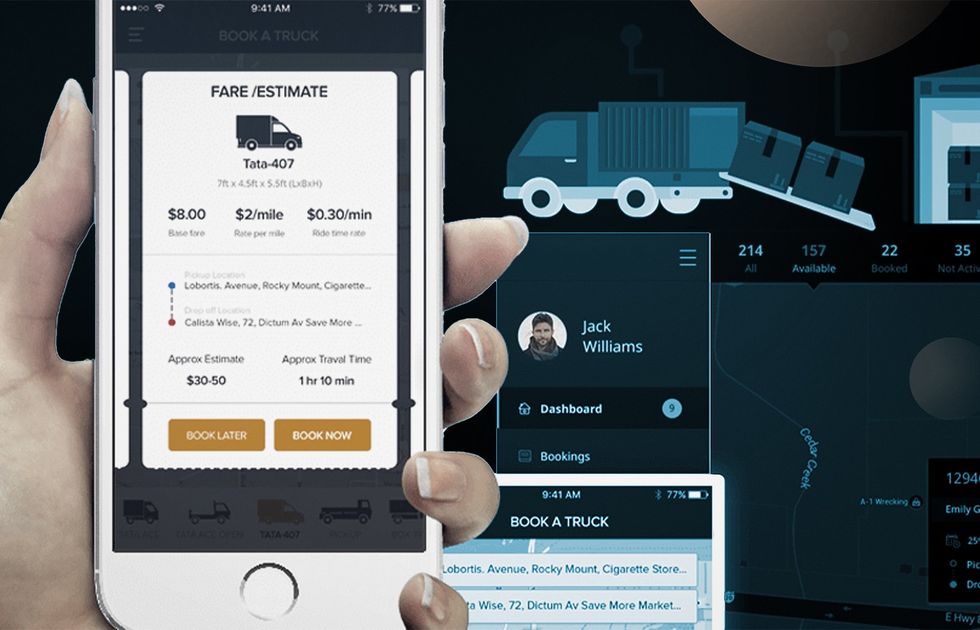 With the many moving parts of the supply chain operations, implementing automation is vital to staying competitive. Logistics providers utilize truck dispatch software to streamline the management processes and deal with the ever-increasing customer demand.
The pandemic has dramatically changed online shopping behavior. In 2020, the US ecommerce market experienced a significant increase of 26.4%, growing to $4.248 trillion. As ecommerce is reshaping the logistics industry, it brings out many challenges.
Increased online orders require new delivery, warehousing, and management approaches to adapt to the B2B2C landscape. This is where trucking dispatch software comes in. From route planning and truck monitoring to data-driven response management and compliance maintenance, it allows supply chain managers to optimize the workflow.
There are many dispatch trucking software solutions — from off-the-shelf to custom, and each suits specific business needs. Acropolium is an experienced provider of bespoke software development services for the logistics industry. Having delivered over 23 comprehensive custom solutions over 9 years, we know how to optimize your supply chain operations.
This article will guide you through different truck dispatching software, explaining the difference between tailored and ready-to-use solutions. Read on to discover real-life cases and make an informed decision that will accelerate your logistics business cost-efficiently.
Top Features of Trucking Dispatch Software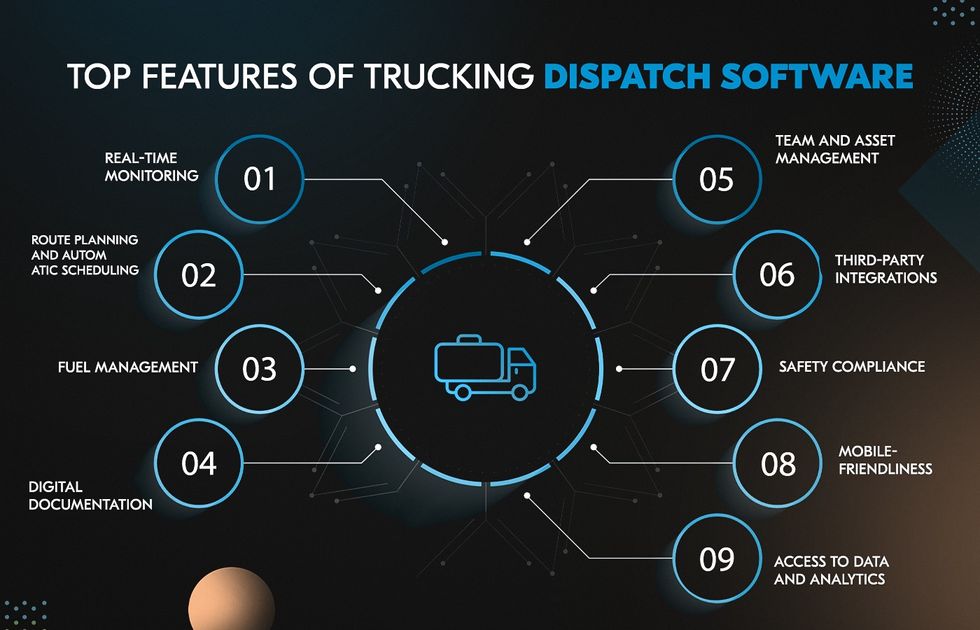 Automation implies simplicity, usability, route optimisation and cost reduction in dispatch and carrier management. Since manual dispatch involves simultaneous planning, response, and tracking, minor disruptions might result in delays, affecting the company's revenue and reputation.
Therefore, effective dispatch software for trucking should have the following features.
Real-time monitoring
The load tracking feature offers dispatchers, managers, and customers insights on the ongoing delivery. It enhances customer satisfaction by providing transparency over route details and package location.
Route planning and automatic scheduling
Customizable schedulers with templates speed up route planning. This feature comprises custom shifts, driver shift control, and time-off requests for efficient management.
Fuel management
A fuel management feature is essential for monitoring fuel consumption and costs, from driver gauge checks to fleet-wide analytics. The main goal is to boost efficiency, measuring effective fuel-to-energy conversion.
Digital documentation
Essential documents should be archived in a unified base, including BOLs (Bill of Lading), PODs (Proof of Delivery), and all associated papers. That way, businesses can access the documentation and strengthen their operations based on relevant data.
Team and asset management
Employees should directly communicate with their managers, addressing shift concerns or scheduling conflicts within the truck dispatch system. At the same time, the software must come with a base of your fleet, allowing you to assign specific tasks to dispatchers, drivers, and managers.
Third-party integrations
Whether tailored or off-the-shelf, trucking software must allow you to integrate other tools for logistics process optimization. It can be a map API support for real-time route adjustment or a payroll systems compatibility feature for streamlined payments.
Safety compliance
Following safety standards prevents machinery issues, hefty fines, and future complications.
Mobile-friendliness
Trucking software must be available on mobile to allow truck drivers to check schedules and request changes and time off. Having a truck dispatch app ensures flexibility and better process coordination.
Access to data and analytics
The trucking dispatch software should arrange, store, and share electronic documents. Accessible to all stakeholders, data integration from multiple sources is crucial for incident response and risk management.
5 Best Truck Dispatching Software to Consider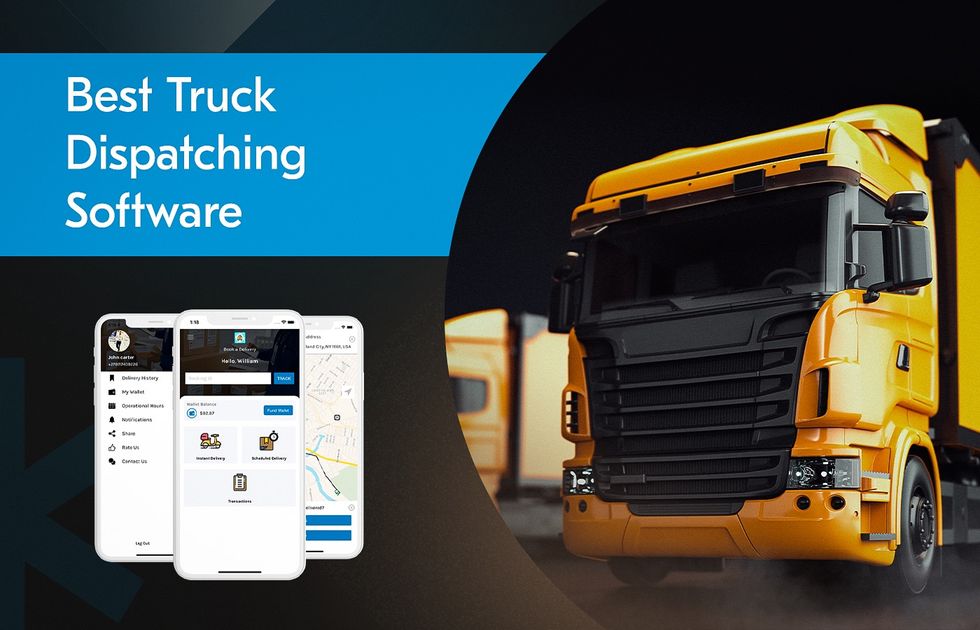 Here's an overview of the best trucking dispatch software solutions utilized by supply chain businesses: Truckbase, TruckSpy, Trimble, ITS Dispatch, TruckingOffice.
Truckbase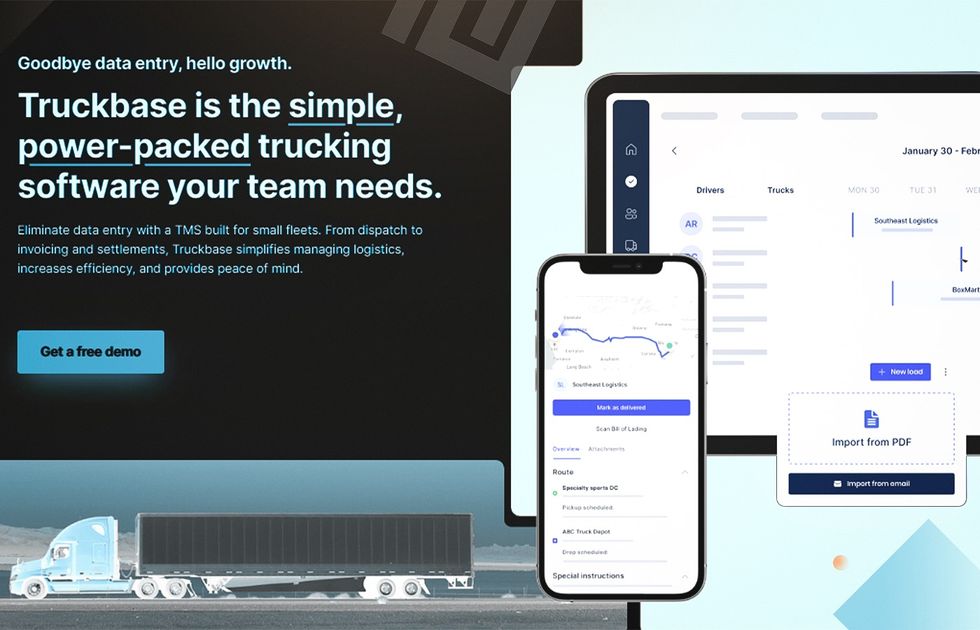 Truckbase is an easy-to-use truck dispatch management software for small and mid-sized carriers striving to expand their fleets. Affordable and straightforward, it automates back-office tasks for smoother operations. Dispatch management is streamlined with minimal data entry. Load building and dispatch are automated using a PDF importer, text-based driver communication, and integrated mobile scanning for BOLs. The product enhances cash flow with instant invoicing and financial reporting. It also helps to increase driver trust through straightforward settlements, eliminating unnecessary hassle and data entry.
Best for: small and medium-sized businesses.
Features and advantages of Truckbase:
A mobile-friendly truck dispatcher website.
AI-driven PDF importer for load building and dispatch automation.
Direct scanning and BOLs upload for drivers.
Prompt driver notifications.
Instant invoicing for better cash flow.
Automatic settlement generation based on load and driver data.
Ability to include stop pay, reimbursements, and provide additional pay.
Disadvantages of Truckbase:
Limited workflow customization.
Not compatible with some trucking software.
Lack of functionality to serve large enterprises.
TruckSpy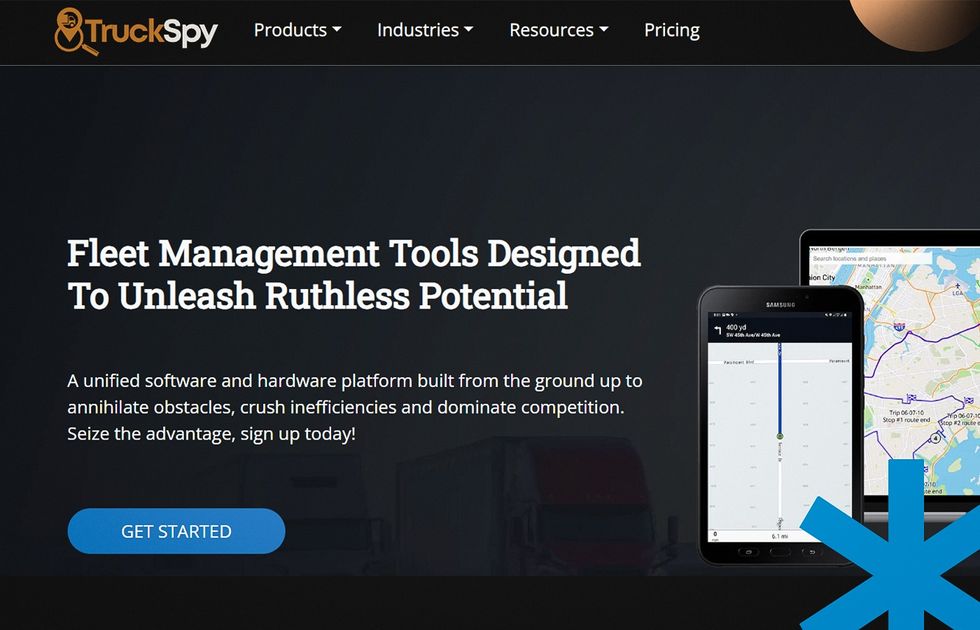 TruckSpy is a comprehensive fleet-management platform. It focuses on enhancing driver compliance, safety, and productivity. As web truck dispatch software, TruckSpy ensures driver efficiency with a drag-and-drop dispatch system and route deviation checker. Partnering with FedEx, the product also provides transparency for customers with estimated time of arrival for stops.
Best for: large enterprises and FedEx contractors.
Features and advantages of TruckSpy:
Real-time drag-and-drop dispatcher and estimated time of arrival (ETA).
AI-based analysis for more efficient routes on the go.
Advanced document management.
Regular automatic updates.
Disadvantages of TruckSpy:
No customization for reporting.
Lack of vehicle information.
Non-intuitive interface.
Trimble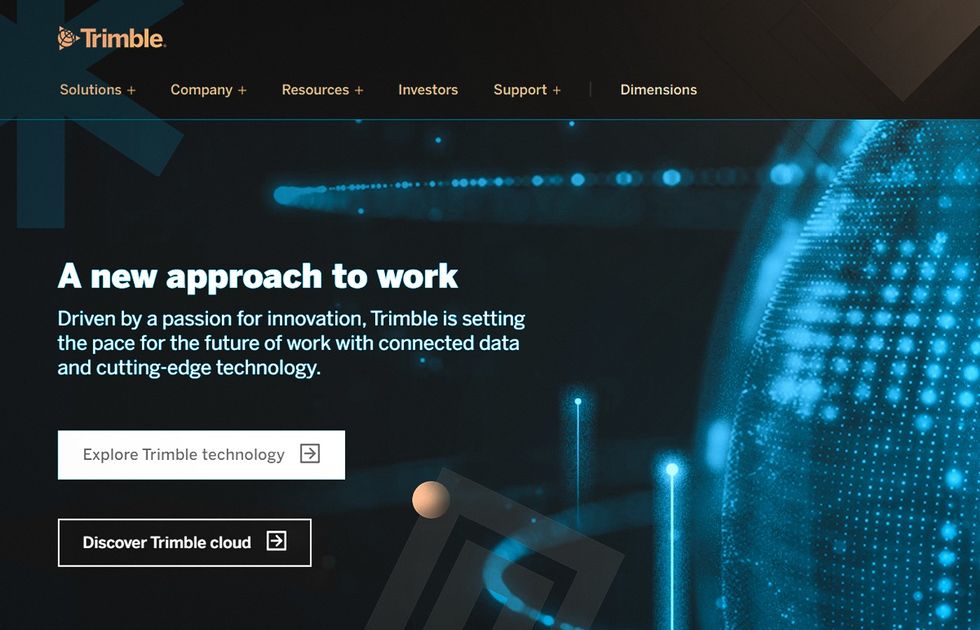 Trimble is a 3PL-oriented truck company dispatcher software that provides services for diverse trucking businesses. Its transport management solutions, including a multimodal optimization engine, enable comprehensive supply chain handling for brokers.
Best for: 3PL providers and brokers.
Features and advantages of Trimble:
Transportation management system (TMS).
Easy tracking and route planning.
Safety and compliance regulations.
Disadvantages of Trimble:
Requires thorough employee training to explore the tool's full potential.
TruckingOffice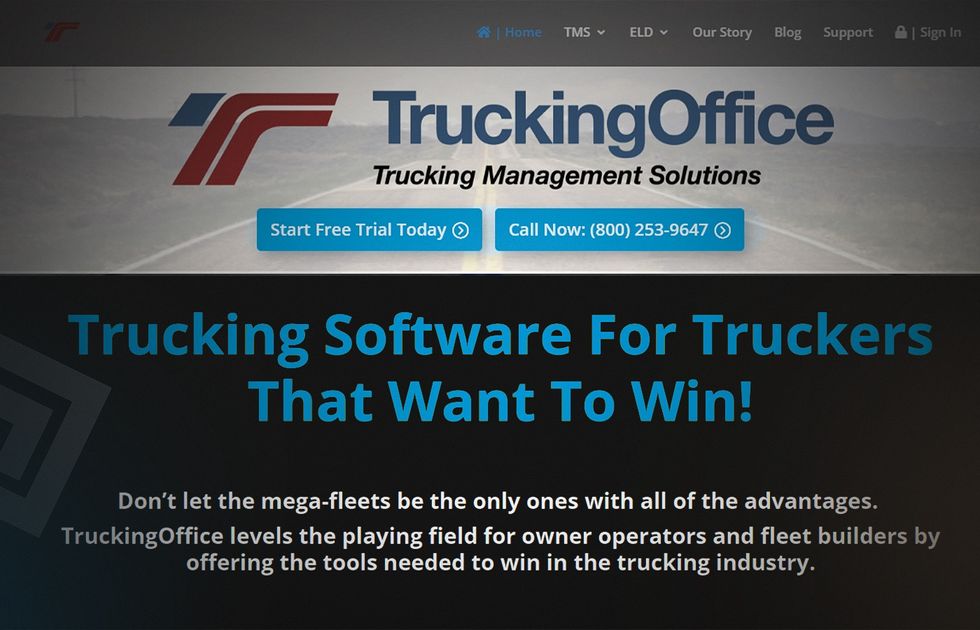 TruckingOffice offers budget-friendly truck dispatch software for small trucking operations. It's an excellent choice for single users who manage accounting in the supply chain. Since collaboration features are sparse, it's more likely to satisfy the needs of owner-operators dealing with a few brokers or shippers.
Best for: record-keeping for small trucking businesses or startups.
Features and advantages of TruckingOffice:
Accounting, invoice, and fleet management tools.
Solid customer support.
Simplified taxing with IFTA (International Fuel Tax Agreement).
Comprehensive help center.
Cost reports with earnings per Mile.
Disadvantages of TruckingOffice:
No live chat for customers.
Lack of dispatch programs for trucking and driver features.
No load board.
ITS Dispatch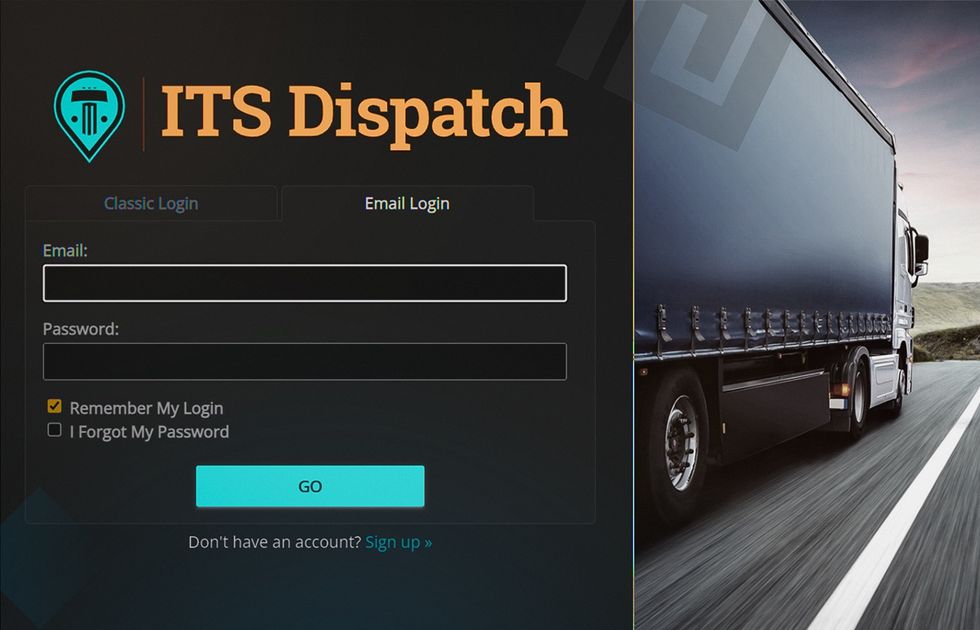 As dispatch software for small trucking companies, ITS Dispatch focuses on small operators with 1–5 trucks. While ideal for the smallest fleets, this solution might not suffice for expanding fleets or those needing advanced features like driver apps, live tracking, or mobile scanning.
Best for: small businesses.
Features and benefits of ITS Dispatch:
Automatically generated invoices with detailed reports.
Simple driver settlements and communication.
Load confirmation for an unlimited number of trucks.
Disadvantages of ITS Dispatch:
Limited load board functionality.
Not mobile-friendly.
No live tracking and mobile scanning.
Custom Trucking Dispatch Software vs. Off-the-Shelf
Custom trucking dispatch software offers tailored solutions to your specific operational needs. Off-the-shelf solutions are generic and might need to align better with your requirements. Bespoke dispatch software for trucking companies ensures seamless integration with your existing systems and processes, promoting greater efficiency and productivity.
It also allows for future scalability and updates based on your evolving needs, while off-the-shelf solutions might need more flexibility. Although custom development involves higher initial costs, the long-term benefits of optimized functionality and performance often outweigh the investment.
Below are the main reasons why supply chain and logistics businesses choose custom truck dispatch software solutions over turnkey options.
Benefits of Custom Trucking Software Solutions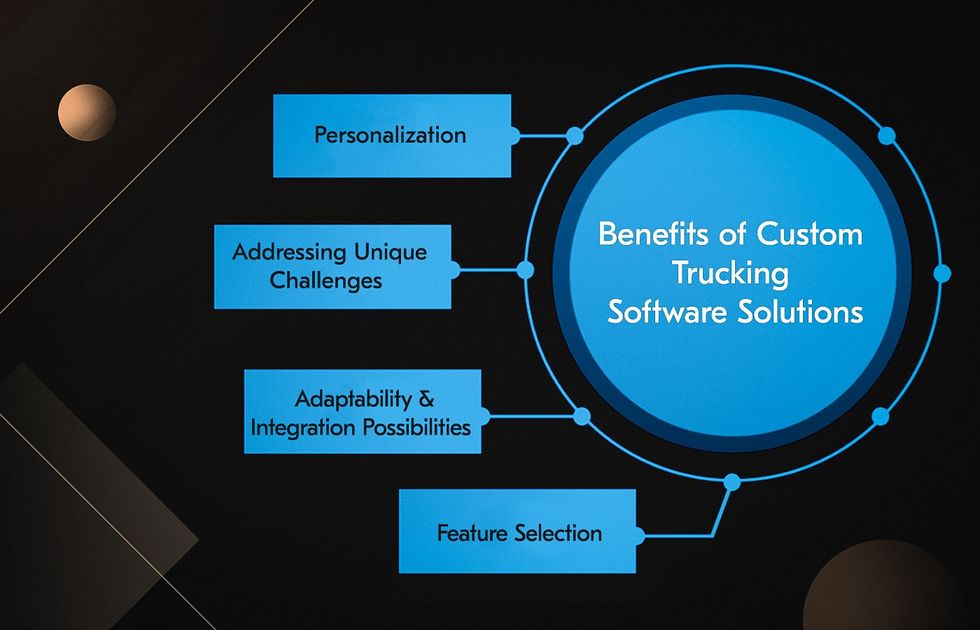 Tailored to Your Business
Personalization — both in terms of visuals and functional features — is one of the most significant advantages of tailored software.
For instance, many supply chain businesses use multiple trucking dispatch programs for load tracking, dispatching, and communication. By cooperating with a web development company, you can build a comprehensive all-in-one tool. This tool may include anything from essential to specific features.
From real-time tracking and smart load filtering to seamless integrations with your current assets, you can adjust the functionality based on your unique needs. Furthermore, you can create a unified product system for each logistics party.
Separate products for carriers, drivers, and dispatchers, where each cooperates into one system, will improve efficiency. Such a truck dispatch software solution primarily benefits companies with an extensive fleet and a large network of carriers.
Flexibility and Scalability
Tailored software crafted according to your needs will adapt to changes in business processes as your company grows. A scalable product will enable you to extend the software functionality when expanding your operations.
For example, when your fleet broadens its scope, you need to be able to filter and classify it by specifications. When growing teams, the trucking dispatching software must allow you to manage employees within the system. At the same time, the product has to be responsive to integrations with your existing logistics tools.
Such flexibility leads to cost-savings and operational efficiency, and it's only available with custom web-based trucking dispatch software.
Total Control
Another benefit of tailored trucking dispatch software is the ability to stuff it with features that benefit the company's operations. Designed to improve workflow and overall performance, each function and UI/UX element will serve a specific purpose. Real-time load and truck tracking, automatic customer updates, in-app communication, AI-based routes — your product will have the potential you need.
That way, you will ensure complete transparency over your operations while keeping your customers satisfied.
Truck Dispatch Software Success Cases
Aware of the technological role in the supply chain industry, modern transportation companies utilize custom software solutions to enhance operations.
Schneider National, one of the largest truckload carriers in the US, implemented truck dispatching software to optimize their logistics. This allowed them to improve route planning, reduce empty miles, and enhance overall fleet efficiency. As a result, the company achieved remarkable revenues of $6.6 billion and adjusted earnings of $617 million in 2022.
C.H. Robinson uses trucking dispatching software to improve their freight brokerage as a 3PL provider. The software helped them efficiently match available loads with carriers, reducing manual work and improving load assignment accuracy. In 2023, the company saw a 2.1% rise in adjusted gross profits, reaching $31.1 million. This growth was mainly propelled by integrated supply chain solutions catering to food service and retail clients.
Werner Enterprises, a transportation and logistics company, integrated custom trucking software to streamline their dispatch processes. This enabled them to improve communication with drivers, track shipments in real-time, and make informed decisions for better resource allocation. The company's final-mile revenues, constituting 12% of logistics revenues, surged by $3.5 million, marking a 15% increase in 2023.
These companies showcase how truck dispatching software can significantly enhance operational efficiency while strengthening their positions in the market.
Making the Right Choice for Your Trucking Business
Selecting the appropriate trucking dispatch software is pivotal for transportation businesses, as well as choosing the right vendor for custom solutions. Here's what logistics companies should pay attention to:
User-friendliness: Opt for intuitive software, ensuring dispatchers access information swiftly.
Integration: Choose software that seamlessly integrates with existing systems like accounting, GPS, and CRM.
Customization: Prioritize software offering tailored reports, fields, and workflows.
Real-time tracking: Ensure real-time visibility into fleet location and status.
Mobile access: Look for mobile-friendly software accessible via apps or web interfaces.
Customer support: Choose a provider with responsive customer support.
Scalability: Opt for software that grows alongside your business.
Reputation: For custom truck dispatch software, check the development company's portfolio and expertise in catering to the logistics industry.
At Acropolium, we've been providing unique, tailored solutions for the logistics sector for over nine years. From IoT-based fleet tracking solutions and shipping platforms to TMS, we deliver measurable results with your budget in mind.
Final Thoughts
Modern supply chain businesses embrace modernization to meet customer demands and stay competitive. By automating their operational routine with multifunctional software, transportation companies increase efficiency, improve customer satisfaction, and drive higher revenue.
Acropolium, a leading developer of bespoke IT solutions for logistics, has delivered 20+ comprehensive solutions to top industry players. Following the highest ISO standards and utilizing GDPR-compliant software, we've integrated our expertise in 50+ consulting projects for transportation businesses.
With our partners' budget and software requirements being a priority, we offer subscription-based cooperation. Contact us to build the perfect software that will elevate your logistics operations.
Sources of information