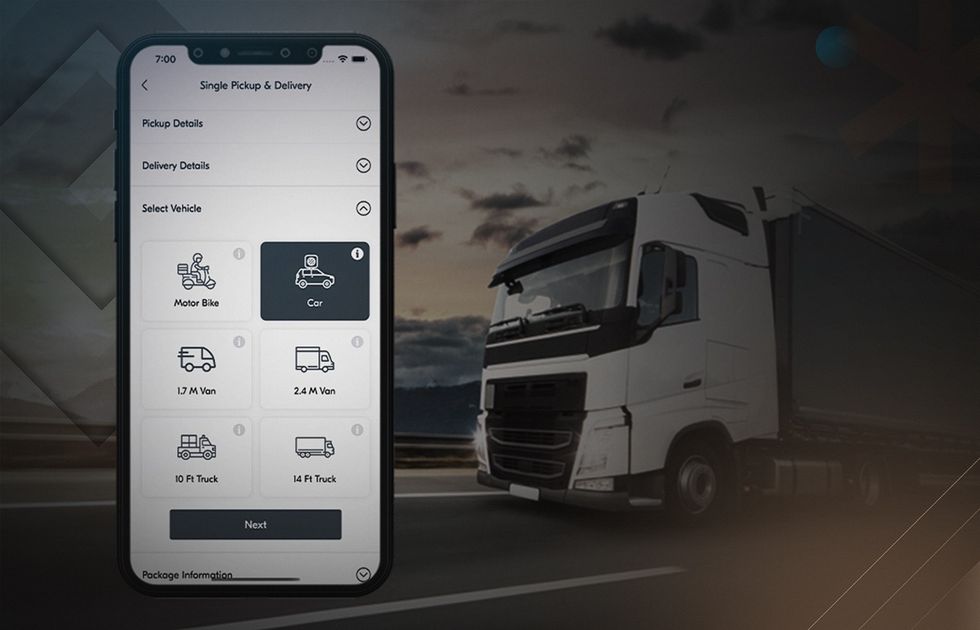 From this article you will learn everything about custom fleet management software development.
Managing a fleet of commercial vehicles means juggling numerous tasks and bearing enormous responsibility. And it doesn't get easier with external factors like the shifting car market and industry trends, legislation changes, and ballooning costs. But what could make a difference is a custom fleet management & tracking solution.
At Acropolium, we understand the difficulty of coordinating fleet management activities. We also know that the right software can help you improve operational efficiencies, increase the lifecycle of vehicles, and maintain compliance. That's why we advocate for a system that enhances the productivity of your fleet while reducing expenses.
Our experienced engineers can create fleet management software that seamlessly integrates real-time GPS tracking, vehicle diagnostic, driver safety monitoring, route optimization, and fuel management. We're here to help you understand the process of fleet management software development and remove productivity bottlenecks based on the real-life logistics solutions we've built since 2013.
Fleet management market trends in 2021-2025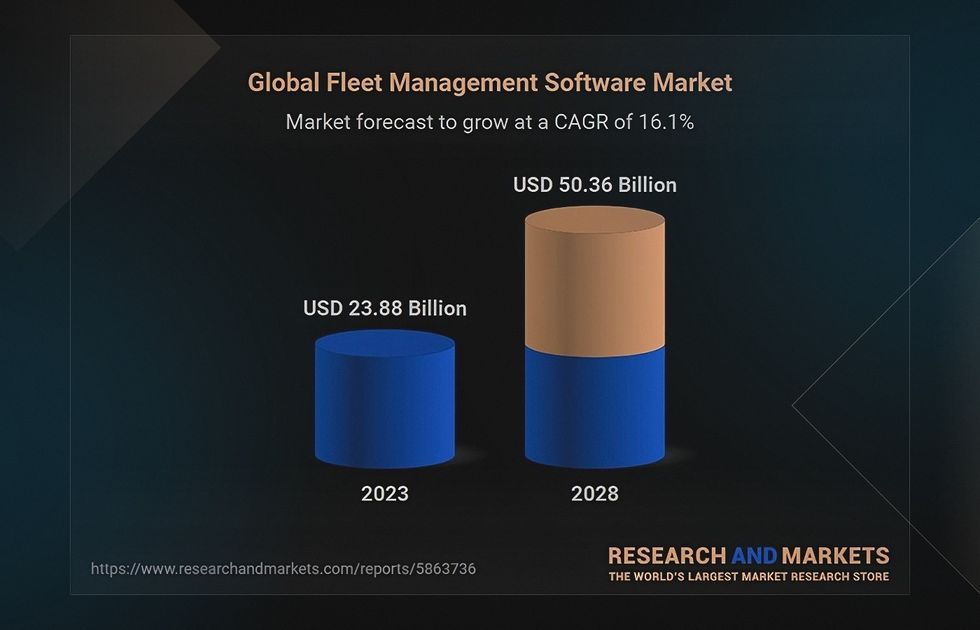 Let's start with the trends that will guide fleet management in the near future. We're focusing on them to help you decide on the functions for improved driver safety, asset tracking, and fleet coordination you'll want in your truck fleet management software. Here are the top trends to watch out for:
Remote fleet management
The Covid-19 pandemic pushed fleet managers to adopt remote work arrangements. And although economies are starting to reopen, many fleet management companies intend to carry on with the remote work set-up to protect employees and save money.
To ensure successful remote fleet monitoring and management, you need to be equipped with software that provides real-time visibility across operations. This will help you stay in contact with the teams and effectively monitor tasks, increasing productivity.
Telematics tracking
Fleet controlling companies are adopting telematics technologies at an accelerating rate. So much so that the global market for telematics services is expected to become a $75 billion industry by 2025.
The increasing use of tracking systems and telematics is triggered, in part, by new regulatory requirements. Case in point, the US safety regulations now enforce the use of electronic logging devices (ELDs) to record the work hours and rest periods of drivers.
Monitoring and communicating driver behavior, location, fuel consumption, and other data helps telematics devices improve the efficiency of fleet operations. By including telematics in your fleet tracker software development process, you can centralize and improve the visibility of fleet data. This will allow you to automatically record vehicle data, receive fault alert notifications, and sync odometer readings.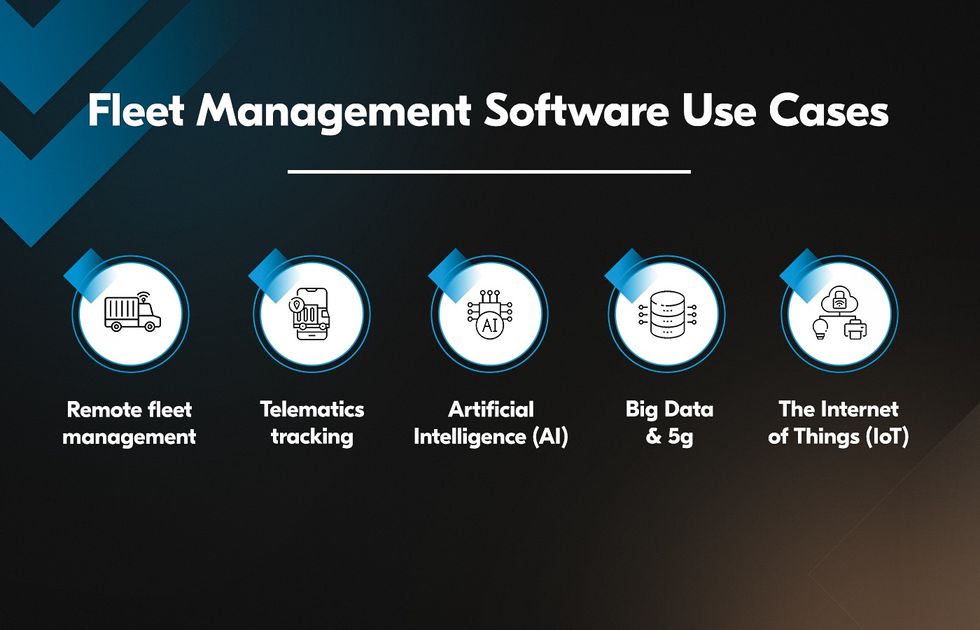 Artificial intelligence (AI)
Fleet management companies can use artificial intelligence for real-time fleet analytics, optimizing repair and maintenance decisions, and streamlining recruitment. But most importantly, the adoption of AI-powered fleet management systems increases drivers' safety without compromising efficiency.
These applications can help fleets handle driver coaching, road risk data analysis, and route recommendations. Additionally, they help managers, mechanics, and fleet drivers make data-based decisions that improve fleet performance. Read about AI logistics use cases and blockchain in logistics use cases.
Big Data and 5G
Before long, 5G will be the global wireless standard for mobile devices. Increasing the speed of information transfer, it will boost productivity, reduce latency, and improve team connectivity for fleet management businesses.
The technology's speed will also boost the use of big data for improved decision-making when it comes to preventative maintenance, fuel use, route information, and other daily operations. Embracing 5G will allow transportation to transition from a reactive industry that addresses problems after they occur to a proactive one that prevents or deals with issues as they happen. Read about big data use cases in logistics.
IoT, IoBehavior
The integration of IoT into fleet management software allows collecting real-time engine data, fuel data, driver location, and auxiliary data. By providing enough information to be analyzed, IoT can help streamline and optimize many functions in the fleet ecosystem, decrease emissions, improve compliance, and enhance customer satisfaction.
Extending toward the impactful IoBehavior, IoT allows for easier collection of information that improves driver behavior, speed tracking, vehicle utilization, and fuel consumption.
We hope that these trends gave you an idea of what you want your trucking fleet management software to be. Now, it's time to narrow down and select its functions.
Read also: e-awb and freight forwarders.
Fleet management software must-have features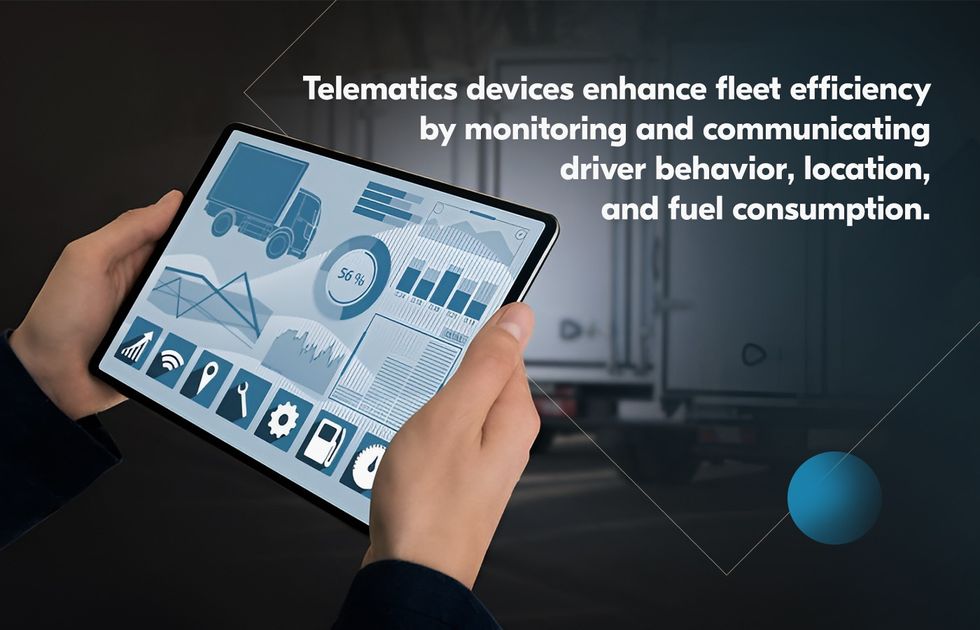 Before you develop a fleet management system, make sure to discuss its functions with your development team. The right fleet management system should at least have features to increase performance and productivity. What's more, these functions should differ for managers and drivers.:
For management
Managers can stay on top of fleet operations by tracking crucial details about employees, vehicles, and equipment.
Dispatch management
Offering fleet visibility, your management platform must be able to track vehicles, save fuel, and boost profits. Dispatchers should have the ability to view all vehicles in the fleet on one map and assign the driver closest to the destination. The improved dispatching process will reduce off-hours driving and idle time. Read about developing a dispatch software.
Fuel management
Enhanced by fuel card integration, this management system lets you check purchases in real-time, track consumption, and prevent the misuse of fuel cards. It allows cross-checking fuel data with driver behavior data, setting targets, and providing eco-driving training.
Work order management
A work order module offers a hub that weaves together workflows like purchase orders, equipment inventory, and customer billing tracking. You get a powerful control center that lets you manage fleet operations more efficiently.
VIN lookup
A vehicle identification number (VIN) decoder allows you to quickly access vehicle details and specifications. The information can help fleet managers properly identify vehicles and replace the assets as needed or when the fleet grows in size.
Instead of typing in numerous data points like the model, performance specs, and make of the vehicle, you can use the decoder to populate the data fields with a click of a button.
For drivers
Allow technology to reduce human errors and improve productivity.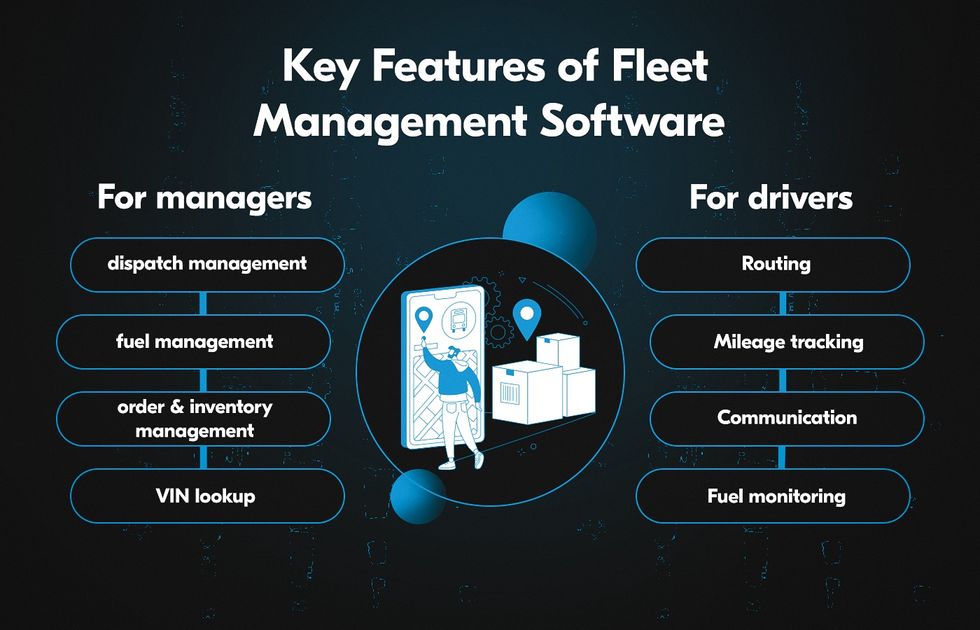 Routing
With routing integrated into your fleet management system, drivers can follow pre-scheduled routes that increase efficiency while reducing costs. The fleet managers can later check if the driver followed the suggested route and determine productivity accordingly.
Mileage tracking
To simplify log management, GPS-enabled mileage tracking captures the miles or distance driven. Drivers are provided with 24/7 access to tools that make day-to-day odometer tracking and monthly mileage reporting more convenient. And detailed mileage reports can be sent directly to the payroll department.
Fleet maintenance must-have features
Creating fleet maintenance software is sure to help you prevent liabilities and resolve issues. Here are the functions you'll need to run a smooth-sailing fleet:
For management
Automate maintenance alerts, handle service, and resolve issues
Inventory management
To make sure you'll never run out of parts, stock level alerts let you know when it's time to reorder. You can also match invoices with purchase orders to stay organized. Adding the parts to work orders allow you to track their usage and keep stock levels updated. The system can also be integrated with suppliers to make reordering convenient.
Preventative maintenance scheduling
Your system must be able to forecast the need for wheel alignments, oil changes, brake maintenance, and other regular service items. You can use your fleet maintenance software to monitor usage and costs at the vehicle system and service task levels. The data can be used to set maintenance schedules and service reminders.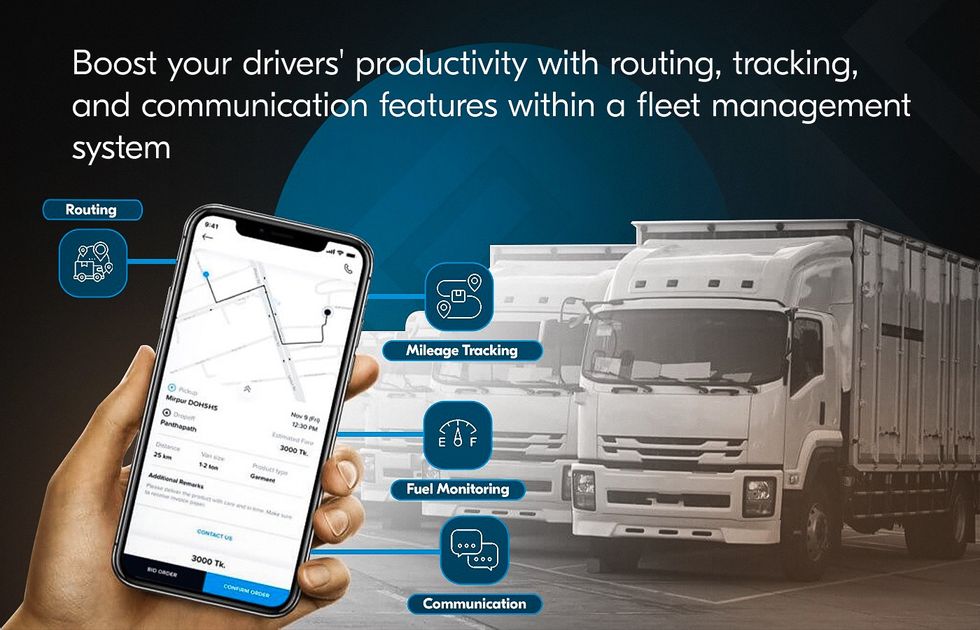 For drivers
These features prompt drivers to increase productivity while staying safe.
Incident reporting
An in-vehicle AI can be used to detect incidents and capture relevant video and pertinent information like time and location. It can automatically furnish incident reports for reliable claims resolutions. Gathered information and documentation can reduce the cost of injury, prevent potential liability, and combat frivolous claims.
Inspection management
An electronic inspection system can help you maintain airtight compliance. Drivers record inspection results in an app or web browser, after which the fleet manager can schedule repairs. The driver can mark the issue as resolved after the repairs are completed. The road-ready vehicle will then operate with a compliant inspection report.
Now that you've selected the features you'd like your system to have, it's time to actually build the vehicle fleet management software.
Read also: Building a custom enterprise risk management software.
Custom fleet management software development process
Fleets depend on technology for effective communication, data analytics, and management of resources and teams. But what goes into building a fleet management system?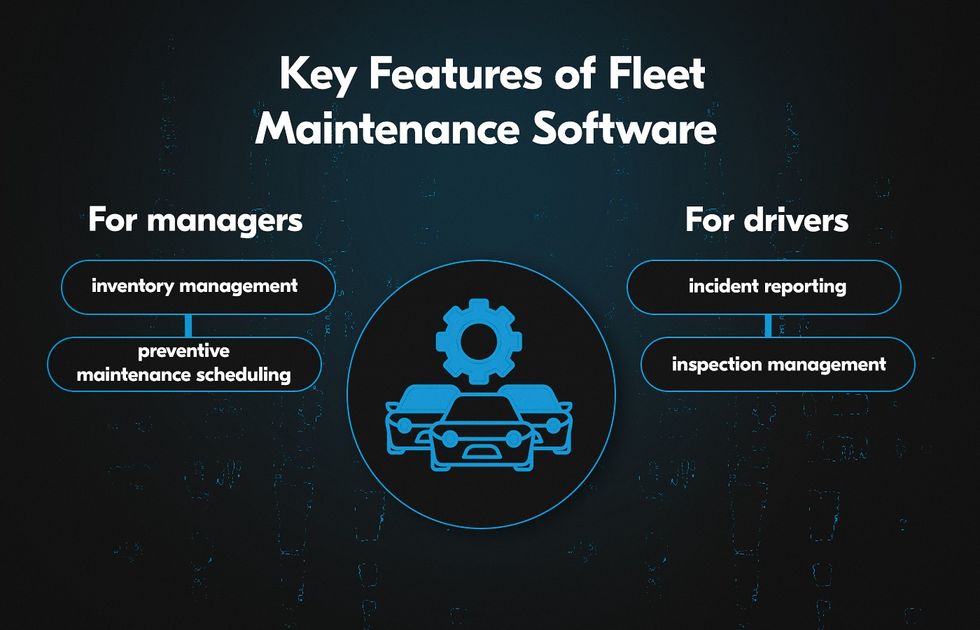 Critical components of the software solution
Your custom fleet management system must be complete with the following basic components:
Telematics
Telematics allows the software to record a vehicle's exact location and speed while traveling on the road at any given time. It integrates diagnostic sensors and GPS navigation. The system may also provide advanced insights like tailgating alerts and turn and braking metrics.
Maintenance planning
To avoid compliance issues, your fleet management software should automate vehicle maintenance schedules and provide service alerts. This will help you ensure your vehicles remain operationally sound.
Parts management and warranty tracking
Although laborious and time-intensive, effective parts management is crucial to the success of a large fleet. Your fleet management software should provide an automated and streamlined approach to tracking replacement parts and warranties.
When building a custom fleet management solution, don't forget it should also include a simple user interface (UI), multi-platform support, and security features.
Steps of the development process
The development of your fleet management software requires thorough planning and diligent execution. It involves the following steps:
Putting together a team of experienced UI/UX designers, engineers, testers, and managers.
Creating a Minimum Viable Product (MVP) and test it against a small audience.
Adding functions based on user feedback.
Launching the application.
All the details will depend on whether the app is going to be web-based or mobile, native or cross-platform, available to both drivers and managers or just managers, and many more.
Read also: How to create a freight forwarding system.
How to make a fleet management system scalable and cost-effective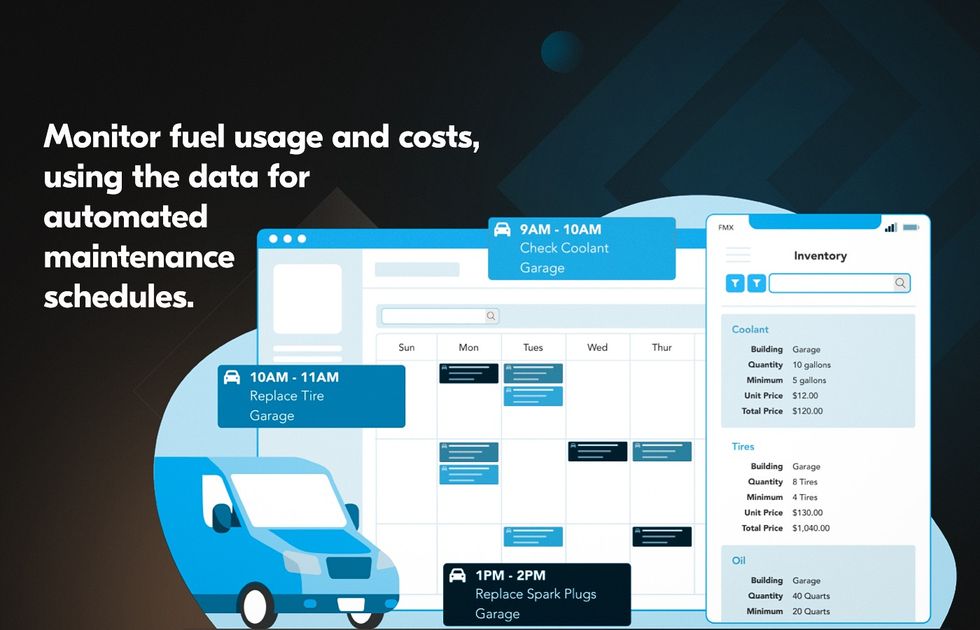 To keep up with the growing demand in a competitive industry, your software must be easily scalable. This, of course, means that your system's architect needs to think of scalability beforehand and design the system accordingly.
Next, you should tap into the benefits of cloud-based solutions. Taking your system to the cloud allows for better system integration, increased speed of data downloads, enhanced remote processing of data and transactions, and mobile-centric operations—all while reducing costs.
Finally, the right technology stack will take you a long way (transportation pun intended), but only if it's carefully selected by an experienced team. If they've already developed fleet management applications for other clients, they've probably also tried out different tools and narrowed their selection down to the most effective ones. These may include Node.js, MongoDB, Vue.js, React Native (for mobile apps), and many other frameworks, languages, and environments. Here are some examples.
Acropolium's experience
At Acropolium, we understand that fleet management is more than just about record keeping. You need a solution to connect fleet managers, drivers, owners, vendors, admins, and technicians to reduce downtime and minimize profit loss. And we're ready to equip you with the tools you need to effectively manage operations, human resources, and vehicles.
Indeed, you have to consider so many aspects of custom fleet management software development. Who is going to use it? How vast should its functions be? What tech stack to select? Sure, it might feel overwhelming, but with a trusted software development partner, it doesn't have to be.
Having 8 years of logistics engineering experience, we know how to develop complex fleet management systems capable of handling resource-intensive functions. So don't hesitate to contact Acropolium and discover how we can make your fleet more efficient and profitable.