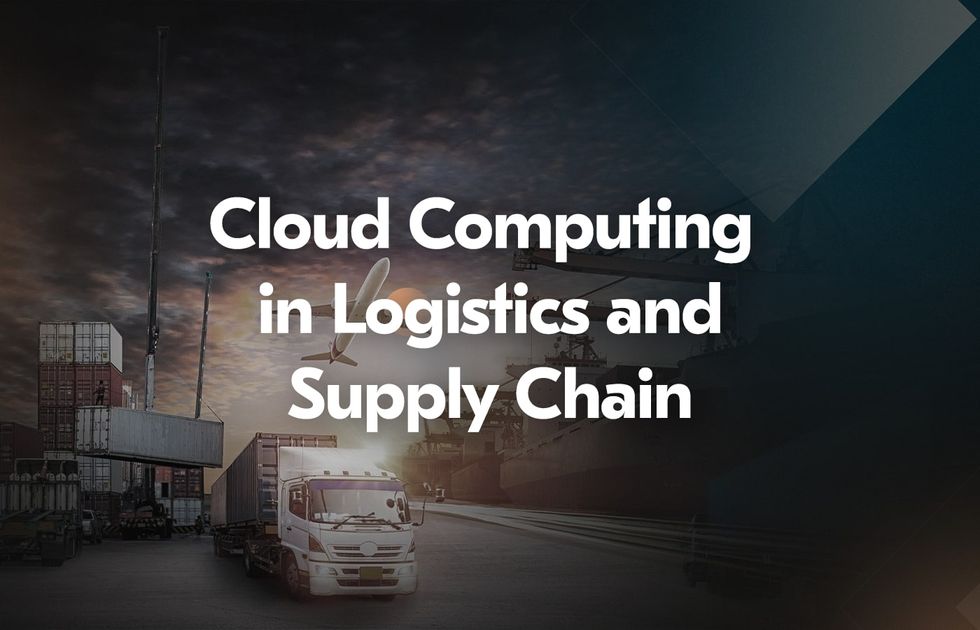 Key takeaways
Cloud computing integrates automation into logistics and supply chain processes.
It helps enhance transparency, collaboration, scalability, flexibility, and cost savings.
Companies use cloud solutions to manage logistics, inventory, and maintenance, as well as predict sales.
The logistics and supply chain industry suffer from labor shortages, equipment availability, persistent unpredictability, and the ripple effect of global bottlenecks. Can the cloud computing supply chain meet these challenges? The practice of using technology shows that yes.
Read this article to see what cloud computing is and what benefits and use cases it brings. It will also be useful to discuss the challenges its adoption brings and how to resolve them. Acropolium has over nine years of experience developing cloud solutions for logistics and transportation, allowing us to share our knowledge and insights. And, of course, we will not leave you without examples of world brands and cases from our team.
What is the Cloud Computing Supply Chain?
Cloud computing in supply chain management is a technology that allows you to store data on a centralized platform with access via the Internet. Thus, any interested party can get the necessary information from any device in real time.
The introduction of the cloud led to industry digitalization, and companies do not intend to stop there. The cloud supply chain management market is forecast to grow at a CAGR of 11.09% from 2023 to 2028.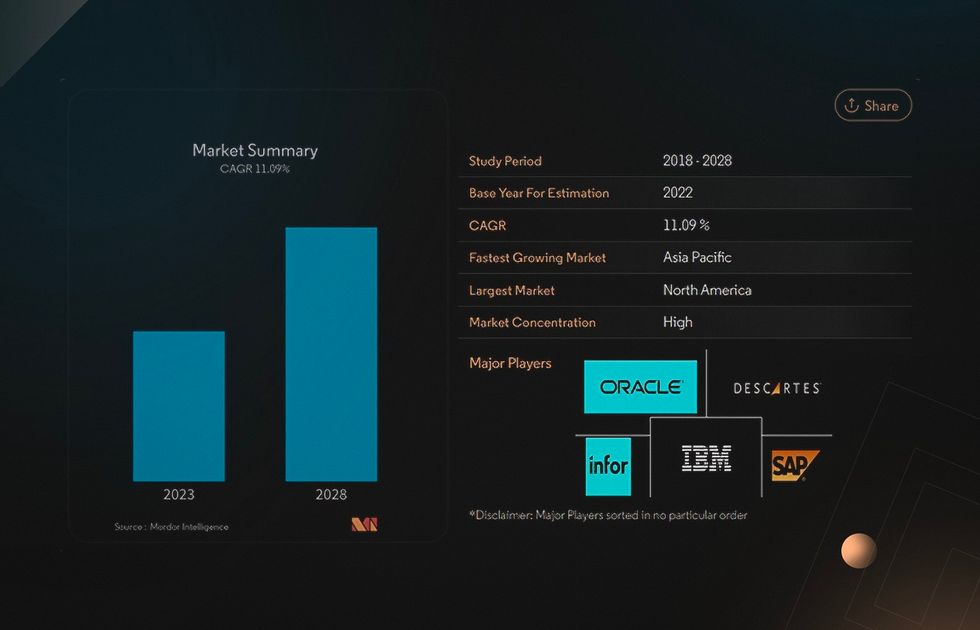 There are four technologies of cloud computing in logistics and supply chain:
Virtualization
Service-oriented architecture
Grid calculation
Additional charges
Virtualization is creating a virtual environment that provides a standard version of the client platform to visualize different activities. You can have a virtual version of the server, collection, or operating system.
Service-oriented architecture is the program that distributes services to the business process. It allows the client to find the solutions they need.
Grid calculation pools different servers to reach the target. This way, large tasks are transformed into smaller ones.
Additional charges rely on the pay-per-use model. The client changes the initial investments and does not pay any non-necessary expenses.
Benefits of Cloud Computing in Logistics and Supply Chain Management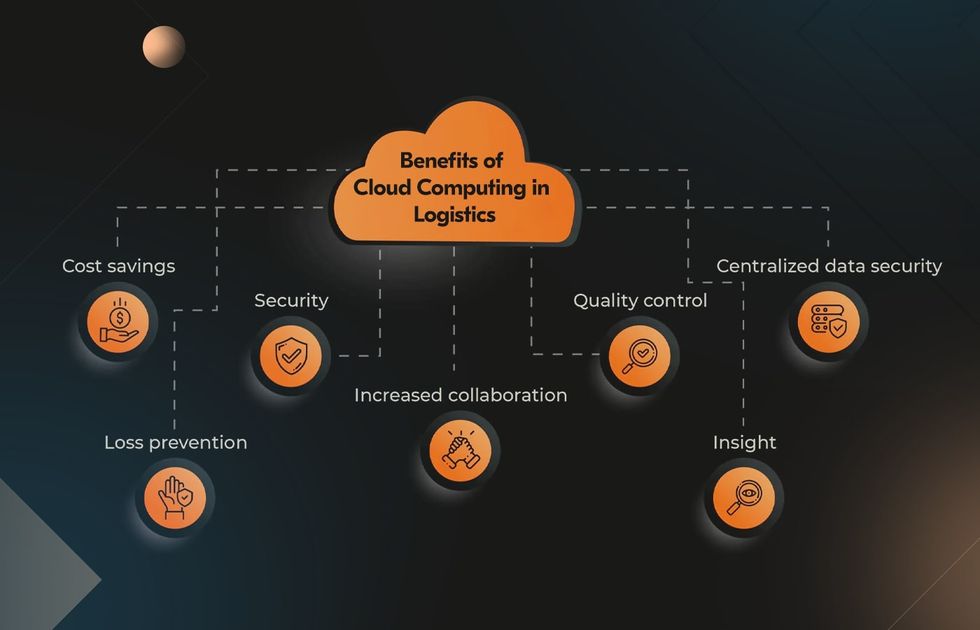 Today, supply chain organizations focus on such business aspects as efficiency and cost optimization (58%), resilience (53%), agility to support new business models (49%), sustainability (26%), and customer experience (22%). And cloud solutions may contribute to achieving these goals.
Enhanced Visibility and Transparency: Real-time Access to Data and Analytics
Cloud computing for supply chain management lets you view data from warehouses, transport networks, and distribution centers. This will give you a complete picture of the supply chain, including its trends and bottlenecks. You can make the right decisions quickly by detecting potential problems early.
Another significant bonus is complete trust between partners because they all access the right data. It helps to avoid misunderstandings between suppliers, manufacturers, and distributors. And customers can easily track their orders, contributing to good reviews and repeat orders.
Improved Collaboration and Communication: Streamlining Interactions Among Stakeholders
With a symbiosis of cloud computing and supply chain, you and your partners can share ideas and updates and synchronize efforts to benefit a common cause. This helps forecast better demand, plan stocks, and deal with unforeseen situations.
Another advantage is that you can unite different systems. The main thing is to properly configure access to not overload stakeholders with unnecessary information and maintain data security.
Scalability and Flexibility: Meeting Changing Demands and Expanding Operations
Do you want to meet the growing needs of your business without losing quality? Cloud computing in the transportation industry allows you to expand to new locations and destinations. Integration with other platforms or introducing new technologies (AI/ML, blockchain, IoT, etc) will also not be a problem. That way, you don't have to deal with cumbersome upgrades and lengthy deployments.
Scaling works both ways. You can allocate additional resources during peak seasons to keep things running smoothly. And during low demand time, it makes sense to reduce resources to maintain the system and, accordingly, costs.
Cost Savings and Efficiency: Reduction in Hardware and Maintenance Expenses
Cloud computing increases the efficiency of business processes by automating repetitive tasks, as well as setting up rules and guidelines. This way, you can cut administrative costs, minimize errors, and shift employees' attention to more complex tasks.
For cloud computing, you don't need to spend money on physical servers and network equipment, inflating the initial budget. The same is true for data center power consumption. Instead, you pay for services as resources are used.
Use Cases of Cloud Computing in Supply Chain
To make conclusions about the appropriateness of using cloud solutions, it is important to overview the role of cloud computing in the supply chain.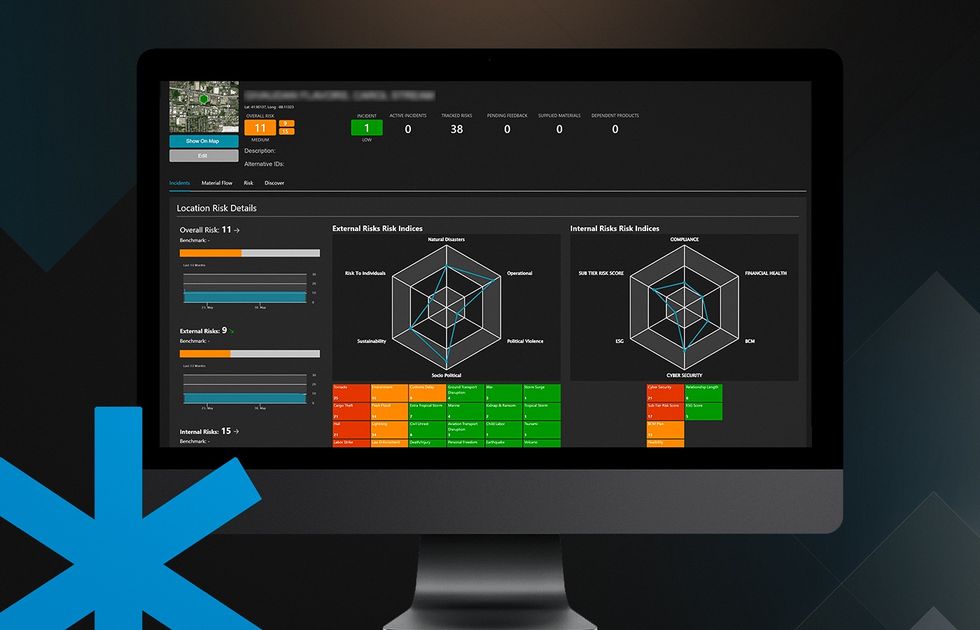 Managing Logistics
To improve logistics management, you can handle the movement and distribution of vehicles, as well as guide delivery routes for maximum efficiency. In addition, document templates allow you to automate the process of filling them out. You just need to enter the basic information and check the data.
FedEx uses Microsoft Azure cloud technology to monitor risks for packages along the route, tracking weather conditions or delays in movement.
Automating Inventory Management
Everyone in the supply chain balances anticipating shortages and preventing too much oversupply. Automation of inventory management helps to timely determine critical levels of goods in warehouses and stores. This is made possible by barcode scanning and Internet of Things (IoT) sensors.
Walmart helps its sellers simplify inventory management with SellerCloud. The cloud-based platform allows you to maintain ideal inventory levels for each SKU by sending timely alerts.
Managing Maintenance and Equipment Breakdowns
Another cool feature of combining cloud computing and supply chain management is tracking mechanical effects on equipment, such as pressure drops, temperature anomalies, etc. With the help of special sensors, you can monitor threats and quickly react to them, extending the life of machines. Another advantage of this approach is the reduced equipment downtime, which usually eats up about 1-10% of working time.
Deutsche Bahn uses KONUX smart sensor technology and cloud solutions to avoid infrastructure failure. It allows them to lower costs by 25% by maximizing performance and minimizing downtime.
Improving Procurement and Sourcing
Synchronize big data from online sales portals, customer service channels, retail locations, and other sources. Analyzing this information will help forecast demand based on current trends to anticipate seasonal spikes and respond to other possible changes.
Everstream Analytics, presented in the Oracle Cloud Marketplace, sets new standards in the supply chain by creating forecasts for 30 risk categories, including political violence and natural disasters. This reduces the loss of income due to such events by 30%.
Challenges of Implementing Cloud Computing for Supply Chain Management
Flexera highlights the crucial considerations in implementing cloud technologies, including spending, security, compliance, managing, and low expertise issues.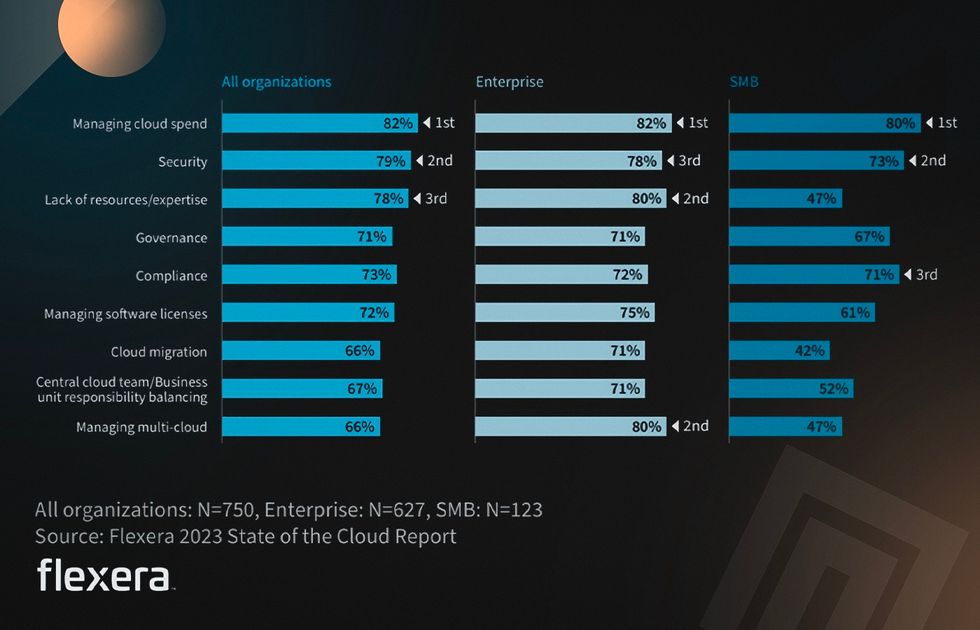 We recommend you pay attention to the following ones:
Data Security and Privacy Concerns: Ensuring the Protection of Sensitive Information
Can a cloud provider provide security and privacy? The security of the architecture is certain, but as far as the data is concerned, a lot depends on you.
It is essential to track potential threats with AI, encrypt data, use multi-factor authentication, and control stakeholder access. Also, pay attention to the security of third-party programs you integrate into your system.
The second important nuance is compliance with regulatory requirements like GDPR in EU countries. Find out what rules apply in your coverage areas.
Integration with Existing Systems: Overcoming Compatibility and Interoperability Issues
SCM in cloud computing surely contributes to the easy compatibility of various systems. However, merging many modules or integrating third-party services can be challenging. You can simplify the integration by working with a reliable software provider.
To improve platform compatibility, try to use standard data formats. Assess systems upfront to anticipate integration points and potential bottlenecks. Also, don't forget about a model approach to migration to minimize downtime.
Connectivity and Network Reliability: Addressing Potential Disruptions and Downtime
Network failures can damage your productivity, profitability, and even reputation, so you should invest in high-quality, premium networks. While not a problem for enterprises, this can be a big part of the cost for smaller companies.
Be sure to track critical aspects of performance and operation, including core functionality and data quality. So you can communicate with suppliers in time in case of disruptions and downtime or even prevent such issues altogether.
Change Management and Training: Preparing Employees for Cloud-Based Systems
Moving to the cloud requires change management and training. Address employee concerns and highlight the technology benefits. Focus on how technology will speed up and simplify their tasks. Conduct training sessions and create helpful documentation to facilitate onboarding. By the way, many software vendors can do this for you.
Being sympathetic and supporting the staff is very important, showing you are ready to solve all the problems together.
Why Choose Acropolium?
Acropolium has over nine years of experience delivering cloud computing in transportation, logistics, and supply chain. Our awarded agency strictly follows Agile management practices, ISO-certified processes, the GDPR, and industry-specific requirements.
Our solutions include systems for supply chain management, shipping & freight forwarding, transportation and fleet management, route planning, inventory & warehouse management, and document generation. Also, we provide cloud computing consulting.
In addition to cloud solutions, we empower logistics software with AI/ML, blockchain, IoT, GPS, and other advanced technologies.
Acropolium Case Studies
Let's look at options for solving logistics problems using our specific cases.
International Trade Digitalization
The client needed a SaaS solution that automated paperwork and manual tasks. It was also important to quickly check delivery requirements in different countries and create documentation templates.
This made it possible to attract 37% of new corporate clients and reduce personnel costs by 60%. The submission of declarations was 100% automated.
Transportation Management System Modernization
A freight forwarder with a global client base turned to us for the refactoring and modernization of their transportation management system. In just three months, we made the TMS system more stable, improved the speed of data access, and expanded its functionality.
As a result, switching from an in-house zip code database saved more than $5,000 per month. And moving the client platform to AWS hosting saved the client $10,000 per year. And the client's customer base has grown to a billion shippers.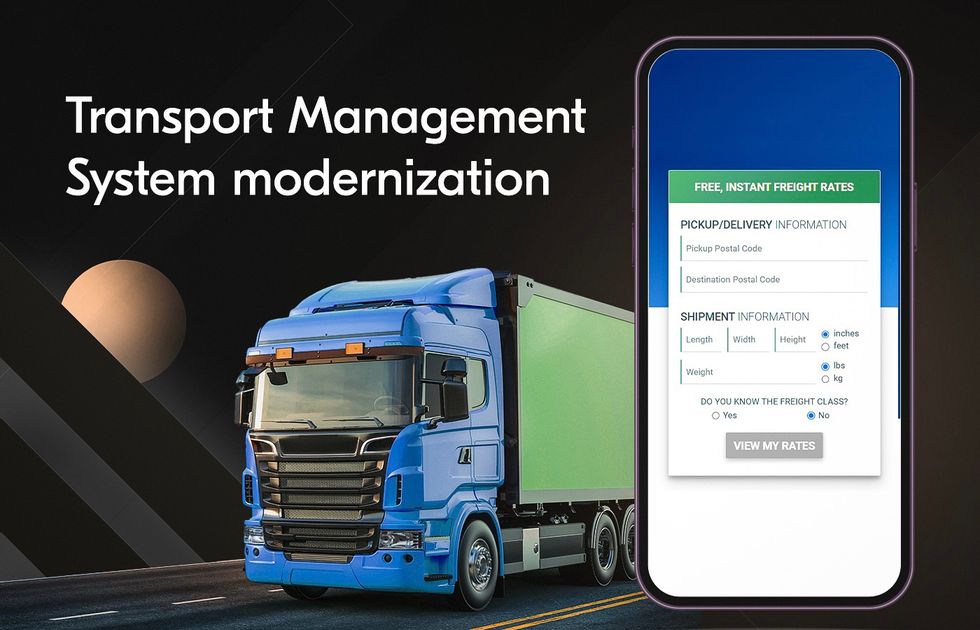 GPS Fleet Tracking Solution
The client had an outdated prototype GPS tracking application with low flexibility and limited integration capabilities. We visualized truck movements in real time and enabled remote command processing.
Now GPS tracking app displays up to 1000 trucks on the map and is integrated into the system with up to 1000 IoT devices. Reporting also improved, from four days for four trucks to 15-40 seconds for 1,000 trucks.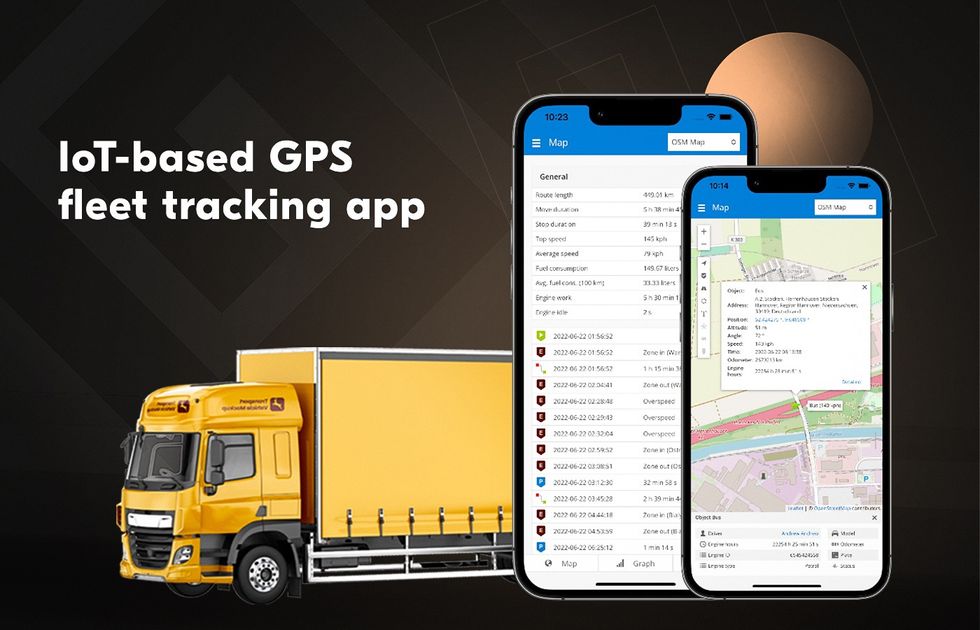 Final Thoughts
SCM cloud computing has vast potential to improve your logistics or supply chain business. This automates routine tasks, simplifies stakeholder communication, reduces costs, and improves customer service.
We have analyzed the main points regarding cloud computing in logistics industry. And if you are ready to move from theory to practice, contact our dedicated team. Acropolium provides development on a subscription basis, so you can plan your budget wisely and avoid high costs at the initial stage.
Sources of Information