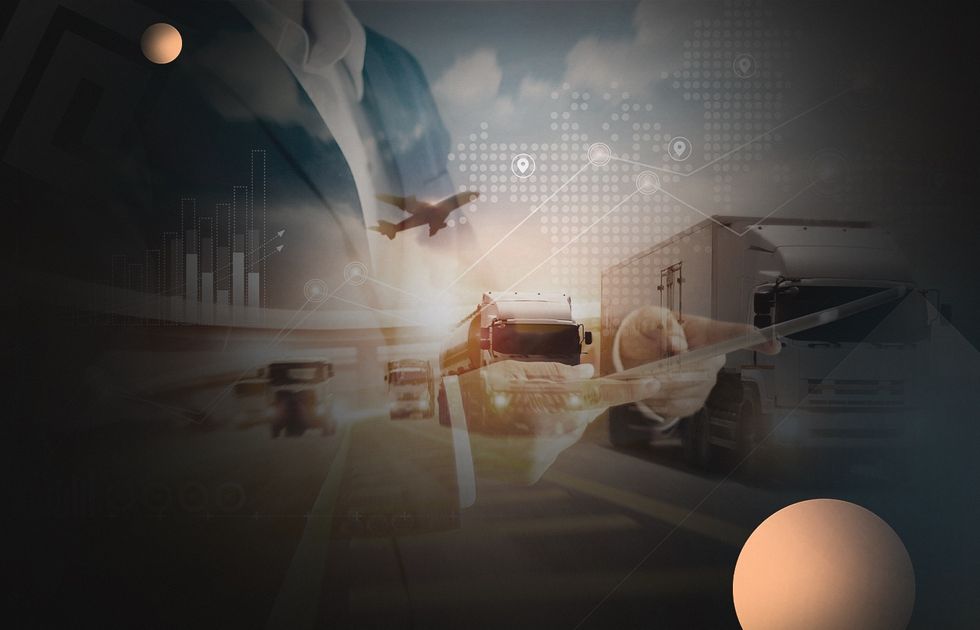 Inefficiencies in logistics increase expenses and lead to customer frustration. That's why, for many companies, implementing a transportation management system became a saving grace. These systems help manage the planning, delivery, and other processes critical to a business.
No wonder, the demand for transportation management systems has risen over the years. The global transportation management system market size increased from $9.22 billion in 2021 to $10.46 billion in 2022 and is set to reach $31.18 billion by 2030. Still, off-the-shelf solutions aren't all roses.
While software solutions provided by leading transportation management companies are packed with AI-based analytics, real-time GPS tracking, and other advanced features, even the most popular transportation management platforms may lack the functionalities your business needs. As an experienced bespoke software development company, we know what features reduce costs and enhance efficiency for logistics and transportation enterprises. In this article, we'll introduce you to the advantages of transport management systems. You'll also learn about the capabilities companies gain with custom transport management software.
❓ What Is A Transportation Management System?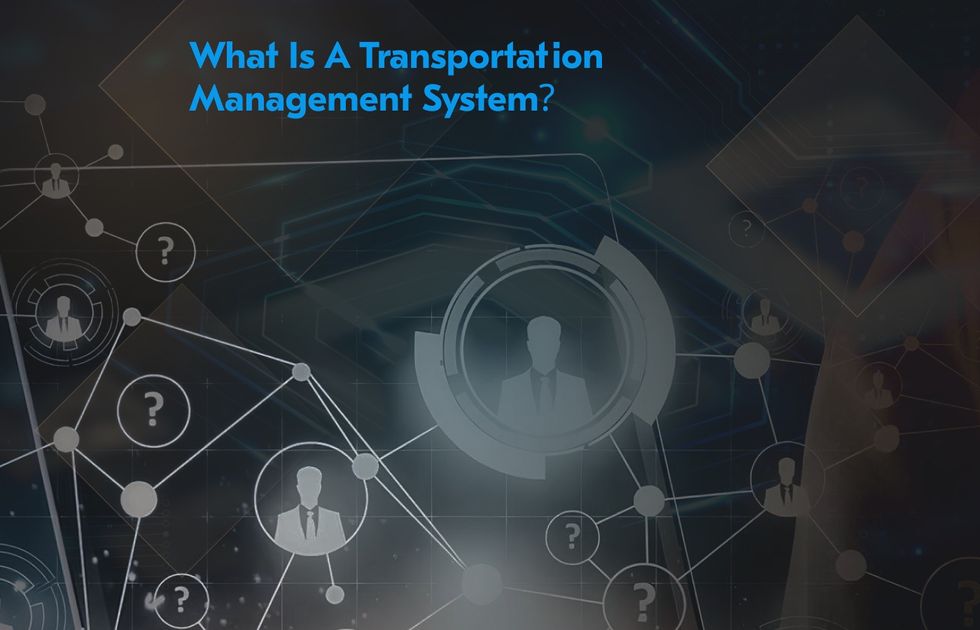 The TMS (transportation management system) is specialized software for planning, executing, and optimizing transportation of goods. With top-grade TMS software, logistics companies can find the fastest shipment routes, generate documentation, track operations, and ensure trade compliance.
How Software For The Transport Management System Works?
Transport management solutions are data repositories with transactional, communication system, and analytical features. A TMS is often a part of the enterprise resource planning (ERP) platforms or supply chain management systems (SCMs). Plus, these systems access, process, and share data with logistic service providers, manufacturers, distributors, and retailers.
Here's a simplified example. A customer orders an item from a website connected to your ERP platform. The platform outputs the order information for the TMS, fetching product availability data from other systems. Then, you can use the transport management platform to generate a route, create the necessary documents, and select a carrier.
After processing the shipment, the transportation management system returns the order data to the central platform for delivery. Your managers can use a TMS to track the order delivery, contact carriers, and deal with problems on-route. The software can also integrate with the customer relationship management (CRM) module to provide customers with status updates.
Sounds good? Let's look at how transportation management systems benefit logistics and transportation companies.
⭐ Benefits Of Transportation Management Systems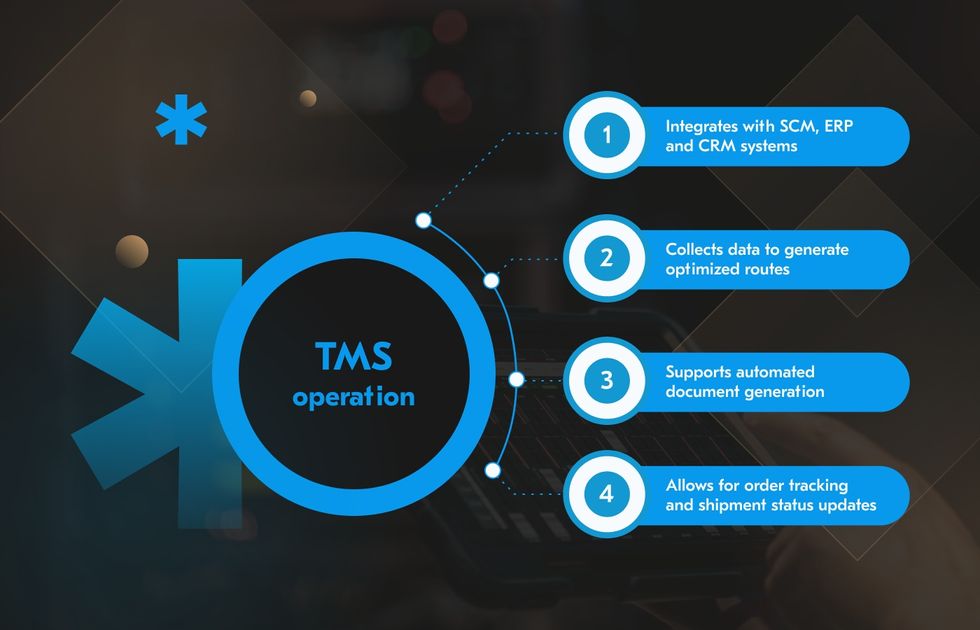 Transportation management systems benefit nearly every industry — from third-party logistic service providers delivering the goods to healthcare companies that want to establish the pharmacy supply. Let's see how modern systems can solve your problems and improve what's already working.
Fewer risks of disruption. Demand spikes, natural disasters, and political unrest can break your supply chain. However, transportation software systems with AI-based analytics can predict supplier or carrier delays from external factors like labor shortages and weather forecasts.
Optimized customer demand. Machine learning tools in TMS anticipate customer needs using historical and real-time data. According to Statista, nearly 37% of logistics companies in 2019 used algorithms for supply and demand predictions.
Inventory management improvements. About 40% of transport and logistic businesses in 2020 used AI tools to improve inventory management. Retailers, warehouses, and pharmacies can keep track of their goods, get data from suppliers, and prevent out-of-stock.
Consolidated data. A reliable TMS solution helps you keep all documents, metrics, and communications in one platform. Centralization simplifies data management, performance tracking, and business analytics.
Improved visibility. You connect your TMS software to other companies to monitor logistic processes. Additionally, you can integrate machine-to-machine communications and the Internet of Things (IoT) into your platform to track your vehicle fleet.
Optimized routes. The TMS for carriers helps identify the optimal routes to minimize fuel consumption, driver overtime, and vehicle maintenance. On a lesser scale, TMS applications can improve order-picking routes to streamline warehouse management.
Better vehicle maintenance. The top-ranked transportation management systems can forecast wear in your vehicle's parts. This lets you streamline preventive maintenance to prevent expensive repairs.
Guaranteed regulatory compliance. TMS implementation helps you prevent mistakes in financial reports, generate complex documentation for international routes, and comply with regulations across countries.
Automated processes. Robotic process automation, reporting, and automatic notifications can improve operational processes and free your employee's time for value-added tasks. Additionally, automated transportation management systems can prevent billing errors, streamline reporting, and help you plan your budget.
Reduced expenses. Process optimization, regulatory compliance, and preventive maintenance impact your operational costs. According to McKinsey, over a third of businesses deploying AI-based software for the supply chain reduced more than 20% of their costs.
We can condense all benefits of the transport management system into one: it makes you more profitable. Plus, faster delivery improves your brand's reputation and customer satisfaction, also leading to higher income.
Now that you know how TMS can help your business, let's see how it happens.
📱 Key Features Of The Transportation Management System Software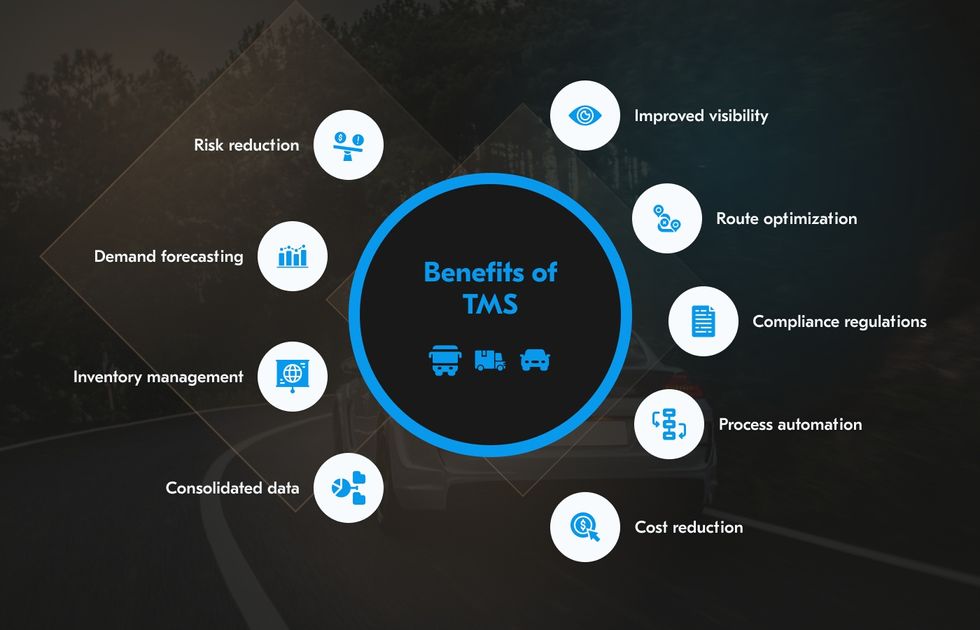 The cloud-based transportation management systems took up 43% of the market in 2021 due to their affordability and convenience. But even the best TMS software often lacks important functions. So, we prepared a list of mandatory TMS features your business will need, broken down into several categories.
Transportation Planning
The planning category lets your employee plan routes, shipment capacity, and generate documentation for transportation. It usually includes the following features:
Order management. The system lets you distribute transportation orders among contractors, assign transport, and dispatch drivers. Some platforms offer a dashboard with the real-time status of each order and important events.
Tendering. Provide the shipment details to let carriers bid on your contract and deal with tender-related paperwork.
Shipment rate management. Get transportation rates for the truckload, parcel, and intermodal shipping based on your rules (base rates, contract agreements, and discounts). Your shipment management software can select the best vendors according to your specified parameters.
Load planning. Calculate loading space for containers, trucks, and other delivery vehicles to manage cargo deliveries.
Route planning. Get information about possible routes, tariffs, and potential delays along the supply chain.
Document management. Generate, share, and store terms, contacts, and other essential documents (like bills of lading) to let your goods travel in different legislations.
Transportation Execution
This category helps you manage freight forwarding, monitor vehicle status, and deal with major actions along the transportation network:
Dock scheduling and yard operations. Overview warehouse activities, manage constraints, schedule events, and apply business rules for every location.
Real-time tracking. The freight transport management system with IoT-based GPS tracking (like radio-frequency identification) allows seamless monitoring of warehouse facilities, shipment status, and vehicle location cost-efficiently.
Communications. Contact drivers, third-party logistics providers, warehouses, and other facilities across the supply chain to respond to unexpected situations.
Customer page (if it isn't a solution for the internal use only). Provide your customers with delivery status updates and respond to their inquiries. Some software offers chatbots (digital assistants) to provide customers with immediate conversational responses about shipment information.
Process Optimization
Optimization capabilities let you analyze critical factors (such as service level, transit time, and price) to improve existing processes. They include:
Business intelligence. AI-based statistical modeling, data analytics, and algorithms transform raw metrics into meaningful business information. You can benchmark carriers, forecast demand for products to prepare the inventory, and predict disruptions.
Route optimization. The transportation management system can calculate delivery estimates and propose optimal routing based on weather and other conditions.
Fleet management. This feature helps your managers coordinate, supervise, and maintain your vehicles and other equipment in a desirable state.
Event management. Telematics and onboard diagnostics systems provide additional data about the vehicle's sub-systems. You may diagnose fuel consumption, unplanned stops, and even unsafe driver behavior.
Administrative Functions
Transportation management systems include administrative features that help your employees deal with the substantial paperwork, reports, and auditing, such as:
Settlement. Document proof of delivery, pickup, time in transit, and other freight milestones for easier payment processing.
Invoicing. Quickly adjust contracts, verify the billing accuracy, and automatically pay respective parties.
Claim management. Handle financial reimbursement claims for in-transit cargo damage, item loss, and delivery delays.
Reporting. Generate customizable reports in different formats for supply chain metrics. Automate report generation for key performance metrics, operating expenses, inventory status, or invoice payments.
Integrations
The out-of-the-box TMS software should integrate with your existing platforms, cloud solutions, and on-premise applications. For most use cases, your platform should work with the following:
Supply chain management (SCM) systems — to organize shipments across the supply chain
Enterprise resource planning (ERP) solutions — to exchange order details with a TMS and help you manage transportation activities
Warehouse management systems (WMS) — to help you load and unload goods for shipment and plan item movement
Accounting solutions — for cash flow management, billing, claims management, and reporting
Data analytics and business intelligence tools — to forecast trends, optimize processes, and visualize information based on logistics, vehicle, and performance data
Logistics service provider (LSP) marketplaces — to collaborate with third- and fourth-party logistics providers to organize shipping, warehousing, distribution, and other value-added services.
But that's not all. There are other important characteristics you should consider in transportation management service software providers.
📌 What To Look Out For In TMS Software Providers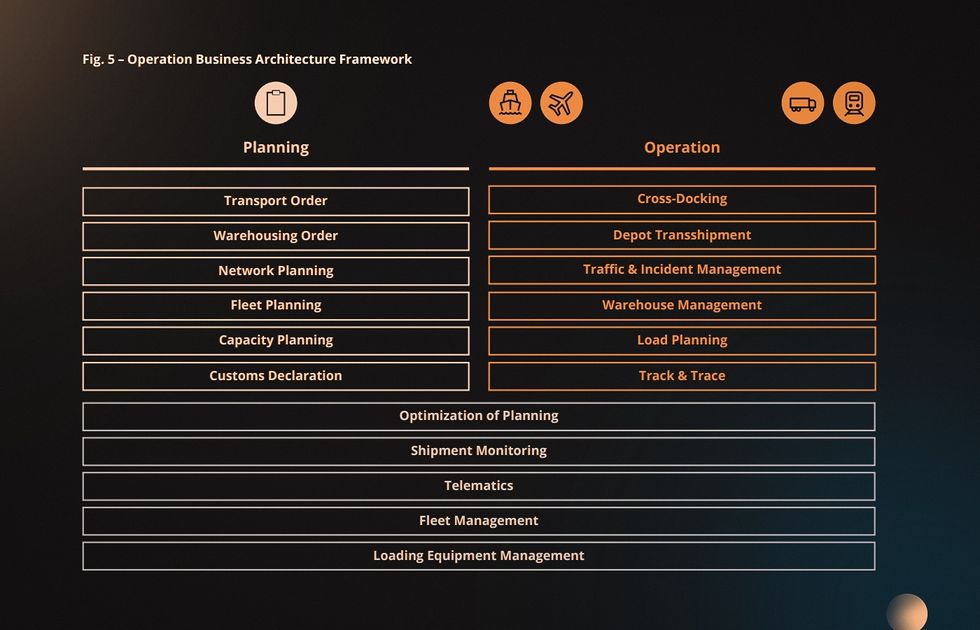 Scalability and flexibility are critical for transportation management systems. So, when choosing your platform, you should analyze its architecture, payment model, and technical capabilities. The most important factors are:
Deployment type. On-premise deployments are suited for companies that want tougher security and controls. However, cloud transport management software is more accessible, easier to configure, and scalable. Additionally, the Software as a Service (SaaS) provider usually maintains and updates the software for you.
Modular architecture. Loosely-based software architecture makes it easier to allocate your system resources and integrate third-party services. It's also more fault-tolerant than monolith applications — your TMS software won't crash even if one of your modules goes offline.
Payment type. Cloud-based TMS software is usually subscription-based. However, not all solutions have fixed monthly fees. For instance, they can offer tiered (pricing depends on available features), user-based (number of active users), and usage-based (consumption metrics) pricing models.
Training module. Detailed guides and instructions are necessary for your employees to become more masterful with your tools. It's preferable that your TMS provider offer online support for quick help and troubleshooting.
Infrastructure and computing provisioning. Infrastructure as a Service (IaaS) and Platform as a Service (PaaS) solutions provide virtual servers, load balancers, and testing environments to maintain and build your own functionality. According to Deloitte's 2019 TMS Compass research, only 10% of providers offer such capabilities.
Language support. Most solutions support English. However, international businesses should check if their TMS software can translate the interface and documentation into other languages for their business partners and customers.
And here's the deal. Deloitte's study shows that some providers don't offer a full-blown planning module and order management. Little over half have dedicated sales, warehouse management, and load planning.
So, the chances are your platform lacks some of these characteristics or necessary features. In this case, you better go with custom software.
🌐 Custom Software For Transport Management Systems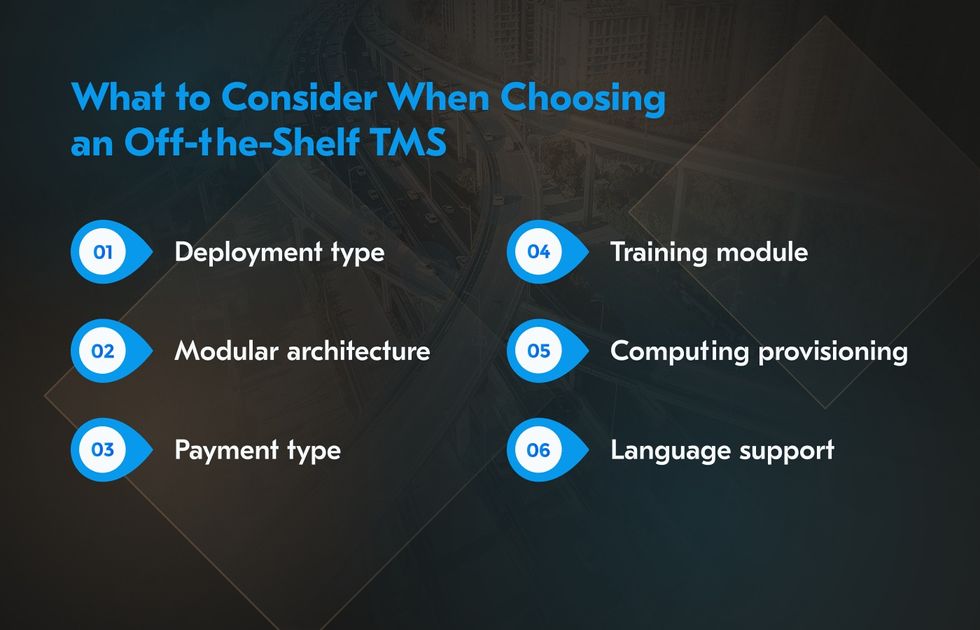 According to Deloitte, no TMS fits all parties of the supply chain. That's why your logistics needs might require custom software solutions.
Your company may benefit from advanced functionality. Here are some of the features absent in most pre-done platforms.
3D Load Planning
3D modeling software lets you distribute goods in your warehouses, docks, and delivery vehicles. For example, the 3D planning TMS software for a trucking company lets you enter information about your vehicle and add data about item dimensions. This helps you utilize as much space as possible during load planning.
Dedicated Fleet Management Module
Advanced tools can keep track of the vehicle status using data from sensors, work orders, and checkups. The algorithms may help you identify the likelihood of malfunction and optimal maintenance time. Some tools even let you remotely control vehicles or implement anti-theft GPS.
Interlinked Shipment Monitoring
Interlinked tracking is useful when you monitor a container and seal numbers across carriers, customs, and ports. It informs shipping lines, third-party logistics providers, and authorities across pre, main, and on-carriage movements. TMS also can automatically inform truckers about goods being ready for pickup after being cleared by the freight forwarder.
User-friendly Interface
Existing TMS platforms usually have complicated legacy interfaces that require specialized training. However, an experienced software developer can build a frontend for your application from scratch. Your employees can enjoy visually appealing and intuitive web and mobile applications that make finding, managing, and analyzing data much more straightforward.
Mobile Application
About 80% of web-based TMS solutions are available on mobile devices. However, most vendors don't focus on smartphone and tablet applications. That's why these versions usually come as companion apps. But you can create a genuine multi-device TMS solution with a full suite of features, including order management, routing planning, and transport control.
Natural Language Processing And Sentiment Analysis
Natural language processing (NLP) helps your systems understand, classify, and organize documents in your data repositories. Additionally, a context-aware sentiment analysis module can monitor geopolitical implications from social media data. This lets you project future demand, predict chain disruptions, and make your supply chain management more efficient.
Cold Chain Management
The cold chain module helps you adhere to thermal requirements during the packaging and distribution of temperature-specific products. You can monitor carbon dioxide, humidity, air quality, and temperature range across the supply chain. Plus, the TMS software can automatically alert the carrier about temperature shifts to prevent product spoilage.
Blockchain-based Technology
Blockchain technology can automatically record events along the supply chain to an immutable peer-to-peer network. This lets participants, customers, and auditors easily check loading, transportation, and delivery activities. On top of that, smart contracts technology allows for swift trading with fewer commissions, as a central authority doesn't process transactions.
This list isn't exhaustive — you can add functionality for your TMS solution. But if your in-house lacks development skills, you need to partner with a reliable agency.
🔹 How To Choose A Transportation Management Application Development Company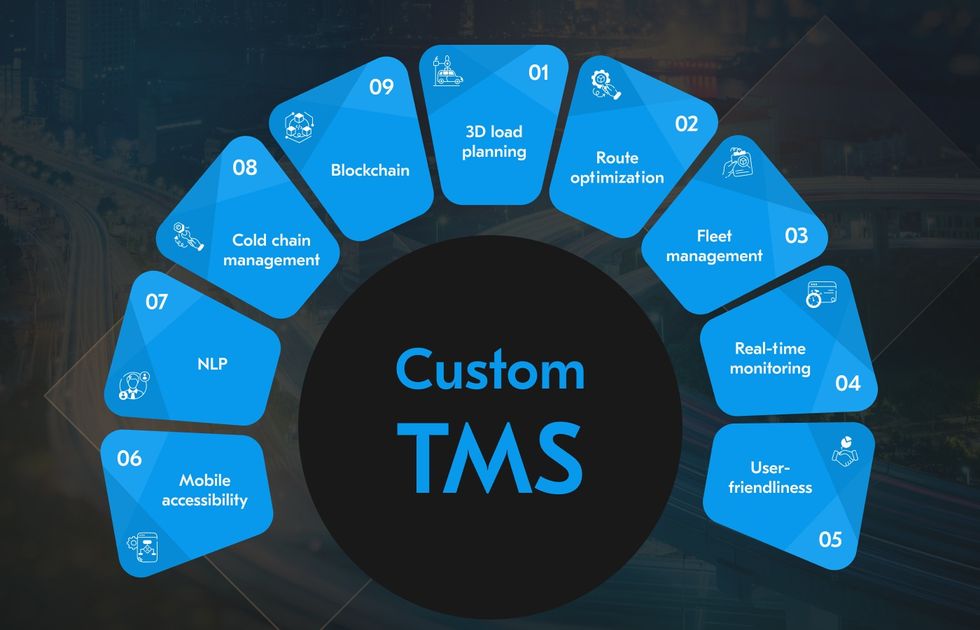 You can have your methods of finding a perfect technology partner. However, if possible, you should pay attention to these criteria:
Company's reputation. Experience isn't just a number of years on the market; it's also a result of their work. Check if your vendor has built projects in your industry or similar niches.
Client testimonials. Look at what the company's clients say on social media and review platforms like Clutch.
IT outsourcing market. The outsourcing location can tell about the expected programming skills, payment rates, available talent, and English proficiency. It would also help if the time zone allowed you to share business hours.
Technical stack. Make sure the provider's team has expertise with the technical stack you require for your project.
Data security measures. Security should be a priority for transportation management application development. Your vendor must follow international privacy policies and use effective data security tools.
After you shortlist a few potential IT outsourcing companies, set up a meeting and discuss your requirements. A long chat with the company's experts can tell you more than anything written on their website.
🏆 Why Choose Acropolium For Transportation Management System Software Development?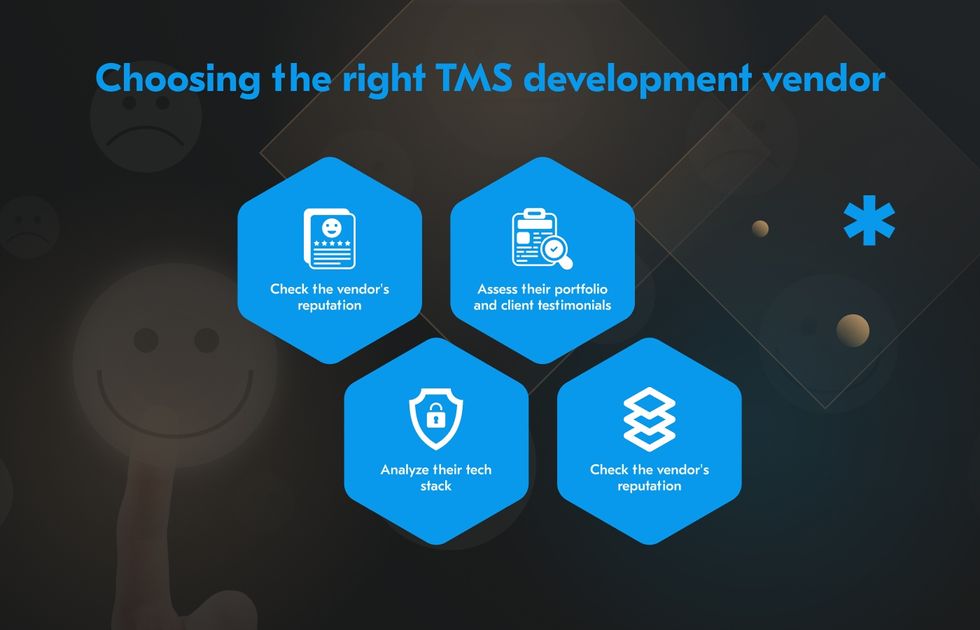 Acropolium is a professional mobile and web development company with nearly two decades of experience. Our team has over a hundred vetted engineers, designers, cloud migration experts, business analysts, and managers.
Our company has delivered hundreds of successful projects. We don't blindly follow your business requirements — we make sure to find ways to add more value to your organization. And, as an ISO 9001:2015 certified company, we can guarantee top-level management and consistent quality in every project.
Do you want to know more about our expertise? Just take a look at our portfolio.
💼 Acropolium's Portfolio Of Transportation Management Software
We have a long track of secure, compliant, and feature-rich applications for the logistics and transportation industry. Here are some of the projects we worked on:
Shipping Web Platform Development
We were asked to create a shipping platform dropped by a previous vendor. Our dedicated team conducted an in-depth technical audit to root out payment bugs, optimize code, and replace poorly performing third-party services. In under two months, our app started attracting the first customers. Plus, our optimization efforts reduced the client's operating costs by 600%.
Mobile Shipping Service Application Development
The client's shipping platform required robust mobile apps to track drivers' working hours for the brokerage firms. Our specialists start by optimizing the core architecture and fixing bugs for web and Android apps. This increased the session speed by 28% and improved the security level by 90%.
We implemented maps and real-time GPS tracking that accounts for external circumstances (like traffic jams and vehicle breakdowns). Finally, we developed an MVP version for the iOS app in just three months.
Transportation Management System Modernization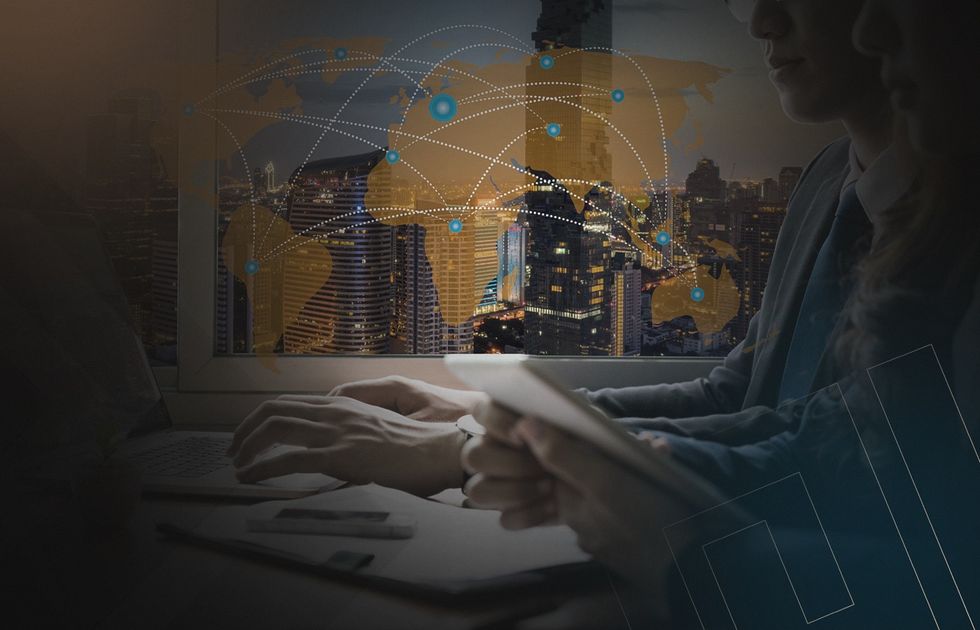 Our team needed to modernize a TMS platform riddled with poor-quality code and broken backend processes. In less than three months, we migrated the legacy components to scalable MySQL, updated the PHP and libraries, and reindexed the ElasticSearch database to fix the data desync issues. The final solution was much faster and helped the client to save $8000 each month on database management.
You can read about our projects across industries here.
🔎 Conclusion
Transportation management systems address most logistics problems. Top-grade TMS platforms can help you plan shipments, improve efficiency with automation, collaborate with trading partners, and optimize processes to save more money.
Feeling that existing solutions don't meet all your requirements? Then, custom TMS software might be your solution. Thankfully, it doesn't require a colossal investment with the right developer.
Acropolium can help you build a proprietary TMS solution, re-engineer your existing software, or integrate sophisticated logistics management features. Have specific business ideas, but lack a skilled team to realize them? No problem! Our subscription-based software development services can cover all your needs — from research to development and product support.
📝 Sources Of Information