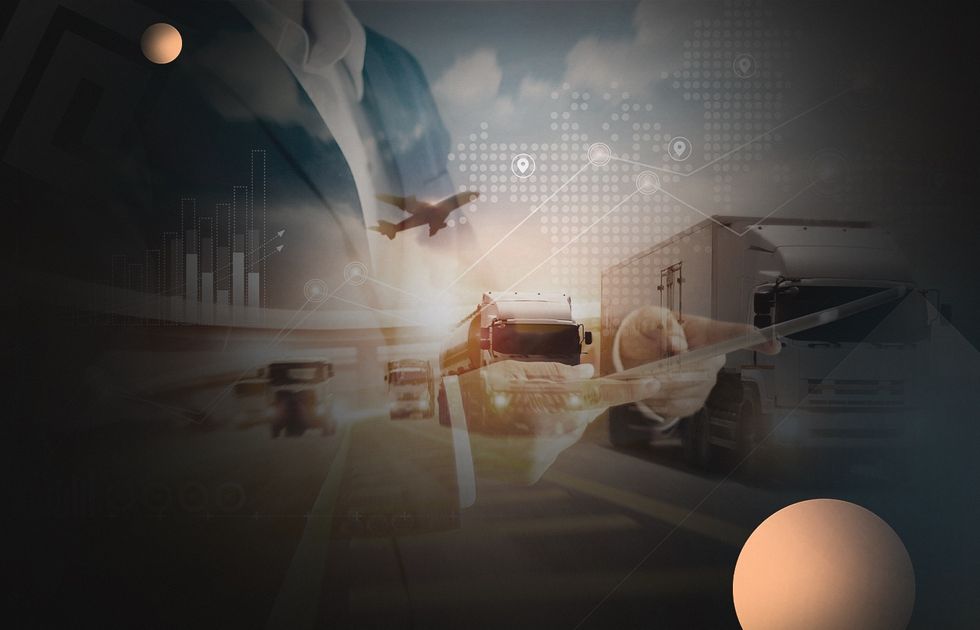 In this article you will learn everything about transportation management application development, its main modules, and how to make it thrive upcoming years.
The COVID-19 pandemic has disrupted supply chains once and keeps pushing the logistics sector to its limits. Many NVOCCs, freight forwarders, and local delivery services may start losing profits and falling behind the competition unless they start managing resources more efficiently.
Custom transportation management software (TMS) is the answer to these challenges. The intelligent software designed to plan shipments, control your fleet, and save time for your employees by automating routine tasks and managing documentation ticks all the boxes. And it doesn't always require a colossal investment to have the feature set you need.
With over 17 years in software development, the experts at Acropolium are capable of creating enterprise-level products while staying within budgets and deadlines. Whether you want to develop a custom transportation management system, need to reengineer your existing software, or provide integration with ERP, Acropolium is ready to offer help. And we'd like to start by making sure you know exactly what TMS is, how it works, and why your business will benefit from using it. We'll begin with the latter.
How a TMS system helps optimize your expenses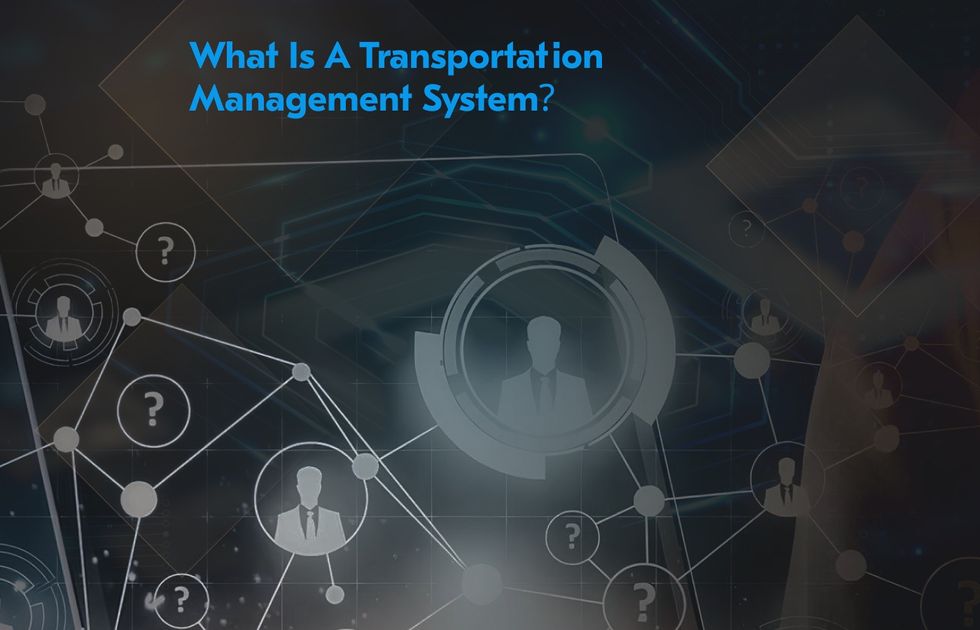 A custom transportation management system can help your business reduce expenses in a number of ways. Depending on the available features, adopting a TMS solution will help you with:
Tracking cargo and managing storage. As the system takes over these functions, human errors are reduced to a minimum, along with the expenses they incur.
Optimizing routes. This will result in fewer paid hours drivers have to spend on the road, as well as reduced fuel consumption and maintenance costs for the vehicles. Read more about fleet routing software development.
Automating routine operations. When all manual tasks are automated, you will be saving the time of your drivers, dispatchers, and other personnel, which will immediately translate into financial gains.
Improving billing and documentation. When paperwork-related bottlenecks are gone, so will most payment delays and the concerns your accounting and legal might have. Read more about building a document management system.
Avoiding penalties due to compliance issues. A good TMS system is compliant with all relevant regulations, so you won't have to worry about liabilities in your logistics department.
Improved planning, robust shipment tracking and traffic management, optimized billing and invoicing — it's easy to get lost in the benefits a TMS solution promises to deliver. Let's look at the current market trends for this kind of software and find out what business owners are expecting from upcoming transportation management system solutions in the near future.
Read also: How to build custom fleet management software.
TMS market trends in 2021-2025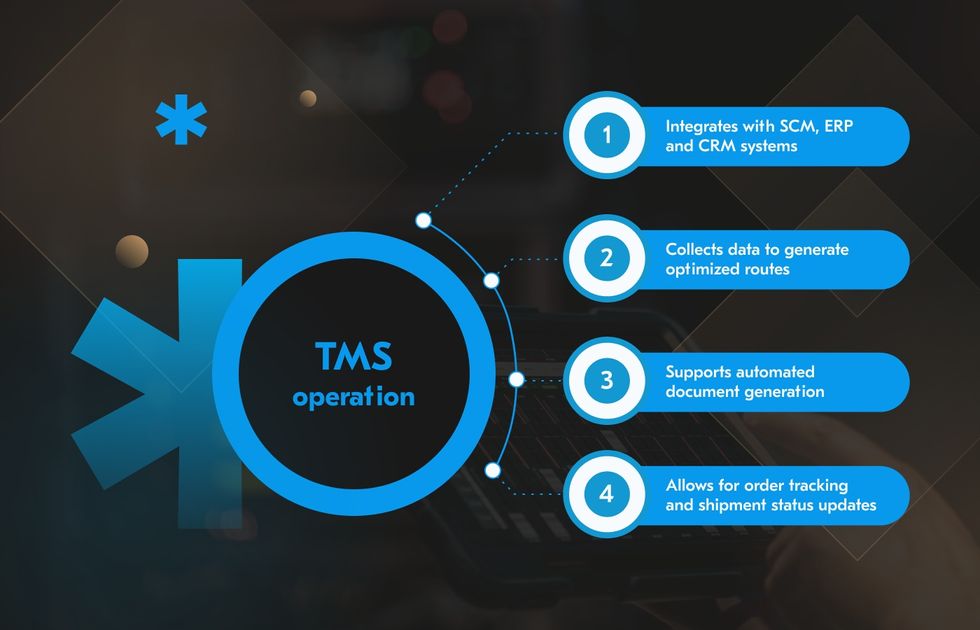 A Deloitte report published in July 2020 begins with a staggering figure: 92.1 billion tons. This is the projected volume of the global freight market in 2024. It will have grown almost twofold from the 54.69 billion tons in 2015. Such a drastic increase in the sheer volume of transported goods will be accompanied and influenced by changes in market trends — both societal and industry-specific.
According to the same report, here are some of the challenges that will define the transportation market in the next few years:
Highly individualized and volatile customer demand. In a world that celebrates diversity and is dominated by quick fashion, planning for the customers' needs is becoming increasingly difficult due to market segmentation and an abundance of available options.
Cost pressures and staff shortages. While the industry is growing exponentially, transportation costs continue to increase, and finding qualified personnel becomes more problematic.
Stricter regulations and greater sustainability. The laws and standards that govern transportation are becoming more rigid, and more initiatives to reduce carbon emissions are appearing.
Risks and disruptions. We've all seen country-wide political shifts, natural disasters, and the latest Covid-19 pandemic break up supply chains. There is no reason to believe companies will have control over such circumstances any time soon.
However, the logistics industry is evolving and adjusting to the new reality. We're witnessing the following changes already:
Digitization and automation are gaining momentum, and will continue to do so.
Business analytics and greater transparency are being introduced at every point of the logistical process.
Hub decentralization and better networking are key tendencies that support and complement each other.
Based on these variables and taking into account the overall dynamic, we can speak of several trends that will be shaping transportation management application development:
IoT sensors and devices. The use of IoT tech is warranted by its low cost, high precision, robustness, and communication capabilities. With these devices, live driver tracking becomes a breeze.
Artificial Intelligence and Machine Learning. These two technologies have immense potential for analyzing data and making accurate predictions and suggestions, be it for route optimization or storage planning. Imagine your TMS system advising you on warehouse storage temperatures for sensitive cargo or creating the best delivery scenario based on weather conditions, 3PL contractor pricing, and other relevant data. Read more about use cases of ai in transportation and logistics.
Software as a Service (SaaS). Nothing beats the power of cloud-based computing combined with a hassle-free model of online access to software and resources. You save big on building and supporting the infrastructure and delegate all security concerns to the vendor. Read more about SaaS product development.
Adoption of blockchain. A technology from a totally different domain, blockchain has recently found its way into many industries. In logistics blockchains are used for better security, traceability, and transparency when recording transactions within a supply chain. Read more about use cases of blockchain in logistics.
This is by no means an exhaustive list of things to consider when building custom transportation management application. Ideally, you should be able to fully rely on your IT partner's expertise and knowledge of the market in these matters. But to understand the software and its advantages, you must have a good grip on the essential functionality of a TMS system.
Read also: Developing custom fuel management system for trucks.
Custom TMS software must-have modules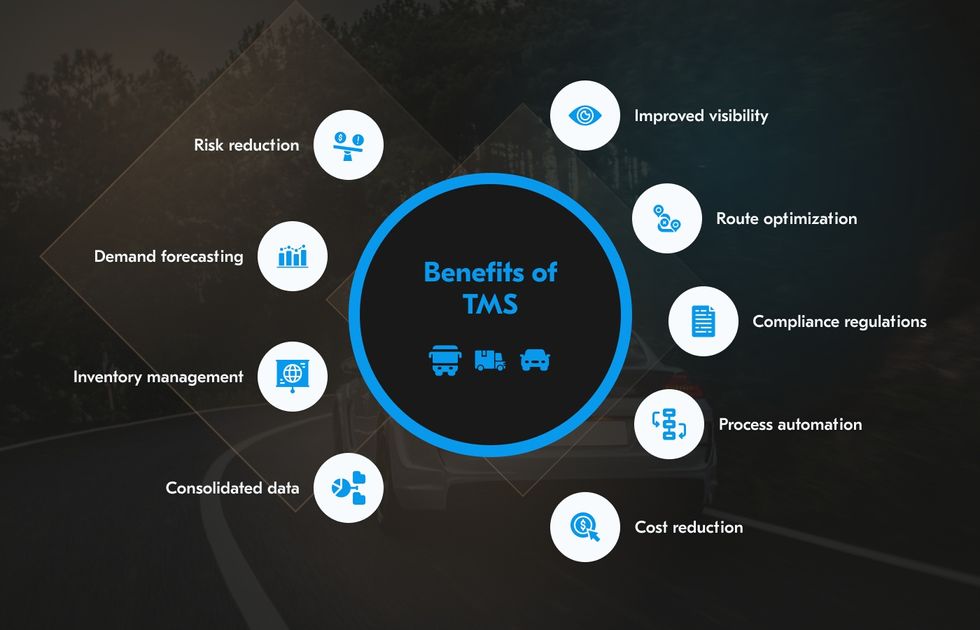 Speaking of custom transport management software development, we have to keep in mind that no two TMS suits are identical. The software uses a modular architecture, and depending on the customer's specific needs, particular modules may or may not be present in a particular solution.
However, certain functionality and features should be inherent in every TMS system. For instance, well-designed logistics management software will provide a flexible and user-friendly interface for managers to quickly view and interact with crucial data, react to the changing circumstances, and make executive decisions on the fly. Another example is integration with existing WMS or/and ERP software your company might be using — to ensure data silos are not limiting productivity.
In our opinion, the simplest way of looking at the core features of a TMS system is by breaking down the delivery process into its three typical phases (in their chronological order):
Transportation planning
Execution
Administration
Let's look at every phase in more detail.
Transportation planning
In this phase, logistics companies should be able to leverage the full potential of a TMS solution prior to setting in motion the very process of delivery. Using the system's analytical capabilities and its optimization engine, managers can oversee every choice made by the software and provide their input if necessary.
Functions available for this stage may include:
Preliminary optimization: finding the best routes and carrier rates for particular orders, tendering, optimizing load allocation, etc. The software provides recommendations based on real-time data input from multiple sources.
Order management: filling out forms, distribution of orders among contractors and drivers. Convenient search options and access to critical data for both managers and drivers is a must.
Contract management: handling carrier contracts, ensuring execution and compliance.
Analytics and reporting: data collected in this phase is aggregated, analyzed, and used to further improve the delivery process and make it more cost-effective in every subsequent iteration.
When all contracts have been prepared and freight managed, it's time to start moving the actual cargo.
Execution
This stage involves many routine functions a TMS system should be able to automate, saving your managers' valuable time.
These are some of the typical tasks for this phase:
Scheduling: to avoid delays, your drivers need to have precise directions from route planners so they don't end up waiting in lines for loading and unloading or miss their appointed time slots.
Real-time tracking: an essential feature of any TMS, it saves time for managers, helps respond to unexpected situations, and provides data you can use to show customers the live location of their goods.
Communication: your managers should be equipped with the means to quickly contact drivers, warehouses, and other contractors in the supply chain.
Once the goods have been delivered, your TMS suite should help you take care of administrative tasks.
Read also: How to build GPS tracking system for commercial fleet tracking.
Administration
This final delivery phase traditionally requires a lot of work to be done by accounting and includes things like:
Auditing and adjusting: the system must check all bills for accuracy and make the necessary adjustments before processing payments.
Billing: getting paid for your services should be quick and simple with TMS. The system should generate Invoices and send them to respective parties automatically.
Paying contractors: your TMS suite should automate payments as much as possible, reducing the chances of human error and speeding up the process.
Now that you're familiar with the core functionality of TMS, we'd like to tell you more about building this kind of software.
Building a TMS solution (a step-by-step guide)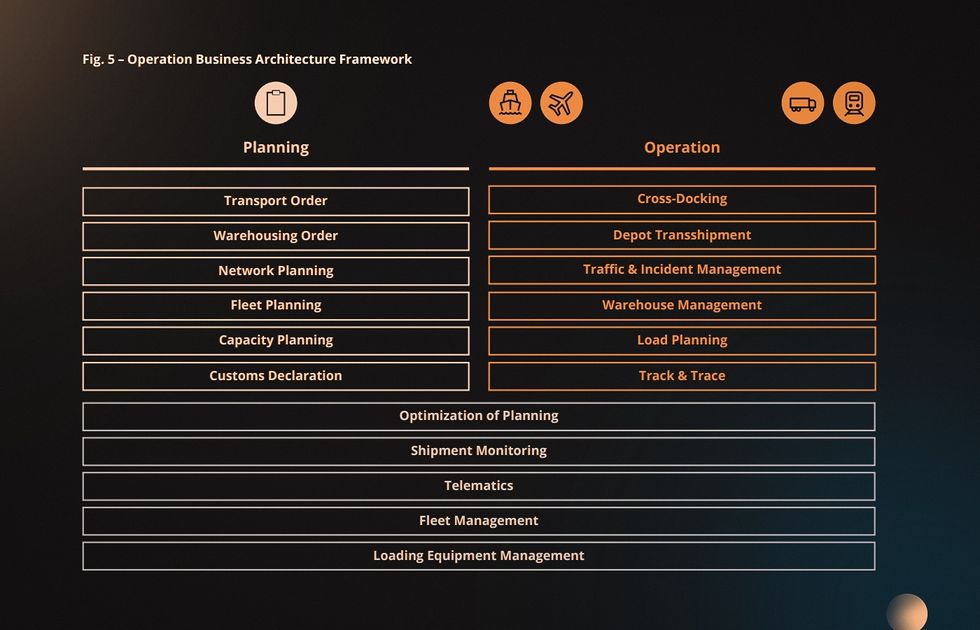 Before we get to the technical side of things, let's review the basic components of TMS. The best way to do so is by looking at the software from the users' perspective. What screens and controls do they interact with? What purpose do they serve? Find the answers below.
The basic transportation management application modules
As we mentioned earlier, transportation management software is modular by design. The vendor needs to study the client's specific requirements to develop a custom transportation management system with the right modules. However, there are modules that most TMS systems share.
Order management
This can be a complete and interactive view of the order lifecycle, with real-time status updates. A tracking feature with full visibility across warehouse facilities and delivery vehicles would look good here. The data can be made available to both managers and clients. Handling in-transit cargo damage and loss is another functionality typically found in this module.
Freight management
In this module, logistics managers can usually review and compare freight rates from different carriers, schedule cargo pick-up and delivery, and deal with freight-related paperwork.
Transportation
A module that normally offers a consolidated view of delivery vehicles to supervisors, with details on expenditure, capacity management, carrier management — including multi-modal transportation (useful for 3PL management), etc. From the customer's standpoint, the module should provide quick communication options for resolving any issues that may arise in the course of delivery. Route optimization tools are also vital for the efficiency of this module.
Analytics and reporting
This component is truly indispensable when it comes to translating operational data into actionable insights. The module should offer tools for data collection and analysis, as well as comprehensive visualizations with the ability to export it in various formats. Some of the typical data presentation scenarios may include:
Fleet performance
Current operating expenses
Inventory status
Invoice payment status
Other supply chain metrics
Armed with this information, we think you're ready to hear about the next steps towards developing a TMS solution tailored to your needs.
Read also: Software solutions for freight forwarding.
The steps to take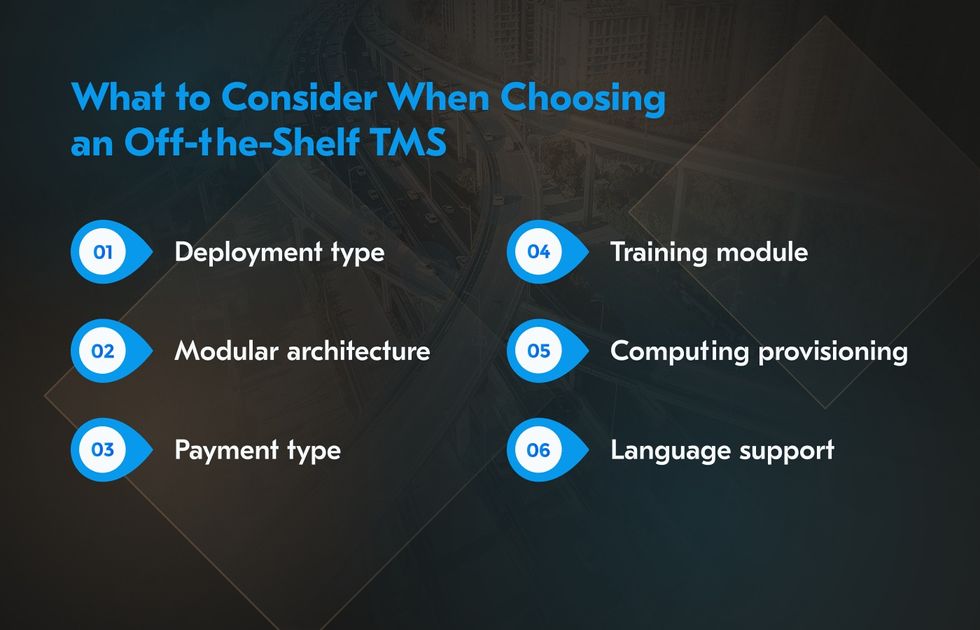 Finding a software partner
At this stage, you need to team up with IT professionals who can provide qualified consulting services, and you'll have to make your pick. It all starts with the people, their values and expertise. You can formulate your own criteria for the perfect candidate, but we'd like to make some recommendations. Pay attention to the following:
Portfolio of successful projects
Independent ratings
Client testimonials
Number of years in the field
Make sure to set up a meeting and discuss your needs and requirements. An hour-long chat with a person can tell you more than any metrics and achievements. Don't forget — in addition to conversation skills, your vendor of choice must have the needed expertise in TMS software development.
Once you've found the right software provider and started negotiating, they will provide further guidance in the development process. The procedures are pretty standard, so we'll only outline the steps that require your immediate attention.
Defining software requirements and approving functionality
You'll need to describe your expectations, specify your business needs and pain points. The vendor's team will then consult you on the best solutions and practices to achieve your goals.
Estimating cost and planning milestones
As the name suggests, in this step, you'll receive estimates of the cost and time needed to complete your project, with detailed stages of delivery.
Design and prototyping
The vendor's team will create a conceptualized version of the future software, define the architecture and technical stack most suitable for your TMS solution.
Development, testing, and deployment
This is when the magic happens. What started as a concept becomes a fully functioning product that meets original requirements and fulfills intended needs. The software goes through a period of rigorous testing before deployment, and then — your TMS system is finally here! At this time, your employees and customers will start enjoying the benefits of the new solution, and for your software partner, the project will enter into the support phase. But before that journey begins, we need to discuss one more topic.
Read also: Your guide to dispatch software development.
How to make sure you get a scalable and cost-effective TMS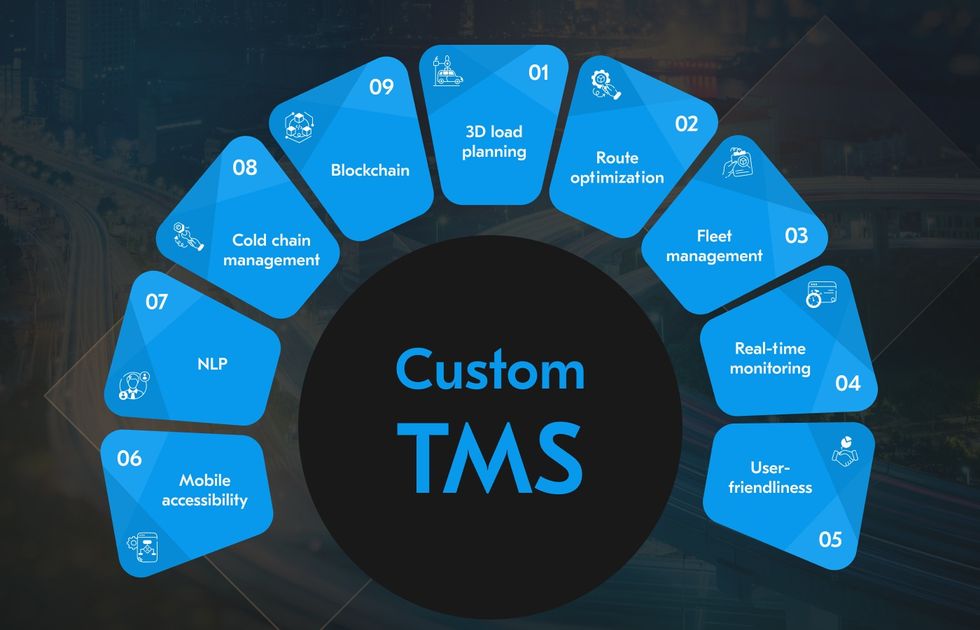 Some fundamental characteristics of software are ingrained in it at the very first stages of development. That is why you'll need to make certain decisions early on, so you don't end up with a TMS system that will limit the growth of your business or find yourself in a situation where every feature upgrade costs a fortune. So how do you avoid these pitfalls?
We recommend doing three things:
Opt for open architecture. This will ensure future compatibility with components and features based on the same open standards. Read about SaaS infrastructure architecture.
Choose a cloud-based solution instead of an on-premise one. We would advise our clients to develop a SaaS transportation management system, as it combines speed, reliability, and security with easy online access from any device, anywhere. Read about How to migrate software to cloud.
Select the right tech stack. It goes without saying that your software partner should offer you the most relevant technology in their arsenal. At least, that's what our Acropolium consultants would do. Read about SaaS tech stack.
Acropolium's takeaway
There's a simple approach we use when creating software or providing audit and consulting services. We generously invest Acropolium's knowledge and experience into every project to maximize the value our clients receive. So if you're in the market for a transportation management application development, you'll be in safe hands with Acropolium. With our expertise in transportation management software development, well-established processes, and a team of highly skilled professionals, you'll get a reliable partner and a software product of the highest grade.
Considering the challenges the logistics industry is facing today, we can't help but wonder how anyone in this business can survive and thrive without a TMS. The benefits of using a tool like this are too obvious to ignore, and there's really no alternative. In a few years, the toll of not adopting a custom TMS system can become much higher than the cost of implementing one today.
Still not convinced? Get in touch with our specialists, and we'll dispel your doubts and answer any questions.