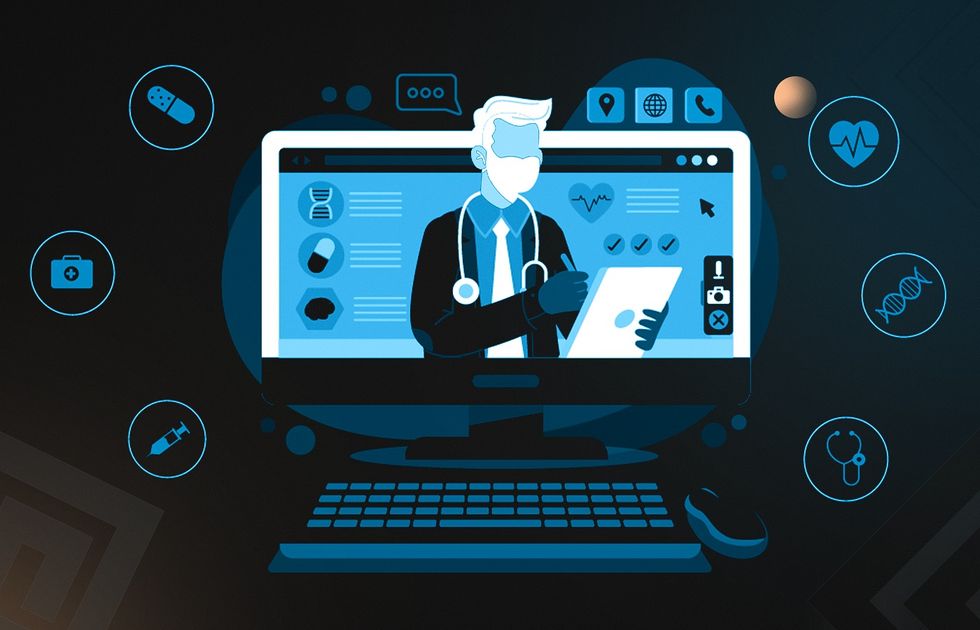 Key Takeaways
Hospital management software automates healthcare facility tasks, including patient management, billing, and administration, enhancing efficiency and patient care.
After the COVID-19 pandemic, patients prefer remote appointments over hospital visits: all telemedicine modes experienced increased usage in 2022.
Automation plays a vital role in medicine, allowing hospitals to optimize the workflow, strengthen inventory management, and ensure regulatory compliance.
The healthcare industry has become highly dependent on technology with the exponential growth of digital health solutions. Medical institutions invest in hospital management systems as the primary asset of their operations, improving patient experience and providing advanced care.
The global digital health market value was approximately $175 billion in 2019. Anticipated to grow at a CAGR of nearly 25%, the market is projected to approach $660 billion by 2025. While the medical sector was focused on automation long before the COVID-19 pandemic, the demand for digitization has risen dramatically.
Over 50% of patients have prioritized contactless remote appointments over hospital visits in the last three post-pandemic years. As more and more people seek digitized health providers, medical businesses embrace the power of tech. However, apart from customer satisfaction, adopting hospital software solutions allows medical centers to cut costs and improve efficiency.
Providing custom healthcare software development services to the medical market for 11 years, Acropolium has delivered over 23 tailored solutions.
In this post, we share HMS systems' basic features and benefits based on our extensive expertise in developing HIPAA-compliant software. Read on to explore how to choose the right software and build a hospital management system to streamline your operations.
HMS Software Basics: What is a Hospital Management System?
A hospital management system (HIS) is a comprehensive software solution that manages various aspects of hospital operations. It encompasses patient information, medical records, appointment scheduling, inventory, etc. HIS enhances efficiency, coordination, and decision-making within healthcare facilities.
Whether standalone or cloud-based, a hospital management system (HMS) integrates and allocates departmental data to automate internal processes. It's a computer system aiding healthcare providers in managing health-related information and tasks efficiently.
HMS software covers basic tasks, from patient appointments and helpdesk activities to laboratory tests, medical claims, billing, and invoicing. Modern medical organizations also operate with online pharmacy apps as part of effective digitization.
Technologies used for hospital management systems usually include:
Telehealth that allows for remote healthcare administration and online patient monitoring.
Wearable devices with health managing technology for patient heartbeat tracking.
Artificial Intelligence (AI) used for medical application development both for doctors and patients.
Machine Learning (ML) in software for hospitals to deliver real-time alerts on patient conditions to medical staff.
Big Data for predictive analytics that is utilized to address the probability of developing a specific illness in patients.
The Internet of Things (IoT) that enables an efficiently interconnected network of medical devices.
Key Advantages of Hospital Management System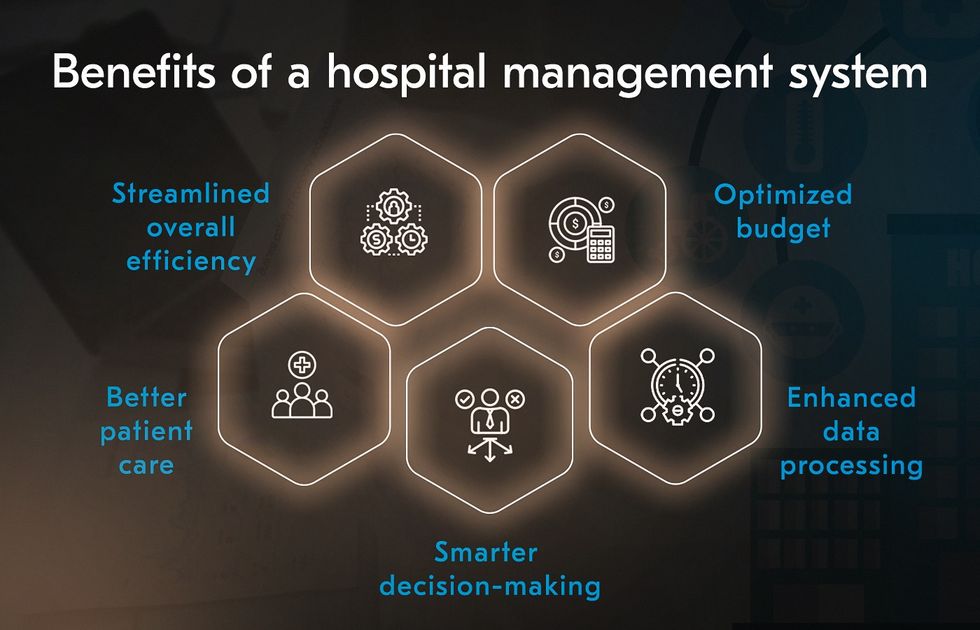 Healthcare operational routine modernization is a complex and time-consuming process that requires a fundamental approach and constant maintenance. When done and implemented right, it has many advantages that improve patient safety and process cost-efficiency.
The key benefits of a hospital management system empower businesses with:
Better patient care.
Streamlined overall efficiency.
Enhanced data processing.
Smarter decision-making.
Optimized budget.
Enhanced Patient Care
By operating with electronic health records (EHR), hospitals have quick access to patient history and facilitate accurate data-based diagnoses. It allows doctors to pick a relevant treatment and reduce human error risk.
At the same time, the unified data enables the reduction of paperwork and administrative tasks. Thus, hospital management software gives professionals more time for patient interaction.
Timely alerts sent to the doctors' devices improve response time to minor and critical patient events, helping the medical staff focus on their core responsibilities.
Improved Operational Efficiency
Hospital information system works for proper data collection and rational informational resource allocation, with information being smartly distributed and segmented. Automated data management eliminates manual data entry, streamlining the workflow and minimizing patient waiting time.
This way, software used in hospitals ensures better patient satisfaction and simplifies client flow for the medical staff.
Data Security and Privacy
The collected patient information is highly sensitive and requires solid cyber protection. Since hospital management system software is especially data-dependent, it's designed with the latest information protection policies to ensure data safety.
Healthcare software providers develop solutions following the required data protection regulations like HIPAA or GDPR to align with the business's legal responsibilities. Such an approach distributes access to data based on management roles while utilizing the latest encryption practices.
Such solutions provide hospital staff management with regular security updates so that medical organizations can keep track of data processing performance.
Data-driven Decisions
Real-time reports allow for prompt performance evaluation, with data being the cornerstone of the decision-making process. Well-structured patient data within an HMS hospital management system enables medical businesses to identify bottlenecks and discover areas for improvement.
As a result, a hospital can make informed decisions for internal resource allocation, optimizing the basic processes.
Cost savings
Hospital management software contributes to cost savings by streamlining operations, reducing paperwork, and minimizing errors. It optimizes resource allocation, efficient scheduling, and inventory management, preventing overstock or shortages.
Automated billing and claims processing accelerate revenue cycles. Enhanced data analysis aids informed decision-making, avoiding unnecessary expenses. Ultimately, a hospital management software system amplifies the overall efficiency, reducing operational costs and increasing revenue.
Successful Hospital Management Software Implementations
The choice of hospital management system depends on the primary business challenges of a medical organization. When developing a custom solution, vendors craft products that will address the hospital's bottlenecks. Here are some successful cases representing how software used by hospitals improves specific processes.
1. Improved response time by 99% using a mobile platform for a call center.
When a nationwide behavioral health network with 30+ locations sought an improved communication platform, its key priorities were:
Accelerating call center consults and referrals.
Reducing legal and operational risks.
Ensuring HIPAA compliance.
Challenge: Their call center is responsible for patient assessment and intake. Dealing with over 900 daily calls via an outdated communication system led to slower response times and care delays. Furthermore, their system was insecure and posed compliance risks.
Solution: The company leveraged a secure mobile platform to engage in real-time communication with providers through a chatbot. This solution was integrated into each of the 30 facilities within the behavioral health system.
Results: The hospital patient management system improved the entire patient journey, encompassing intake, treatment, and release stages, uncovering the following benefits:
Patient Intake: The call center can instantly connect with an on-call provider at the appropriate facility for intake consultations.
Psychiatric Workflows: A virtual workspace simplifies clinical communication and collaboration for administrators and providers.
Telehealth: Seamless integration of telehealth within the mobile platform allows for remote behavioral assessments in healthcare facilities. Additionally, it offers remote patient support post-release.
Compliance: The mobile platform inherently manages confidential patient data to ensure HIPAA compliance.
As a result, the call center has significantly improved the response rate and boosted patient satisfaction.
2. Streamlined Documentation and Billing for Radiation Oncology Practice.
Cancer Care Group physicians traveling across Central Indiana locations provided patient care and recorded data for medical institutions. Initially, the data collection process was split into two stages. The workflow required coders to visit the facilities the following day and replicate the documentation recorded by physicians.
The organization turned to a third-party solution provider to develop a hospital information management system and automate data processing.
Challenges:
Inefficiency concerns: Photocopying and arranging overnight mailings at each practice consumed a significant amount of time for coders.
Information loss risk: Mailing information posed a threat of data loss.
Delayed information delivery: Despite using overnight mail, there was still a couple of days delay in making information available.
Solution: The medical center adopted hospital information software that enabled coders to convenient documentation capturing using secure smartphones or tablets. The images are then sent as attachments within encrypted and secure text messages.
Results: The practice's billing office now receives around 650 images weekly, ensuring efficiency and security while eliminating the risk of ticket loss or misplacement. That way, the institution has decreased travel costs, enhancing staff experience with a technological solution.
Crucial Features of Hospital Management Software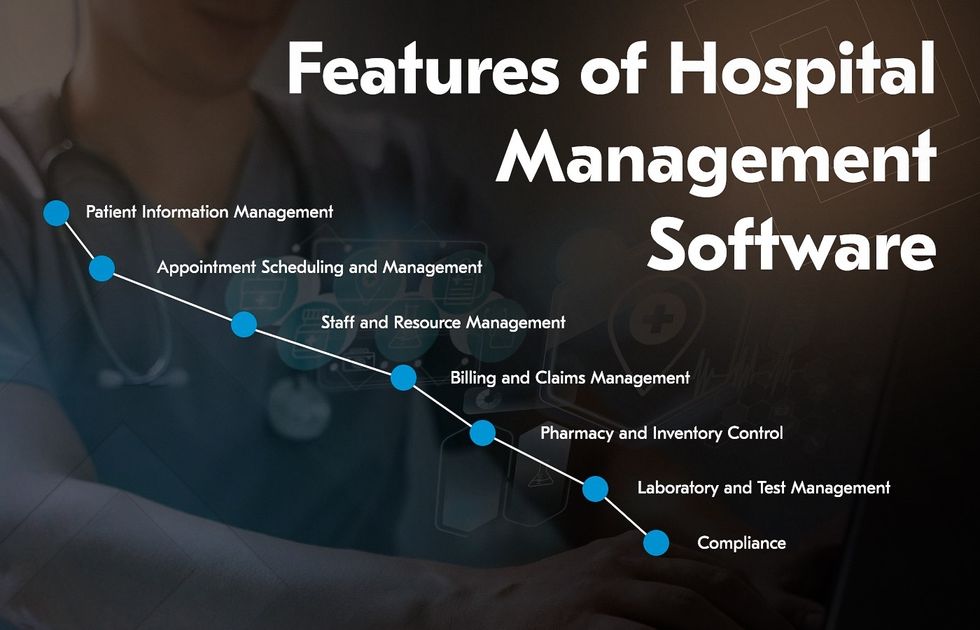 When developing management information systems in hospitals or when switching from their legacy systems, businesses should consider the following features:
Automated patient data handling.
Smart appointment management.
Resource allocation and staff management.
Inventory control and laboratory management.
Patient Information Management
A reliable hospital management solution should operate based on a centralized electronic health records base, providing easy access to patient data. Everything from patient registration, disease history, and medical records management must be available for the medical personnel in one healthcare application or web product.
The system should also support integrating diagnostic reports, prescriptions, and treatment plans to enable data-driven and accurate remedies.
Appointment Scheduling and Management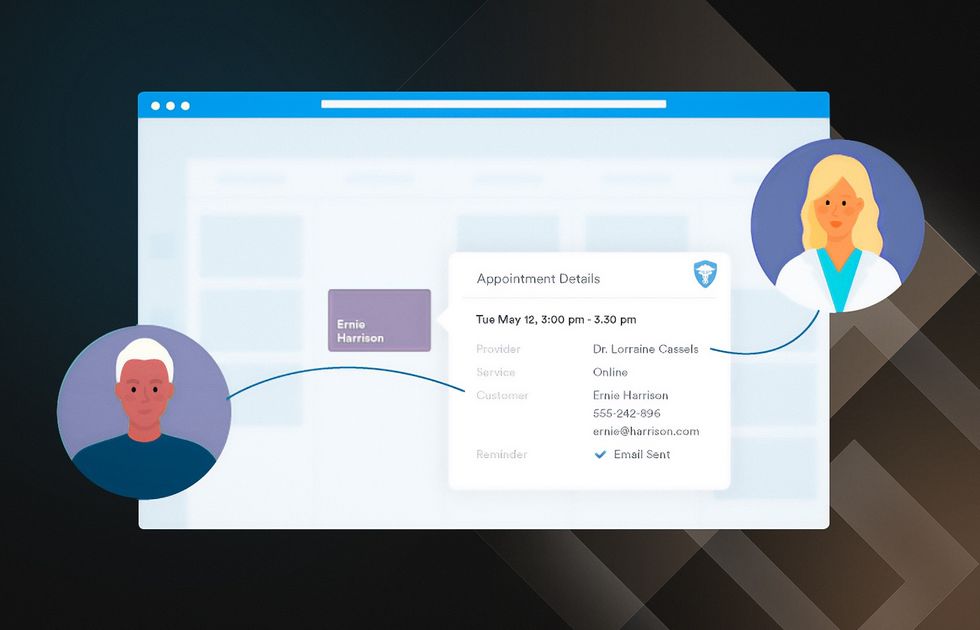 The hospital software should have automatic scheduling features with online appointment booking to avoid medical staff burnout and workflow interruptions. Besides serving the internal medical processes, you should provide a simplified experience to your patients.
A tailored application allowing patients to schedule an appointment and pick a doctor from the professionals available will reduce waiting times. With smart notifications sent to the users, such applications can minimize patient no-shows.
Staff and Resource Management
Promoting a well-systemized and transparent workflow for each department is imperative in the medical sector. For that reason, medical software for hospitals allows for tracking and managing doctors, nurses, and administrative staff. The system helps to allocate and classify duties, shifts, and responsibilities.
Resource management features also apply to inventory capacity revision: hospital software helps personnel monitor medical supplies, equipment, and medications.
Billing and Claims Management
Payment security and processing is another essential part of the medical business. Healthcare software ensures a steady documentation flow with automated billing and invoicing for patients, insurance companies, and government programs. It also classifies documents based on the patient category.
Concurrently, most medical software used in hospitals integrates with insuring databases to enable real-time claim processing.
Pharmacy and Inventory Control
Medication capacity control involves managing medication stocks, ensuring availability, automating reorders, and tracking usage to optimize inventory. More advanced hospital computer software also integrates with patient records to track prescribed medications.
By implementing barcode scanning, this module reduces waste and provides efficient medication management within healthcare facilities.
Laboratory and Test Management
Digital hospital management systems must technically cooperate with diagnostic equipment for efficient test requests and patient records. This feature facilitates lab operations, resulting in accurate diagnoses and better patient care through intelligent reporting.
Compliance to consider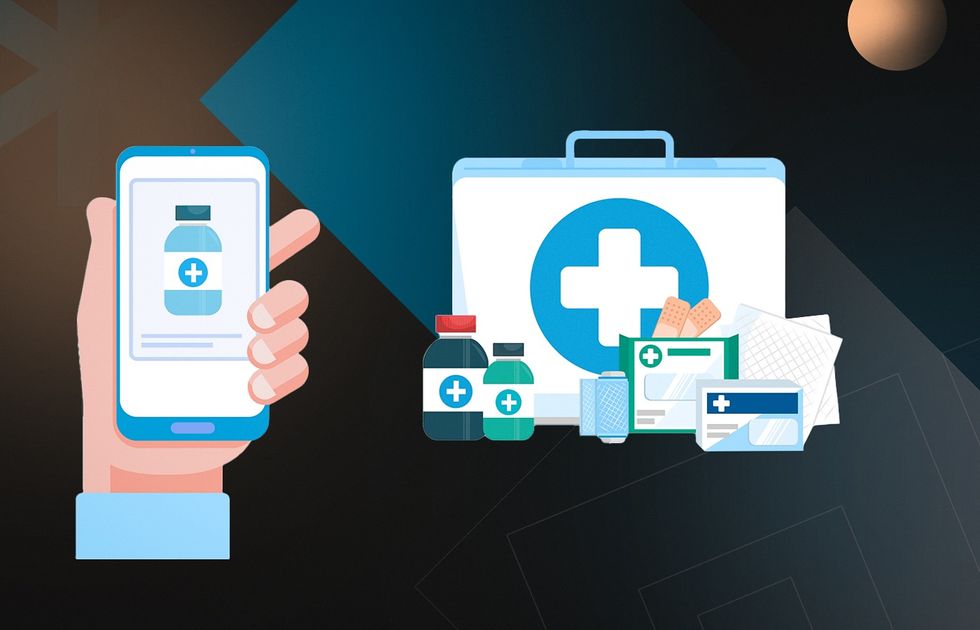 Adhering to regulatory compliance is essential to maintain legal and ethical standards, protect patient data, and ensure the software's reliability. During hospital management software development, solution providers consider the following regulations:
Why Partner with Acropolium?
Powered by GDPR-compliant software for solutions development, Acropolium follows the highest ISO standards to deliver comprehensive solutions for medical businesses. Having operated in the healthcare industry for almost a decade, we develop custom healthcare software development services that provide measurable results.
Our company has crafted unique, compliant solutions for organizations in various medical fields, following the best hospital management software practices.
Biotech Enterprise SaaS for Remote Device Management and Quality Control System
Serving businesses of any size, we designed a biotech enterprise SaaS platform for a large medical business. This solution helped our partner automate team workflows, manage medical equipment maintenance, and assist other companies facing operational delays.
The provided solution resulted in a 65% sales increase, along with 30% new customers, and loyalty increased by 75%.
Platform Development for Veterinary Telemedicine
A large e-commerce firm serving pet owners approached Acropolium to address its veterinary telemedicine platform performance issues. The existing product required modernization for efficient use and service delivery.
Analyzing the client's pain points, we successfully integrated real-time video chat with pet consultants. Thus, we enhanced the web interface and mobile app functionality. Our solution helped the partner increase website visits by 67%, boosting sales by 47% and improving loyalty by 37%.
App Development for a Dental Clinic
We developed a dental clinic application enabling patients to store their visit records digitally. All the patient visit-related data, including treatment and X-rays, were automatically uploaded. Additionally, we incorporated a feature that displays the daily patient count, streamlining document generation and saving doctors' time.
With such a mobile app, dental businesses can enhance patient loyalty and attract new clients, elevating service quality.
Final Thoughts
An adaptable and efficient hospital management system is an irreplaceable asset of healthcare organizations. Healthcare professionals embrace technological advancements to maintain robust IT infrastructure to upgrade patient care. HMS assists healthcare organizations in overcoming the complex challenges prevalent in the modern medical industry.
Hospitals can optimize the entire medical workflow and expenses by automating routine processes like appointments, billing, data processing, and inventory management.
At Acropolium, we offer comprehensive software development services that meet your specific requirements. We utilize cutting-edge technologies, diverse programming languages, and intricate frameworks to unlock new opportunities for your business.
With 20+ years of partner loyalty, our web development agency provided dedicated teams for 60+ consulting projects. Boasting the expertise to undertake a hospital management system project of any complexity, we elevate businesses with bespoke software that fits the client's budget.
Whether you need to develop a healthcare automation product or strengthen your assets, we offer subscription-based cooperation with flexible pricing. Our company will conduct a thorough project estimation to craft a solution for your specific goals.
Contact us to embrace the power of technology for your business!
Sources of Information