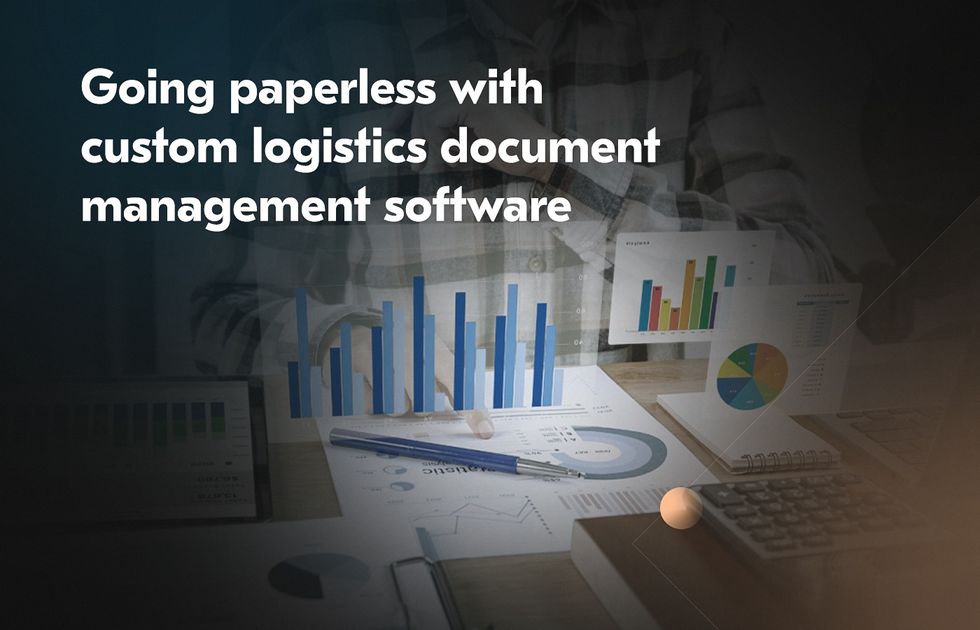 This article is yours one-stop guide on developing document management system. Content is based on Acropolium's experience in Logistics.
If you're working in logistics, there's a high chance you're already using some kind of electronic document management system (eDMS) for your paperwork. You'll also be aware of the employee time involved in documentation processes and the high cost of mistakes in filing.
So here's some good news.
First, with the arrival of new technologies, and particularly advances in automation, the benefits of eDMS for logistics and transportation businesses just got better. From improved administration and more transparent workflows to faster sign-off and POD approval, there's never been a better time to upgrade your system.
And second, if you plan to develop a document management system for your organization, Acropolium has you covered.
This article for company decision-makers looks at the benefits of a modern eDMS for logistics management and the main things you'll need to consider if you're thinking of investing in a custom solution.
A key consequence of the events of 2021 is a demand for more transparency in transport and logistics. Tighter cross-border controls, growing customer demand, and the need for more reliable supply chain tracking have put pressure on businesses to improve their administrative workflows. Electronic document management is one part of the solution to this problem.
At Acropolium, we have a full grasp of the wide range of features that can be included in document management software. Our experienced developers can work with you to figure out the type of system that works best for your organization, taking into consideration its size, structure, and individual needs.
This article details the main business benefits of building a custom document management system for logistics companies, namely:
Faster retrieval of key documents such as POD, customer records and invoices, purchase orders, delivery receipts, and timesheets
Enhanced security and access for document control
Storage optimization
Improved workflow between fleet, warehouses, and company offices
Faster supply chain operations
It also outlines the key features and considerations involved in developing a document management solution with an outsourcing software development vendor.
How a document management system can help optimize your business expenses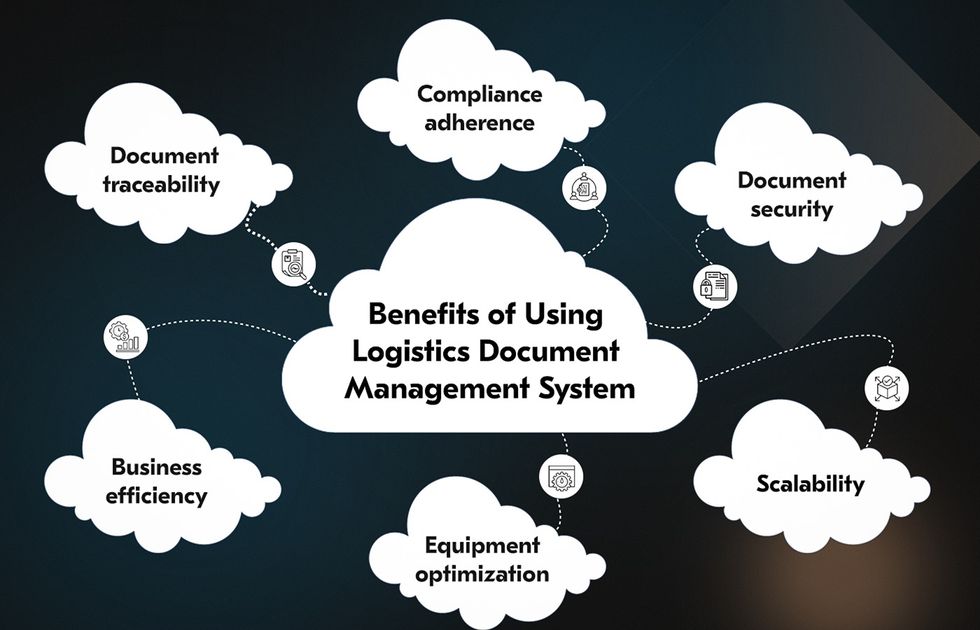 The old way of doing things can be costly, especially if you're handling supply chains that span state or international borders. Replacing a manual paper-based system or piecemeal electronic system with a streamlined eDMS solution can go a long way to enhancing your operational efficiency. These improvements can translate to huge cost savings.
Let's look at some of the benefits in more detail.
File retrieval
With a e-document management system, employees can easily store, retrieve, and share documents. Instead of rummaging through a stack of papers, they only have to type in a keyword or phrase to find the document they need. This greatly increases workflow efficiency and employee productivity, which translates to lower costs.
What's more, going paperless doesn't just spare you clutter and work; it also helps ensure compliance with regulations and ISO standardization. The consequences of misfiling transport and logistics documents are huge. Digitizing documents and automated filing can help you avoid such issues.
Document security and storage
Physical records can get damaged or compromised by loss or theft. If you still have a paper-based workflow, you're likely spending money on security measures for your storage. Recovery after natural disasters can also be costly.
With a custom cloud-based document management system, you can safeguard electronic files in a cost-effective way. Moreover, you can secure the data they contain by restricting employees' access to specific files based on the nature of their work. You can also use a web-based document management software interface to track actions and modifications for each file.
Business processes
Building a custom electronic document management system helps streamline business processes in sales, accounting, HR, customer services, and other departments. The optimized workflows can lead to greater employee retention, faster payment collection, increased client satisfaction, and reduced purchasing costs.
Equipment and supply
eDMS allows you to quickly produce purchase orders, receipts, and other documents and also easily access data related to shipping point, loading group, and delivery type. What's more, developing a document management system means you can go paperless in most areas of your business processes. This translates to immediate savings on paper, ink, toner, filing cabinets, printers, maintenance, and repairs. Paper-free systems also reduce your carbon footprint.
Read also: What is EDI in Logistics.
Industries that benefit most from developing document management solution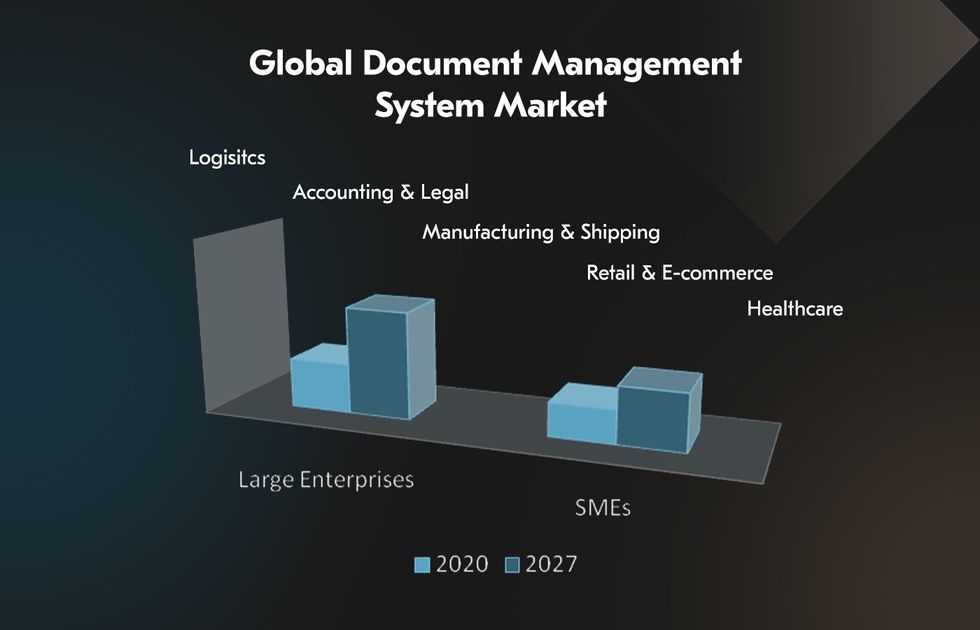 Document management systems can serve as a much-needed lifeline for small, medium, and global logistics providers and other businesses. They're especially helpful for companies in the following industries:
Logistics
Document management software helps logistics companies avoid the bottlenecks that cause delays in deliveries and shipments. It provides a centralized system for managing freight bills, bills of lading, proof of concept, and other essential documents. It improves the workflow, allows for order tracking, and provides support across various shipment stages. Companies are able to operate efficiently and thrive in a margin-sensitive market.
As well as managing documents that are generated during operations, a document management system allows you to manage information across all departments, including HR, accounting, and customer services. It can also assist with scanning and record-keeping.
Retail
Document management in retail helps retailers carefully file, store and keep track of documents such as inventory lists, commission reports, and contracts.
By speeding up these processes, a document management system both lightens employee workload and improves customer service.
Healthcare
The explosion of COVID-19 cases, as well as the rise of telehealth, has led to an explosion of healthcare and patient data. Effective management of this data is now more important than ever. These changes are fueling a rapid increase in digital documentation systems deployment in the healthcare sector.
By streamlining document workflows, a document management system allows healthcare organizations to increase operational efficiency, cut down expenses, and ensure compliance with industry standards and regulations.
Accounting and legal
With document management software, managing records such as cash memos, vouchers, receipts, and e-checks becomes much easier and more accurate for accounting and legal firms. An electronic system also helps firms ensure the security of sensitive files.
Legal and financial documents are notoriously lengthy. Custom cloud-based document management software makes documents easily accessible to all employees, using any device that's convenient for them. This means they don't have to print out several copies of the same document and can access specific records any time they need them, which prevents costly delays.
Read also: Developing custom airport management system software.
eDMS market trends in 2021-2025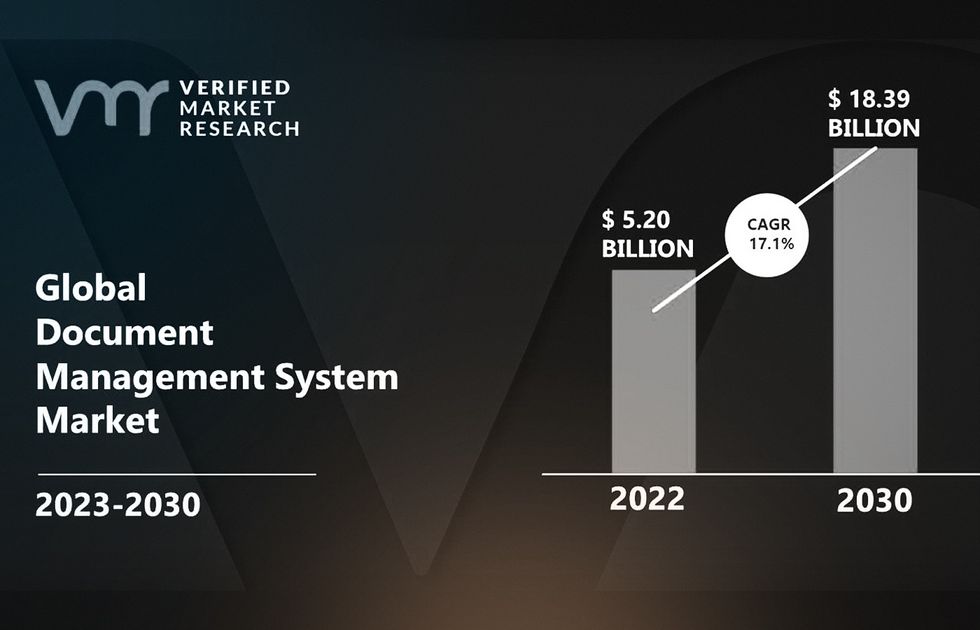 Valued at $5.51 billion in 2020, the global market for document management systems is forecasted to reach $11.47 billion by 2026. This amounts to compound annual growth of 13.05%. Trends in the electronic document management system (eDMS) market reflect the new demands of the changing business landscape, namely remote access, automation, and a switch from self-hosted systems to cloud-based solutions.
Remote access
The COVID-19 pandemic in 2020 forced companies to adopt remote work arrangements, which set off multiple workflows that initially had employees rushing to use varying tools and channels of communication. Now organizations are starting to use a central shared document repository that allows for collaborative workflows and new ways to interact, as well as improve paperwork automation.
Remote access to a central repository allows logistics companies to keep up with the immense pressure to keep warehouses properly stocked and organized. Easier access to document data makes it easier to keep up with customer demands and the shifting business landscape.
Robotic process automation and AI
As organizations buckle up for post-pandemic recovery, leaders are looking at document assembly or automation as a way to optimize spending. Cutting down manual processes enables employees to devote more energy to value-added work. The upshot for logistics companies is that they'll be better able to keep up with fluctuating fuel prices, changing toll and tariff costs, and the immense pressure to deliver goods on time. Read also about AI logistics use cases.
Cloud storage
2021 is seeing the rise of the agile organization, with operations becoming more and more location-independent. Employees are able to dial in and tap into the company's core processes from anywhere. This innovation is made possible by cloud storage, which grants quick and easy access to web-based files and documents from any device and location. Read also how to migrate your software to the cloud.
Document management software must-have features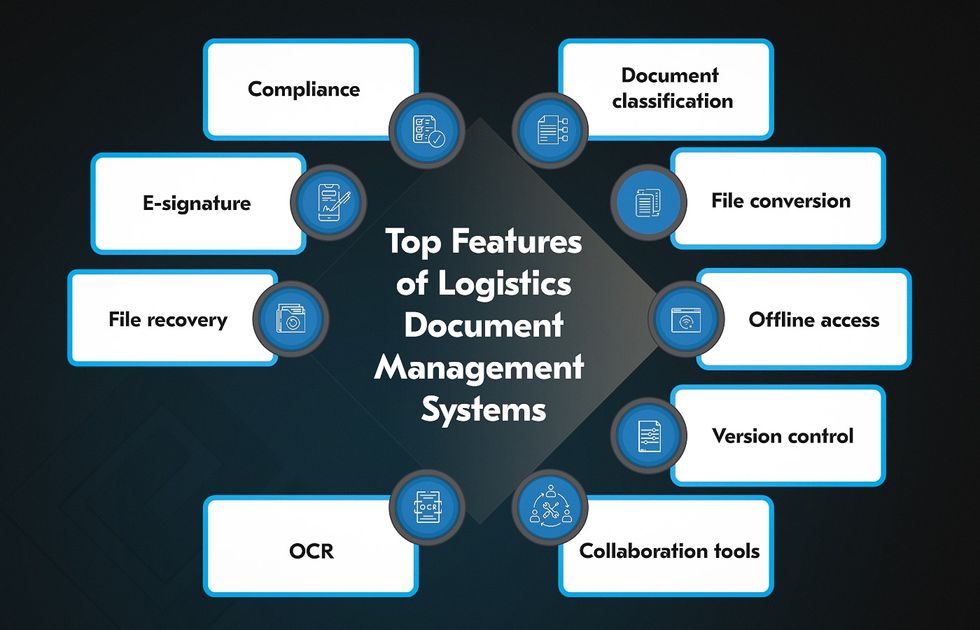 The benefits of a freight e-document system for logistics are clear. If you're considering upgrading your current system or building a new one from scratch, it's good to know the main terms and features you'll come across when looking at solutions. Here's a basic list to get you started.
Document archiving and retention
An automated system assigns criteria for the appropriate retention of documents. It also manages automated file destruction in the background. Employees won't have to painstakingly label storage documents or schedule purging sessions.
Compliance tracking
You can create an online document management system that allows you to consistently measure, sustain, and demonstrate adherence to regulations and requirements through a centralized system. With compliance tracking, your organization will be able to improve regulatory reporting and risk control.
Document generation
An automated platform functions as a PDF creator and document generator, allowing you to transfer data from third-party sources into localized templates. It lets you generate, produce, and edit data-driven documents such as reports, proposals, forms, notes, and contracts. The document management platform can provide conditional formatting and brand consistency.
Electronic signature
Integrating e-signing into your system can streamline processes such as delivery, sign-off, freight handover, and internal approval. Instead of scanning or faxing documents, you can easily fill out and legally sign digital forms using online templates.
File recovery
Backup tools allow you to safeguard important documents in case of disasters or oversight. Timely and automatic backup and restoration processes let you recover data that you accidentally lose.
Optical character recognition
Optical character recognition (OCR) turns scanned paper into editable and searchable documents. An electronic reader converts images into PDF, Word files, or text files.
Collaboration tools
You can build a digital document management system with a tool that gives relevant parties instant access and a clear picture of the paper trail associated with a work process. Collaboration tools should feature an intuitive interface and structure that provide easy-to-follow stages and clusters of approval for each document.
Document classification
Using machine learning algorithms, an intelligent documentation platform is able to recognize and categorize documents by content type. It automates the extraction of index data, allowing you to eliminate manual processes and easily access relevant files.
File type conversion
Adding a file converter to the system lets you easily convert documents from one file type to another. To increase workflow efficiency, the software should also allow for batch conversions. This way, you can quickly convert multiple documents into a specific format.
Offline access
To support the era of remote work arrangements, develop a secure document management system that allows for offline access. A built-in file reader should provide a repository that lets employees download, view, and modify documents from anywhere and at any time.
Version control
Track and manage the changes made to documents using version control. The tool must allow you to view who implemented the changes and when they were made. It should also ensure that the most up-to-date content is readily available.
A system's security configuration will determine the levels of file access and visibility. Previous versions are stored in the system and remain visible only to people with access.
Read also: Developing custom emergency operations center software.
Custom document management software development process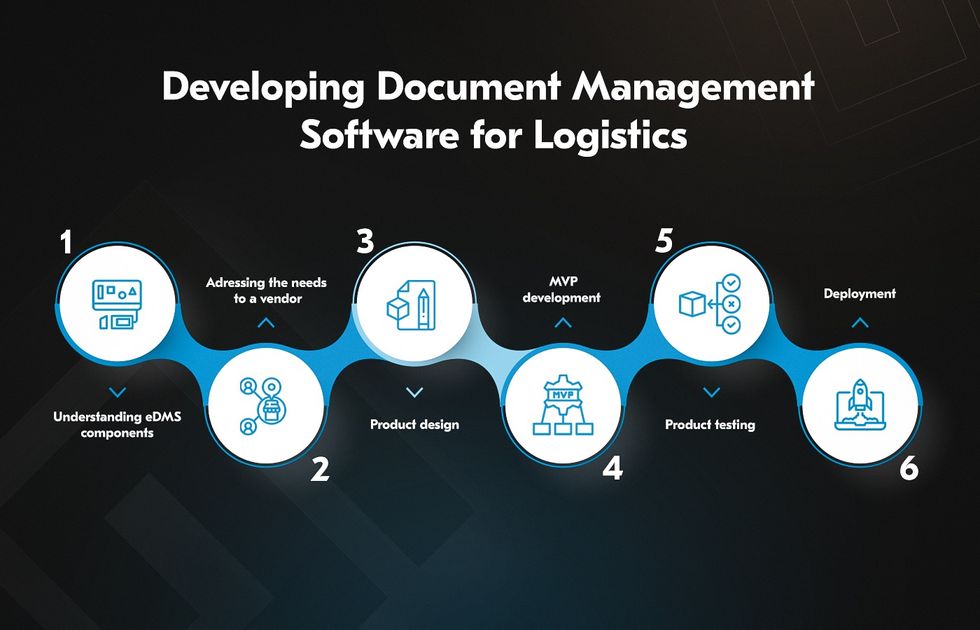 Document management & paperwork automation systems offer powerful functionalities that enable businesses to increase productivity and reduce costs. If your needs go beyond the standard functionality of off-the-shelf software, outsourcing the development of a custom solution is usually the best option.
What goes into building such software? Knowing the basics will help you discuss your needs more productively with a development team. Here's a run-down of the main components of DMS architecture, along with a description of the development process.
Components of software solutions
To ensure optimal functionality, aim to develop a document management system that includes the following basic components and features.
Metadata
An eDMS stores metadata for each document, such as the identity of the person storing the file and the date changes were made. The system may extract the metadata automatically or prompt you to add it. The extracted text helps users to locate files using keywords and other search capabilities.
Capture
This component enables the system to process images of paper documents from multifunction printers or scanners. It uses optical character recognition (OCR) software to convert the images into machine-encoded text.
Integration
A document management system can provide functionalities to other applications, allowing users to retrieve documents from the repository and make revisions to them. This integration is made possible by an application programming interface (API).
Storage
The storage of electronic documents entails file management or determining where the documents are stored and for how long. It also covers the migration of the files to another storage media, document retention, and eventual purging.
Document indexing
Used to track electronic documents, indexing can range in complexity from simply monitoring unique document identifiers to providing classifications for file metadata. Indexing supports file retrieval and information query.
Data validation
A system can set rules for checking misspelled names, missing signatures, document failures, and other issues. It can suggest corrections before confirming the importation of data into the eDMS.
Retrieval
Document retrieval in an electronic context can be complex. A system may use basic indexing or enable the use of unique document identifiers. Flexible retrieval allows users to pull up relevant files using only partial search terms.
Distribution
To ensure the documents are ready for distribution, files must be stored in a secure format. Document viewers should not be able to alter their content. Instead of sharing the original file copy, the eDMS usually provides an electronic link to the document. Organizations that operate in a strict regulatory environment must ensure their system provides traceability and versioning.
Workflow
Document management systems can feature varying workflows, depending on the industry they are servicing. In a manual workflow, users determine who receives the documents. A rules-based workflow, on the other hand, has preset rules dictating how documents flow through an organization. This is particularly helpful for files that require an approval process.
Security
Document management systems set compliance requirements for certain documents. The software may use a rights management module to provide administrators with the ability to grant or restrict access to documents based on the role of employees in the organization.
Read also: Developing custom enterprise risk management software.
Steps in the document management software development process
Document management software development involves comprehensive planning and careful execution. Understanding the basic steps will help you stay on top of the project.
After establishing your project needs and doing a thorough audit of your documentation and workflow, a software vendor will develop your solution in four basic stages:
Establishing a team of experienced engineers, UI/UX designers, managers, and testers.
Producing a minimum viable product (MVP) that you can use for testing purposes.
Gathering feedback from MVP users and creating iterations and beta tests accordingly.
Delivery.
The development team will need to thoroughly study your current system to ensure integration with ERP and other such tools. They should also make sure the system is integrated with your existing WMS. At your end, you will need to establish a team of relevant in-house staff who will be available for discussion.
Read also: How to build freight forwarding system.
How to implement a document management system in your organization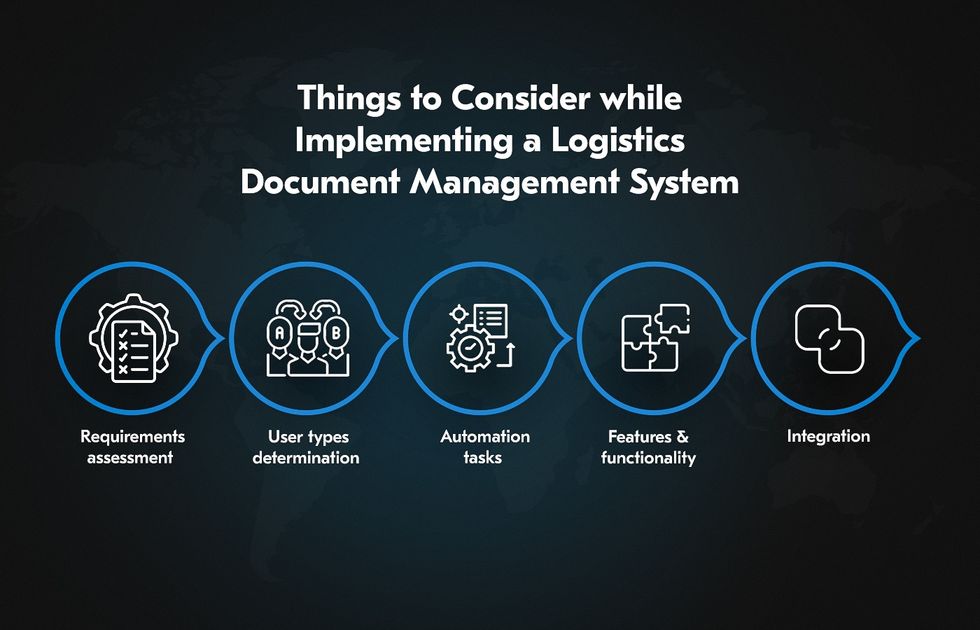 This article has hopefully given you an overview of the benefits of an eDMS, the features to look out for, and what you can expect from an outsourced development vendor. All that remains is to put the pieces together and establish a roadmap for your project if you decide to dive deeper.
A professional software vendor will help you through the main steps of building a custom electronic document management system. These are, in order:
Gain a deep understanding of your unique business needs

Document management systems are not a one-size-fits-all solution. You need to design it to perfectly match your organization's business processes and workflow. At the audit stage, you'll need to highlight the problem areas and figure out where an eDMS can improve efficiency.

Determine user types and their authorities

Your eDMS will control access to documents based on user types, authority, and needs. Observe how different departments and employees interact and figure out the best way the system can improve overall efficiency.

Pick relevant features

Document management systems may include a wide array of features. To avoid unnecessary expenses and complexity, you should only pick those that will help your organization operate more efficiently.

Identify your business processes for automation

Your document management software should automate repetitive business processes involving files and documents. Integrate formats and templates that your organization repeatedly uses. Make sure the system allows you to create and edit workflows without technical assistance.

Ensure seamless integration with existing software and hardware

Developing a document management system that easily integrates with applications will help speed up user adoption, reduce costs, and boost productivity. Leveraging existing software and hardware allows you to secure access to business information while saving time and money.
Acropolium's Experience
Efficient document management will not just enhance your organization's operational efficiency. It will also ensure that your business is meeting legal and regulatory requirements. At Acropolium, we understand the importance of a secure document management system that mirrors and enhances your business processes. We are ready to develop a document management system that promotes efficiency while eliminating human error.
With 14 years of experience in developing integrated solutions, our seasoned engineers can create a comprehensive system that meets your unique business needs.
Read case study: International Trade Digitalization & Paper Work Automation.
What's Next?
The COVID-19 pandemic has increased pressure on logistics and transportation firms to be more transparent and efficient in their processes. One way to keep up with the shifting tide and rise above the competition is to adopt a custom paperwork automation system that will increase your operational efficiency, improve your bottom line, and reduce costs.
Are you ready to make the change? Just contact Acropolium to start the conversation. Our team is on hand to discuss the best specifications for your custom document management system today!