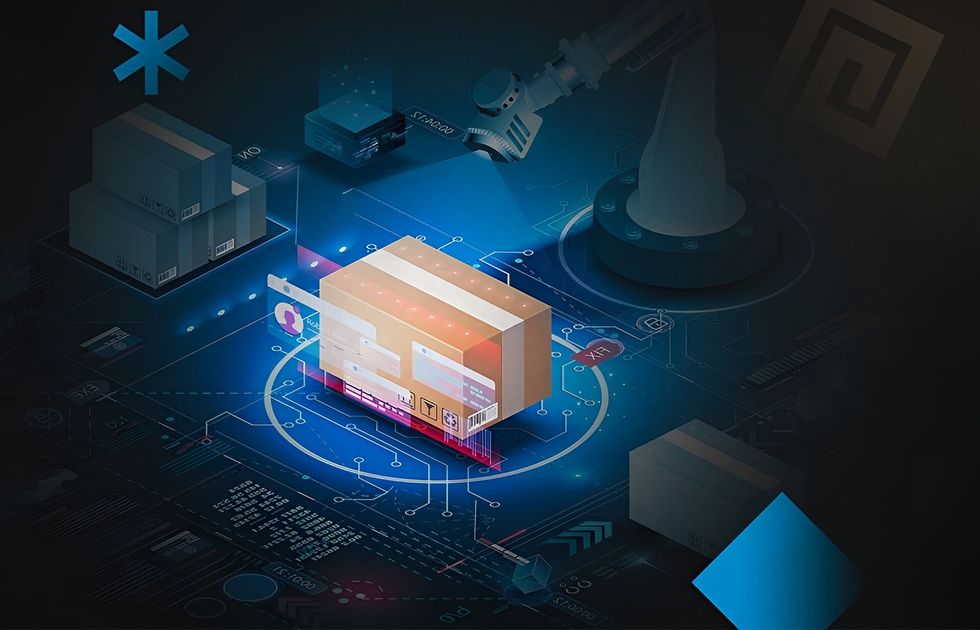 According to Forbes, no-code/low-code development is the most disruptive trend for 2021. And as supply chains are becoming more complex and less resilient, the adoption of low-code in logistics becomes a natural choice for most companies. More than two-thirds of enterprises have already adopted low-code to their supply chains.
We know this because we keep a close eye on the digitalization of logistics. In over 17 years of development expertise, Acropolium has delivered almost 80 projects related to transportation and logistics. And this experience helps us better understand the potential of low-code for the supply chain industry.
In this article, we'll guide you through the main reasons for using low-code supply chain applications and explore their most common use cases. We'll also talk about the challenges your business can face when implementing low-code platforms. Buckle up!
Supply chain digitalization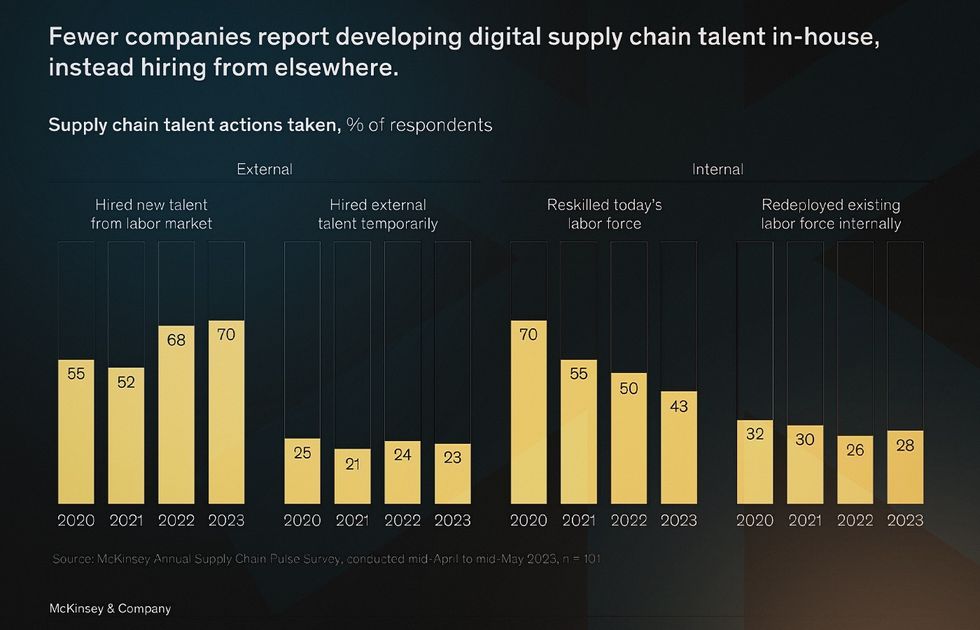 Many companies admit that COVID-2019 has revealed all the weaknesses in their supply chains: more than 70% faced problems in the supplier or production and distribution footprints. In the food and consumer goods industries, companies that experienced supply chain problems are a whopping 90-100%.
As technologies like IoT and smart sensors advance, more companies turn from linear supply chains to integrated networks, also known as Supply Chain 4.0. The new concept involves using innovative technologies for better performance and efficiency. And half of the executives asked believe that an autonomous supply chain (automated planning, warehouse robots, driverless trucks, delivery drones) is either here or will be by 2025.
Unfortunately, digitalization isn't enough to meet the changing market needs: 85% of companies admit the inefficiency of digital technologies in their supply chains. Businesses across different industries are struggling to improve the agility and resilience of their logistics. And this is where low-code supply chain development comes in handy.
Read also: Low-code use cases in healthcare.
4 reasons why your supply chain needs a low-code digital solution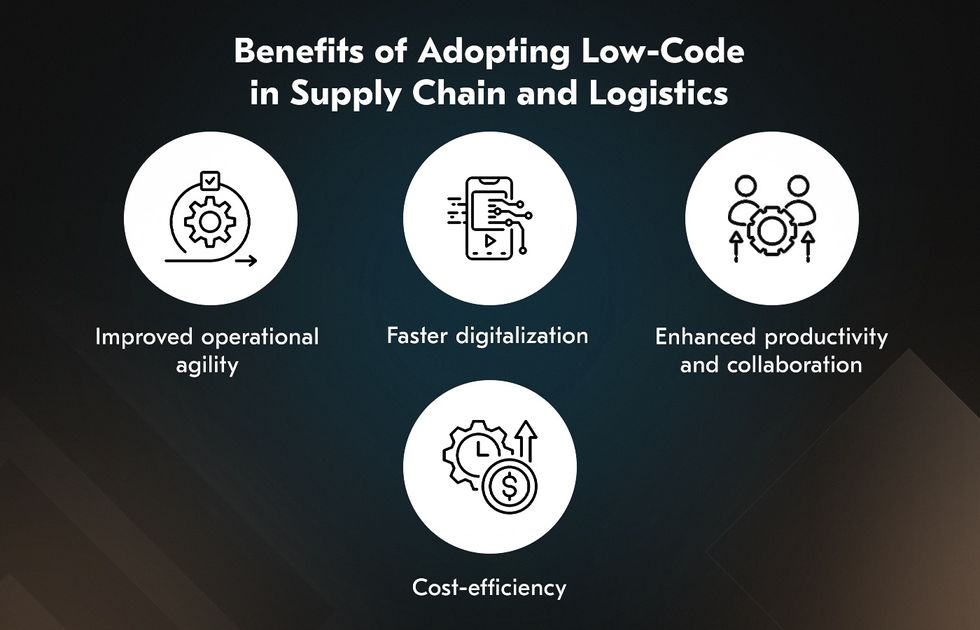 Low-code platforms allow users with little technical knowledge to build applications. This reduces the development time and helps companies address the lack of talents in their IT departments.
In 2019, Gartner predicted that by 2024, more than 65% of applications would be created using low-code platforms. Another research says that the market of low-code development platforms will grow almost 18 times from 2019-2030, with a 31% annual growth rate.
No wonder low-code app development is advancing so fast — it gives businesses more control over the applications they're going to use. Here's how this can benefit your supply chain.
Improved operational agility
A supply chain is a dynamic and complex process that includes provisioning, raw material supply, warehousing, and the distribution of manufactured products to consumers. More often than not, the complexity of supply chains is the reason why companies either can't address their unique needs with the supply chain software they have or can't customize their software fast enough to address those needs. Numbers do the talking: more than 90% of executives want to increase the resilience of their supply chains.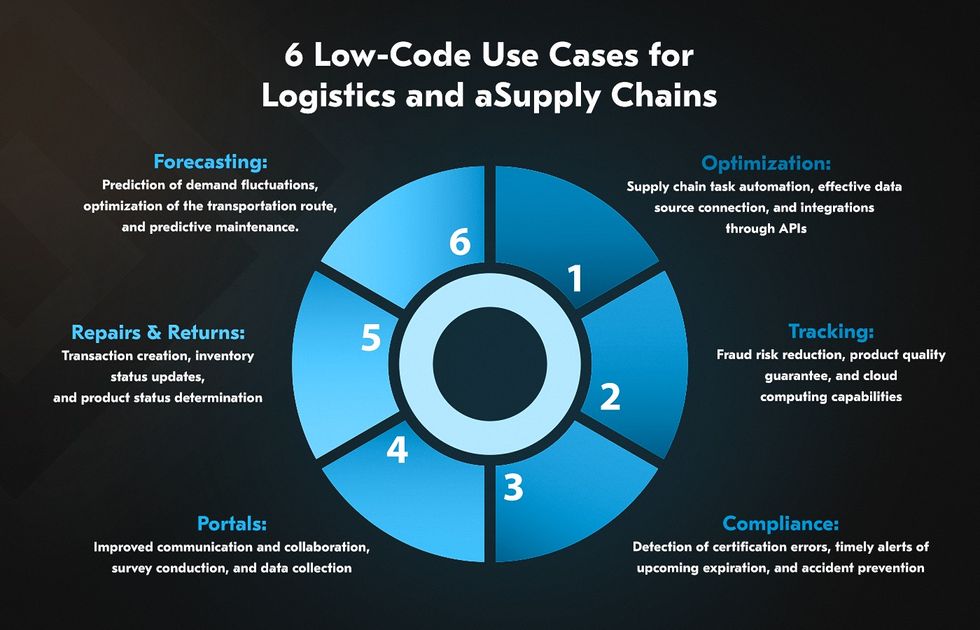 Low-code supply chain platforms cut the development time, enabling companies to swiftly react and adapt their applications to new market conditions, disruptive events, or changing strategies. Companies can easily tweak their solutions how they need, ensuring the resilience and responsiveness of their supply chains.
Faster digitalization
Faster development fosters innovations. With low-code platforms, making changes and applying new technologies is easier because supply chain teams don't need to go through the lengthy process of logistics software development and testing. Instead, they can adjust the workflow on the fly, reducing their dependencies on other departments.
Meanwhile, IT departments can free up their time for implementing artificial intelligence (AI) and robotic process automation (RPA) into the company's workflows.
Enhanced productivity and collaboration
Low-code platforms can be a magic wand for simple automation tasks such as digirizing paper-based documentation, including manuals, guides, instructions, and audit reports. They can also be used for developing low-code supply chain apps tailored to address specific problems, for example, to eliminate silos resulting from different systems used in warehouses.
The use of automation tools and regular adjustments to software lead to a more optimized supply chain and less untapped capabilities. Users can focus on important tasks and new business initiatives rather than routine management. Real-time sharing of the information related to orders, payments, shipping, and delays improves collaboration between teams and allows vendors to make their lines of communication wide open.
Cost-efficiency
One of the most obvious advantages of low-code platforms is that they help develop simple solutions for particular problems without hiring top-notch software engineers. Though you still need specialists with a certain level of coding skills to build a full-fledged supply chain application, you can save your time and effort when searching for candidates.
Unlike lengthy full-cycle development, low-code app development is fast and simple. It provides companies with a variety of tools to build and deploy applications on multiple platforms. As a result, they receive apps faster while saving development and maintenance costs.
These are the common reasons to adopt the low-code approach, but the list can go on depending on your industry and business needs. And if we're talking specifically about supply chain applications, let's look at some use cases of how low-code can be used.
Read also: Transportation management application development guide.
Four low-code use cases for logistics and supply chains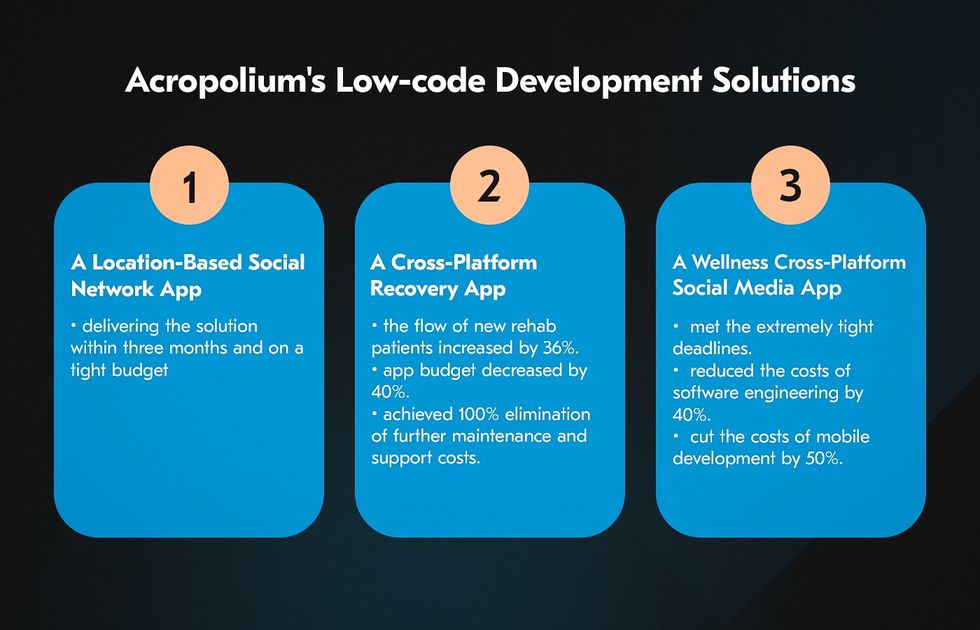 Low code use cases for logistics and supply chains are almost the same as in traditional development. The difference lies in the level of customization, development speed, and functionality. Due to the higher flexibility of low-code platforms, companies tend to use them for developing highly dynamic applications to meet particular needs rather than for building comprehensive business systems. Here are a few examples.
Supply chain optimization
From the standpoint of a supply chain team, improved operational efficiency is the main reason for low-code transportation app development. Most supply chain tasks, such as invoicing, inventory management, and receiving the goods, can be fully or partly automated through low-code platforms.
Supply chains involve multiple systems of records (applications and databases) that can be a valuable source of data for analytics and machine learning algorithms. Unfortunately, the complexity of most supply chains doesn't allow companies to connect data sources efficiently.
Low-code platforms, on the other hand, can accelerate integrations thanks to application data model consistency and a wide range of Application Programming Interfaces (APIs) and prepackaged integrations.
Supply chain tracking
Supply chain tracking is crucial for making the process transparent. More than 60% of supply chain executives say that better visibility is their top priority for the next three years. In industries like food, consumer goods, and drugs, supply chain tracking is critical for ensuring the high quality of provided products and services. For example, in pharmaceutics, manufacturers, distributors, and pharmacists integrate solutions for drug traceability to monitor drugs in real-time, reducing the risk of fraud.
Enhanced integration capabilities of low-code apps enable businesses to establish better connections across various systems. What's more, companies can benefit from low-code platform-driven cloud models that unlock maximum supply chain transparency, IT governance, and integrated cyber-security.
Read also: How to develop a GPS vehicle tracking solution.
Compliance and certification
Many manufacturers still manually track lapsed certifications, social, labor, and environmental audits, as well as employee safety training compliance. However, with a few dozens of warehouses, manual tracking becomes cumbersome and slow. This increases the risk of non-compliance fees due to expired or missing certifications.
Developing a solution that combines multiple data sources across warehouses and integrates local warehouse tracking systems with the company's ERP is often a lengthy and costly process, which makes low-code app development a natural choice.
A low-code platform enables companies to create a centralized information bank across all warehouses. Applications can identify certification errors, timely alerts about the upcoming expirations, and provide the necessary information about employee safety training.
Additionally, the possibility of making swift adjustments to supply chain applications allows businesses to meet changing compliance requirements.
Supply chain portals
Portals are a great example of low-code apps for the supply chain. They can improve communication and collaboration between the involved parties: raw material suppliers, warehouse managers, importers, logistics companies, and distributors.
Low-code platforms offer a variety of user experience elements, such as forms and dialog boxes, for integrating to supply chain portals. As a result, conducting surveys and collecting data for analytics becomes easier, resulting in better planning and data-driven decision-making.
Despite the numerous low-code use cases for logistics and supply chains, low-code does have its limitations.
Read also: How to build logistics customer portal.
Challenges of low-code for logistics and supply chains
Though more enterprises are integrating supply chains with low-code, it can't fully replace experienced developers. Here are the most common challenges of implementing low-code applications in your business.
Limited capabilities
As the business grows bigger, low-code can no longer meet all project requirements. This is one of the main concerns when deciding on full-scale vs. low-code app development. To minimize this risk, the leading low-code platforms like Mendix, Topo, and JourneyApps use open technologies — a concept that includes Open Standards, Open Source, and Open Software.
Besides, developers can extend the functionality of low-code platforms by adding their own UI components or code (for example, JourneyApp enables developers to use React for this).
Lack of low-code specialists
Though low-code platforms are designed to be used by even non-technical people, users still require some skills and experience to develop supply chain applications. For example, they need to understand a visual language such as Business Process Modeling Notation (BPMN) that low-code platforms rely on.
However, the user-friendly interface, plenty of tips and prebuilt patterns, along with the drag and drop function, significantly reduce the learning curve for your team. Even more complex tools that enable developers to write their own code offer a set of APIs, helper functions, and auto-complete to make this process faster and easier.
Vendor lock-in
Some platforms can restrict the export of application code to local databases or even prohibit access to source code. In other cases, exported code isn't clean and readable enough to be reused. This makes it almost impossible to move the application to another platform, which increases the company's dependency on vendor-supplied services, customization, and the tech stack.
The challenge can be addressed by partnering with reliable vendors who know a thing or two about developing low-code applications. In this way, you can ensure full access to the source code and export capabilities.
Read also: How to develop a document management system.
How Acropolium can help you with low-code development
Low-code is a new development trend that's already hard to ignore, particularly in supply chain and logistics. Companies use low-code app development to improve the resilience of their software solution, swiftly react to dynamic environments and compliance requirements.
In modern supply chains that turn into complex and multi-level networks, fast and agile development drives the company's growth and digital transformation, making low-code and supply chains a perfect match.
With almost 20 years of expertise in software development and consulting, Acropolium knows how to accelerate your supply chain modernization and automate the development process. We have hands-on experience across 20 industries and can build a comprehensive low-code application according to your industry standards.
Contact us to learn more about our low-code development services for logistics and supply chains.